SACI News November - December 2017


December is upon us and all should be getting ready to have a well-deserved break from work stresses. It has been a good year for SACI - we continue to stay financially stable, the SAQA registrations are increasing (over 60), the sections and divisions are running soundly and the Council and Executive have been running smoothly. The SACI Executive and Council wish all SACI members a joyous and a rewarding holiday season and a 2018 that is bountiful.
After 10 years of producing the SACI Newsletter I will now hand over the reins to Prof Bice Martincigh. This will be my last newsletter as the newsletter editor. The newsletter has been a way of communication in SACI for many decades but did tend to be sporadic. It is now produced regularly 11 times a year, month after month. Many members are now providing the newsletter information to me on a regular basis and this has made the chore an easy one. The information sent to me is eventually put into a readable format by Laila

I have seen the newsletter having two roles. The first is as a means of SACI communicating with and keeping the members abreast of events of interest to the chemical community (IUPAC/conferences/workshops/job vacancies/the Journal/FASC/SAQA/NSTF/relationships with RSC/ACS/etc.).  SACI members are the ones who are on the various committees (many listed above) that look after the professional interests of SA chemists and provide me with the information for the newsletter. The second role is as a repository of information about SACI and its members. This is where we list obituaries/use pictures taken at events/honour our members/etc.

I have enjoyed getting the newsletter out over the years. But there is a time and place for everything and the time now is for new blood to take over and lead the newsletter into new directions... I wish Bice well in her new position.  
Neil Coville
Content
SACI office address and times

Advertising in the SACI newsletter

SACI Members – 40 years of membership
Section and Divisions News

North Section/ChromSA
ChromSA Annual General Meeting and End of Year Function

Central Section
AGM
SACI Central Young Chemists Symposium

KwaZulu-Natal Section
Honours/B Tech Symposium
End-of-year Magic Show

Green Chemistry Division – competition

ChromSA
Postgraduate student seminar

PrChemSA – feedback

NSTF-SOUTH32 AWARDS – nominations

RSC
Pan Africa Chemistry Network

Chemical Process Technologies (CPT)–Pharma

IUPAC
Application for IUPAC Affiliate membership in 2018
IUPAC Interdivisional Committee on Green Chemistry for Sustainable Development - scholarships

South African Journal of Chemistry

African Journals of Chemistry

CAIA Newsletter

SACI and SACI related conference events
Analytica
SANi 7th International Conference on Nanoscience and Nanotechnology in Africa
ChromSA 2018 Post Graduate Symposium
Atlantic Basin Conference on Chemistry
Steps Towards Life: Chemsitry! Talk by Prof Jean-Marie Lehn
Other conferences
Syngas 3 convention
AMRS2017 (Africa Materials Research Society)

Equipment
Anton Paar's new Cora Raman spectrometers
Bruker

Workshops
Fundamentals in chromatography and hands on practical experience on trouble shooting in liquid chromatography

Vacancies
SACI office address and times
The SACI office, run by Laila Smith is located on the 1st Floor of Gate House, room 124. The telephone number is 011 717 6705 and e-mail address is: saci.chem@wits.ac.za. The cell number is 061 282 3477.

Office hours are from 8.30 am till 1.00 pm. She can be contacted at any time during her office hours.
Advertising in the SACI newsletter
The newsletter provides a means of getting messages to our membership. Currently the SACI membership stands at over 1000. This newsletter thus provides a means of advertising employment opportunities, conferences and workshops, and even for companies/Universities to promote themselves. We encourage members to use the Newsletter for advertising purposes. All SACI related conferences and events are advertised for free; if not a SACI related event there could be a small charge. For advertising costs contact Laila at the SACI office.          
SACI members – 40 years of membership
An attempt was made to connect up with some of our older SACI members – those who have been involved with SACI for 40 years or more. The idea was to collect some historical information and add the information to the Newsletter. In this way we would have a record of events from the past. The response has been quite amazing and this has made us re-think our strategy about this collected information. The SACI Exec is determining how best to get this information out to members.  It might be that we will have a monthly section about the history of SACI. We will wait until the New Year before using the information.
Contributor: Neil Coville
Sections and Divisions news
North section/ChromSA

Central

AGM
The SACI Central AGM was held on the 2nd November at Wits. The following were elected during the AGM
1. Andreas Lemmerer (chair)
2. Sabelo Mhlanga (outgoing chair)
3. James Ramontja (UJ)
4. Ella Linganiso (Wits)
5. Sibusiso Mnguni (Randwater)
6. Tlou Chokwe (Randwater)

At the event James Moir Medals were handed out to two student winners form the Section.

Prof Mhlanga handed oy the James Moir Medals to (a) Ms BL Davids (U Johannesburg- Auckland Park and (b) Mr OMC Matlhaku (Vaal University of Technology)

Contributor: Prof Mhlanga

SACI Central Young Chemists Symposium, University of Johannesburg, 30th November 2017

The annual SACI Central Young Chemists symposium was this year hosted by the University of Johannesburg.  As usual, the range of research being carried out in the universities in the regions was adequately demonstrated by the four PhD and fifteen Masters students who presented their work.  Students from Wits, UNISA, Vaal University of Technology and the university of Johannesburg (Kingsway and Doornfontein campuses) were represented.
The judges had a difficult task in deciding the prize winners for the best presentations.  The prizes were sponsored by the Royal Society of Chemistry SA north section.  Other sponsors of the symposium were SASOL, Perkin Elmer, Shimadzu, Merck, Sanofi Aventis and UJ Faculty of Science, Department of Chemistry and Department of Applied Chemistry.
MSc students

Delbert Botes, University of the Witwatersrand ; Exploring Diels-Alder reactivity in Charge Transfer crystals

Obakeng B.Nchoe, Vaal University of Technology; Surface modification and grafting of macadamia nutshell powder with diphenylcarbazide for Cr(VI) sequestration from aqueous solutions

Prudence P.Mashile, University of Johannesburg, Doornfontein campus; Removal of Mycrocystin-LR from surface and wastewater using tyre-based powdered activated carbon: kinetics, isotherms   

PhD students

Azeez O Idris, University of Johannesburg, Kingsway campus; An electrochemical immunosensor for the tumour marker α-feto protein using a glassy carbon electrode modified with manganese (IV) oxide nanorod and gold nanoparticles

Nozipho Gumbi, University of South Africa; Fabrication of macrovoid-free PES/SPSF/O-MWCNT membrane supports with improved mechanical strength and antifouling properties

Yannick Nuapia, University of the Witwatersrand; Optimization of water extraction with on-line particle formation of Moringa Oleifera

Many thanks to Dr Edwin Mmutlane and the organising team for an excellent symposium.


YC symposium: from L to R: Delbert Botes, Prudence P.Mashile, Yannick Nuapia, Azeez O Idris, Nozipho Gumbi, Obakeng B.Nchoe


Ian Bratt (SACI/RSC) and Azeez idris (winner best PhD presentation)


Ian Bratt (SACI/RSC) and Delbert Botes (winner best MSc presentation)

Contributors: SabeloMhlanga/Ian Bratt
KwaZulu-Natal Section

It was another busy end-of-year dash in the KZN region with a number of SACI events closing out 2017.

Honours/BTech Symposium

The KZN Section organises the annual Honours/BTech Symposium.  This year the event was held on Friday 20 October at the Durban University of Technology Hotel School.  The event was kindly organised by Dr Thishana Singh of DUT.  It was attended by approximately 100 Honours/BTech students from across the province, including Durban University of Technology, University of KwaZulu-Natal, University of Zululand and Mangosuthu University of Technology. The event sees academics and students converging in one area to discuss employment, funding, research and developments within the field of chemistry.
The symposium caters for postgraduate students doing their Honours and Bachelor of Technology degrees. Students are given an opportunity to present their research to fellow students and academics. Top students that are studying chemistry are selected from each university. Students compete against each by presenting their work.

Nine students, two from DUT, three from UniZulu, and two each from UKZN Westville and UKZN Pietermaritzburg campuses, presented their BTech/Honours research projects orally while another 10 students presented posters on their projects.  The oral and poster presentations were adjudicated and prizes were awarded.

There were a total of 3 prizes in both the oral and poster categories, each. The winners are listed below together with their respective institution and the title of their topic. At the same prize giving the James Moir medal was awarded to the DUT candidate, Miss T. Cooper.

Oral Presentations:
1st prize- Jeanette van Rooyen (UKZN-PMB) The Synthesis and Characterization of Heteroleptic Copper(II) Anti‐Cancer Agents.
2nd prize- Gillean Fraser (UKZN-Westville) The synthesis, characterisation, and bio-evaluation of four novel quinoline-chalcone hybrids.
3rd prize- Derric Baruani (DUT) Enantioselective detection of L-/D-tyrosine using Glassy Carbon Electrode (GCE) functionalized with graphene oxide (GO), gold nanoparticles (AuNPs) and human serum albumin (HSA), by electrochemical methods.

Poster Presentations:
1st prize- Selene Naidoo (DUT) A quantitative determination of the amount of sugar in fruit jams produced in South Africa.
2nd prize- A D Muntswu (UKZN-PMB) Reactions of polyphenols with hypochlorous acid.
3rd prize- LLR Mphahlele (UKZN-PMB) Synthesis and substitution kinetics of Pd(II) complexes.
Front row: Profs. Werner van Zyl (KZN SACI Chair) and Vincent Nyamori (SACI President).
Back row from left to right:  AD Muntswu (UKZN-PMB), Jeanette van Rooyen (UKZN-PMB), LLR Mphahlele (UKZN-PMB),   Derric Baruani (DUT), Selene Naidoo (DUT), Gillean Fraser (UKZN-Westville)  



Miss T. Cooper (DUT) receives the James Moir Medal from the SACI President, Prof. Vincent Nyamori.
The cash prizes were kindly sponsored by the Royal Society of Chemistry (Northern Section), and the flashdrives by the DUT Faculty of Applied Science.  We would like to thank them for their generous assistance with sponsorship for this event.

Contributor: Werner van Zyl

End-of-year Magic Show

This year the annual Magic Show was held on Tuesday 28 November at the University of KwaZulu-Natal, Westville Campus in Durban.  This event has been held in KZN for some 35 years and was started by the late Professor Mike Laing.  His spectacular show was well known far and wide.  When it first started it featured ladies being magically cut in half, Miss Rabbit popping out of a box and all kinds of extraordinary events.

This year the show was performed by the Three Magicians, who entertained both young and old with their chemical magic, bangs and smoke.  They were ably assisted by the "real" magician, Mr Peter Warby, who kept the audience enthralled with his amazing tricks.  Over 250 people attended the event.  We were extremely pleased with the good attendance and the wonderful audience participation and enthusiasm.

The SACI KZN Section would like to thank the staff of the School of Chemistry and Physics.



The Three Magicians: Vincent Nyamori, Bernard Owaga, and Bice Martincigh, showing you can turn water into wine…and vice versa.

Compiled by Werner van Zyl
We wish everyone a happy holiday season and look forward to a prosperous 2018 for everyone.
Green Chemistry division - competition
"In an effort to increase the visibility of the Green Chemistry that is already taking place in South Africa and at the same time highlighting possible opportunities for more people to "green" their research.

The Green Chemistry Division would like to invite nominations of the best green chemistry paper by a South African chemist/group. The prize will be a sponsored talk at the SACI convention in 2018." Nominations should be sent to Rosa Klein (r.klein@ru.ac.za).

Contributor: Rosa Klein

ChromSA


Contributor: Mrs Wiana Louw
PrChemSA feedback
It is now just over a year since SACI was granted the authority to award the PrChemSA designation by the South African Qualifications Authority SAQA.  Approved applications are nearing the fifty mark as many members, and also non-members who decided to join in order to become PrChemSA, have been approved to receive this professional designation.

The PrChemSA designation represents the highest standard of professionalism, competence and commitment to keep pace with advancing knowledge in the field of chemistry. It gives those members who achieve it, professional standing and recognition of their chemistry knowledge and experience.

In order to qualify for PrChemSA, not only do members need to have certain academic qualifications but they must have relevant experience in practising chemistry.  However, such is the broad spectrum of careers in chemistry that there are many types of relevant experience which can count towards this designation.

There is a small administrative fee charged when submitting the application as references need to be checked and time taken to verify a candidate's suitability.  There is also an annual fee, in addition to the normal SACI membership, fee since all PrChemSA will be required to submit proof of their continuing professional development (CPD) on an ongoing basis and this too must be checked and assessed.

Full details of the requirements, the application procedure and the CPD procedure can be found on the SACI website but a summary of the requirements is also shown below.

All SACI members who have the required academic qualifications and experience are encouraged to apply for the PrChemSA designation.  It should be noted that it is NOT essential to have an honours degree in Chemistry in order to qualify (or indeed to become a full member of SACI).  People with lower qualifications but longer periods of experience in the chemical field can qualify by recognition of prior learning (RPL).
It is hope that in future, obtaining the PrChemSA designation will be seen as the pinnacle of one's career in chemistry and that employers will be encouraged to recruit and advertise for chemists who are Professional Chemists.
PrChemSA truly demonstrates a commitment to maintaining competence, continuing your professional development and abiding by an acceptable code of conduct as befits the title of Professional Chemist.
If you have any questions about PrChemSA, you are most welcome to contact me.

Dr. Ian Bratt PrChemSA FSACI; ianbratt@global.co.za Executive Treasurer, SACI, Member of the PrChemSA committee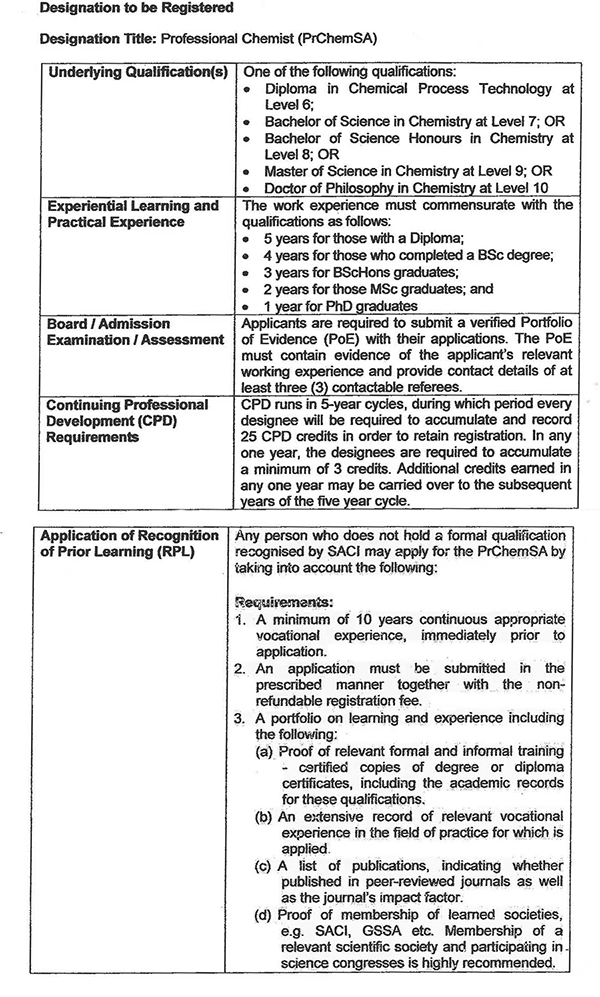 Below is a list of approved PrChemSA members - The list only display PrChemSA members that have paid their SACI membership and PrChemSA registration for 1 July 2017 - 30 June 2018.
Veale,  Dr C                            
Chiririwa,  Dr H                        
Mhuka,  Dr V                            
Mutize,  Mr I                           
Ogunlaja,  Dr A                         
Muganza,  Dr FM                         
Mutsimhu,  Mr C                         
Patel,  Ms LD                           
Okoh,  Prof O                           
Mathebula,  Ms L                        
Schoonraad,  Mrs GL                     
Mkhize,  Dr Z                           
Berejena,  Mr AM                        
Gule,  Dr NP                            
Karonga,  Mr N                          
Mokete,  Ms LM                          
Chokwe,  Dr T                           
Nocanda,  Dr XW                         
Attwell,  Mr C                          
van der Watt,  Mr GJE                   
du Plessis,  Dr HE                      
Zani,  Mr Z                             
Ngcobo,  Mr ES                          
Sealy-Fisher, Mrs V                     
van Eeden, Dr N                         
Finney, Mrs S                           
Zeevaart, Prof JR                       
Mkwizu, Dr TSP                          
Moleme, Mr GB                           
Kanchi,  Dr S                           
Mazo,  Mr D                             
Mafu,  Mr LD                            
Tesfai,  Mr FK                          
Buah-Kwofie,  Mr A                      
Mabaleha,  Mr MB                        
Wanyama,  Mr PJ                         
Noreljaleel,  DR AEM                    
Thwala,  Dr LN                          
Sibeko,  Dr MA                          
Mahlangu,  Mr OT                        
Phiri,  Dr MJ                           
Oyetade,  Dr OA                         
Chiweshe,  Dr T                         
Nayunigari,  Dr MK                      
Viswanathan,  Dr R                      
Odularu,  Dr AT                         
Goddeti,  Dr SMR                        
Abbavaram,  Dr BR                       
Siegert,  Dr RU                         
Ejidike,  Dr IP                         
Lewtak,  Dr JP                          
Bratt, Dr IM                            
Janse van Rensburg,  Dr JM              
Janse van Rensburg,  Mrs L              
Kirsten,  Mr L                          
Mafu,  Mr LD
Odisitse, Dr S
NSTF-South32 nominations
Calls for nominations for the NSTF-South32 Awards
The National Science and Technology Forum (NSTF) calls for nominations for the 20thprestigious NSTF-South32 Awards in science, engineering and technology (SET) and innovation. The NSTF's theme for 2018 is the International Decade of Sustainable Energy for All (2014-2024) as declared by the United Nations (UN). Register nominations online by 11 December 2017. Click here for more information.
RSC news
i)Pan Africa Chemistry Network
I have been made aware of a great opportunity for the Pan Africa Chemistry Network community and I have been asked to share this with you. Please consider applying to attend this meeting, this will be a great opportunity to find out more about the UK's Global Challenges Research Fund and how it can support you.

The Global Challenges Research Fund (GCRF) is a scheme from the UK government to fund collaborative research across the world. They are running a series of international Global Engagement Meetings. The aim of these events is to showcase the opportunities available through the GCRF; to bring together developing country and UK researchers and representatives from other organisations to forge networks; and to discuss opportunities for maximising the contribution of GCRF research into policy and practice.

Applications for a global engagement event in Nairobi, Kenya has just opened. The event will run from Wednesday, 31st January 2018 to Friday, 2nd February 2018 and is being led by Research Councils UK in partnership with The UK Department for International Development, the African Academy of Sciences and The British Institute in East Africa.

The event has been designed to contain a mixture of plenary sessions, workshops and networking opportunities and will be interdisciplinary and interactive. Attendees will be drawn from different countries, different disciplines, and from a mix of academic and non-academic organisations (e.g. non-governmental organisations; charities; policy makers; international funders).

Attendance at the event will be through a competitive application process, the deadline for applications is Thursday 2nd November. Details and the application form can be found at the following link: www.rcuk.ac.uk/funding/gcrf/gcrf-global-engagement-events/

Please share across your networks in Africa, and globally. We must ensure that the chemical science community is well represented at this meeting, so we can benefit from the opportunities.
Please join our newsletter to stay up to date with our activities in Africa: rsc.li/africanews

Dr Helen Driver (nee Bailey) MRSC
Senior Programme Manager, Africa
driverh@rsc.org
www.rsc.org/pacn
1. The Pan Africa Chemistry Network exists to support African science; events, training, access to resources and a strong community; full details are here: www.rsc.org/pacn.

2. There are a few ways that you access Royal Society of Chemistry journals and books – our entire archive is available free of charge across Africa, and to all RSC members. Simply register online: http://www.rsc.org/membership-and-community/connect-with-others/geographically/pacn/research/

3. Our Funding Options are here:
http://www.rsc.org/membership-and-community/connect-with-others/geographically/pacn/funding-opportunities/

4. I welcome you to the community:
a. Join the LinkedIn Group: https://www.linkedin.com/groups/1900756

b. Sign up to our newsletter for updates and opportunities:

c. On twitter, please look up @hvdriver or #PanAfricaChem to find out more.

5. All our events in Africa are listed here: http://www.rsc.org/membership-and-community/connect-with-others/geographically/pacn/events/ including conferences and our programme of GCMS and LCMS training across the continent.

6. We are holding our annual Congress in Ghana in November discussing sustainable agriculture, and we would welcome you to the event. Registration will open next Thursday rsc.li/pacn2017
Chemical Process Technologies (CPT)-Pharma
I attended the opening of the new building of Chemical Process Technologies (CPT)–Pharma in Waltloo, Pretoria on Friday 10 November 2017. What I found interesting is that this is the first facility in Southern Africa that will be able to produce Active Pharmaceutical Ingredients (APIs) under Good Manufacturing Practice conditions (GMP). This means that amongst other criteria, the water and air quality has to be of high specification.

The building was constructed through funding from CPT-- but also through the IDC and TIA. One of the criteria from these government funding bodies was that CPT would establish relationships with universities. This would include allowing for student training.

This facility may be of interest to the Faculties of Health Sciences, Faculties of Science and the Faculties of Engineering and the Built Environment. The founders of the company, Gerrit van der Klashorst and Hannes Malan are trained synthetic chemists and the chemistry they currently do at CPT is around the synthesis of animal and pharmaceutical products. Of course they will now have good scale up possibilities by entering the arena of process chemistry.

Attached is a picture of one of their 400 litre reactors in the new building (sorry person out of focus). If any of you (or your colleagues) are interested in visiting the facility I am sure it can be arranged. They do have a website that is being developed but it does not contain that much information
https://sites.google.com/chemprotech.co.za/home and for
CPT Pharma https://sites.google.com/chemprotech.co.za/home/cpt-pharma?authuser=0

Contributor: Charles de Koning
IUPAC
Application for IUPAC Affiliate membership in 2018

IUPAC Affiliate membership benefits
1. Affiliate members from both NAO and non-NAO countries will be eligible to be nominated as candidates for Associate Member positions in Division elections and for appointment to Standing Committees. This represents a significant opportunity for chemists to become involved with the scientific work of IUPAC.

2. Affiliate Members can continue to participate in IUPAC projects, including development of project proposals, service as members of project task groups, and leadership of IUPAC projects.

3. Affiliate members will continue to receive a 10% discount on registration fees for IUPAC endorsed conferences and symposia. Affiliate members will continue to receive a 25% discount on IUPAC books.

4. The benefit of the IUPAC magazine, Chemistry International, informs members of the various IUPAC activities and conferences. Affiliate members will receive complimentary access to the digital version of Chemistry International (CI) and will be able to download a .PDF version.

5. Affiliate members receive a certificate of membership, an Affiliate Membership card and a letter from the IUPAC Executive Director.

6. Affiliate members will be visible on the IUPAC website in 2018 in the Membership Directory of the website. This will provide global visibility for our Affiliate members and incorporate the AMPs into the IUPAC membership     

7. Affiliate members will receive complimentary access to the digital version of Chemistry International (CI) and will be able to download a .PDF version. – No copies will be received via post.

Download application form here - Payment and application must be received by 31 December 2017

For the latest news see: http://www.saci.co.za/iupac.html

IUPAC Interdivisional Committee on Green Chemistry for Sustainable
Development ICGCSD (https://iupac.org/body/041)

Post-graduate Summer School on Green Chemistry will be held from the 7th to 14th of July 2018 in Venice. This Summer School will ideally follow the 10 previous editions held in Venice from 1998 to 2008, but this will be the first one under the International Union of Pure and Applied Chemistry IUPAC sponsorship (https://iupac.org/).

Green Chemistry is one of the key sciences of a sustainable development on earth and required for reaching the 17 UN-Goals: IUPAC and ICGCSD are fully aware of their responsibility in working in the direction of Sustainable Development through Green Chemistry.

The School will be hosted in the magnificent Palazzo Ducale, the Doge's Palace, in St. Mark's Square, and about 60 post-graduate students and 20 teachers coming from all over the world are expected to attend. Scholarships will be offered to young talented chemists especially from developing countries.

The choice of Venice, this extraordinary but delicate architectural masterpiece between land and sea, as Host city for the Summer School has offered the opportunity to highlight the emerging connection of Green Chemistry with cultural heritage restoration and conservation field.

Main topics will be:
· Chemistry beyond chlorine
· New reaction pathways
· Exploitation of renewable resources
· For the first time: Green Chemistry for cultural heritage restoration
Applications are now open! You can find more information about the School at the following website link: http://www.unive.it/greenss2018

Elena Griguol
The Organizing Committee
IUPAC Postgraduate Summer School on Green Chemistry
E-mail: green.chemistry@unive.it
Web: www.unive.it/greenss2018
South African Journal of Chemistry
SAJChem is 100 years old next year. All manuscripts since 1918 are electronically available online at http://journals.co.za/content/journal/chem/browse?page=previous-issues
There will be one special (additional) issue next year on "South African Marine Natural Products" under leadership of Dr Denzil Beukus. This will be announced on the journal website in due course.
SAJChem has a new assistant editor (Mr Siya Maphumulo) who will do the prescreening for Comp Chem and Educational papers. The other editors can be seen at https://www.sabinet.co.za/sajchem/
Dr Tricia Naicker will take over as Editor-in-chief from Prof. Gert Kruger (who served in this position since May 2014) at the end of October. As far as we can determine, she will be the first female Editor-in-chief in 100 years!
Details of the journal and the editors can be seen at http://www.journals.co.za/sajchem/.

This Journal is published electronically. The webpage is: http://www.saci.co.za/ The South African Journal of Chemistry, published by the South African Chemical Institute, has been publishing high quality papers, in all fields of Chemistry for over 50 years. The Journal went fully electronic in 2000 and is freely available through open access online (http://reference.sabinet.co.za/sa_epublication/chem). It is a CAS-abstracted publication and is listed in Current Web Contents. It has retained its status as an accredited publication with the South African Department of Higher Education and Training.
African Journals of Chemistry
African Journal of Chemical Education
Enquiries and manuscripts should be addressed to the Editor-in-Chief: email eic@faschem.org, PO Box 2305, Addis Ababa, Ethiopia. AJCE, 2016, 6(1) ISSN 2227-5835 The online version appears in the FASC website (www.faschem.org) and in the AJOL website (www.ajol.info)
African Journal of Chemical Education
Enquiries and manuscripts should be addressed to the Editor-in-Chief: email eic@faschem.org, PO Box 2305, Addis Ababa, Ethiopia. AJCE, 2016, 6(1) ISSN 2227-5835 The online version appears in the FASC website (www.faschem.org) and in the AJOL website (www.ajol.info)
CAIA Newsletter
The latest issue of CAIA news is available. Go to: http://www.caia.co.za/news/chemnews/
or e-mail: caia@iafrica.com for pdf files of news and information.
SACI and SACI related Conference events
Analitika 2018, Legend Golf and Safari Resort - Mookgophong, Limpopo 22 – 26 July 2018 Submissions can be done online - please follow the links from www.analitika2018.co.za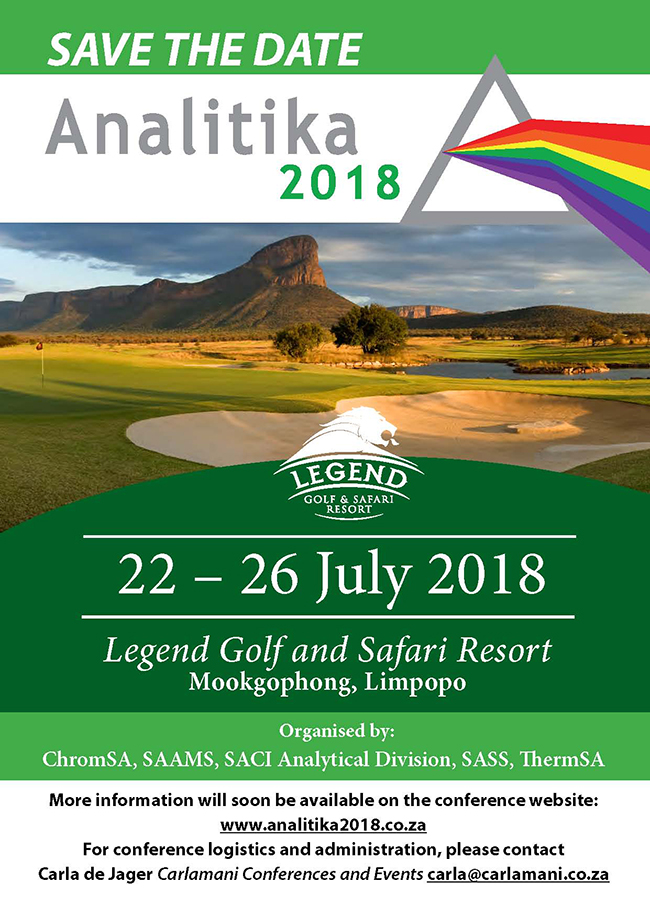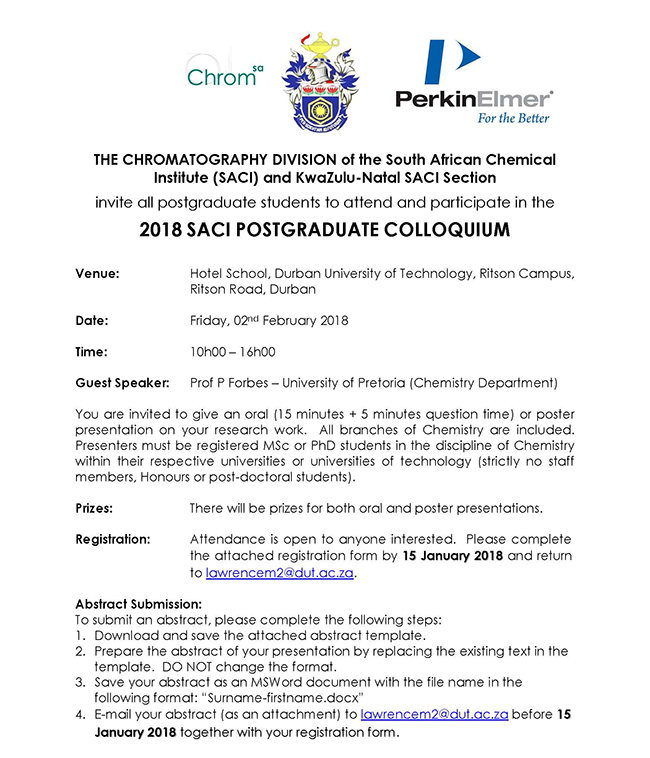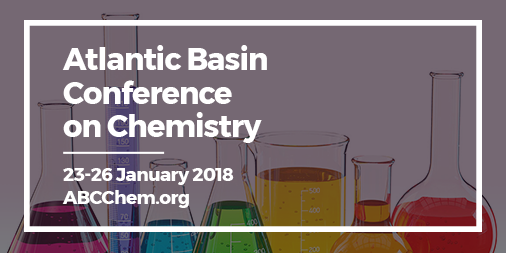 ABCChem – Plenary Speakers Announced!
ACS is partnering with societies in North and South America, Europe, and Africa for the first Atlantic Basin Conference on Chemistry (ABCChem) to be held in January 23–26, 2018, in sunny Cancún, Mexico. A dynamic lineup of plenary speakers from across the region have been confirmed and will cover a range of topics including Chemistry in Biology, Green Chemistry, Materials & Nano Chemistry, and Physical & Analytical Chemistry.
Call For Papers – Submit Yours Today
The ABCChem Technical Programming Committee invites chemistry professionals across the regions to give oral and poster presentations on the topics listed above. The deadline to submit abstracts is Monday, September 18, 2017.
Submit your papers and register now! To ensure international collaboration, registration is limited by region. Make sure to register early to secure your spot!
Others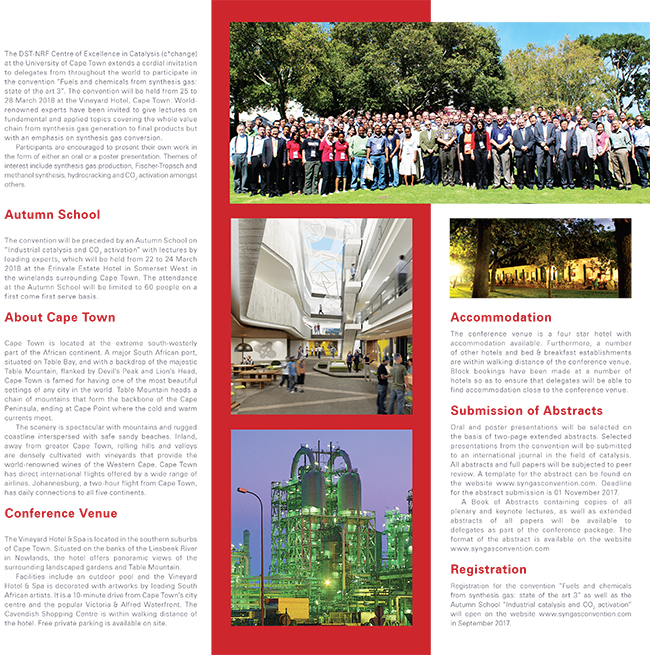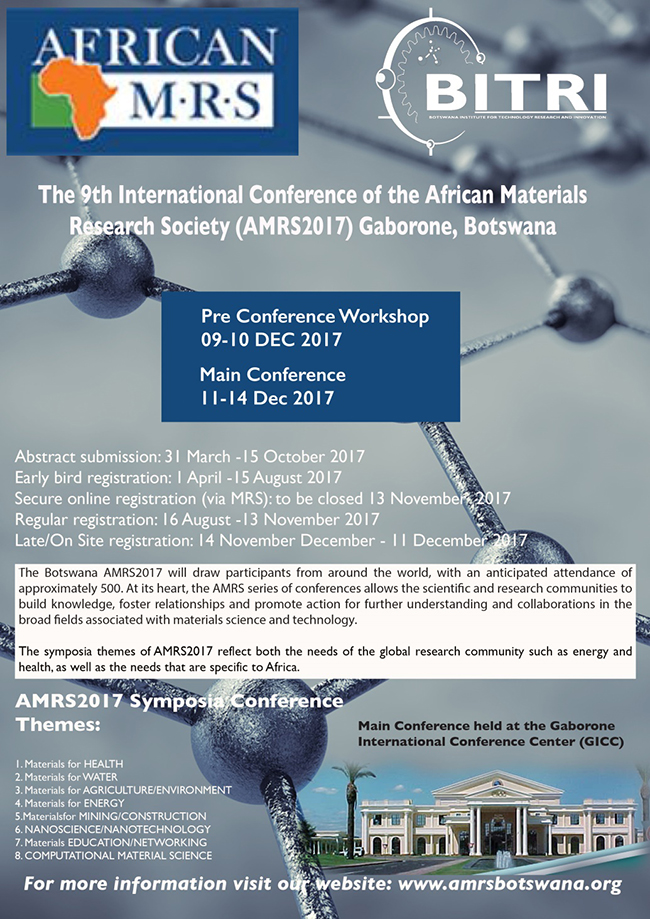 Others
Analitika 2018. Legend Golf and Safari Resort - Mookgophong, Limpopo 22 – 26 July 2018 Submissions can be done online - please follow the links from www.analitika2018.co.za

4th International Symposium on Electrochemistry "Pure and Applied Electrochemistry, University of Johannesburg (UJ), Venue: School of Tourism & Hospitality, U Johannesburg. Organised by ElectrochemSA (The Electrochemistry Section of the South African Chemical; Institute); 03 to 05 April 2018 http://www.saci.co.za/ElecrochemSA/symposium_home.html

CATSA2018 CATSA  holds an annual national catalysis conference with the aim of promoting widespread interaction among practitioners in the field and this event is rotated around the country. The 29th annual conference is being hosted by the North-West University and will take place at Legend Golf & Safari Resort from the 11 - 14 November 2018. The 2018 Eminent Visitor is Professor Gregory Jerkiewicz from Queens University in Kingston, Ontario, Canada. http://catsa.org.za/index.php/catsa-2018
ICMES-2018, the Second International Conference on Materials and Environmental Science which will be held at Saidia, Morocco, the Blue Pearle of Mediterranean Sea 26-28 April, 2018. For more information : www.jmaterenvironsci.com/icmes2018/icmes2018saidia@gmail.com

First Atlantic Basin Conference on Chemistry (ABCChem) – 24-26 January, 2018; Cancún, Mexico http://abcchem.org/about/societies/

International Conference on Chemical Education 18, July 10-14 2018, Sydney

ACRICE-3 Algeria October. The website is www.univ-setif.dz/OCS/FT/ACRICE. The conference is under the aegis of IUPAC and FASC

Science Forum South Africa 7-8 Dec 2017, CSIR International Convention Centre, Pretoria

African Materials Research Society (AMRS) Conference 2017, 11-14 Dec 2017, Gaborone, Botswana. www.amrsbotswana.org

Post-graduate Summer School on Green Chemistry, 7th to 14th of July 2018 in Venice
http://www.unive.it/greenss2018
Equipment
Anton Paar's new Cora Raman spectrometers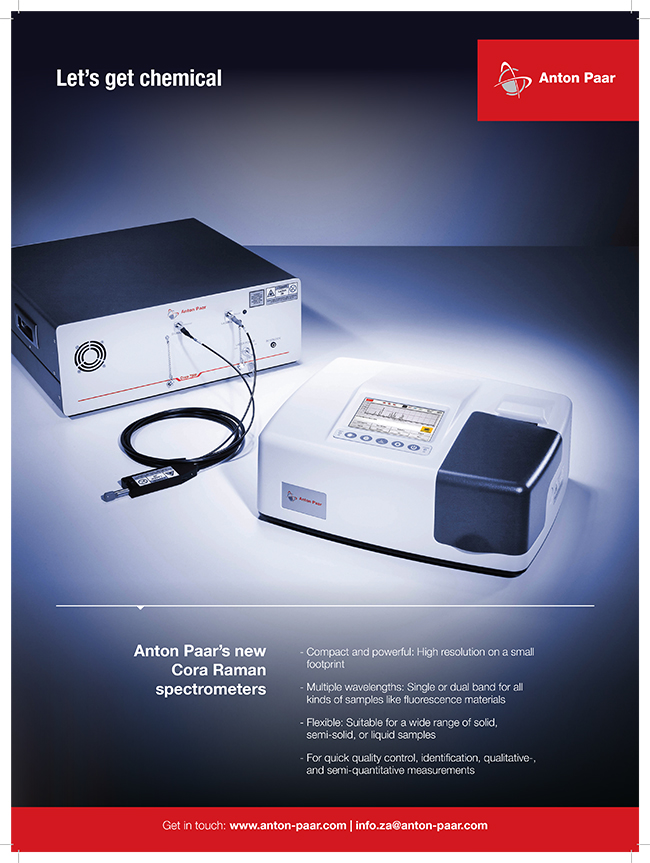 Bruker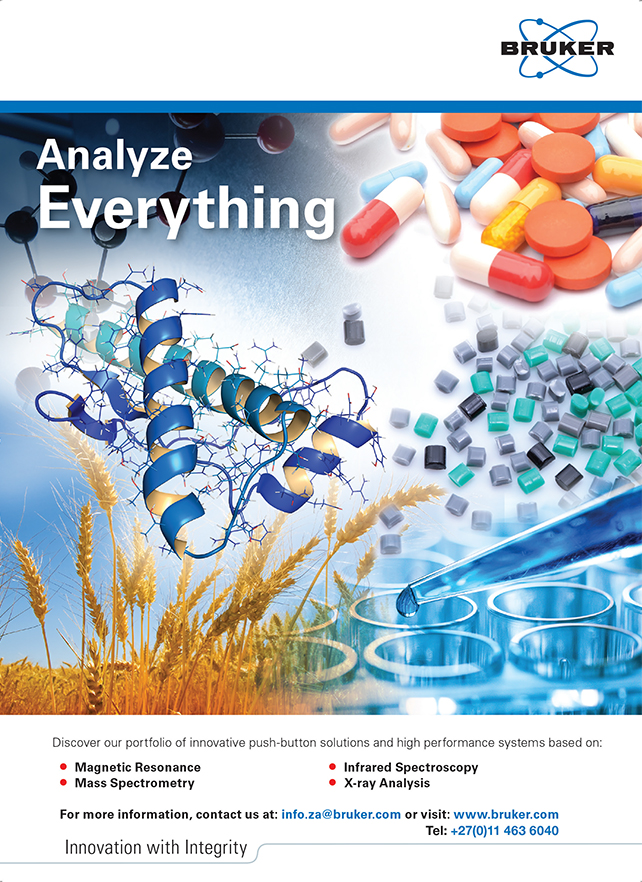 Workshops
Fundamentals in chromatography and hands on practical experience on trouble shooting in liquid chromatograph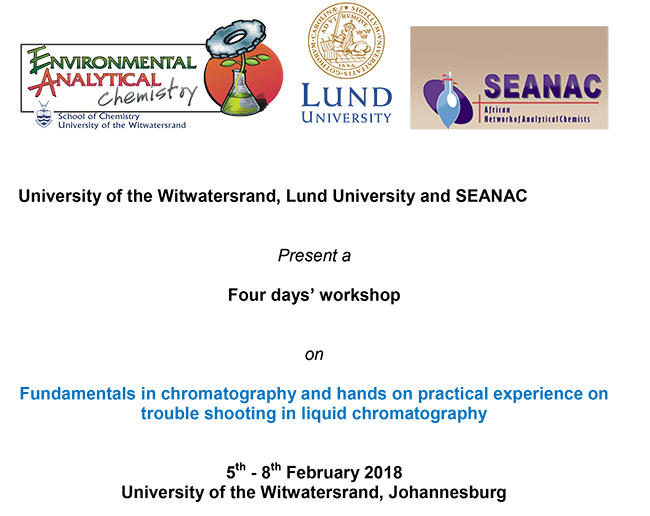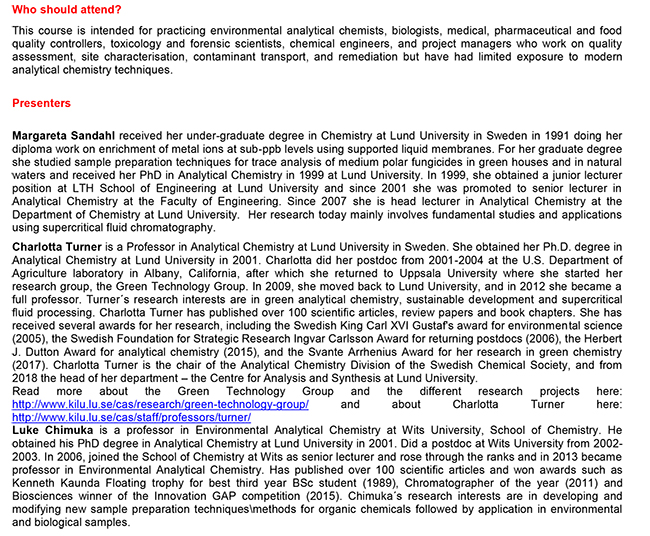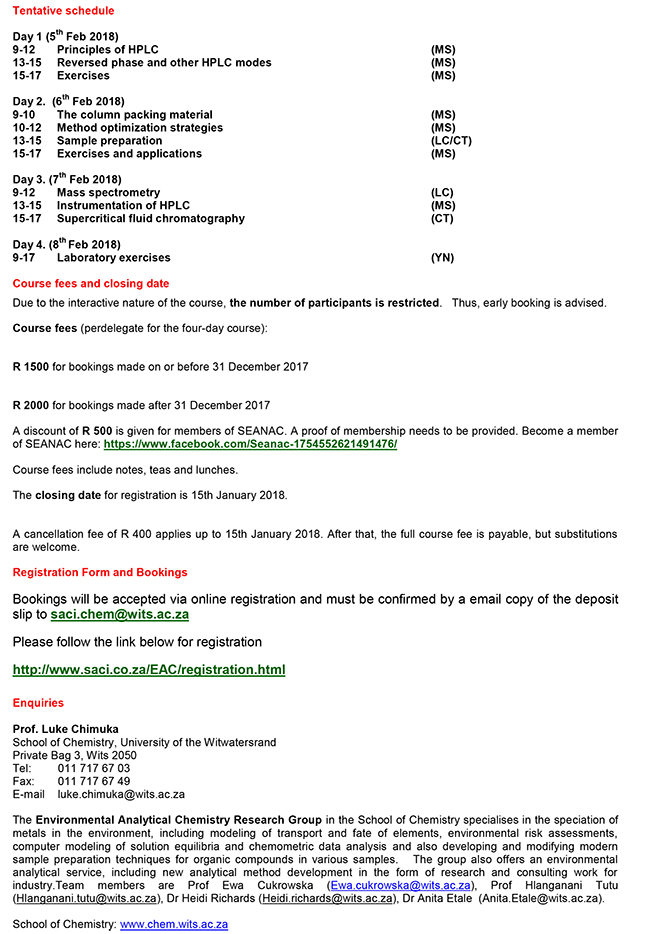 Vacancies