SACI Events
Download SACI National Programme 2008 -2018
Analitika 22 - 26 July 2018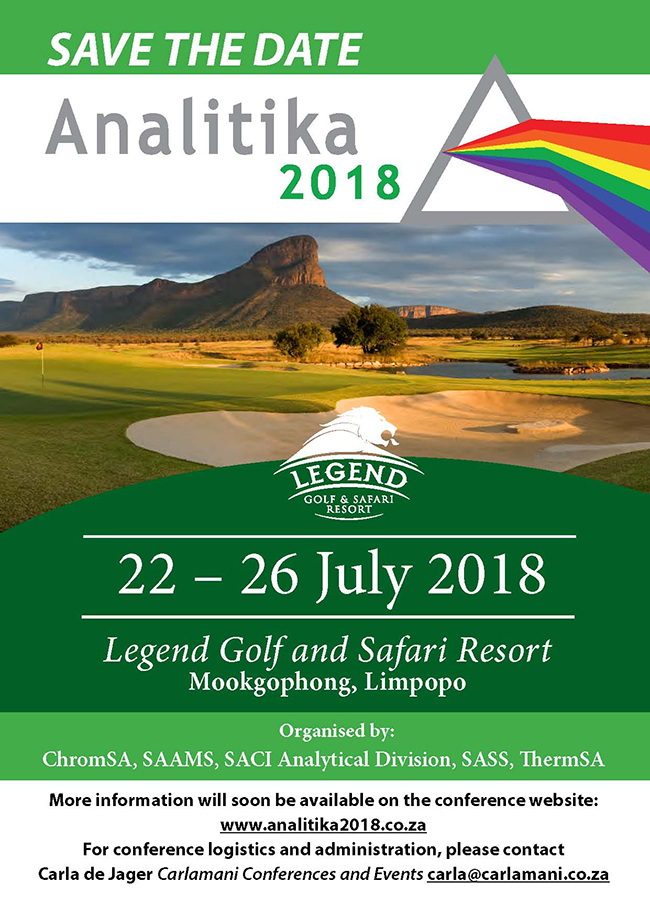 2017 CHROMATOGRAPHY POSTGRADUATE STUDENT SEMINAR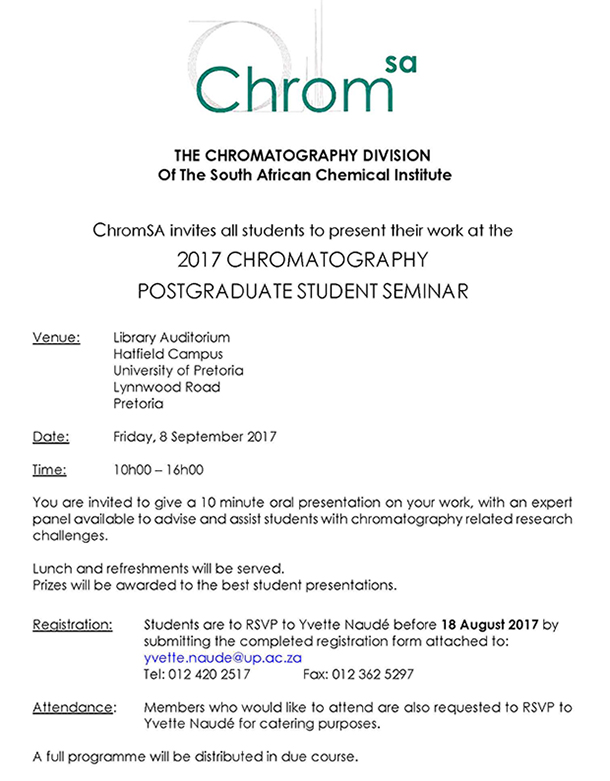 4th International Symposium on Electrochemistry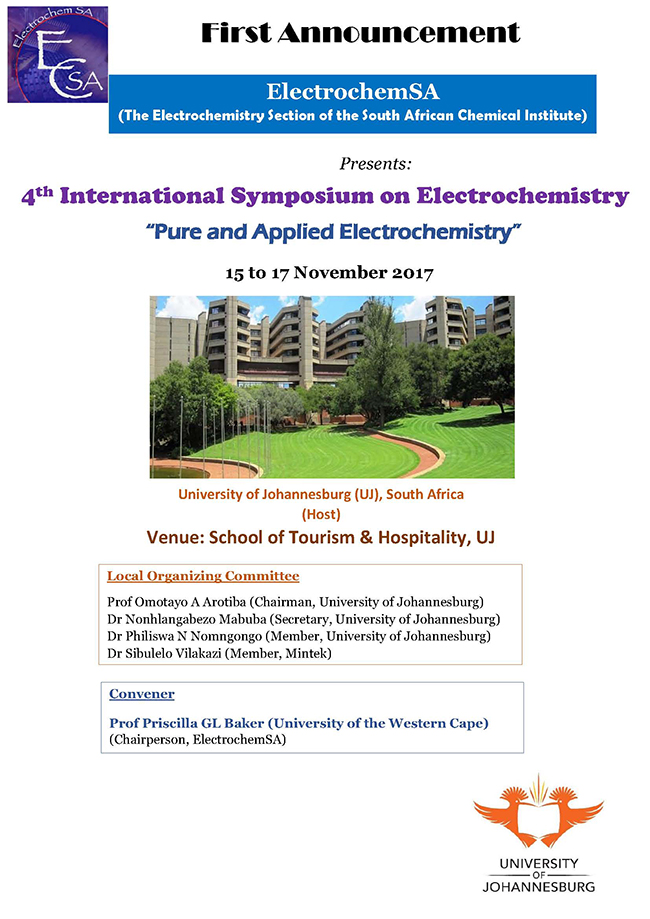 On behalf of ElectrochemSA, I cordially invite you to the 4th International Symposium on Electrochemistry.
Our theme for this conference is "Pure and Applied Electrochemistry".

Electrochemistry, though traditionally a subset of physical chemistry and analytical chemistry, in recent times has emerged to be a notable branch of chemistry. Electrochemistry is applied in biochemistry, material science, biotechnology, nanotechnology, engineering, mining, environmental science, water treatment technologies, biomedicine, energy and so on. It is a key science behind many technologies such as sensors, biosensors, solar cells, batteries, capacitors, supercapacitors, fuel cells, hydrogen storage, water splitting, electroplating, corrosion, and many 'green' water treatment processes such as photoelectrochemical oxidation and electrocoagulation, among others.

The 4th Symposium on Electrochemistry is aimed at meeting the global challenges (especially in Africa) in water, biomedical, environmental, energy etc by bringing together electrochemists and other scientists/engineers whose integral part of their research involves electrochemistry. It will be a platform to share and update knowledge, stimulate new ideas, networking and collaborate. In addition, special attention will be given to students' participations and interactions.

Prof. Omotayo A. Arotiba MRSC

Scope
Sensors and Biosensors
Photoelectrochemistry
Environmental Electrochemistry
Electrochemical Water Treatment Technologies
Electrochemistry of materials and nanomaterials
Electrochemistry for Energy
Electrocatalysis
Industrial Electrochemistry
Important deadlines
20 July 2017: Submission of the abstracts
4 August 2017 Abstract Submission closes
10 August 2017: Information to authors about acceptance of abstracts
12 – 20 August 2017: Early registration with reduced fee
October 12th-14th, 2017: Workshop
15 November 2017: Conference begins
Venue and Accommodation
The School of Tourism and Hospitality, University of Johannesburg is an excellent environment for conferences and international cuisine.
Affordable accommodation will be provided for student.
More information on accommodations close to the venue will be provided in subsequent calls
Special Issue
Information will be provided
Web page

http://www.saci.co.za/ElecrochemSA/symposium_home.html
Young Chemist Symposium - SACI North Section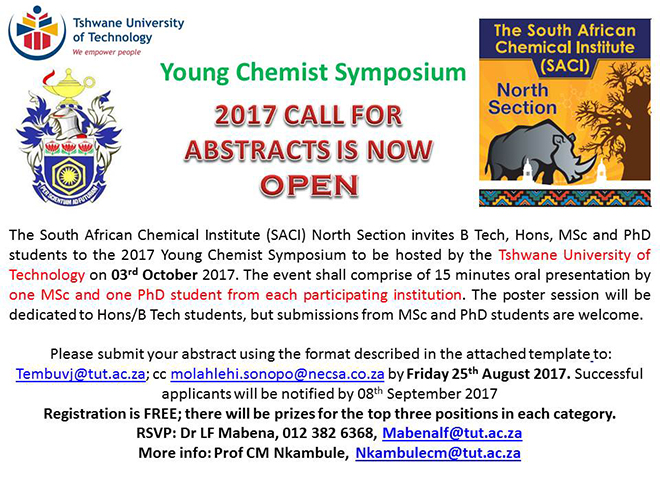 The 3rd TCS International Conference and the 6th FASC Congress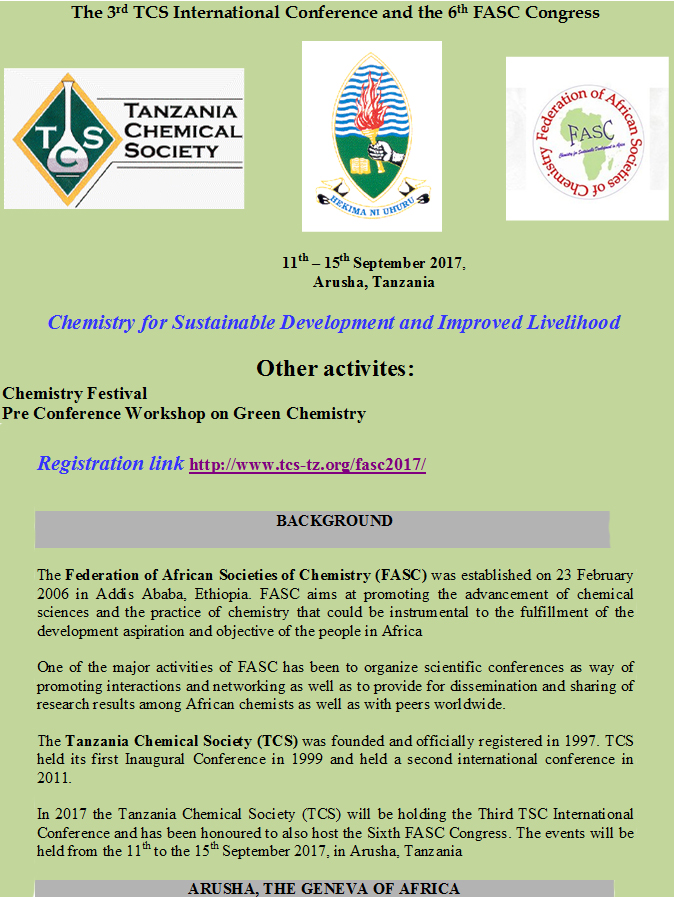 Competence in Chemistry: Component Steps to Skills and Strategies
SACI Chemical Education Medal Award Talk - Helen Drummond - 11 May 2017

This paper hypothesises that all skills are teachable. Skills (e.g. representation of knowledge, mathematical skills, visualization skills) can be broken down into their component steps, and strategies (e.g. problem solving) into their component skills, each of which can be taught. Each step must be thoroughly understood; otherwise the overall skill or strategy will not be mastered.

Much has been written on the need to improve chemistry teaching and learning, and to make Chemistry more attractive to students. Thus there have been many innovations in Chemistry teaching, many of which focus on using different media or rearranging the way in which content is taught.

However, if students do not learn the skills needed, they will never master chemistry. Thus a skills based approach to teaching chemistry is proposed. Various skills needed in the learning and application of Chemistry are discussed. Several studies have been undertaken by the author to test and improve students' ability in these skills and strategies, and the results of these studies will be discussed.

The use of strategies which are likely to lead to a correct answer will improve students' confidence, their competence and their success rate. The performance of students has been shown to improve when they receive guidance in the use of skills and strategies, and this should translate to higher grades in Chemistry.