Quick Links
SACI Facebook : https://www.facebook.com/saci.official/
SACI Instagram: https://www.instagram.com/saci_chemistry/
SACI Award winner, Fellows and Life members 2020
Fellow of SACI (FSACI) 2020
Prof. John Bradley
Prof. Bette Davidowitz 
Prof. Charles de Konning
Prof. Patricia Forbes
Prof. Perry Kaye
Prof. Selwyn Mapolie
Prof. Vincent Nyamori
Prof. Marissa Rollnick
Life Members 2020
Dr KJ Buchanan                     
Prof GE Jackson                   
Mr DJHP Reyskens 
Prof JP Michael         
THE GOLD MEDAL
The award, a gold-plated medal bearing the Institute's name and crest on the obverse and name of the medal and the recipient and date on the reverse, is made to a person whose scientific contribution in the field of chemistry or chemical technology is adjudged to be of outstanding merit.

Prof Charles de Koning
University of the Witwatersrand
THE MERCK MEDAL
The medal is awarded to the senior author of the paper, or papers, published in the South African Journal of Chemistry in a specific field of chemistry, adjudged to have made the most significant contributions to the discipline.  The award for 2020, covering papers published in the period 2014 to 2019, was amongst the most cited (without self-citation) SA authored paper in the field of Chemistry, as adjudicated by two former S. Afr. J. Chem. editors.
Eric M. Njogu, Bernard Omondi and Vincent O. Nyamori*
S. Afr. J. Chem., 2016, 69, 51–66,
Synthesis, Physical and Antimicrobial Studies of Ferrocenyl-N-(pyridinylmethylene)anilines and Ferrocenyl-N-(pyridinylmethyl)anilines
THE SACI POST-GRADUATE AWARDS
The awards shall be made to student members of the Institute engaged in research towards a MSc or PhD degree and registered in a School/Department of Chemistry at a South African University, or a MTech or DTech degree registered in a School/Department of Chemistry at a South African University of Technology. The number of medals awarded shall not exceed five per annum, and the awards are limited to one per institution. Past SACI/Sasol Postgraduate Awardees are not eligible for nomination for a second award of the medal.  The recipients of the award shall be known as The SACI Postgraduate Awardees. 
Mr Adam Shnier – University of the Witwatersrand
Ms Jean Lombard – Stellenbosch University
Dr Ayomide H. Labulo – University of KwaZulu-Natal
THE CHEMICAL EDUCATION MEDAL
The award is made to a person who has made an outstanding contribution to chemical education as judged by the person's published work in the previous 5 years.  Published work may be in any form and may be related to any level or educational context.
Dr Margaret Blackie
Stellenbosch University
THE RAIKES MEDAL
The award shall be made to a person, under the age of 40 on 31 March in the year of the award, whose original chemical research shows outstanding promise, as judged by the person's publications in reputable journals. It is further stipulated that the research shall have been performed in South Africa.
Prof. Tricia Naicker
University of KwaZulu-Natal

THE JAMES MOIR MEDALS
Medals shall be awarded to the best fourth year student in chemistry at each University and University of Technology.  To be eligible for the award the student must have achieved a minimum average final pass mark of 75%.
| | |
| --- | --- |
| Mr I.J. Minnie | University of Witwatersrand |
| Ms A. Kritzinger | University of Pretoria |
| Ms S.A. Fraser | University of Kwazulu-Natal |
| Ms L. Amod | University of Cape Town |
| Ms P Maseko | North West University |
| Ms B. Khuzwayo | Durban University of Technology |
| Mr G. Ramaremisa | University of Limpopo |
| Ms L. Mbonzhe | University of Venda |
| Mr M. Maritz | Nelson Mandela University |
| | |
Statement from SACI Council on tertiary training in chemistry as a result of disruptions to the 2020 academic year due to the COVID-19 pandemic.
As the professional body representing the interests of all chemists in South Africa, we recognise the challenges that the current COVID-19 crisis presents to all our members in academia, research and industry. We also acknowledge the challenges the current situation presents to our tertiary institutions and specifically the challenges presented by moving to online teaching. We applaud the efforts of all our members who work at tertiary institutions who have adapted and innovated to ensure that we can continue as far as possible with our teaching and learning of chemistry even when on campus face-to-face contact is not possible. Our tertiary institutions play a critical role in not only training the next generation of chemists, but they are also tasked with the important responsibility of ensuring that many people from other professions and disciplines are trained in the fundamental principles of chemistry.
We reaffirm our belief that this training is essential, as chemistry is one of the central sciences. Key to this training is the practical component and laboratory based skills development. While we accept that this critical component of our training is not possible under the current situation, we strongly urge that plans be put in place to preserve this component of training as part of the curriculum as far as possible. In some cases, virtual laboratory tools can facilitate learning, but we believe that "in laboratory practical training" particularly for senior level courses should be preserved. SACI strongly recommends that at least a critical minimum practical experience should form part of the plans to complete the 2020 academic year at our tertiary institutions. We believe that this is essential to preserve the validity and integrity of the academic training programmes in chemistry.
Professor Peter Mallon
President of SA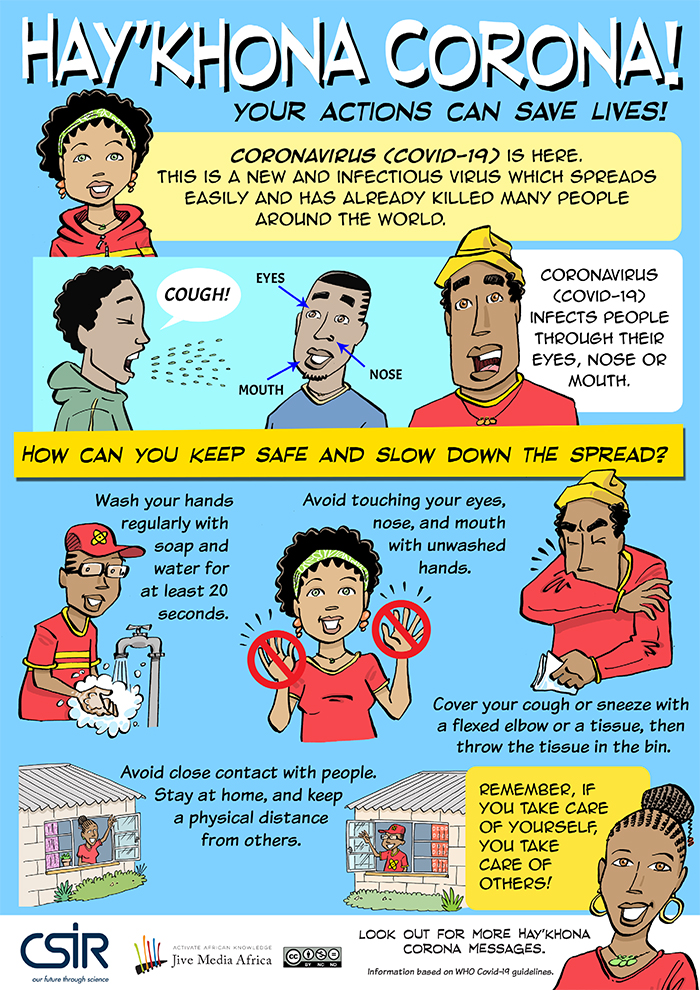 Latest Updates:
Download Latest SACI Newsletter
Pay your SACI membership fees with SnapScan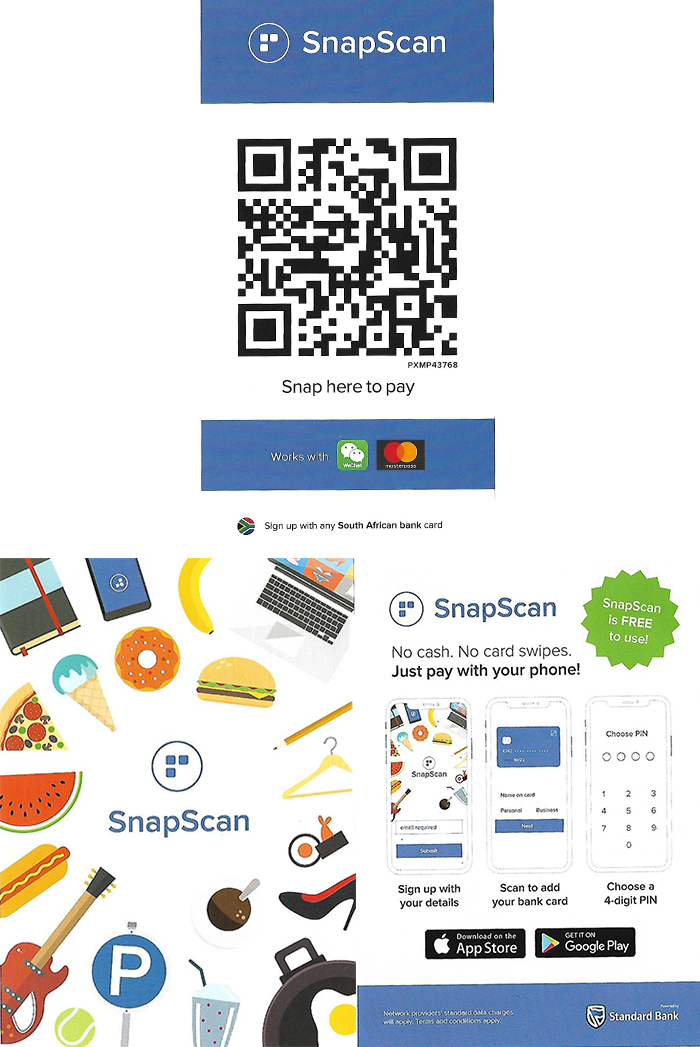 New Interactive Electronic Version of the IUPAC Periodic Table of the Elements & Isotopes
How do we know what the temperature of our planet was a million years ago, to better understand climate change? Where did Őtzi the Iceman live as a child and an adult? What evidence gives doping agencies the gold standard to determine whether testosterone in an athlete's sample comes from doping? How do we obtain 3D images of tumors in soft tissues?
The answers to all of these questions and many more can be revealed through a deeper understanding of isotopes of the elements. Isotopes matter!
These new resources are created for educators and students at secondary and post-secondary levels, and to inform the public about the many uses of isotopes in our lives. They are based on educational practices that encourage engaged and active learning by students.
The new IUPAC interactive electronic periodic table and accompanying educational materials were created by a partnership between an IUPAC Project team of scientists and educators, and researchers at the King's Centre for Visualization in Science, and build on the work of a previous IUPAC project team to create a print version of the Periodic Table of the Isotopes.
"This project responds to requests by educators and students for resources highlighting the importance of isotopes in our lives, and that give students help in using interval atomic weights for elements. www.ISOTOPESMATTER.com brings free engaging and interactive learning resources to the fingertips of students and educators around the world," says Task Group Co-Chair Peter Mahaffy, Professor of Chemistry at the King's University in Canada, and co-director of the King's Centre for Visualization in Science.
And Norman Holden, retired Research Coordinator of the High Flux Beam Reactor (HFBR) and the Brookhaven Medical Research Reactor (BMMR) and a Guest Scientist at the National Nuclear Data Center (NNDC) of Brookhaven National Laboratory in New York, adds: "It's great when scientists and educators work together to create a vehicle to provide students with an understanding of fundamental scientific facts and accomplish this internationally."
Following the global launch on August 17, 2016, the new IUPAC interactive electronic periodic table and accompanying resources can be accessed at www.isotopesmatter.com. A print version of the periodic table of the isotopes and elements is available at http://ciaaw.org/periodic-table-isotopes.htm. Further details will be published in the peer-reviewed IUPAC Journal, Pure and Applied Chemistry.
Contact:
Dr. Peter Mahaffy, IUPAC Project Task Force Co-Chair
Co-Director, The King's Centre for Visualization in Science
The King's University, Canada
peter.mahaffy@kingsu.ca
Dr. Norman Holden, IUPAC Project Task Force Co-Chair
Brookhaven National Laboratories, USA
holden@bnl.gov
Dr. Fabienne Meyers
Associate Director, IUPAC
fmeyers@iupac.org

SACI Ties, Scarfs and T-shirts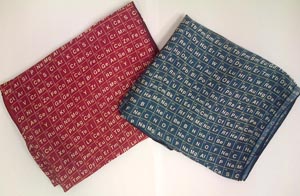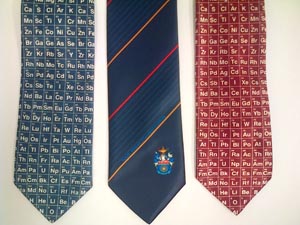 Periodic table ties and ladies scarfs R130 each.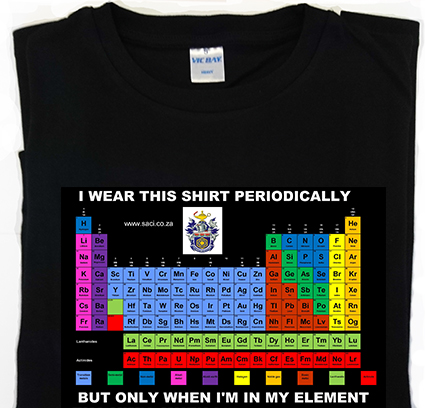 Periodic table T Shirt Short sleeve R180, Long sleeve R200
Please contact head office to place orders.
There is also a courier charge of R150 per order for delivery.