Home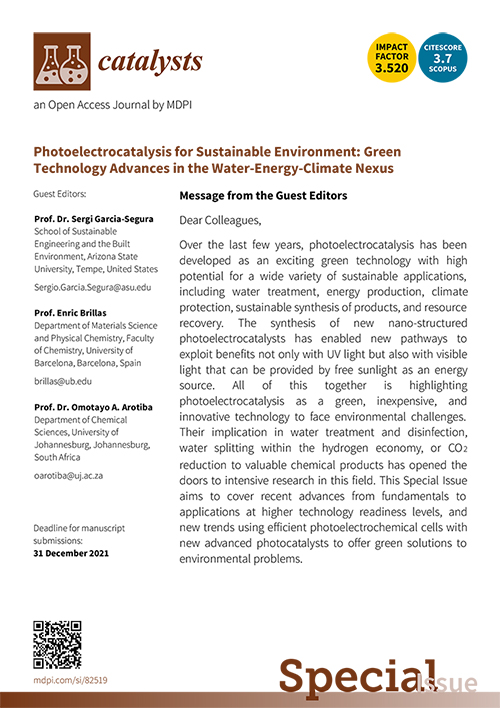 Greetings.
I hope you and your family are safe.
I wish to notify you on a special issue (SI) in the Journal Catalyst.
Special Issue: Photoelectrocatalysis for Sustainable Environment: Green Technology Advances in the Water-Energy-Climate Nexus
Website: https://www.mdpi.com/journal/catalysts/special_issues/
photoele_sustenvir
Deadline for manuscript submissions: 31 December 2021
The Guest Editors are:
Prof. Enric Brillas
Affiliation: Department of Materials Science and Physical Chemistry, Faculty of Chemistry, University of Barcelona, Barcelona, Spain
E-Mail: brillas@ub.edu
Homepage: https://www.researchgate.net/scientific-contributions/39403988_Enric_Brillas
Prof. Dr. Sergi Garcia-Segura
Affiliation: School of Sustainable Engineering and the Built Environment, Arizona State University, Tempe, United States
E-Mail: Sergio.Garcia.Segura@asu.edu
Homepage: http://www.greentalents.de/awardees_awardees2015_sergi-garcia-segura.php
Prof. Dr. Omotayo A. Arotiba
Affiliation: Department of Chemical Sciences, University of Johannesburg, Johannesburg, South Africa
E-Mail: oarotiba@uj.ac.za
Homepage: https://www.scopus.com/authid/detail.uri?
authorId=24436911100
It will be my pleasure to receive your manuscripts. Should you which to contribute, kindly email me with the email Subject – "Catalyst SI – Prof Arotiba" and I will send you an invitation letter.
I look forward to receiving your email.
Keep well.
Prof. Omotayo A. Arotiba MRSC
Department of Chemical Sciences, University of Johannesburg
Director, Centre for Nanomaterials Science Research, University of Johannesburg
Chairman, ElectrochemSA (The Electrochemistry Division of the South African Chemical Institute)
Office: +27 11 559 6200, Cell: +27 721777212
Email: oarotiba@uj.ac.za
Google Scholar:
https://scholar.google.co.za/citations?user=FtKBpAcAAAAJ&hl=en
ResearcherID: B-4946-2011
ORCID: http://orcid.org/0000-0002-8227-8684