SACI News June - July 2020
We have now spent over 100 days in lockdown.  Who would have thought this at the beginning of 2020?  We hope that all our members are keeping well and healthy during this challenging period.  We have unfortunately lost another two members, Dr Jaap Bruijn who was very active in what was the Natal Section, and Dr Hans Helmut Hahn, of Hahn & Hahn.  We offer our sincere condolences to their families, friends and colleagues.  Some time ago we asked those who have been members of SACI for over 40 years to send us their recollections of the Institute.  We will be adding these to the newsletter over the next few months.  Many thanks to Professor Neil Coville, who kindly collated these reminiscences.
On behalf of SACI we wish all our members good health during this difficult period.

Bice Martincigh
Content
Advertising in the SACI newsletter

Pay your SACI membership fees with SnapScan

Obituary: Dr Jaap Bruijn

Obituary: Dr Hans Helmut Hahn

Of interest: Coronavirus

Down Memory Lane

SACI Statement on Tertiary Training in Chemistry

Diversity and Inclusion in the Chemical Sciences

Sections and Divisions News

Commonwealth Chemistry

ACS Survey Results

RSC News

PACN News

NSTF News

IUPAC News

FASC News

CAIA Newsletter

South African Journal of Chemistry

African Journals of Chemistry

SACI and SACI-related conference events

Other Conferences

Vacancies
SACI office address and times
The SACI office, run by Laila Smith is located on the 1st Floor of Gate House, room 124. The telephone number is 011 717 6705 and e-mail address is: saci.chem@wits.ac.za. The cell number is 061 282 3477.

Office hours are from 8.30 am till 1.00 pm. She can be contacted at any time during her office hours.
Advertising in the SACI newsletter
The newsletter provides a means of getting messages to our membership. Currently the SACI membership stands at over 1000. This newsletter thus provides a means of advertising employment opportunities, conferences and workshops, and even for companies/Universities to promote themselves. We encourage members to use the Newsletter for advertising purposes. All SACI related conferences and events are advertised for free; if not a SACI related event there could be a small charge. For advertising costs contact Laila at the SACI office.
Pay your SACI membership fees with SnapScan
For those wishing to pay via credit card please let Mrs Laila Smith know so she can generate an online payment and email you a link.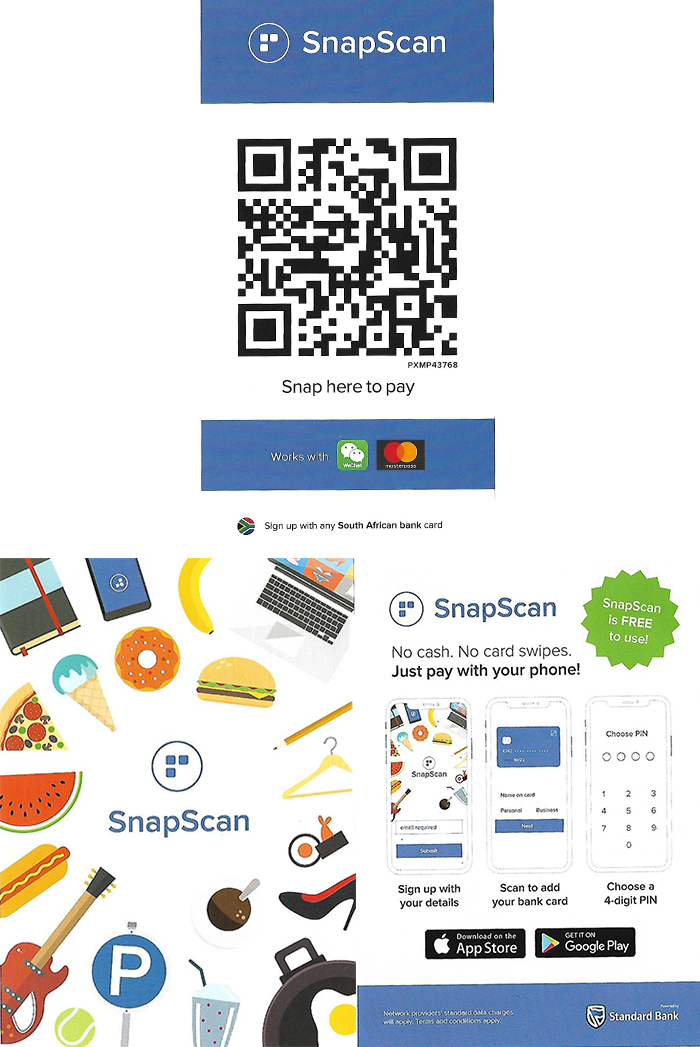 Obituary: Dr Jaap Bruijn

The South African sugar industry recently learnt of the passing of Dr Jaap Bruijn in France on 29 June.  Dr Bruijn was well known to the industry in the 1960s, 1970s and 1980s, being an active researcher at the Sugar Milling Research Institute (SMRI) and later Director, and familiar to sugar technologists through his contributions in multiple areas of sugar technology.

Jaap Bruijn started at the SMRI on 12 December 1957 as a microbiologist (although a chemical engineer by training) under the first SMRI Director, Dr Kees Douwes Dekker, and subsequently worked under directors Dr Milo Matic and then Dr Bernard Ravnö, under who he served as Deputy Director. After Dr Ravnö resigned to move to the industry, Dr Bruijn was appointed as Director on 1 November 1986, a position that he held until his retirement on 31 December 1987, when he was succeeded by Dr Brian Purchase. During his time at the SMRI, he was awarded a PhD for his study "Changes in the chemical composition of sugar cane (Saccharum officinarum) during storage", involving the characterisation of gums and polysaccharides in sugarcane, still an active research topic at the SMRI.

While at the SMRI, Jaap applied his active mind to a wide range of topics covering all aspects of the sugar industry and was the proverbial master of most trades. As well as being a good engineer, he had an excellent knowledge of science and was very practically minded, being able to manufacture all kinds of equipment and devices, as is evident from some of his achievements listed below. At the SMRI there was a saying: "When in doubt ask Jaap". It was a tribute to a person who was always willing to humbly share his vast knowledge.

His research projects and consulting work to the factories over the years ranged very widely. A quick search of the 56 technical reports he wrote while at the SMRI illustrated how broad his interests were in the field of sugar manufacture, including the composition of the cane plant, cane deterioration and the discovery of sarkaran in cane, bagasse storage, starch hydrolysis, chemical analysis techniques, molasses exhaustion, refinery operations, the caking behaviour of refined sugar and effluent treatment.

He was intimately involved with the pioneering work at the Union Co-op mill leading to the development of the diffusion process in the South African industry. He and a team from the SMRI ran some sugarcane through the Union Co-op wattle extraction plant to see if they could make sugar. Based on the success of this project, Union Co-op proceeded to erect a sugar mill alongside their wattle processing plant to start making sugar.

Jaap is also remembered for manufacturing gas chromatography (GC) columns in the SMRI workshop at a time when GC for sugar analysis was in its infancy. The cost of purchasing proprietary columns from the chemical instrument companies was very high, so Jaap designed a small electrically heated furnace through which he could slowly draw a length of glass tubing (using a small geared motor) so that it would be softened as it passed through the furnace and was then drawn to a fine capillary and wound onto a cylindrical former to cool. In this way he could pack many metres of capillary column into a fairly small package. He and the resident GC fundi (Kevin Schäffler) worked out how to pack the columns with the necessary components to enable GC analysis of sugars in the 70s and 80s. This ultimately led to the South African industry moving from a pol-based to a sucrose-based cane payment system in the 1981 season.

Portion of SMRI staff photo from February 1985, showing, from left to right, Kevin Schäffler, Dr Jaap Bruijn, Dr Bernard Ravnö, Neville Allan and Dr Brian Purchase

In about 1981 he took Dr Purchase on a consulting visit to the effluent plant at Umfolozi, and then asked if he would take over his role in the area of research and consulting on factory effluents, such as the use of trickling filters for sugar effluents. His initiation and encouragement enabled Dr Purchase to fill that role for almost 40 years (he still lectures on the subject for SMRI courses).

Dr Bruijn authored or co-authored ten papers at the annual congress of the South African Sugar Technologists' Association (SASTA) and was awarded the SASTA Talbot Crosbie factory prize (for the best paper in the Factory Section of Congress) in 1968 for his work on Enzymatic Hydrolysis of Starch, which was co-authored by RP Jennings of Tongaat Hulett.

Dr Ravnö recalls that Jaap was also a very accomplished carpenter and clock maker and he won a National Award for building a 13th or 14th century clock using only wood and twine – even the gears were wooden and the twine was for a rotating pendulum. The clock sat in his lounge and it worked, but the "pendulum" needed to be "re-spun" several times a day. Dr Purchase recalls that visits to Jaap's home were always a joy, with warm hospitality from the whole family and inevitably some fun and games. Tsoelbak (Dutch shuffleboard) was a game that he particularly enjoyed. His home workshop was enviable and was the source of much of his furniture and games.

Although originally from Holland, Dr Bruijn retired to a chateau in the south of France with his wife Stannie, who passed away in August 2019. Our sincere condolences to his family.

Dr Jaap Bruijn (left) with his wife, Mrs Stannie Bruijn, and SMRI Board Chairman, Dr Cees van der Pol (centre), in December 1982

Dr Jaap Bruijn passed away on the 28 June 2020.

Compiled by Steve Davis, with acknowledgements to Drs Bernard Ravnö and Brian Purchase for providing some of the interesting information and anecdotes.  2 July 2020.
Obituary: Dr Hans Helmut Hahn
In Memoriam of an Extraordinary Life

Dr Hans Helmut Hahn, or just Hans as he was to all of us at Hahn & Hahn, his friends and his clients was born in Germany in 1931 during the turbulent times of a depression, His father, WA Hahn, was born and educated in the United Kingdom and after World War I relocated to Germany where he became a Patent Agent and was transferred to the Hague in the Netherlands when Hans was 3 months old and grew up as a young child until the outbreak of World War II.

In 1948 the Hahn family left for South Africa to start a new future. Hans was 17 years old and for the first two years the family eked out a frugal existence and Hans helped out his father who was qualifying as a Patent Agent in South Africa wherever he could, doing patent drawings and searches at the patent office, and taking on translations and odd jobs to finance his studies. Hans then worked for the CSIR and completed his M.Sc where after he spent 1954 to mid 1957 overseas doing his doctorate in Karlsruhe, Germany.

In that time the firm of WA Hahn Patent Agent had grown and with his father's health deteriorating Hans returned to South Africa and in 1960 passed his Patent Agents Examination and was registered early in 1961. The name of the firm was changed to Dr.W.A.Hahn and Dr.H.H.Hahn, later abbreviated to Hahn & Hahn where he was a partner until 2007 and an active consultant until his death. Hans was a doyenne of the Intellectual Property profession in South Africa and until recent years was a fixture on many committees and attended IP conferences in South Africa and around the world and was well known amongst his peers.

In addition to having a doctorate in Chemical Engineering and being a Patent Agent Hans was a polyglot and a sworn translator between English, Dutch, German, French and Afrikaans.

On a personal level, Hans was an avid art collector and the walls of Hahn & Hahn are adorned with art works acquired by Hans over the decades and will remain a reminder of him.

Hans also appreciated the great outdoors and founded the Morning Sun Nature Reserve and Mashovhela Lodge which he frequently visited and invested in the local community.

Hans was much loved by all at the firm and will be missed by all. Rest in Peace Hans Helmut Hahn.
Of interest: Coronavirus
Traditional medicine and innovation to bring relief to COVID-19 patients
Message from the NSTF Executive Director, Ms Jansie Niehaus
There is no cure nor vaccine against COVID-19, but there is a plethora of traditional treatments for the flu. None of which will cure viral infections, but that may provide symptomatic relief. Scientific studies should be done and promising plants and their components should be explored for development into innovative products, symptomatic treatment and possibly essential life-saving drugs. Read the message
Down Memory Lane
To add to the history of SACI it was decided to get some of the older SACI members to relate about their experience of SACI in years gone by me. To do this a letter was sent out to the SACI membership form the then President, Prof Vincent Nyamori, in late 2017. The letter requested that those members with 40 + years of SACI membership write a few paragraphs on their remembrance of SACI in times past.

For a variety of reasons, these anecdotal comments are only now being collated in mid-2020. These remembrances of times past provides a small window on the times that the members recollect. Below are listed (virtually unedited) the comments from these members.

If there are any others who would still like to add to this article – please do so. Send your information to me.
Prof Neil Coville
July 2020
The letter of invite
Dear SACI Member

You have been a SACI member for over 40 years. We are trying to record some early history of SACI. Could you write a paragraph for us (10 lines; or longer) on (i) an early memory relating to SACI and (ii) what you doing now.

Thanks
Prof Vincent Nyamori

Response from Prof John Bradley

THE SACI 1980-90

I was Chairman of the S Transvaal section 1981-3 and SACI President 1988-1990.

The SACI used to belong to the Associated Scientific and Technical Societies and our secretary (Ms Efty Tsimas, not Laila!) had her office on their premises in the centre of Johannesburg. Meetings of the Council and of the committee of the then Southern Transvaal section were also held there. During the period 1980-1990, Sections were solely based upon provinces and there were no subject-specialized sections. In accordance with this, section meetings would bring together chemists of widely differing backgrounds – from academia, industry, allied commercial entities, and parastatals. I got to meet and to learn from chemists I would never otherwise have done and it was mind-broadening. The shared enthusiasm for chemistry across this spectrum of individuals enriched my own knowledge of the field and informed my academic teaching.

During this period there were proposals for specialized sections and gradually these were approved by the Council. It was quite a contentious issue at the time. One of the prompts leading to its adoption was the approaches made by smaller, independent societies to join with the SACI and thereby benefit both entities and their membership.

In parallel with this was a slow but steady growth of the membership of the SACI and its financial strength. The Southern Transvaal section was an important locale for generating greater financial resources through a lively programme of revenue-generating, professional events. The door was opened also to Company and Patron membership as a logical part of this development.
SACI Statement on Tertiary Training in Chemistry
Statement from SACI Council on tertiary training in chemistry as a result of disruptions to the 2020 academic year due to the COVID-19 pandemic.

As the professional body representing the interests of all chemists in South Africa, we recognise the challenges that the current COVID-19 crisis presents to all our members in academia, research and industry. We also acknowledge the challenges the current situation presents to our tertiary institutions and specifically the challenges presented by moving to online teaching. We applaud the efforts of all our members who work at tertiary institutions who have adapted and innovated to ensure that we can continue as far as possible with our teaching and learning of chemistry even when on campus face-to-face contact is not possible. Our tertiary institutions play a critical role in not only training the next generation of chemists, but they are also tasked with the important responsibility of ensuring that many people from other professions and disciplines are trained in the fundamental principles of chemistry.

We reaffirm our belief that this training is essential, as chemistry is one of the central sciences. Key to this training is the practical component and laboratory based skills development. While we accept that this critical component of our training is not possible under the current situation, we strongly urge that plans be put in place to preserve this component of training as part of the curriculum as far as possible. In some cases, virtual laboratory tools can facilitate learning, but we believe that "in laboratory practical training" particularly for senior level courses should be preserved. SACI strongly recommends that at least a critical minimum practical experience should form part of the plans to complete the 2020 academic year at our tertiary institutions. We believe that this is essential to preserve the validity and integrity of the academic training programmes in chemistry.
Professor Peter Mallon
President of SACI
Diversity and Inclusion in the Chemical Sciences
There is currently a renewed international debate with regards to inclusion and diversity within the chemical community that has been triggered by the recent opinion article published by Angewandte Chemie "Organic synthesis—Where now?" is thirty years old. A reflection on the current state of affairs" by Prof. Tomas Hudlicky.  This paper has subsequently been withdrawn, however, that whole incident has highlighted that there is still a lot of work to be done to ensure inclusion and diversity.

SACI were approached by the RSC to see if we would support a clear statement of the stance of International Chemical Societies against all forms of discrimination and exclusion.  On behalf of SACI, our President, Professor Peter Mallon, was happy to commit and endorse the statement.  You can follow the link https://www.rsc.org/news-events/articles/2020/jun/id-joint-societies-statement/ to read the statement.
Sections and Divisions News
Message from the SACI President:

We, as the people collectively tasked with the responsibility for guiding and stewarding SACI on behalf of all our members have an important role to play in ensuring we add value and support to all of our members at this difficult time. The Divisions and Sections of the Institute have always been the heart and soul of our organisation. They are also the main engine rooms driving the activities of SACI. I would like to encourage each Division and Section to try as far as is possible to continue engaging with our members. We need to continue with our committee meetings, organise events and provide support to our members even if this is not possible in the traditional way. We appreciate that in many cases our Section and Division Heads have already made use of the various online platforms available at their institutions to conduct SACI business. The SACI EXCO has also fully endorsed that the Institute make available our subscription to the ZOOM online platform to all of our Sections and Divisions to facilitate their activities. Regretfully due the enormous cost of the ZOOM online platform, our current subscription is limited to 100 participants at any one time. We would like to encourage you to make use of this to organise lectures and workshops and even online social events. Now that we are entering lockdown level three, it is even possible to have an online cheese and wine social event with your members! The online platform also offers the possibility to invite colleagues from around the world (and from around the country) to give talks and lectures.

If you would like to make use of this platform please contact and coordinate this with Laila. The one positive of the current crisis is without doubt the creativity and resilience that most people have shown as they try their best to continue as far as possible with our important tasks and responsibilities. I think this creativity and resilience can extend to us coming up with ways to continue the SACI activities as far as possible! We also encourage that where available or possible, you make use of your institutional platforms such as Microsoft Teams and Zoom subscriptions to host larger meetings and lectures if needed. I believe that these type of online events can ensure that SACI plays a role in maintaining a sense of community and professional interaction, even in an environment where face-to-face meetings and events are not possible. I think that this is particularly important for our student members as they are just starting their careers as chemists!

Finally, I want to thank all of you for your work now and in the future to ensure that SACI continues to serve the needs of our members even under difficult circumstances. Please feel free to make suggestions on how SACI can be more proactive! I, the entire EXCO and secretariat are committed to working with our Divisions and Sections make sure that SACI is used as a tool to the benefit of the entire chemistry community.

Warm regards to all!

Peter
Professor Peter Mallon (Stellenbosch University)
President of SACI 2019-2021
Email: pemallon@sun.ac.za
Tel:+27 21 8082971

Commonwealth Chemistry
Dear Colleagues,

Commonwealth Chemistry is keen to support chemical societies and their members across the Commonwealth at this difficult time.  The Executive Board, chaired by Dr Vicki Gardiner, has been looking at different ways of doing this and would like to propose the following:
Access to Chemistry World Magazine
The Royal Society of Chemistry would like to offer unlimited access, free of charge, to its flagship magazine Chemistry World until the end of December 2020.
Chemistry World covers science news, research, reviews, features and opinions, providing a wide range of information relevant to chemical scientists globally. It is also provides access to a variety of free webinars through the same site.
This is available to all members of the individual Chemical Societies part of Commonwealth Chemistry and so please do promote to your membership. Gaining access is simple, each individual member just needs to create an account at this link: www.chemistryworld.com/commonwealth-chemistry.
Accessing RSC Education Resources
For Commonwealth Chemistry societies who have members based in the education sector, a variety of resources are available to access at www.edu.rsc.org including the Chemical Education Research and Practice journal.
Additionally, all online PD courses are free until the end of August 2020, however please note that the content for these educational resources is focused primarily on the UK curricula.
Virtual Poster Competition

To bridge the gap between now and the rescheduled Congress 2021, the Scientific Organising Committee is arranging a virtual poster competition scheduled for August 2020. This is open to early career chemists selected to attend the 2020 Congress on behalf of your country. The competition will bring together the early career chemists from across the Commonwealth in a virtual format to share their research, network and engage in scientific debate.
We will send a separate communication about this competition shortly. We would ask that you encourage your selected early career chemists to take part in this event as it presents a great opportunity to start networking with people they will meet at the 1st Commonwealth Chemistry Congress that will take place in Trinidad and Tobago in May 2021.
We hope you will find these offers useful.

With kind regards,

Commonwealth Chemistry Secretariat



Dear member,

We are delighted to announce a partnership between our society and the Royal Society of Chemistry, working together as part of the Commonwealth Chemistry, Federation of Chemical Sciences Societies, that allows you to access Chemistry World magazine online for free for the duration of 2020.

Chemistry World is the flagship magazine of the Royal Society of Chemistry, available online at www.chemistryworld.com. It publishes a wide range of content covering the latest research, new and views from across the global chemical sciences community.

You can sign up to receive your free access by going to https://www.chemistryworld.com/commonwealth-chemistry and following the instructions on screen.

This access is available until the end of the year so we encourage you to sign up as soon as possible to get the maximum benefit.

With best wishes,
Commonwealth Chemistry Secretariat
ACS Survey Results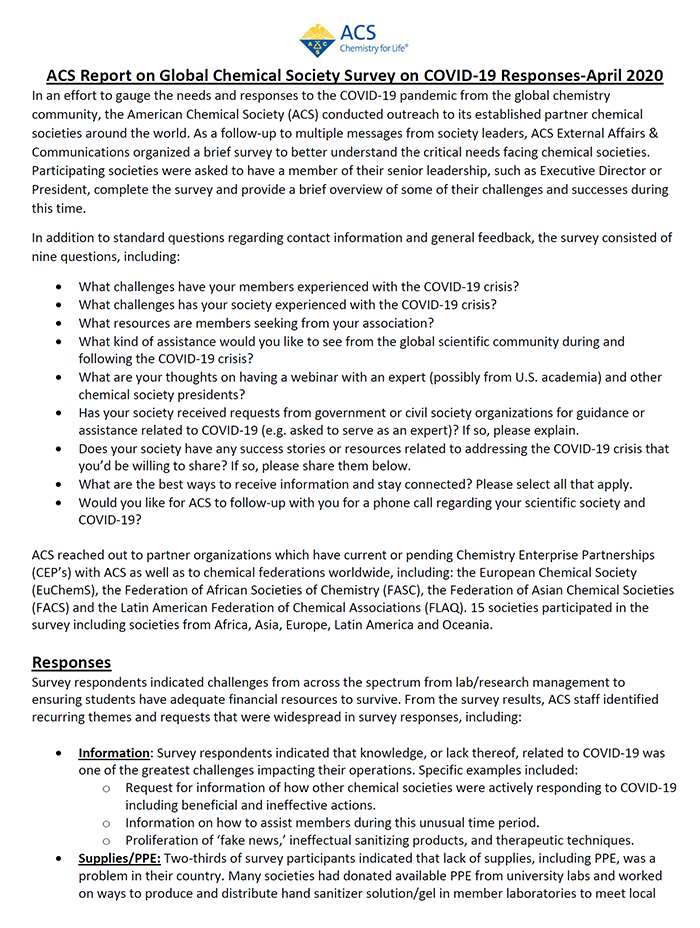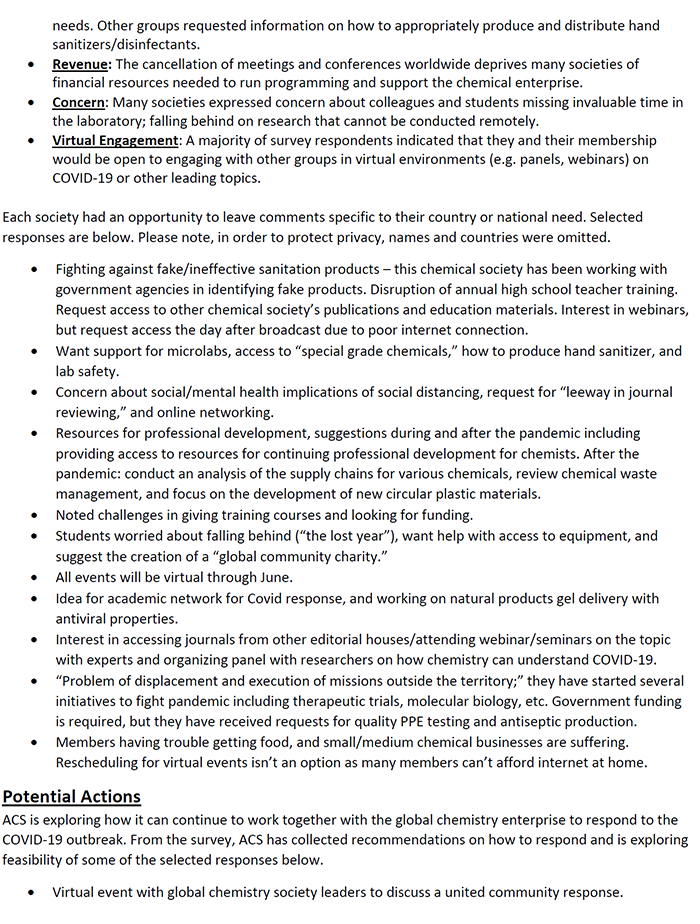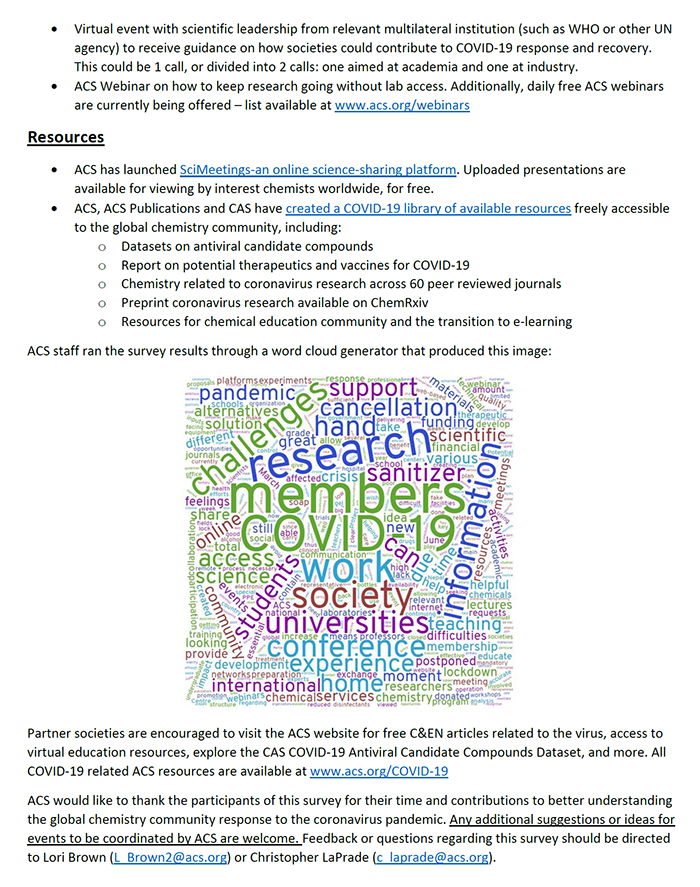 RSC News
Royal Society of Chemistry Events Website
Our website can be used to advertise events from across the world – not just those organised by the Royal Society of Chemistry, www.rsc.org/events/africa.

So, if you need a simple website for your event, or want to reach a wider audience, then please submit your event to our website.  Simply click on this link and follow the instructions: www.rsc.org/events/submitevent
PACN News
Newsletters

We have recently launched a new mailing list and, if you have not already done so, you need to take some action to ensure that you still receive updates from the Royal Society of Chemistry and PACN in the future:

Please join our new Newsletter list, click here and enter your email address: http://www.rsc.org/membership-and-community/connect-with-others/geographically/pacn/latest-news/#newsletter

Please join our LinkedIn Group: https://www.linkedin.com/groups/1900756

Please share this information across your networks, and through your societies. We welcome all to the PACN and we want to share our opportunities for training, funding and events with a wide community across Africa and globally. Help us to reach those who could benefit from our work.

Dr Helen Driver (nee Bailey) MRSC, Senior Programme Manager, Africa
driverh@rsc.org ; www.rsc.org/pacn; rsc.li/africanews

http://www.rsc.org/membership-and-community/connect-with-others/geographically/pacn/funding-opportunities/

a. Join the LinkedIn Group: https://www.linkedin.com/groups/1900756
b. Sign up to our newsletter for updates and opportunities:
c. On twitter, please look up @hvdriver or #PanAfricaChem to find out more.

NSTF News

For the latest news see:  http://www.nstf.org.za/news-category/nstf-news/

The NSTF unpacked the National Development Plan (NDP) from a science and technology perspective. This was done as a service to its stakeholders in a series of articles that were published in this e-Newsletter.  Read the summary of all 15 Chapters.

The proceedings of the NSTF Discussion Forum on Career paths for researchers – where to in a changing world? are now available on the NSTF website.  Click here to read. The media release, titled "Welcome the entrepreneur researchers" summarises the story.

The following are useful sources for this topic:

IUPAC

For the latest IUPAC news see: http://www.saci.co.za/iupac.html

International Younger Chemists Network
We are always eager to connect with new people.  Through your network in South Africa, the young chemists contribution would be incredibly valuable to IYCN if they volunteer their time to serve. Membership to IYCN is informal, we are first and foremost a network of younger chemists (35 and under, or within 5 years of their terminal degree) and we advertise opportunities and tools that will be relevant to that group of people. As we continue to grow and gain momentum, we will also be looking to organize exchanges and provide travel support to conferences.

We are currently working to expand our network, we hope you can share through your RSA chemical society newsletter about IYCN.  I would also encourage you and the people to check out our website regularly, if we have an event coming up in your area this will be the best way to see it.

Fun Man - on behalf of the IYCN Board

Website: IYCN
Twitter: @IntlYoungerChem ‏
Facebook: @IYCN.global
LinkedIn: intlyoungerchemistsnetwork


Dear SACI Member

I am reaching out to you within my role as International Society Liaison Committee Member for the International Younger Chemists Network, or IYCN.

We obtained your contact information as a National Adhering Organization of IUPAC in South Africa.

IYCN is an affiliated organization of the International Union of Pure and Applied Chemistry (IUPAC), connecting chemists in the early stages of their career. We strive to spread knowledge, mentorship and encourage a passion for chemistry within our members and the wider community by building a network of support across the globe. Our core objective is to enable a platform for scientific and professional exchange, specifically focused on the needs of younger chemists.

We are looking for opportunities to work alongside international societies to engage and support the early-career chemists in your region. We have a number of ongoing projects which we believe would be of interest to your members, including outreach experiments, conference engagements, and more.

While we are eager to offer our resources and tools to your members, we also hope to add value to your organization by more broadly sharing relevant news, conferences, or information that you wish to disseminate.
I am excited to explore the possibilities to collaborate on future events, and would be happy to answer any of your questions. If you are not the right point of contact for such a collaboration, would you be willing to provide an introduction to the appropriate person within your organization?

At this stage, we are building up a database of contacts, and if you agree, we will add your e-mail address to this. Please let us know. We will then get in touch with you when there are potentially interesting IYCN projects for your organization, and you can reach out to us when your organization plans activities that could be of interest to IYCN.

Moreover, each country is represented by two young chemists' delegates within IYCN. We are now calling for nominations for the two delegates for the 01/2021-12/2022 term until October 31st, 2020 (see details attached; e-mail: iycn.delegates@gmail.com). The 2019-2020 delegate(s) of your country are myself and Kudzai Mugadza.

Kind regards,

Bianca Leigh Davids
Postgraduate Research Student
School of Chemistry
University of the Witwatersrand
South Africa

FASC News

ABC Chem Conference 2021

This event will be held at the Palais des Congrès –Marrakech, Morocco from 14-18 December 2021.  FASC will be hosting the event.  Please diarise the date.

We are hoping to have an excellent turnout from member countries at this event. More information will be made available in the months ahead.

CAIA Newsletter

The latest issue of CAIA news is available. Go to: http://www.caia.co.za/news/chemnews/
or e-mail: caia@iafrica.com for pdf files of news and information.

South African Journal of Chemistry

The South Journal of Chemistry is now 101 years old and we are pleased to note that the impact factor of the Journal is now 1!.  

We encourage all SACI members to submit manuscripts to the Journal.  Journal submission details can be found at http://saci.co.za/journal.

Details of the journal and the editors can be seen at http://www.journals.co.za/sajchem/.

All manuscripts since 1918 are electronically available online at
http://journals.co.za/content/journal/chem/browse?page=previous-issues

This Journal is published electronically.  The webpage is:  http://www.saci.co.za/.  The South African Journal of Chemistry, published by the South African Chemical Institute, has been publishing high quality papers, in all fields of Chemistry for 100 years.  The Journal went fully electronic in 2000 and is freely available through open access online (http://reference.sabinet.co.za/sa_epublication/chem).  It is a CAS-abstracted publication and is listed in Current Web Contents.  It is also part of the Scielo group.  It has retained its status as an accredited publication with the South African Department of Higher Education and Training.

We encourage South African chemists to publish in the journal!

African Journals of Chemistry

African Corrosion Journal (online). Commenced in 2015 – a peer reviewed corrosion journal. This journal may be of interest to the "practical" chemists amongst the SACI membership. https://view.publitas.com/icp-1/african-corrosion-journal

African Journal of Chemical Education       
Enquiries and manuscripts should be addressed to the Editor-in-Chief: email eic@faschem.org, PO Box 2305, Addis Ababa, Ethiopia. AJCE, 2016, 6(1) ISSN 2227-5835 The online version appears in the FASC website (www.faschem.org) and in the AJOL website (www.ajol.info)

Papers on any aspect of Chemistry Education such as teaching organic, analytical, physical, inorganic, polymer, green, climate change/environmental chemistry, ICT in chemistry and chemistry curricula as well as assessment in chemistry are acceptable for publication. We also encourage issues on chemistry and indigenous knowledge/practice, chemical safety, natural products and related areas.

SACI and SACI related Conference events

ChromSAAMS 2020 - Conference Postponed

26th IUPAC International Conference on Chemistry Education
Conference Postponed

The Covid-19 pandemic has led to profound changes in the way we work and live. The current steep increase in cases as well as the uncertainty about international travel means that it is no longer feasible to host the 26th IUPAC International Conference on Chemistry Education in Cape Town in January 2021. The IUPAC Committee for Chemistry Education has agreed to a further postponement of the conference to July 2022. The conference will be known as ICCE 2022. Preliminary information about ICCE 2022 is given below.

Dates: 18-22 July 2022
Venue: Lagoon Beach Hotel and Conference Venue

Abstracts
The call for abstracts will be re-opened on 4 October 2021. If you have already submitted an abstract, you will be invited to resubmit your abstract when the submission process re-opens.

Registration
Registration will re-open on 4 October 2021. Should you have already paid your registration fee, we are pleased to advise that we will honour the 2020 registration fees. All unpaid registrations will be carried over to the 2022 event and re-invoiced at the revised registration fee. You are free to cancel your registration and to re-register for ICCE 2022 at the new rates. Please click on the link below to submit your response.

ICCE 2022 RESPONSE FORM
We would appreciate a response by 31 August 2020.

Accommodation
Delegates who have booked and paid their accommodation will be contacted by our booking office to arrange for the monies to be refunded. If you have booked directly with the hotel, (i.e. not through our secretariat), we ask you to please contact Lagoon Beach Hotel directly.

We look forward to seeing you in Cape Town in July 2022 and ask you to circulate this notice to your colleagues who may not be members of SACI.

Please address any questions to icce2022@allevents.co.za and consult the website, https://www.icce2022.org.za/, for regular updates.

Regards,
The Local Organising Committee for ICCE 2022

For registration queries:+27 (0)21 910 1913 • email: icce2022@allevents.co.za
Event Organiser office: +27 (0)21 712 0571
email: icce@eventmanagmentsolutions.co.za




First Commonwealth Chemistry Congress –

Conference Postponed

Other Conferences

NanoAfrica 2020

8th International Conference on Nanoscience and Nanotechnology in Africa – Conference Postponed

International Inorganic Chemistry Virtual Conference in Kenya

INTERNATIONAL INORGANIC CHEMISTRY VIRTUAL CONFERENCE IN KENYA
1ST – 2ND OCTOBER 2020, UNIVERSITY OF NAIROBI
THEME:    Inorganic Chemistry for Social Development

1. PREAMBLE
Following the success of the First International Inorganic Chemistry Conference in 2018, we hereby announce the Second International Inorganic Chemistry Conference, that will be held virtually on 1st– 2nd October 2020, at the University of Nairobi, Kenya. The Conference is jointly being organized by the Department of Chemistry, University of Nairobi and the International Science Programme of Uppsala University, Sweden.

The conference's objective is to discuss trends of Inorganic chemistry in social development through research, industry and academia in view of the pandemic. The conference will bring together practicing chemists in industry, academia, researchers, entrepreneurs and policy makers to discuss the trends and wider application of Inorganic Chemistry in social development and environmental management in Africa in general.

On behalf of the organizing committee, we cordially invite you to participate in the Conference by submitting an abstract, for consideration of virtual oral presentation. Upon acceptance of abstract and subsequent presentation of your work, participants will be required to submit full manuscripts to the conference organizers for consideration of publication in the African Journal of Physical Sciences.

2. CALL FOR PAPERS

Abstracts must be in English, typed in 12 point Times Roman, single line spacing and with the title presented in 14 point. The abstract should not be more than 300 words and must be a Microsoft Office Word file (.doc, .docx). Abstracts should be submitted to odhiambor@uonbi.ac.ke.

3. THE CONFERENCE WILL COVER THE FOLLOWING THEMATIC AREAS:

Trends in syntheses and applications of Inorganic chemistry

Computational/Combinatorial chemistry

Nanochemistry and application of nanomaterials

Environmental Pollution Management

Advances in mineral extractive technologies

Information Technology application in Theoretical Chemistry teaching

E-learning of Inorganic Chemistry

4. IMPORTANT DATES:

Deadline for abstract – 30th August 2020

Deadline for notification of acceptance – 15th September 2020

Deadline for registration – 1st September 2020

Deadline for submission of full papers – 30th October 2020

5. CONFERENCE VENUE

University of Nairobi, Nairobi

6. CONFERENCE REGISTRATION FEES

Participants:                  US$ 75.00
Students     :                 US$ 50.00

7. EXHIBITORS

Companies, organizations or individuals interested in exhibiting merchandize or in holding vendor demonstrations are welcome. Registration fee for exhibition is US$ 100.00 for space.

8. CONTACT DETAILS

For additional details, visit the Department of Chemistry website at  http://chemistry.uonbi.ac.ke/ or contact  odhiambor@uonbi.ac.ke

 9. REGISTRATION FORM

REGISTRATION FORM
PLEASE COMPLETE ONE FORM PER PARTICIPANT

Surname

Date of booking

First name
Ms/ Mrs./ Mr./Dr./Prof.

Telephone

Organization

Mailing Address

Cell

E-mail:

Postal Code

Thematic Area interested in:
(Pick from the list above)

Are you registering as a paper presenter or a participant?

 

Title of the Paper:

Virtual/Oral





Vacancies

LECTURER / SENIOR LECTURER / ASSOCIATE PROFESSOR – INORGANIC CHEMISTRY

MSc, PhD and Post-doc level candidates - University of Johannesburg

The Muller chemistry research group at the University of Johannesburg is looking for MSc, PhD and post-doc level candidates for research projects focusing on catalysis, both in experimental and computational areas.
For the experimental part, you will be involved in designing novel N/O ligand systems, coordination to molybdenum and the catalytic epoxidation of alkenes.

For the theoretical part, you will be working in close collaboration with an UJ distinguished visiting professor, Em Prof Lammertsma on the catalytic mechanistic pathway prediction of the above project.

Candidates with prior experience on catalysis and computational chemistry will be given preference.

A full stipend, equivalent to that provided by the South African National Research Foundation, will be provided for the duration of the study (2 years at MSc, Post-doc and 3 years at PhD level)

Contact person:
prof Alfred (Fanie) Muller
mullera@uj.ac.za

Associate Professor/Senior Lecturer/Lecturer: Department of Chemistry

Senior Instrumentation Scientist (Senior Lecturer level): Department of Chemistry