SACI News July - September 2021
We hope that all our members are well and safe, and are pleased that the pandemic has slowed down in the country.  In this newsletter we have news of our AGM and Council meetings, and from our KZN and Western Cape Sections.  Our new SACI President, Professor Willem van Otterlo, was inaugurated at the SACI AGM in August and the various SACI Awards were also announced there.  Congratulations to all the awardees for this wonderful achievement!  Keep up the good work and the face of chemistry in our country.  We are also grateful to all those who are voluntarily serving on various SACI committees.  Without your assistance there would not be any SACI.

Bice Martincigh
Content
Advertising in the SACI newsletter

SACI Ties and Scarves

Pay your SACI membership fees with SnapScan

SACI Salary Survey

Of interest: Honduras will sponsor the International Year of Basic Sciences for Sustainable Development at the UN

Of interest: Gender Equality in Science

Free Resource on Green Chemistry

Down Memory Lane

Congratulations to our SACI Award Winners

SACI Statement on Tertiary Training in Chemistry

Diversity and Inclusion in the Chemical Sciences

Sections and Divisions News

Commonwealth Chemistry

RSC News

RSC Local Section, South Africa North

NSTF News

AYCN

IUPAC News

FASC News

Global Young Academy of Science

CAIA Newsletter

South African Journal of Chemistry

African Journals of Chemistry

Calls for papers and book chapters

SACI and SACI-related conference events

Other Conferences

GC and GC-MS online training courses – NMISA

Vacancies
SACI office address and times
The SACI office, run by Laila Smith is located on the 1st Floor of Gate House, room 124. The telephone number is 011 717 6705 and e-mail address is: saci.chem@wits.ac.za. The cell number is 061 282 3477.

Office hours are from 8.30 am till 1.00 pm. She can be contacted at any time during her office hours.
Advertising in the SACI newsletter
The newsletter provides a means of getting messages to our membership. Currently the SACI membership stands at over 1000. This newsletter thus provides a means of advertising employment opportunities, conferences and workshops, and even for companies/Universities to promote themselves. We encourage members to use the Newsletter for advertising purposes. All SACI related conferences and events are advertised for free; if not a SACI related event there could be a small charge. For advertising costs contact Laila at the SACI office.
SACI Ties, Scarfs and T-shirts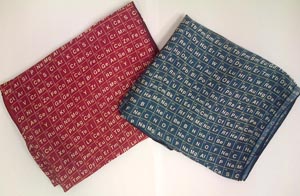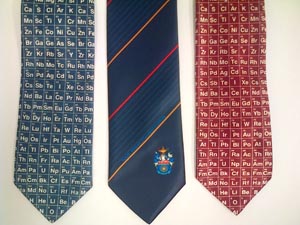 Periodic table ties and ladies scarfs R130 each.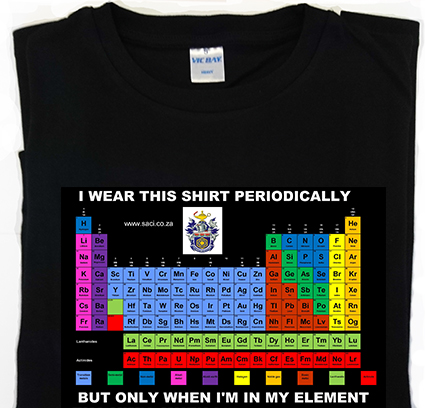 Periodic table T Shirt Short sleeve R180, Long sleeve R200
Please contact head office to place orders.
There is also a courier charge of R150 per order for delivery.
Pay your SACI membership fees with SnapScan
For those wishing to pay via credit card please let Mrs Laila Smith know so she can generate an online payment and email you a link.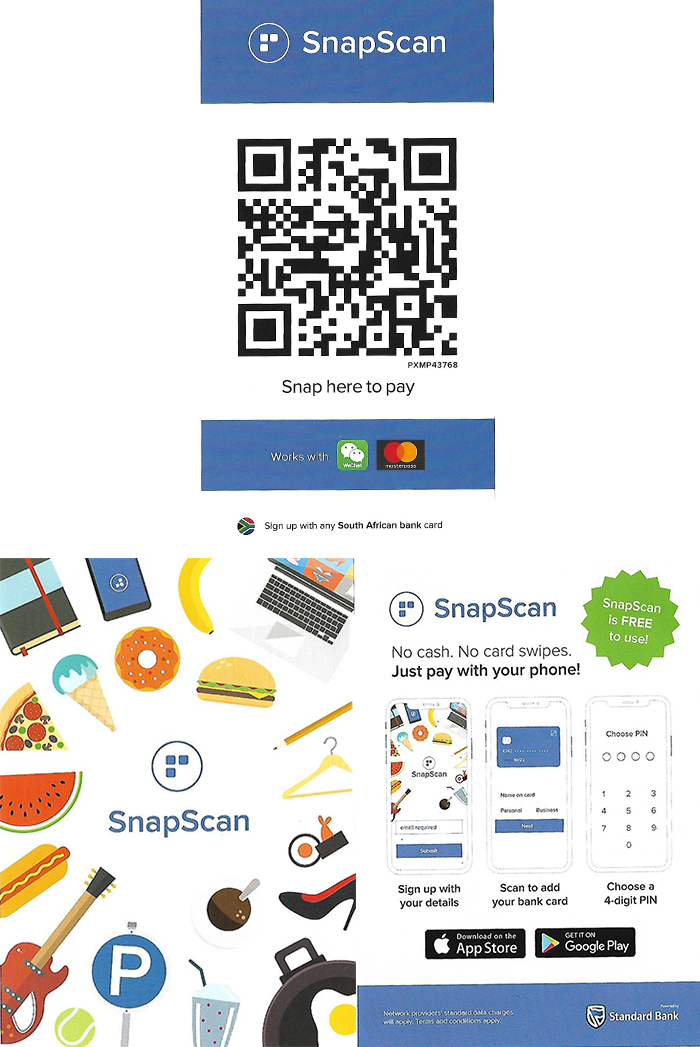 SACI Salary Survey
Dear SACI Member

Salary surveys serve many purposes, ranging from wage determination to competitiveness in the marketplace to salary equity concerns. It is important that we obtain a reasonable reflection of the salary scales across the sector so that we may draw insights into redress, equality, demand and to observe changing and emerging trends.

The end goal of using salary surveys is to identify the market rate that other organizations/institutions pay for similar work. This is the goal because most employees expect to be paid at a level that is consistent with the market rate for comparable work.

Over the last few years we have not been able to adequately compare salary scales and remuneration across the sector due to low response rates and responses from limited categories of participants.

Members are therefore encouraged to complete the salary survey for 2021 by no later than 30 December 2021, so that we may have a true reflection of remuneration across the sector.

https://www.saci.co.za/salary_survey.html

This Salary Survey is available free-of-charge to members.  The survey for 2021 will only be available in 2022.
Of interest: Honduras will sponsor the International Year of Basic Sciences for Sustainable Development at the UN
Of interest: Gender Equality in Science
GenderInSITE, in partnership with the InterAcademy Partnership (IAP) and the International Science Council (ISC), just launched the Gender Equality in Science: Inclusion and Participation of Women in Global Science Organizations.

Results of two global surveys (available at https://genderinsite.net/sites/default/files/GenderEqualityInScience_TwoGlobalSurveys.pdf).

This study reports on the results of surveys conducted amongst academies that are members of the InterAcademy Partnership (IAP) and the International Science Council (ISC), as well as amongst international disciplinary unions and associations that are members of the ISC, to ascertain the inclusion and participation of women scientists.
Here https://www.interacademies.org/news/women-still-under-represented-world-science-report-finds
Free Resource on Green Chemistry
Hi All,

I'm writing as a member of the editorial board for Green Chemistry Letters and Reviews an open-access journal started by John Warner specifically to highlight Green Chemistry in education, research, and industry. We recently reviewed the use of this resource and found that it was limited in Africa – so I am pointing you to this free resource if you have not heard of it before for use in your course and research as well as to share with your networks locally as a free resource on Green Chemistry:
https://www.tandfonline.com/toc/tgcl20/current.

If you have any questions don't hesitate to contact me! I hope you all are doing well and please allow this email to also connect all you amazing signers on the African continent!

Below are the institution names and contact person for your reference:
Rhodes University | Beyond Benign - Rosalyn Klein, Head of Chemistry Department, r.klein@ru.ac.za
Kabete National Polytechnic | Beyond Benign - Peter M. Owuor, pmowuor@gmail.com
Bingham University | Beyond Benign - Dr. Okoli, Bamidele Joseph, okolibj@binghamuni.edu.ng
First Technical University | Beyond Benign - Samson Alayande, samson.alayande@tech-u.edu.ng

Beyond Benign is hosting our Green Chemistry Connections bi-monthly this year and we invite your department to join us! You can sign up to join us and express your interest in presenting your Green Chemistry educational work during a Connection here.

All the best always,

Natalie
Natalie J. O'Neil, Ph.D. (she/her)
Director of Higher Education | Beyond Benign
978-407-2091 (p) | natalie_oneil@beyondbenign.org
Green Chemistry education for a sustainable future | www.beyondbenign.org
Follow us on Facebook
Join us on Twitter
Down Memory Lane
To add to the history of SACI it was decided to get some of the older SACI members to relate about their experience of SACI in years gone by me. To do this a letter was sent out to the SACI membership form the then President, Prof Vincent Nyamori, in late 2017. The letter requested that those members with 40 + years of SACI membership write a few paragraphs on their remembrance of SACI in times past.

For a variety of reasons, these anecdotal comments are only now being collated in mid-2020. These remembrances of times past provide a small window on the times that the members recollect. Below are listed (virtually unedited) the comments from these members.

If there are any others who would still like to add to this article please do so. Send your information to me.
Prof Neil Coville
July 2020
The letter of invite
Dear SACI Member

You have been a SACI member for over 40 years. آWe are trying to record some early history of SACI. Could you write a paragraph for us (10 lines; or longer) on (i) an early memory relating to SACI and (ii) what you doing now.

Thanks

Prof Vincent Nyamori
Response from Professor R.A. (Bob) Hasty

Memories

The 23rd S.A.C.I. Convention at UCT in Cape Town in January 1974 stands out for many reasons.   The official excursion to Stellenbosch was exceptional.   I still remember sitting under a tree with a group of chemists at Simonsig listening to Frans Malan introducing the merits of his wines.  The formalized tasting facilities and restaurant that exist today are outstanding but did not exist then.  An unofficial excursion with John Pratt later in the week from the residences at UCT, past Rhodes Memorial, up to and along Tafelberg Road, up Platteklip Gorge to the top of Table Mountain was most satisfying as an personal accomplishment.  Encountering fellow chemists from the Convention, Jack Lacy and Mike Booth, was rewarding in the development of long-time personal contacts. 

Another encounter, a year or two later, illustrating the hospitality and informality of the times arose at a tasting and discussion of the merits of Pinotage and its origins.  My interest in Pinotage's origins comes from the fact that Guido Perold's (a colleague at Wits) father was responsible for the hybridization of Hermitage and Pinot Noir.  It was a varietal with which I was unfamilar before coming to South Africa.  I mentioned that I had never seen or noticed the flower of  a grape vine.  Our host, Sydney Back, immediately took me into the vineyard and showed me the clusters of extremely small flowers.

In the early 1980s, activities and hearty discussions outside the official meeting are also remembered that had a great effect on or within S.A.C.I.  One such gathering which stands out in my memory (but details of the official event elude me) involved Andrew Spark, George Carr, Jo Day-Lewis, Iain Moodie, and John Swinley, to name but a few.  Chromatographers wanted a formally recognized body within S.A.C.I. which would better cater for their needs.  Driven by the enthusiasm of Andrew Spark, George Carr and Jo Day-Lewis, local organizations were developed in the Cape (Andrew Spark, Iain Moodie, Derek McAuley), Natal (George Carr, Jo Day-Lewis, C. Cooper) and Transvaal (Vic Pretorius, Egmont Rohwer, John Swinley).  These efforts culminated in the formation and petitioning for recognition of the Chromatography Subject Section of S.A.C.I.  In August 1983, the 'Inaugural' Meeting of the Chromatography Sub-Section (subsequently corrected to Subject Section') was convened in Durban by George Carr. 

It is probably hard to imagine today with the internet that, there was an appreciable delay in obtaining journals in 1984.  A conversation on this topic with George Morrison, the Editor of Analytical Chemistry, will long be remembered.  In fact, his editorial published later in the year makes it impossible to forget.

Fast forward several years and subsequent to retirement from UNISA in 1996, I dabbled in a number of activities including patchwork and tailoring tools.  Moving to Kimberley in the Northern Cape in 2002, I became more involved with environmental concerns w.r.t. water-related and energy-related projects in the province.  From 2006 through 2010, I took on the task of editing analytical related articles for the South African Journal of Chemistry.  Hobbies and other activities include Scottish country dancing, chess, vegetable and herb garden and walking/hiking. 

A walk from Paarl to the top of Bretagne Rock during an excursion to the Cape in February this year (2017) ends this description on the same subject as at the beginning, sampling the fruits of the vine and reaching the top of the mountain.
Congratulations to our SACI Award Winners
We wish to congratulate all the winners of the 2021 SACI Awards.  This is a wonderful achievement!

The 2021 winners are:

THE GOLD MEDAL  –  Prof Fanie R. van Heerden, University of KwaZulu-Natal

THE MERCK MEDAL  –  Mugera W. Gitari, as the senior author for the publication:  S. Afr. J. Chem., 2018, 71, 15-23, entitled: "Performance of Mn2+-modified bentonite clay for the removal of fluoride from aqueous solution" and authored by Rabelani Mudzielwana, Mugera W. Gitari,* Segun A. Akinyemi, and Titus A.M. Msagati.

THE CHEMICAL EDUCATION MEDAL  -  Dr Rene Toerien, Rondebosch Boys' High School

THE RAIKES MEDAL  -  Dr Katherine de Villiers, Stellenbosch University

THE SACI POST-GRADUATE AWARDS   
Dr Sifiso Nsibande – University of the Pretoria
Ms Pumza Mente – University of the Witwatersrand
Mr Akeem Akinfenwa – Cape Peninsula University of Technology

THE JAMES MOIR MEDALS:
| | |
| --- | --- |
| Mr KS Masotla | University of Limpopo |
| Mr Z Johnston | University of Pretoria |
| Mr AI Nemudzivhadi | University of Venda |
| Mr I Vawda | University of KwaZulu-Natal |
| Ms AG Sekopelo | North West University |
| Ms N Teixeira | University of Cape Town |
| Ms M Reed | Nelson Mandela University |
| Ms L Masemola | Tshwane University of Technology |
| Ms H van Dyk | University of the Free state |
| Ms CM Bemiah | Durban University of Technology |
| Ms K Heinrich | Stellenbosch University |
| Mr M Bracken | University of the Witwatersrand |
| Mr CN Chiyumba | Rhodes University |
SACI Statement on Tertiary Training in Chemistry
Statement from SACI Council on tertiary training in chemistry as a result of disruptions to the 2020 academic year due to the COVID-19 pandemic.

As the professional body representing the interests of all chemists in South Africa, we recognise the challenges that the current COVID-19 crisis presents to all our members in academia, research and industry. We also acknowledge the challenges the current situation presents to our tertiary institutions and specifically the challenges presented by moving to online teaching. We applaud the efforts of all our members who work at tertiary institutions who have adapted and innovated to ensure that we can continue as far as possible with our teaching and learning of chemistry even when on campus face-to-face contact is not possible. Our tertiary institutions play a critical role in not only training the next generation of chemists, but they are also tasked with the important responsibility of ensuring that many people from other professions and disciplines are trained in the fundamental principles of chemistry.

We reaffirm our belief that this training is essential, as chemistry is one of the central sciences. Key to this training is the practical component and laboratory based skills development. While we accept that this critical component of our training is not possible under the current situation, we strongly urge that plans be put in place to preserve this component of training as part of the curriculum as far as possible. In some cases, virtual laboratory tools can facilitate learning, but we believe that "in laboratory practical training" particularly for senior level courses should be preserved. SACI strongly recommends that at least a critical minimum practical experience should form part of the plans to complete the 2020 academic year at our tertiary institutions. We believe that this is essential to preserve the validity and integrity of the academic training programmes in chemistry.
Professor Peter Mallon
President of SACI
Diversity and Inclusion in the Chemical Sciences
There is currently a renewed international debate with regards to inclusion and diversity within the chemical community that has been triggered by the recent opinion article published by Angewandte Chemie "Organic synthesisعéق╜éق╛œWhere now?" is thirty years old. A reflection on the current state of affairs" by Prof. Tomas Hudlicky.ظ┬ُ├┤ This paper has subsequently been withdrawn, however, that whole incident has highlighted that there is still a lot of work to be done to ensure inclusion and diversity.

SACI were approached by the RSC to see if we would support a clear statement of the stance of International Chemical Societies against all forms of discrimination and exclusion. ظ┬ُ├┤On behalf of SACI, our President, Professor Peter Mallon, was happy to commit and endorse the statement.ظ┬ُ├┤ You can follow the link https://www.rsc.org/news-events/articles/2020/jun/id-joint-societies-statement/ to read the statement.
Sections and Divisions News
The Council and Annual General Meetings of SACI were held on Wednesday, 18 August 2021 as online events on Microsoft Teams for the second time.  At the AGM the new Fellows of the Institute were presented.  These are:
| | | |
| --- | --- | --- |
| Name of Member | | Section |
| Professor Ignacy Cukrowski | | Central |
| Professor Ewa Cukrowska | | Central |
| Professor Marietjie Potgieter | | Central |
We also congratulate them on this wonderful achievement.
Unfortunately, this year no members qualified for Life Membership.
The SACI Council for the next two years 2021-2023 is as follows:
| | |
| --- | --- |
| POSITION | NAME |
| Administrator | Mrs Laila Smith |
| President | Prof Willem van Otterlo |
| Immediate Past President | Prof Peter Mallon |
| Vice President | Prof Zenixole Tshentu |
| Executive Secretary | Prof Nikoletta B. Báthori |
| Executive Treasurer | Mrs Suzanne Finney |
| Co-opted Member | Prof Vincent Nyamori |
| Co-opted Member | Prof Bice Martincigh |
| Co-opted Member | Prof Comfort Nkambule |
| Co-opted Member | Prof Caren Billing |
| SACNASP | Prof Ernst Breet |
| IUPAC | Prof Peter Mallon |
| Webmaster | Mrs Laila Smith |
| Publicity | Prof Bice Martincigh |
| Student Representative | Ms Megan Matthews |
| Publications | Prof Patricia Forbes |
| Eastern Cape Section | Prof Rui Krause |
| KwaZulu-Natal Section | Prof Bernard Owaga |
| Central Section | Dr Mark Smith |
| North Section | Prof Comfort Nkambule |
| Western Cape Section | Prof Nikoletta B. Báthori |
| ChromSA | Ms Belinda-Leigh Hickman |
| SAAMS | Ms Maré Linsky |
| Analytica | Prof Matthew Nindi |
| Molecular Modelling | Prof Cornelia van Sittert |
| ElectrochemSA | Prof Omotayo Arotiba |
| Environmental Chemistry | Prof Jonathan Okonkwo |
| Carman (Physical Chemistry) | Prof Delia Haynes |
| Organic Chemistry | Dr Clinton Veale |
| Inorganic Chemistry | Prof Tim Egan |
| Industrial Chemistry | Mrs Suzanne Finney |
| Chemical Education | Prof Helen Drummond |
| Green Chemistry | Prof Rosalyn Klein |
| ThermSA | Prof Liezel van der Merwe |
The financial statements of the past year were presented by the Treasurer, Mrs Suzanne Finney, and we are pleased that SACI is still on a sound financial footing despite the lack of conference funding as a result of the pandemic.
The AGM concluded with the address from the incoming SACI President, Professor Willem van Otterlo, who delivered a very stimulating talk on his research which engendered much discussion.
As a result of the COVID-19 pandemic, chemists have had to embrace technology in a time where traditional conferences have been impossible. The Young Chemists' Symposium 2021 (YCS2021) was no different and was held from the 8th-9th July via MS Teams. The two-day event was open to all students and academic staff for attendance and saw approximately 160 people in attendance, with 64 postgraduate students (MSc and PhD) presented their work over three categories: oral presentations, flash talks, and poster presentations. Generous prizes were sponsored by the Royal Society of Chemistry (RSC) North Division, South Africa and SACI Western Cape, along with Herman Pistorius of Supercues.
Students from all universities across South Africa showcased their work, a first for the YCS, which has been restricted to individual YCS events for each SACI regional section separately. The organising committee consisted of Bianca Davids (WITS), Franklin de Bruin (UWC), Junia Malapile (CPUT alumna) and Larnelle Garnie (UCT), with Megan Matthews (SU) in a supportive role.
The program ran over two days, from 9:00 to 15:00. On the first day, short talks were given by the representatives of the sponsors, Professor Peter Mallon and Dr John Woodland, on behalf of SACI and RSC, respectively. This was followed by our guest speaker Dr Lethogonolo Mabena from TUT, who provided insight into the importance of green chemistry in line with this year's theme: Sustainable Chemistry. This year's theme highlighted the significant impact that traditional chemistry has had on the environment and encouraged us to think beyond the bench. Thereafter, a series of sessions were held consisting of oral presentations and flash talks by Master's and PhD students from WITS, UJ, UP, TUT, UKZN, UWC, UCT, SU, NWU, VUT and NMU. These two categories were adjudicated by three judges, Songeziwe Ntsimango (WITS), Dr Keagan Pokpas (UWC) and Chelsea Williams (SU). The winner and runner up of the PhD oral presentation category were Olubukade John Adesanmi (UKZN) and Samantha Ndlovu (UKZN), respectively. In the Master's category of the oral presentations, Jonathan Kiaka (VUT) and Nompilo Ntombela (NMU) were the winner and runner-up. For the flash talks, in the PhD category, Nompumelelo Mathebula (WITS) and Cornelius J Lombard (NWU) were the winner and runner-up, respectively, while in the Master's category, the winner and runner-up were Mzuvukile Singata (NMU) and Ané Kritzinger (UP). Participants were given the opportunity to vote for their favourite presenters via an online form, and the winner for the oral presentation crowd favourite was Lindokuhle Precious Magagula (WITS), while Nompumelelo Mathebula (WITS) was named crowd favourite in the flash talks.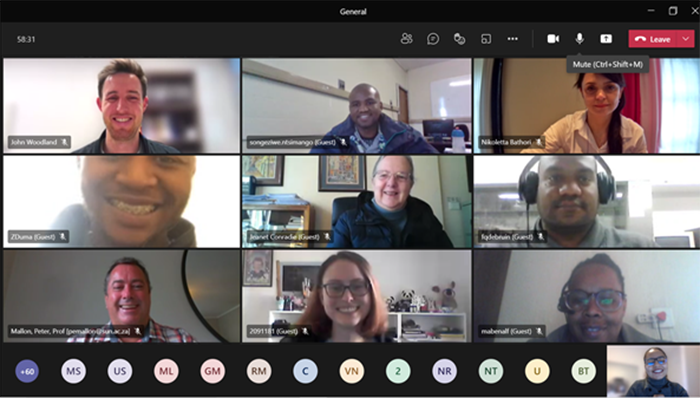 Some of our guests and speakers including Dr Mabena (bottom right corner), Prof Peter Mallon (bottom left corner) and Dr John Woodland (top left corner)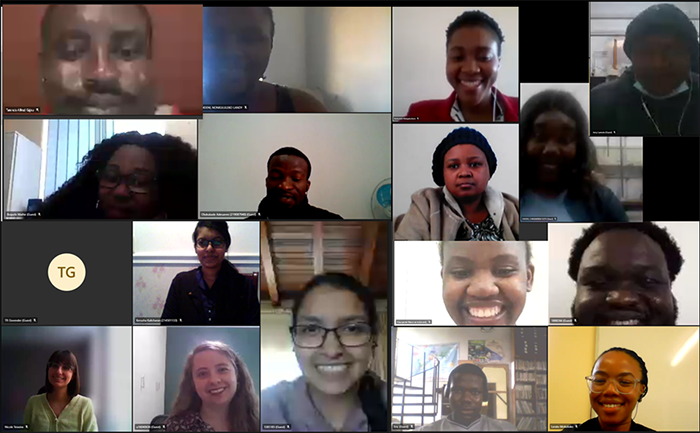 Some of the presenters in the flash talk and oral presentation categories as well as a few attendees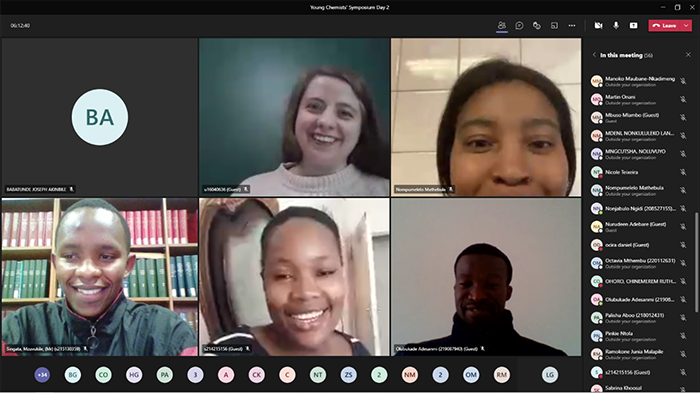 A handful of the winners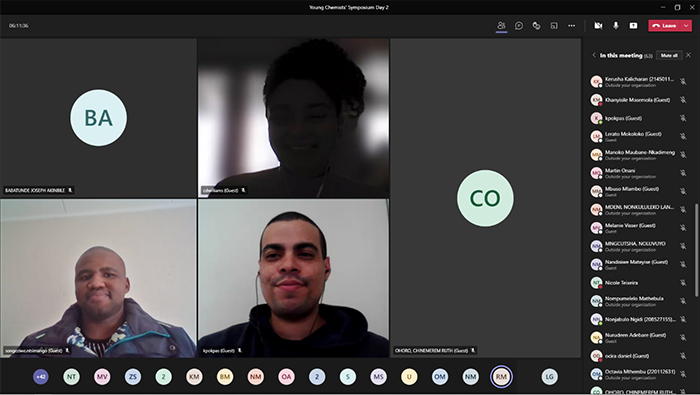 The judges for YCS2021, Chelsea Williams, Dr Songeziwe Ntsimango and Dr Keagan Pokpas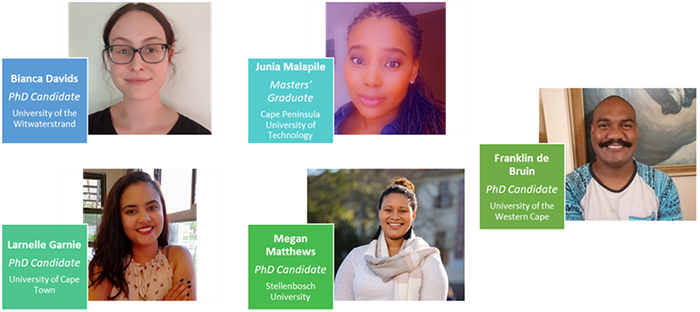 Organisers of the YCS2021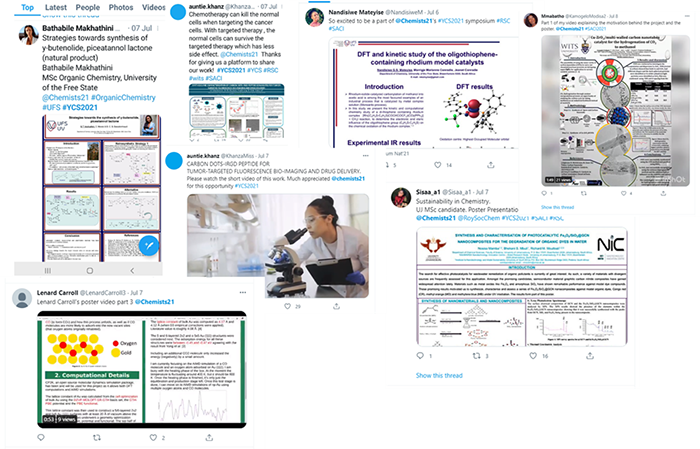 Some of the creative twitter posters and videos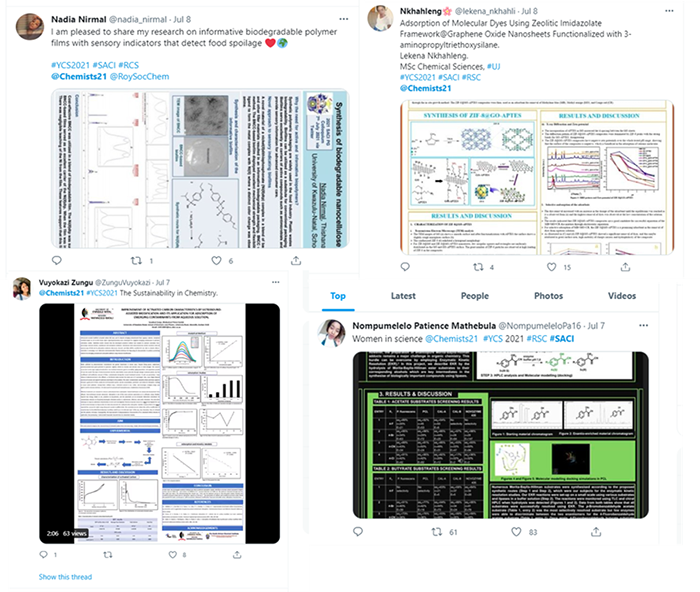 Some of the creative twitter posters and videos
Not only do we as chemists have to plan our research in a more sustainable manner, but we also need to think of how "green" a traditional conference is. Typically, a poster session would see a number of trees being sacrificed in the name of chemistry (and to have those posters being rolled up in the corner of an office never to be seen again afterwards). However, the YCS2021 poster session allowed for an interactive way for students to save some paper and show off their creativity via voice-over presentations and videos posted on Twitter. The winner and runner-up of this category were selected by the participants of the YCS2021 and were Kamogelo Modisane (WITS) and Khanani Machumele (WITS), respectively. The winner and runner-up of each category were gifted monetary prizes.
Overall, the YCS was enjoyed by the attendees and was successfully held via MS Teams. It was an event that contributed to interaction amongst students and an event that garnered interest in the younger members of RSC and SACI. The YCS hopes to grow in the future and provide a platform for young chemists all over South Africa to showcase their unique talents and the immense creativity that has been fostered as a result of the pandemic.
By Bianca Davids

On Wednesday, 25th August, the KZN Section celebrated Tony Ford's 80th birthday with an online event.  Tony turned 80 on 4th August 2021.  Tony has been a loyal member of SACI and served as its President from 2005 to 2007.  He has served on the KZN Coordinating Committee since 1992.  He was made a Fellow of SACI in 2013.  He also served as Editor of the South African Journal of Chemistry.  Tony is a NRF B-rated scientist well known in the areas of infrared spectroscopy and computational chemistry.  The event was opened by an interesting lecture entitled: "Ab initio calculations of hydrogen and halogen bonding involving Au(I) complexes" given by Professor Catharine Esterhuysen, Professor of Physical Chemistry, Department of Chemistry and Polymer Science at Stellenbosch University, in which she discussed some fascinating aspects of the bonding in gold complexes.  This was followed by a tribute to Tony given by Professor Neil Coville, a former colleague of Tony from the University of the Witwatersrand.  This was followed by further tributes from friends, family and colleagues.  The event was attended by approximately 70 persons, all of whom wish Tony many more happy and productive years!!
SACI-KZN POSTGRADUATE COLLOQUIUM
The annual SACI Postgraduate Research Colloquium was originally to be hosted by the University of Zululand but due to COVID-19 an in-person function was not possible.  The event was moved to an online platform, coordinated by SACI student representatives from Mongesuthu University of Technology and University of KwaZulu-Natal.  The Colloquium was held on Zoom on the 7th of July from 9h30 to 16h30.  Prof. Ross Robinson (Dean and Head of School of Chemistry and Physics, UKZN) welcomed all the participants.  The guest speaker was Prof. Zenixole Tshentu from Nelson Mandela University and the current Executive Secretary of SACI.  His talk entitled 'The role of chemistry in sustainable development' was solid and gave valuable insights to sustainable chemistry.  The program consisted of two sessions: the morning session for PhD orals and flash poster presentations, and the afternoon session for the MSc oral and flash poster presentations.  The traditional poster session (for both PhD and MSc) was held via Twitter and was run in parallel to the Zoom sessions.  Students from Durban University of Technology, University of Zululand and UKZN (Pietermaritzburg and Westville Campuses) showcased their research.  At one point during the morning session there were as many as 173 participants online.  All the presentations were judged and the two best presentations for each category were awarded prize money to the value of R1000 which was kindly sponsored by RSC North.  The Twitter posters were jointly sponsored by RSC North and SACI KZN.
The winners for the various prizes were as follows:
PhD Oral - Adeleke Adesola Abimbola and Samantha Ndlovu
PhD Flash Poster - Revana Chanerika and Nonjabulo Ngidi
Twitter Poster - Mthokozisi Mnguni and Shriya Misra
MSc Oral - Monga Ilunga and Adela Madaree
MSc Flash Poster - Kerusha Kalicharan and Amanda Mbhele
Dear Members
SACI Western Cape and RSC South Local Section invite you to attend their joint AGM, followed by a relaxed picnic.  Please see https://www.saci.co.za/saci_events.html# for details.

Best wishes,

Niki Bathori
SACI WC Chairperson
See https://www.saci.co.za/saci_events.html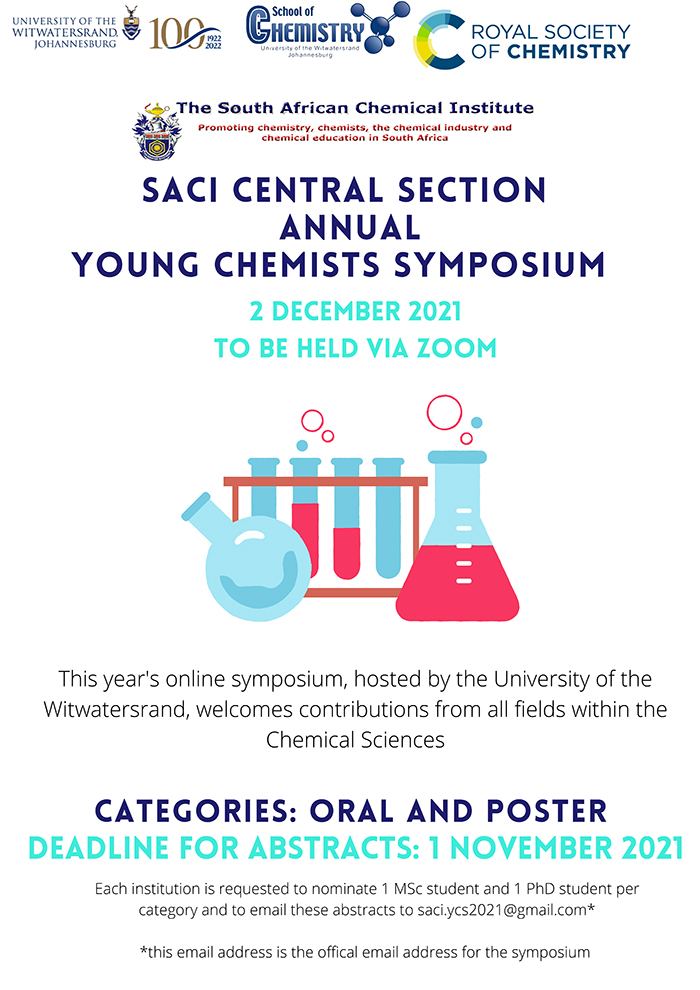 Dear SACI Industrial Members

Last week at the SACI yearly Council meeting I was voted in as the Chairman of the Industrial Division. The announcement was made to the SACI members who attended the AGM.

I would like to introduce myself to you: I completed my BSc (Hons) in Chemistry in the UK, and was employed by Gencor in 1987. I have worked as a Chemist in the Laboratories & in process, as a Quality Manager, and as a Laboratory Manager at Impala Platinum Refineries for 34 years. My responsibilities include: management of process control, metal accounting and final product certification, security, health & safety of employees, environmental, quality & risk control, labour relations & leadership of the laboratories' teams. I am in my 2nd term as Executive Treasurer of SACI, I have served also on the Royal Society of Chemistry (RSC) local SA North Section committee for 18 years, including Secretary & Treasurer. I thank the SACI Council for their support in placing me as current Chairman of the Industrial Division.

I would like to resurrect / re-commission(!) the Industrial Division, which holds a significant portion of the SACI membership, to enable positive networking of members, interactions with student members (academia), and allow for all Industrial members to have a voice within SACI via the Division. The following are proposals for your consideration and input – at present we do not have a committee, and need volunteers to serve on the committee:
A representative from each Province – nominated by the Regional Division/volunteer to serve on the Industrial Division - Central Gauteng representative is Alida Henning, who is already assisting in this campaign for industry

Industry to present their business to student members (prospective Industry employees), reaching students across all universities in SA

Student visits to industrial sites, for summarised practical orientation – majority of qualified Chemists work in industry, but all they have ever seen before employment is academia – an orientation, vitual and physical (after lockdown) may prevent unnecessary surprises in a young Chemists 1st employment phase! It will as give the students a more informed idea of which industry they would prefer to work in

A mentorship program for final year students to assist in a smoother transition into full time employment in industry – thus assisting Industrial members with CPD points for Professional Chemists registered with SACI.

Network sessions, social and professional, virtual & physical (after lockdown)

Workshops with Professional presenters on Legal, Occupational Health & Safety, Process Safety, Environmental, Labour Law …..

Possible BSc (Hons), MSc or PhD projects for students for Industry which require academic assistance/input

An increase in the Industrial members activity, increase in memberships – current members to become referees for new SACI members – new company & patron members – all reaping the awards of being SACI members

Once re-established give public lectures on why chemistry is essential to society, and communities
As Chemists we have a responsibility to the industry, to ensure compliance and Professional conduct. We expect fellow Chemists to be as responsible.

I would appreciate your input and as an SACI Industrial Division member, on how we can move forwards, expand the Division, introduce our industries via the Division, and ensure that Chemists give back to their Communities.
Useful web pages:
SACI web page https://www.saci.co.za/
SACI membership requirements https://www.saci.co.za/membership_requirements.html
SACI membership benefits https://www.saci.co.za/saci_benefits.html
SACI Patron & company membership https://www.saci.co.za/company_patron_members.html
National Scientific Professionals Act - Government Gazette 25774
https://www.gov.za/documents/natural-scientific-professions-act-0
Regards,

Suzanne Finney
Commonwealth Chemistry
Commonwealth Chemistry has also recently launched its own website with information about the Federation and for its member societies and the wider Commonwealth chemistry community
2nd Commonwealth Chemistry Posters
Building Networks to Address the Goals
30 September – 1 October 2021
Following on from the success of last year's virtual poster event, the Commonwealth Chemistry Executive Board decided to make this an annual event for chemists across the Commonwealth.  The 2nd Commonwealth Chemistry Posters took place from 30 September – 1 October 2021 and showcased research across the Commonwealth addressing the UN Sustainable Development Goals.
Poster prize winners in poster number order are listed below.  No ranking of posters is implied, all winners are equal.  As will be seen many winners are from African countries.
P05         Benard Nkole                     Zambia
Chemical changes in the quality of reused sunflower oil under deep frying cooking methods
P06         Lisa Pilkington                   New Zealand
Chemometric analysis of alternative plant-based milks
P12         Olawale Osifeko               Nigeria
Comparative study of proximate and organochlorine pesticide residue of local and imported Rice (oryza sativa)
P22         Uzma Hira                            Pakistan
Thermoelectric Properties of Bi-doped Ba₂CoRuO₆ Double Perovskite Oxides for Efficient Energy Harvesting
P26         Stefan Ghany                     Trinidad and Tobago
Utilizing environmentally-friendly copper-based chalcogenide colloidal quantum dot films for more spectrally adapted efficient greenhouses for improved crop yield
P38         Charlie Ruffman               New Zealand
Hydrogen fuel production on MoS₂ nanotubes
P53         Zeyar Min                            Jamaica
X-Ray Powder Diffraction Peak Predictor for Characterization of Isoreticular Metal-Organic Frameworks: An Online Resource
P55         Hunain Ali                            Pakistan
Furan-Conjugated Peptidomimetic as Potentially Selective Inhibitor of HeLa Cancer Cell Lines
P57         Deepika Charu                   Australia
Integrated analyses of phototrophic biomass production and pigment accumulation in microalgae and cyanobacteria
P59         Daniel Moscoh Ayine-Tora           Ghana
Identification of novel Atg3-Atg8 inhibitors using virtual screening for autophagy modulation
P65         Daniel Nyongesa              Kenya
α-Amylase and α-glucosidase inhibitors from Zanthoxylum chalybeum root bark
P79         Stevine Claudiale Popwo Tameye             Cameroon
Ficusanolide A and ficusanolide B, two new cinnamic acid derivative stereoisomers and other constituents of the stem barks of Ficus exasperata Vahl. (Moraceae)
P83         Holly Bonfield                    United Kingdom
Expanding the scope of asymmetric redox-relay oxidative Heck transformations
P89         Bharat Kumar Allam        India
Nickel‐Catalyzed Decarboxylative C–Si Bond Formation: A Regioselective Cross‐Coupling Between Trialkyl Silanes and α,β‐Unsaturated Carboxylic Acids
P107      Sodeeq Aderotimi           South Africa
Passerini Reaction in Aqueous Media: A Practical and Convenient Method for the Synthesis of Novel α-Acyloxycarboxamides
P109      Zheng Wei Wong              Malaysia
Development of a Simple Optical Nanobiosensor for Early Detection of Breast Cancer
P120      Erin Giroux                         Canada
Comparative assessment of the binding affinities of SARS-CoV-2 proteins to Ni-NTA surfaces
P128      Sian Ramdass                     Trinidad and Tobago
Phytochemical screening and in-vitro assessment of the cytotoxic potential of extracts from a commercially prepared fruit skin using PC-3 prostate cancer cells
P131      Medha Jaimini Gunaratna            Sri Lanka
Synthesis and evaluation of syn and anti isomers of N-substituted indole-3-carbaldehyde oxime derivatives as urease inhibitors against Helicobacter pylori
P141      Bellah Oreeditse Pule                     Botswana
Dual-use Chemical: From an awareness and safety perspective
P149      Samson Oluwagbemiga Alayande             Nigeria
Photocatalytic Activity of Mixed Matrix Membranes for Degradation of Anionic Dye in Water Waste
P152      Rachel Rui Xia Lim                            Singapore
Analysis of lipopolysaccharides by coupling microscale solid-phase extraction with capillary electrophoresis-laser induced fluorescence
P154      Victoria Porley                   United Kingdom
Photocatalysis for Water Treatment in Rural India
P159      Adedapo Adeola              South Africa
Regenerable Graphene Wool for the Removal of Selected Polycyclic Aromatic Hydrocarbons from Contaminated Water
P163      Patrick Ssebugere            Uganda
Polycyclic aromatic hydrocarbons in sediments and fish species from the White Nile, East Africa: Bioaccumulation potential, source apportionment, ecological and health risk assessment

Commonwealth Chemistry and Chemistry World




Dear Colleagues

In June 2020 the Commonwealth Chemistry Executive Board accepted the offer from the Royal Society of Chemistry and introduced a scheme to allow free, unlimited access to the Chemistry World website throughout 2020.

Today, we are delighted to announce that we are extending this scheme to 31 December 2021 for all members of commonwealth chemical societies. This provides another year of free, unlimited access to the Chemistry World website for all those who wish to participate.

The access provided under the scheme would normally only be available to paying subscribers and members of the Royal Society of Chemistry. It includes:

over 16,000 archived articles spanning more than a decade of coverage
over 150 new articles, videos and podcasts published each month
personalised emails to alert you when stories of interest are published

We encourage everyone to take advantage of this scheme, so please pass this message onto your members:

What is Chemistry World?

Chemistry World is the flagship magazine of the Royal Society of Chemistry, available online at www.chemistryworld.com. It publishes a wide range of content covering the latest research, new and views from across the global chemical sciences community. There is an extensive archive of over 16,000 articles online and more than 150 new articles, podcasts, webinars and videos are published each month.
How do I claim my free access?

By being a member of your national chemical society, you can have access to Chemistry World online. Simply visit https://www.chemistryworld.com/commonwealth-chemistry and follow the instructions on screen.

With best wishes
Dr Vicki Gardiner
President Elect, Commonwealth Chemistry
RSC News
Royal Society of Chemistry Events Website
Our website can be used to advertise events from across the world عéق╜éô not just those organised by the Royal Society of Chemistry, www.rsc.org/events/africa.

So, if you need a simple website for your event, or want to reach a wider audience, then please submit your event to our website. Simply click on this link and follow the instructions: www.rsc.org/events/submitevent
Free 2021 Affiliate Membership
The RSC are offering free Affiliate membership to anyone who attends one of our online events. If you've ever considered joining but haven't gotten around to it, or aren't sure what you could get out of being a member, then maybe now is the time to sign up as an Affiliate for free and try it out.

Affiliate membership doesn't need a degree transcript or CV, simply go to rsc.li/affiliate and use the discount code LS100 to join and then you can become a member of our Interest Group and keep up to date with all of our events and activities!

Affiliate membership comes with:
Free membership of one Interest Group

Depending on where you are in the world, you will get automatic membership of an RSC Local Section (we have 35 Local Sections in the UK and Ireland and 23 international Local Sections)

10 free RSC journal article downloads a year and 35% off RSC books

Online access to Chemistry World

Access to careers resources and webinars and discounts for accredited training courses

Support from the Chemists' Community Fund

Discounts on travel, insurance, lifestyle and publications
RSC Local Section, South Africa North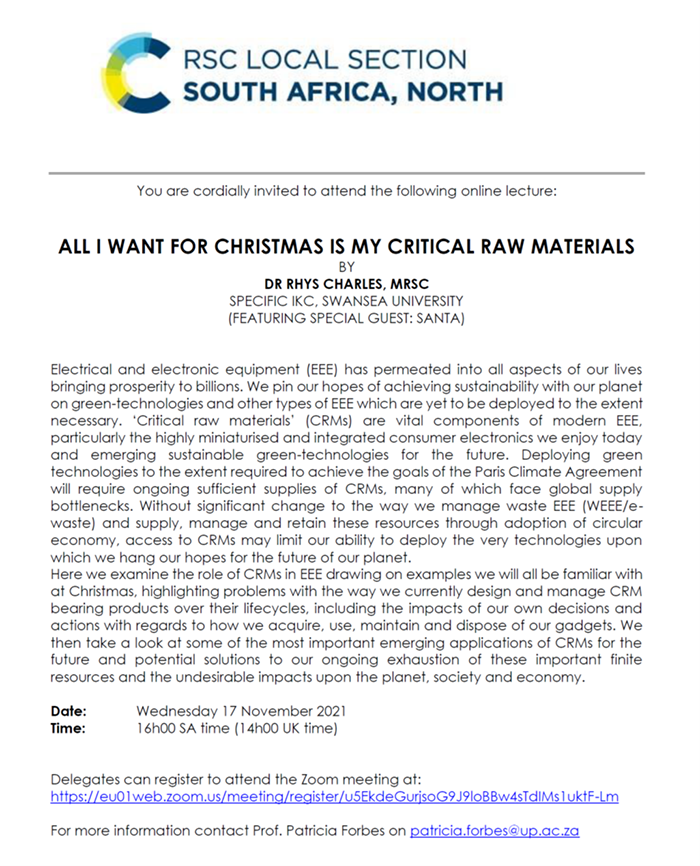 NSTF News
For the latest news see: http://www.nstf.org.za/news-category/nstf-news/

AYCN
NEW!! African Younger Chemists' Network (AYCN)

It is an exciting time to be an early-career chemist on the African continent - we are establishing the African Younger Chemists' Network (AYCN)! The need for a unifying "Afro-centric" early-career chemistry network is essential to showcase the unique talents and ideas from this region. AYCN's vision is to promote and establish global standards for the empowerment of early-career chemists and to prepare them for a sustainable future with constructive engagements and collaborations with stakeholders from across the globe. It is the intention to establish the AYCN in collaboration with other major African and global chemistry societies.

The criteria:
This group will comprise African Early-Career Chemists (AECC) who are either under the age of 35 or who are within 5 years of their terminal degree.

The purpose of this group is to:
1) encourage networking and create a community among AECCs,
2) create a space for collaboration between emerging researchers,
3) to share opportunities, including funding calls, conferences, job listings and writing workshops,
4) to promote leadership and development of AECCs.

This form serves as an expression of interest. Please complete this form if you meet the criteria listed above, and are keen to join this group. You will then be invited to join us during this establishment phase of the AYCN where the group's activities will be discussed. To receive an invitation for this meeting, we need a completed form with your email address.
Attached please find the Google form link introducing the AYCN (African Younger Chemists' Network) and requesting for volunteers to populate the various subcommittees.

https://forms.gle/hVAM8UeEY57hjusPA
Form will be open until the end of the year.
Contact email: aycn.chemists@gmail.com

Contact people: Ms Bianca Davids, Dr Sadhna Mathura
IUPAC
For the latest IUPAC news see: http://www.saci.co.za/iupac.html
For a list of IUPAC sponsored events see: https://iupac.org/events/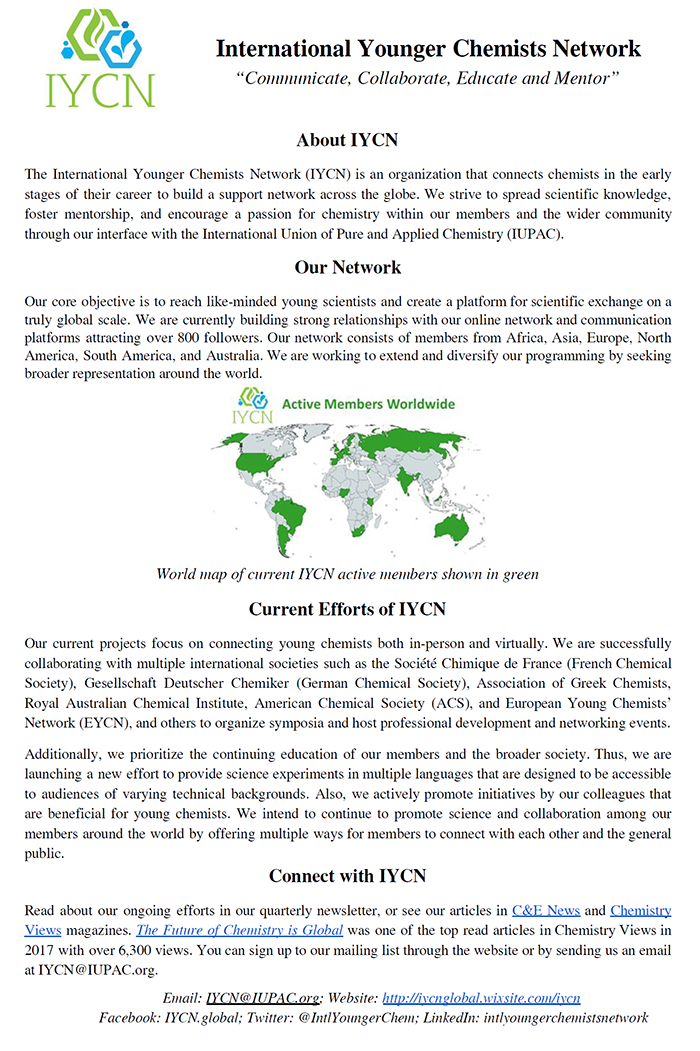 The representatives for South Africa on the International Younger Chemists Network for the period of 2021-2022 are:

Dr Mabuatsela V. Maphoru, a lecturer from Tshwane UoT, and

Ms Alida-Louise Henning, a senior scientist from Impala Platinum Ltd.

Website: IYCN
Twitter: @IntlYoungerChem
Facebook: @IYCN.global
LinkedIn: intlyoungerchemistsnetwork

Professional Development Skills:

The International Younger Chemists Network (IYCN; https://www.iycnglobal.com/), affiliated organization of the International Union of Pure and Applied Chemistry (IUPAC) is organizing a series of FREE live workshops devoted to support and empower early-career chemists with professional development skills to advance their careers.

Stephen O Aderinto: soaderinto1@sheffield.ac.uk
FASC News
ABC Chem Conference 2022

This event will be held at the Palais des Congrès - Marrakech, Morocco in December 2022. FASC will be hosting the event. Please diarise the date.

We are hoping to have an excellent turnout from member countries at this event. More information will be made available in the months ahead.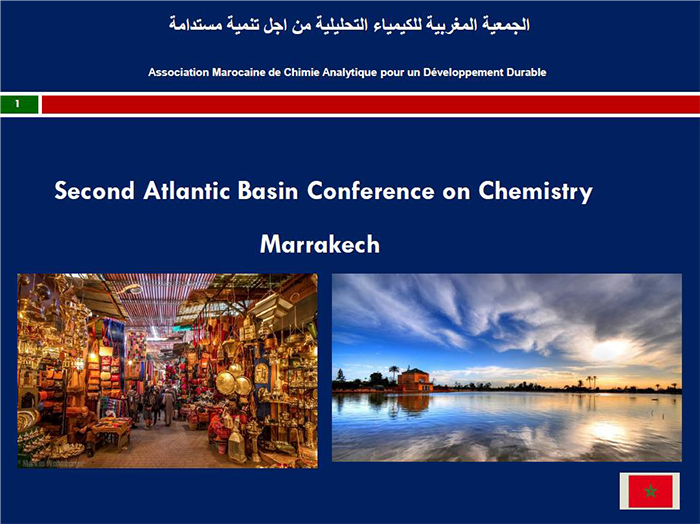 Global Young Academy of Science
Over the last few months, the Global Young Academy of Science (GYA) members, alumni and Office staff have worked together with writers and editors from the BBC StoryWorks and the International Science Council (ISC) on an article featuring the work of the GYA At-Risk Scholars Initiative.

Today GYA is delighted to share news that the newly-launched multimedia hub #UnlockingScience is now live. You can visit the hub and check out our article "The scientific knowledge being lost to conflict" here: council.science/UnlockingScience

In addition to the At-Risk Science Initiative article, the hub features short films, audio-visual stories and a podcast exploring what science is doing to address the challenges of global sustainability.
CAIA Newsletter
The latest issue of CAIA news is available. Go to: http://www.caia.co.za/news/chemnews/
or e-mail: caia@iafrica.com for pdf files of news and information.
South African Journal of Chemistry
The South Journal of Chemistry is now 103 years old and we are pleased to note that the impact factor of the Journal is now 1.2 (and has a CiteScore of 2.2).
We encourage all SACI members to submit manuscripts to the Journal. Journal submission details can be found at http://saci.co.za/journal.

Details of the journal and the editors can be seen at http://www.journals.co.za/sajchem/.

All manuscripts since 1918 are electronically available online at
http://journals.co.za/content/journal/chem/browse?page=previous-issues

This Journal is published electronically. The webpage is: http://www.saci.co.za/. The South African Journal of Chemistry, published by the South African Chemical Institute, has been publishing high quality papers, in all fields of Chemistry for over 100 years. The Journal went fully electronic in 2000 and is freely available through open access online (http://reference.sabinet.co.za/sa_epublication/chem). It is a CAS-abstracted publication and is listed in Current Web Contents. It is also part of the Scielo group. It has retained its status as an accredited publication with the South African Department of Higher Education and Training.

We encourage South African chemists to publish in the journal!

African Journals of Chemistry
African Corrosion Journal (online). Commenced in 2015 عéق╜éô a peer reviewed corrosion journal. This journal may be of interest to the "practical" chemists amongst the SACI membership. https://view.publitas.com/icp-1/african-corrosion-journal
African Journal of Chemical Education
Enquiries and manuscripts should be addressed to the Editor-in-Chief: email eic@faschem.org, PO Box 2305, Addis Ababa, Ethiopia. AJCE, 2016, 6(1) ISSN 2227-5835 The online version appears in the FASC website (www.faschem.org) and in the AJOL website (www.ajol.info)

Papers on any aspect of Chemistry Education such as teaching organic, analytical, physical, inorganic, polymer, green, climate change/environmental chemistry, ICT in chemistry and chemistry curricula as well as assessment in chemistry are acceptable for publication. We also encourage issues on chemistry and indigenous knowledge/practice, chemical safety, natural products and related areas.
Nanonews in South Africa
SAASTA newsletter. nanonews@npep.co.za. Prof Janice Limon, NPEP Nano News Editor
South African Journal of Science
TOC@assaf.org.za
Journal of the Chemical Society of Nigeria
csnjournals@gmail.com; csnjournals@yahoo.com; editor@chemsocnigeria.org
Bulletin of the Chemical Society of Ethiopia
http://www.ajol.info/index.php/bcse/index
South African Journal of Chemical Engineering
A fully open access journal in 2016, all authors can publish their papers on an open access basis in the South African Journal of Chemical Engineering at the reduced rate of $400 (USD).
http://www.journals.elsevier.com/south-african-journal-of-chemical-engineering/
Journal of the Kenya Chemical Society (JKCS)
This is a peer-reviewed multi-disciplinary chemistry journal published by the Kenya Chemical Society (KCS). JKCS publishes findings from all areas of chemistry including organic, inorganic, physical, analytical, materials chemistry and nanoscience, computational chemistry and environmental chemistry. JKCS also publishes reviews in all areas of chemistry. Published articles are available at
https://kenyachemicalsociety.org/journals.
Manuscripts should be submitted to the Editor-in-Chief at eic.jkcs@gmail.com for processing and peer-review.
Chemistry Africa
A Journal of the Tunisian Chemical Society
https://www.springer.com/chemistry/journal/42250?utm_source=hybris&utm_medium=e mail&utm_content=internal&utm_campaign=JFTT_2_aww_2018newjournals
Journal of the Mauritanian Chemical Society (JMCS)
Publishes research articles and conference proceedings in English or French.
This is published online at: http://www.scmauritania.org/journal-scm;
M A Sanhoury, JMCS Coordination Editor
Chemistry Africa
A Journal of the Tunisian Chemical Society
https://www.springer.com/chemistry/journal/42250?utm_source=hybris&utm_medium=e mail&utm_content=internal&utm_campaign=JFTT_2_aww_2018newjournals
Journal of the Mauritanian Chemical Society (JMCS)
Publishes research articles and conference proceedings in English or French. This is published online at: http://www.scmauritania.org/journal-scm; M A Sanhoury, JMCS Coordination Editor
Scientific African
Published by the Next Einstein Forum in collaboration with Elsevier.
https://www.journals.elsevier.com/scientific-african
Calls for papers and book chapters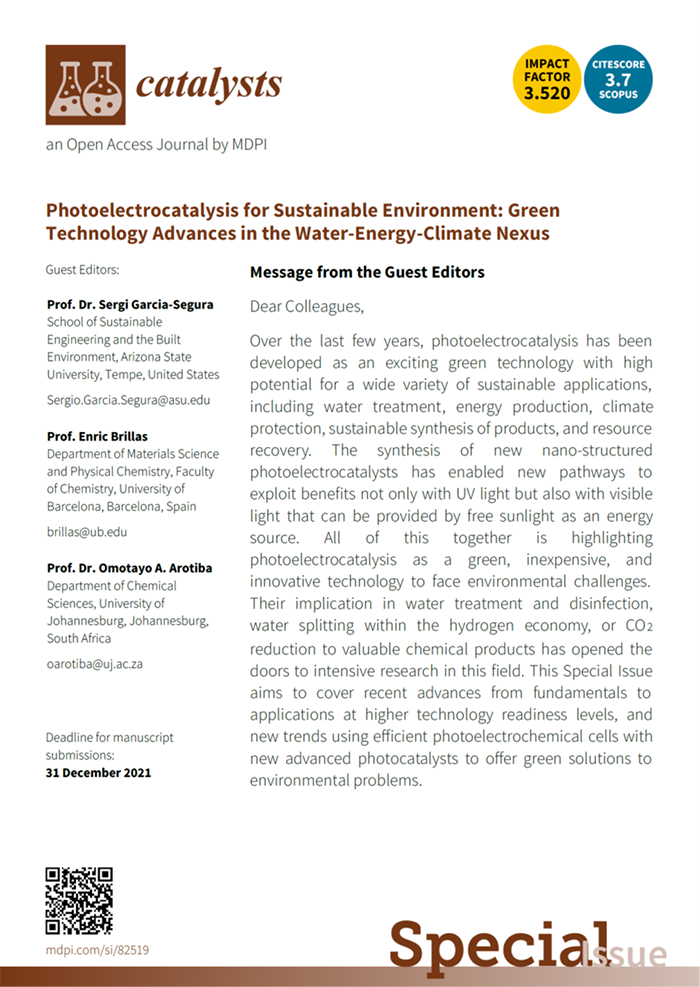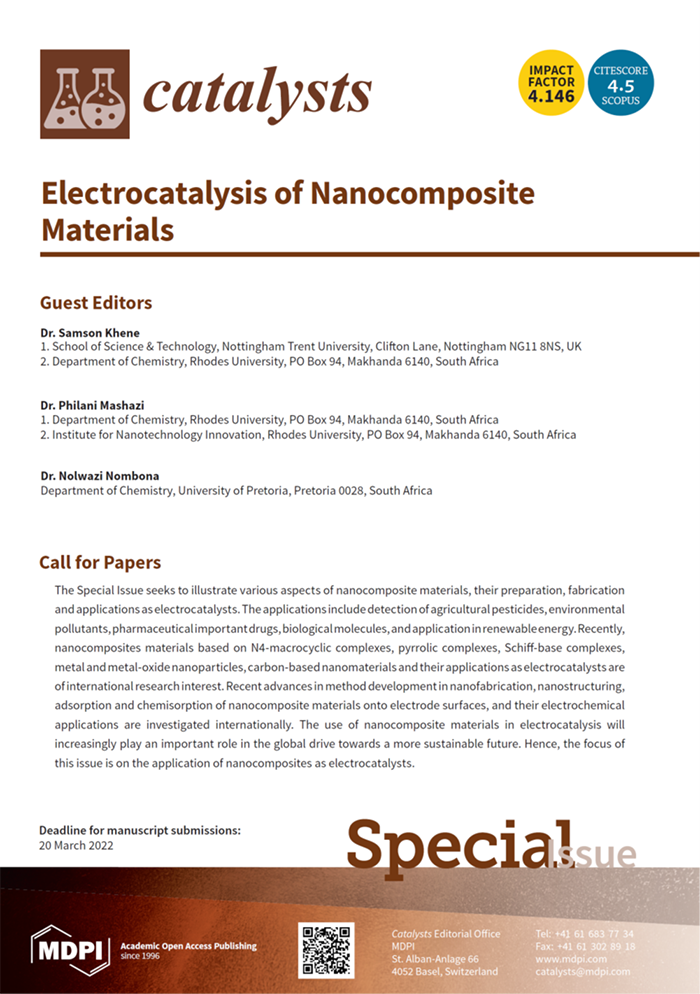 SACI and SACI related Conference events
26th IUPAC International Conference on Chemistry Education (ICCE), 18-22 July 2022, Cape Town, South Africa - Registration and abstract submissions are open
Please click visit the website to register and submit your abstract online: https://icce2022.org.za/

Other Conferences
https://www.saci.co.za/other_events.html

CHPC Virtual Research Webinar Series 2021
Dear Colleagues,
In the past years, the CHPC has been inviting the Principal Investigators (PIs) of research programme actively using CHPC to deliver research seminars as part of the user engagement strategy. The purpose of this was to allow PIs to share their research work using Lengau Cluster in South Africa with the CHPC and broader HPC user community.

Due to COVID19 outburst and associated restrictions, hosting of onsite physical event are not possible. The CHPC now opted for hosting Research Webinar/Virtual Seminar Series and will reach more participants from global HPC research community than before. For this purpose, please attached find the schedule for the 2021 CHPC Webinar Series of invited speakers. We hope you can join us virtually in attending these talks. The Zoom links will be communicated prior to the event.

We look forward to your participation.
Kind regards,
Daniel
Dr Daniel Mojalefa Moeketsi
Senior Research Scientist
Centre for High Performance Computing (CHPC)
Contacts:
Tel.: +27 21 658 3961
E-mail: dmoeketsi@csir.co.za
web: http://www.chpc.ac.za

NICIS-CPHPC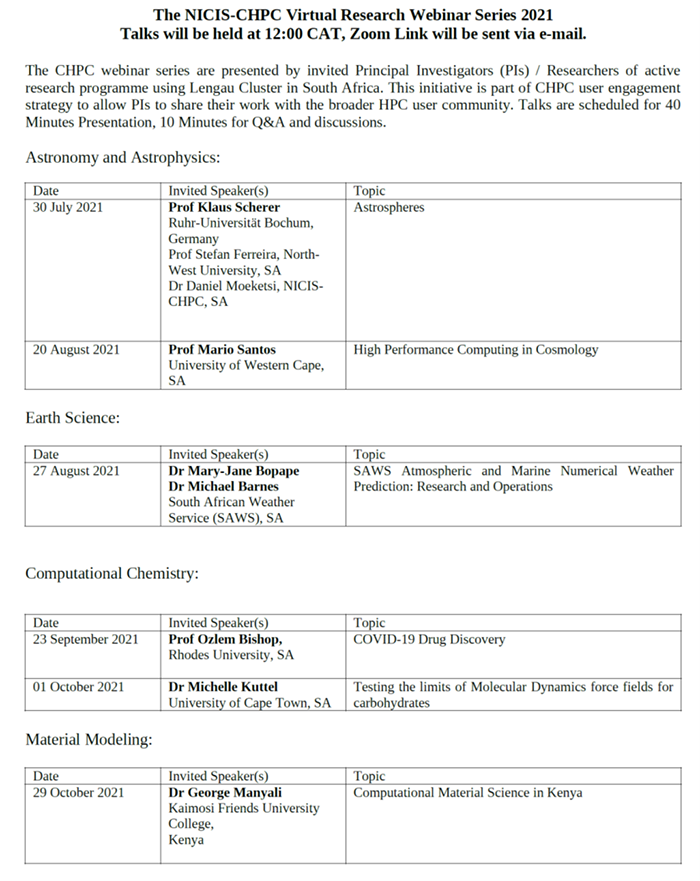 The South African Raman Workshop 2020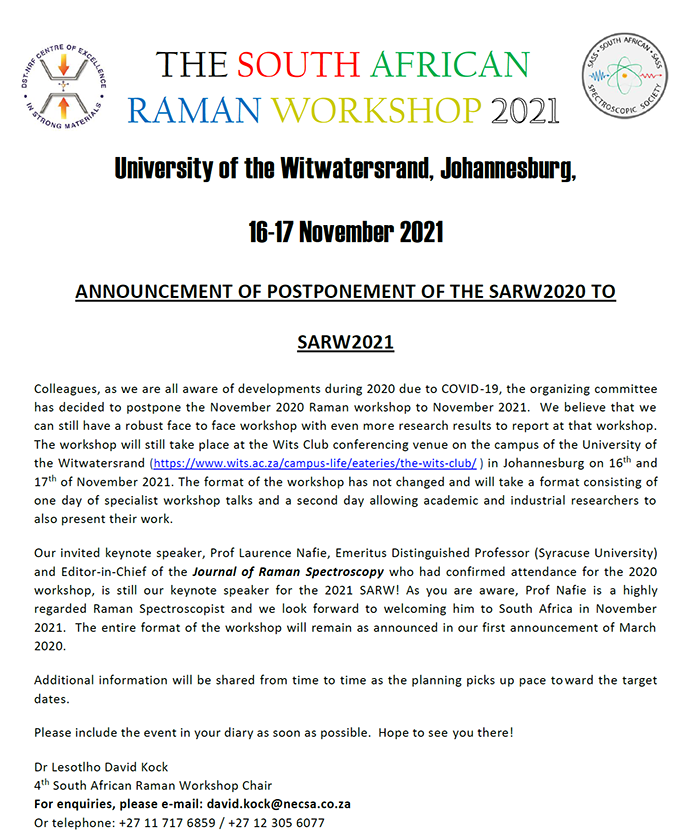 2021 South African Women in Science Awards (SAWiSA) WebinarInvitation to the Women in Science and Awards (SAWiSA) Webinat (SA-HU) - 24 November 2021
Good Day
The Department of Science and Innovation (DSI) invites you to the fourth and final 2021 South African Women in Science Awards (SAWiSA) Webinar. This webinar will be held under the banner of SAWiSA- Howard University (HU) Women in STEM programme.
The DSI has supported a research cooperation programme between women postgraduate students and faculty from the Historically Disadvantaged Institutions (HDIs) in South Africa (SA) with their counterparts from Historically Black Colleges and Universities (HBCUs) in the United States of America (USA). The cooperation programme has taken the form of joint biennial conferences since 2015. This last Webinar merges the South African Women in Science Awards (SAWiSA) programme with the SA – Howard University Women in STEM programme.
Date: 24 November 2021
Time: 16h00-18h00 CAT/ 09h00- 11h30 ET
Platform: Zoom
Regards
Morongwa Lebepe
Human Capital and Science Platform
Department of Science and Technology
Cell: 072 099 0070
Tel : +2712 843 6534
Website: www.dst.gov.za
E-mail : Morongwa.Lebepe@dst.gov.za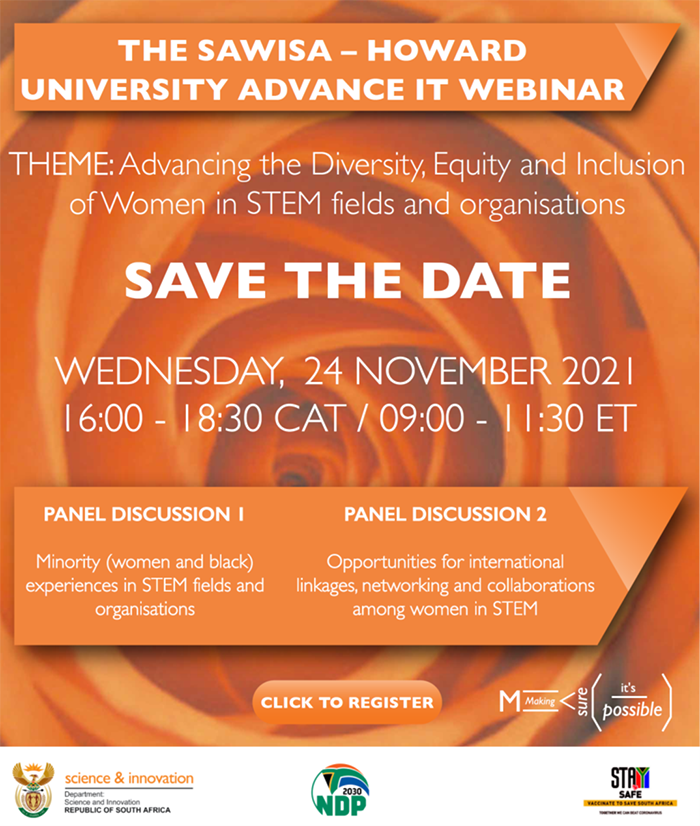 South African-German Energy Programme
Dear Energy Efficient Lighting Expert/Stakeholder,

The South African-German Energy Partnership and the South African-German Energy Programme (SAGEN), both implemented by GIZ, commissioned a study to review the State of Energy Efficient Lighting Research in South Africa. The objective of this review was to identify common themes and priorities as well as potential gaps in research currently being carried out at South African Universities, Universities of Technology, as well as public and private research institutions. The research was commissioned in collaboration with the South African National Energy Development Institute (SANEDI) and will form a basis for the establishment of an Energy Efficient Lighting Research Platform, aiming to support and encourage energy efficient lighting research and development.

You are cordially invited to attend the launch of the "Energy Efficient Lighting Research Platform", on 3 December 2021. The event will be hybrid and hosted by SANEDI, thus can be attended virtually or physically in Gauteng (more information to follow). During the launch, the results and findings of the review study will be presented by SMEC, research priorities discussed and agreed, and potential research support avenues explored.

We hope to welcome you at this exciting event. Please register here and the virtual link will be sent to your calendar one week before the event. Please also feel free to distribute this invitation to those you may believe to be interested in attending.

Kind regards
The Energy Efficient Lighting Research Platform Team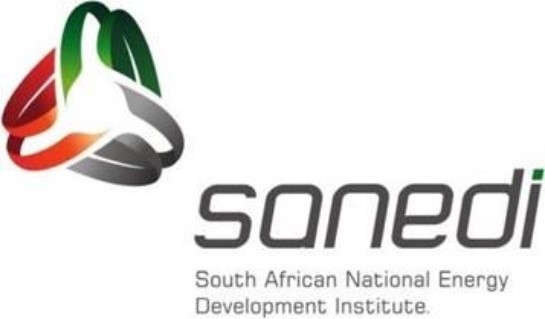 GC and GC-MS online training courses - NMISA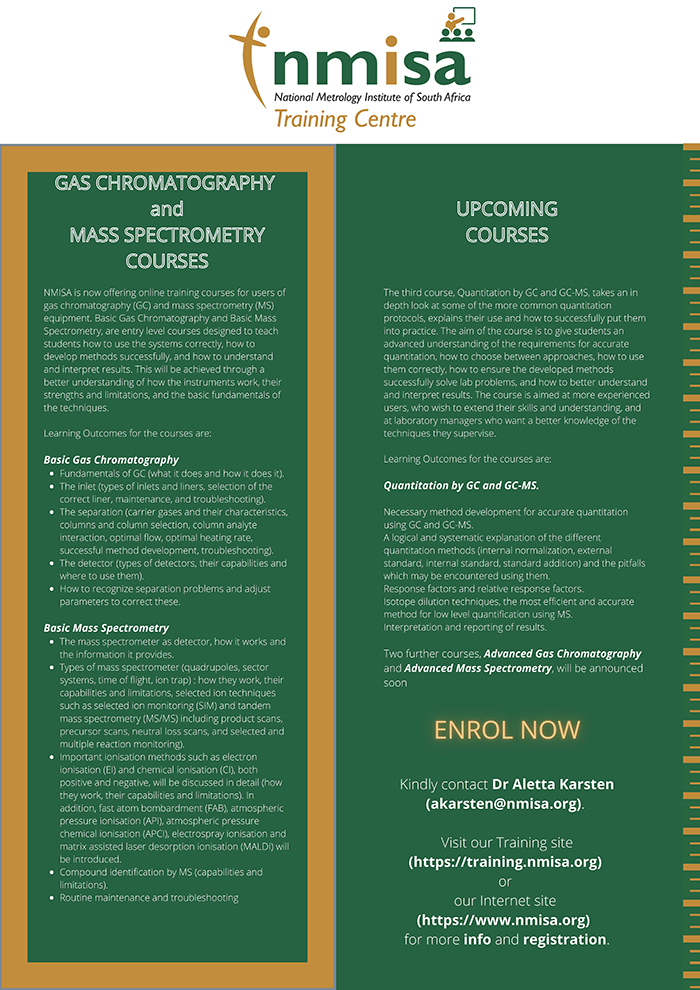 Vacancies
Please see:  https://www.saci.co.za/vacansies.html

< contentntentcontentcontentcontentcontent