Quick Links
Latest Updates:
Download Latest SACI Newsletter
Pay your SACI membership fees with SnapScan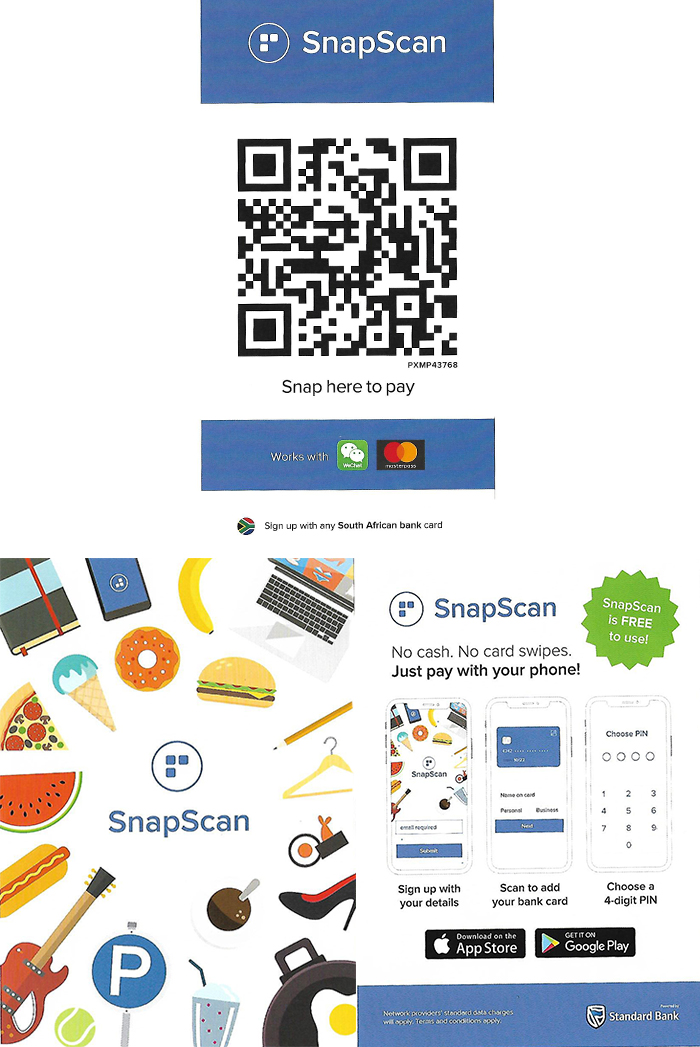 IUPAC Centenary Celebration and IYPT2019

Dear Esteemed Colleagues and Societies,
As we begin our Centenary Celebration and IYPT2019, I wanted to wish all of you a very Happy New Year and to let you know that many activities are well underway and hope that you and your organizations will encourage your members, students and societies to get involved.
The deadline for nominations for the IUPAC-Solvay International Younger Chemists awards is 1 February 2019. Information and Nominations may be found here: https://iupac.org/2019-iupac-solvay-international-award-for-young-chemists/
Exciting activities are underway in celebration of the 100th anniversary of IUPAC or IUPAC100 and we invite you to participate:

The Periodic Table Challenge, a fun on-line quiz for all age participants with Periodic Table trivia, is now on-line. Get in your Element and play the challenge! People from more than 83 countries have already participated after our first week. Players who meet the challenge can enter the Nobelium Contest to win a limited edition Periodic Table signed by a Nobel Laureate. https://iupac.org/100/pt-challenge/ Some of IUPAC's NAOs are using this on-line quiz for their National Celebrations of IUPAC100.
We have launched the Periodic Table Challenge (1 week ago today) and so far…..
- People have played as all 118 elements
- from 83 countries (including 42 US states)
- with 10,000 tests taken
- 1,400 certificates issued
- 200 perfect tests
- and 5 nobelium entries
The Global Women's Breakfast, is scheduled for February 12th. The theme is "Empowering Women in Chemistry: A Global Networking Event". More than 60 events around the world have been registered so far. Organizations of all types and individuals are welcome to participate. Registration is easy using the on-line form. https://iupac.org/100/global-breakfast/
We are also continuing to seek nominations for the Periodic Table of Younger Chemists. This award will honor a diverse group of 118 outstanding younger chemists from around the world who in embody the mission and core values of IUPAC. The resulting periodic table will highlight the diversity of careers, creativity, and dedication of the young chemists leading us into the next century. We have already awarded 48 elements representing 32 countries. The remaining elements will be awarded each month through July when the final four winners will be awarded at the IUPAC World Chemistry Congress in Paris. https://iupac.org/100/pt-of-chemist/
Please do not hesitate to contact me for further information or assistance. We look forward to a busy and exciting year and glad that you will be a part of it.
Sincerely,
Dr. Lynn M. Soby
Executive Director, IUPAC
Phone: 919-485-8700
Email: lsoby@iupac.org
www.iupac.org
www.iupac.org/100
www.IYPT2019.org
New Interactive Electronic Version of the IUPAC Periodic Table of the Elements & Isotopes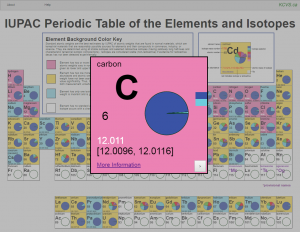 How do we know what the temperature of our planet was a million years ago, to better understand climate change? Where did Őtzi the Iceman live as a child and an adult? What evidence gives doping agencies the gold standard to determine whether testosterone in an athlete's sample comes from doping? How do we obtain 3D images of tumors in soft tissues?
The answers to all of these questions and many more can be revealed through a deeper understanding of isotopes of the elements. Isotopes matter!
These new resources are created for educators and students at secondary and post-secondary levels, and to inform the public about the many uses of isotopes in our lives. They are based on educational practices that encourage engaged and active learning by students.
The new IUPAC interactive electronic periodic table and accompanying educational materials were created by a partnership between an IUPAC Project team of scientists and educators, and researchers at the King's Centre for Visualization in Science, and build on the work of a previous IUPAC project team to create a print version of the Periodic Table of the Isotopes.
"This project responds to requests by educators and students for resources highlighting the importance of isotopes in our lives, and that give students help in using interval atomic weights for elements. www.ISOTOPESMATTER.com brings free engaging and interactive learning resources to the fingertips of students and educators around the world," says Task Group Co-Chair Peter Mahaffy, Professor of Chemistry at the King's University in Canada, and co-director of the King's Centre for Visualization in Science.
And Norman Holden, retired Research Coordinator of the High Flux Beam Reactor (HFBR) and the Brookhaven Medical Research Reactor (BMMR) and a Guest Scientist at the National Nuclear Data Center (NNDC) of Brookhaven National Laboratory in New York, adds: "It's great when scientists and educators work together to create a vehicle to provide students with an understanding of fundamental scientific facts and accomplish this internationally."
Following the global launch on August 17, 2016, the new IUPAC interactive electronic periodic table and accompanying resources can be accessed at www.isotopesmatter.com. A print version of the periodic table of the isotopes and elements is available at http://ciaaw.org/periodic-table-isotopes.htm. Further details will be published in the peer-reviewed IUPAC Journal, Pure and Applied Chemistry.
Contact:
Dr. Peter Mahaffy, IUPAC Project Task Force Co-Chair
Co-Director, The King's Centre for Visualization in Science
The King's University, Canada
peter.mahaffy@kingsu.ca
Dr. Norman Holden, IUPAC Project Task Force Co-Chair
Brookhaven National Laboratories, USA
holden@bnl.gov
Dr. Fabienne Meyers
Associate Director, IUPAC
fmeyers@iupac.org

SACI Ties, Scarfs and T-shirts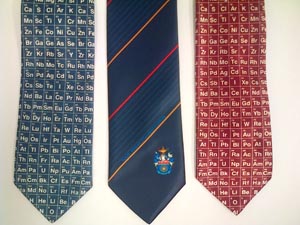 Periodic table ties and ladies scarfs R130 each.
Periodic table T Shirt Short sleeve R180, Long sleeve R200
Please contact head office to place orders.
There is also a courier charge of R150 per order for delivery.