SACI News September 2017

There are a number of events that will take place soon – many supported by SACI. Indeed the SANi NanoAfrica event in April 2018 will be coordinated by the SACI office and personnel. The Atlantic Basin Chemistry (ABC) Conference in Mexico is supported by SACI and we have two invited speakers from SA (Egan, Nyokong) making presentations in Cancun in January 2018. Also: make sure you diarise the December 2018 SACI Convention event – this will be a major event where we hope to have all divisions represented in an experiment to reduce the number of conferences in SA. There are also many local events that will take place soon and are advertised in the newsletter (AMRS, December, Botswana: Raman Spectroscopy event, November, Cape; CATSA, November, Kwa Maritane; EMSA, December, E Cape; Mintek Analytical event, November, Mintek) as well as our own section meetings (SACI young chemists; SANi NYRS). Busy times!

Neil Coville

Content
SACI office address and times
Advertising in the SACI newsletter
Message from our incoming SACI President: Prof Vincent Nyamori
SACI Gold Medal 2017: Prof Harald Pasch
4th Symposium on Electrochemistry - postponed
Section and Divisions News
FASC
4th Jan Boeyens Prize for INDABA9 (2018)
RSC
Newton Mobility Grants
AuthorAID online course
PACN Annual conference
IUPAC
Post-graduate Summer School on Green Chemistry
South African Journal of Chemistry
African Journals of Chemistry
CAIA Newsletter

SACI and SACI related conference events
Annual Young Chemists Symposium (Central Section)
The 3rd TCS International Conference and the 6th FASC Congress
Atlantic Basin Conference on Chemistry
Analitika 2018
Other conferences
Indaba 9
Syngas 3 convention
Frontiers of Electron Microscopy in Materials Science (FEMMS) 2017
AMRS2017 (Africa Materials Research Society)
7th Mintek Analytical Sciences Symposium
Employment Opportunities
Postdoctoral Fellowships - Drug Discovery and Development Centre at UCT
SACI office address and times
The SACI office, run by Laila Smith is located on the 1st Floor of Gate House, room 124. The telephone number is 011 717 6705 and e-mail address is: saci.chem@wits.ac.za. The cel number is 061 282 3477.

This year we are to experiment with having Laila work in the afternoons from home. This will mean that office hours will be from 8.30 am till 1.00 pm. She can still be contacted at any time during her office hours.
Advertising in the SACI newsletter
The newsletter provides a means of getting messages to our membership. Currently the SACI membership stands at over 1000. This newsletter thus provides a means of advertising employment opportunities, conferences and workshops, and even for companies/Universities to promote themselves. We encourage members to use the Newsletter for advertising purposes. All SACI related conferences and events are advertised for free; if not a SACI related event there could be a small charge. For advertising costs contact Laila at the SACI office.
Message from our incoming SACI President: Prof Vivcent Nyamori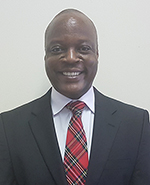 It is my sincere delight and I am also deeply honoured to be the new incoming President of the Institute. Firstly, I would wish to thank my predecessor, Prof Bice Martincigh, who has done a tremendous service and shown brilliance in her leadership. Secondly, a lot has been achieved in the last few years and this is due to the various engagements and activities by the previous solid Executive teams, together with their respective Council members and other structures within the Institute. Hence, my earnest gratitude to them all. The membership numbers have continued to grow; this is a great sign and encouraging, and I hope with our collegial and collective efforts we will further strengthen the institute as well as build on our endeavours to see that the Institute continues to be sound and prosperous. Together, we shall not only promote the development of chemistry in South Africa, but also play a leading role in assuring the professional competence and integrity of chemists as we foster international collaboration, a mission which we all strive for as members.

I hope you are aware that our Institute has obtained SAQA recognition as a Professional Body that now registers and designates individuals with the Professional Chemist designation. The short abbreviation for the Professional Chemist is PrChemSA. It is important to note that after the formal education process, there is need for continuing professional development, which is a widely recognised mechanism by which professionals maintain their knowledge at a later stage. There are various benefits associated with this recognition and they can be found on the SACI website: http://www.saci.co.za/Registe_Professional_Chemist_SACI.html

In the last few months, the Executive, with the approval of the SACI Council, have overhauled and worked towards a more streamlined National and Divisional conference programme. The new proposed SACI National Conference Programme is now available on the SACI website (http://www.saci.co.za/pdf/programme.pdf). This is a fairly evenly spread programme which was deemed favourable, especially with the current times where it is becoming increasingly difficult to raise sponsorship/funds for conferences and this is more so due to only a small pool of possible sponsors, who repeatedly receive requests from conference organisers, and are available and willing. Also, with the previous status quo and with the aforementioned economic atmosphere, it was increasingly becoming a challenge to register and attend as many Divisional and National conferences as one would wish. However, with the new structure we hope after every two years to bring and reunite all the SACI Divisions under one event, i.e. the National Convention of SACI. It is noteworthy, that SACI conference attendance and SACI membership are the lifeblood of the Institute. Hence, I would wish to thank all of you for your participation and contribution to the well-being of SACI.

Our forthcoming Convention will be held at the Council for Science and Industrial Research (CSIR), Pretoria, from 3 to 8 December while the following Divisional event would be the Frank Warren Conference which will be hosted by the KZN SACI Section; and both should be promising, very exciting and stimulating events to look forward to. Hence, I invite all members to partake in the various activities within the Institute. Your participation will be highly appreciated, since the sustainability of the institute is highly depended on its membership and their contributions.
Finally, yet importantly, I would like to extend my sincere congratulations to all the awardees of the various SACI Awards, the new SAC Fellows and the appointed Life Members of the Institute for 2017.

Once again, my sincere thanks and appreciation on this honorary position of leadership. I am looking forward to this interesting journey with hope that we shall continue to achieve various milestones as we further our horizon.

Many thanks,

Vincent O. Nyamori
SACI - President

SACI Gold Medal 2017: Prof Harald Pasch
Prof. Harald Pasch joined the University of Stellenbosch as the SASOL Chair in Analytical Polymer Science and the head of the Polymer Division in 2008. Since then he developed the analytical group at the Department of Chemistry and Polymer Science into an international center of excellence for advanced polymer analysis. His group now belongs to the leading international groups in polymer fractionation and characterization. Based on his scientific achievements Prof. Pasch was appointed as a Distinguished Professor in 2014. The list of publications authored and co-authored by Prof. Pasch is outstanding and impressive. His present research focuses on multidimensional liquid chromatography, advanced spectroscopy, development of analytical methods for nanomaterials and high throughput experimentation. Two of his most recent publications are the first editions of the textbooks Pasch, Trathnigg: Multidimensional HPLC of Polymers (Springer, 2013) and Pasch, Malik: Advanced Separation Techniques for Polyolefins (Springer, 2014) which are the most important and up-to-date textbooks on the subjects. Prof Pasch's total number of peer-reviewed publications exceeds 300 (81 of which were produced between 2012 and 2015). He is a frequent plenary and invited speaker at both national and international conferences. He has supervised more than 50 postgraduate students both in Germany and South Africa and many of these graduates now occupy leading positions in major companies. This is testament to his dedication to the mentoring and training of a new generation of young scientist. Prof. Pasch is a governing board member of a number of international conferences and editorial board member and reviewer of a number of leading international journals. He also serves as the co-director of the Cape Einstein Foundation, a NGO that supports talented learners from poor and underprivileged families. Prof Pasch has made an outstanding contribution to raising the international profile of South African research into the liquid chromatographic fractionation of polymers and more generally, analytical chromatography.
4th Symposium on Electrochemistry - postponed
We are sorry to announce to you that the 4th Symposium on Electrochemistry has been postponed to 2018.
This change of date was due to logistic reasons and also to give enough time for planning to all potential delegates. It is our desire to have a well-represented conference (local and international).
We sincerely apologise to all those who have submitted abstracts and have committed to sponsorship.
Please note that the website will still be active and the new date (probably April 2018) will be communicated soon. All authors thus have the liberty to update their abstract and resubmit when the new dates are set.
We thank you for your understanding. Once again accept our apology for any inconvenience caused.
Prof OA Arotiba (on behalf of the Local Organising Committee)

Sections and Divisions news
Nothing to report. Note the Central Section SACI Young Chemists Symposium dates listed below
FASC
The 3rd TCS International Conference and the 6th FASC Congress
This event was held in Arusha in September 2017. A full report will appear next month.
The new President is Prof Mamia El-Rhazia and the secretary will again be Prof James Darkwa. Prof Coville remains on the executive as the Past President.
4th Jan Boeyens Prize for INDABA9 (2018)
Guidelines for the 4th Jan Boeyens Prize for INDABA9 (2018)
The INDABA series of conferences/ workshops, established in the early 90's under the auspices of the International Union of Crystallography's Commission on Structural Chemistry, introduced a prize in recognition of Professor Jan Boeyens, a founder of these multi-disciplinary meetings.
The INDABA meetings take place triennially, and the Jan Boeyens Prize will thus also be awarded once every three years at an INDABA meeting.
The Jan Boeyens Prize will be awarded to an early career young South African researcher [normally a person under the age of 40 as of 31 December 2018] who has made a distinguished contribution to the utilization of crystallography and other structural methods in a holistic manner to investigate fundamental problems in nature in the period following completion of his/her PhD. It can include someone who has spent some time abroad after their PhD (e.g. international post doctoral fellowship).
Candidates are nominated by senior scientists associated with South African science. The chairperson of the Jan Boeyens Prize Committee [for 2018, Prof Helder Marques, Wits] has been appointed by the Programme Committee of the INDABA series, currently chaired by Prof Peter Comba from the University of Heidelberg, Germany. Nominations should consist of (i) a short letter of motivation why the candidate is nominated, (ii) an up-to-date CV and (iii) the signed acceptance of nomination by the candidate, and emailed to Helder.Marques@wits.ac.za before 31 March 2018.
The prize consists of (i) a medal, and for 2018 (INDABA9) also includes (ii) a cash prize of ZAR15,000.
(By South African is meant a citizen of South Africa, or a foreign national, who has spent the major part of his/her career conducting research at a South African institution)
RSC News
Newton Mobility Grants
The Newton Mobility Grants (Brazil, Mexico and South Africa) programme is intended to stimulate collaborations between scientists in the UK and overseas partner countries. This must result in the training and transferring knowledge as well as skills to help strengthen research capabilities of the overseas partner. The applicant can apply up to £3,000 for 3 months, up to £6,000 for 1 year or up to £12,000 for 2 years duration project. The application deadline is 10 October 2017 15:00 UK time. Further details can be found on our webpage https://royalsociety.org/grants-schemes-awards/grants/newton-mobility-grants/
AuthorAID research communication online course (starting on 3 October 2017)
Following the success of the fourth AuthorAID MOOC (massive open online course), we are pleased to announce the next AuthorAID online course in research communication. This is an open online course and it is free of cost.

Who the course is for: Early career researchers in developing countries.

Main topics covered in the course: Literature review, research and publication ethics, targeting the right journals, writing and publishing a research paper, and communicating research outside academia (this topic is new and was not part of our previous courses)

Course duration: 7 weeks

Course dates: 3 October to 20 November 2017

Course leaders: Andy Nobes and Ravi Murugesan of INASP, along with guest facilitators from the AuthorAID network

Complete information about the course and enrolment instructions are available in the course announcement document. Please go through this document carefully and follow the enrolment instructions given on page 5 if you are interested in the course. The deadline to enrol is 3 October 2017.

Please note that although this is an open course, if we see a very high number of people joining, we may have to limit enrolment due to server capacity. We suggest that you enrol in the course as soon as possible if you are interested.
http://www.authoraid.info/en/news/details/1231/
INASP ● 2/3 Cambridge Terrace, Oxford OX1 1RR, UK
youtube INASP ● join our mailing list
AuthorAID ● web www.authorAID.info ● twitter @authoraid
INASP is a registered UK charity No.1106349
PACN Annual conference
The annual Congress, is being held in Accra Ghana, in partnership with Syngenta, the University of Ghana and KNUST. The event will be held from 7-9th November.
http://www.rsc.org/events/detail/28432/pan-africa-chemistry-network-congress-2017-sustainable-agriculture-how-the-chemical-sciences-can-contribute-to-food-security-for-a-growing-population
We are currently accepting abstract submissions through our website, and we have over 100 contributions from across Africa so far, the deadline is the 24th September. We will be opening for registration in October and we expect it to fill up fast.

Dr Helen Driver (nee Bailey) MRSC
Senior Programme Manager, Africa
IUPAC
For the latest news see: http://www.saci.co.za/iupac.html
IUPAC Interdivisional Committee on Green Chemistry for Sustainable DevelopmentICGCSD (https://iupac.org/body/041)

Post-graduate Summer School on Green Chemistry will be held from the 7th to 14th of July 2018 in Venice. This Summer School will ideally follow the 10 previous editions held in Venice from 1998 to 2008, but this will be the first one under the International Union of Pure and Applied Chemistry IUPAC sponsorship (https://iupac.org/).
Green Chemistry is one of the key sciences of a sustainable development on earth and required for reaching the 17 UN-Goals: IUPAC and ICGCSD are fully aware of their responsibility in working in the direction of Sustainable Development through Green Chemistry.

The School will be hosted in the magnificent Palazzo Ducale, the Doge's Palace, in St. Mark's Square, and about 60 post-graduate students and 20 teachers coming from all over the world are expected to attend. Scholarships will be offered to young talented chemists especially from developing countries.

The choice of Venice, this extraordinary but delicate architectural masterpiece between land and sea, as Host city for the Summer School has offered the opportunity to highlight the emerging connection of Green Chemistry with cultural heritage restoration and conservation field.

Main topics will be:
· Chemistry beyond chlorine
· New reaction pathways
· Exploitation of renewable resources
· For the first time: Green Chemistry for cultural heritage restoration

Applications are now open! You can find more information about the School at the following website link: http://www.unive.it/greenss2018

Elena Griguol
The Organizing Committee
IUPAC Postgraduate Summer School on Green Chemistry
E-mail: green.chemistry@unive.it
Web: www.unive.it/greenss2018
South African Journal of Chemistry
Details of the journal and the editors can be seen at http://www.journals.co.za/sajchem/.
The Journal will be 100 years old next year!

A special issue will be issued in 2018. All are encouraged to publish an article in the Journal next year. More details to follow

This Journal is published electronically. The webpage is: http://www.saci.co.za/ The South African Journal of Chemistry, published by the South African Chemical Institute, has been publishing high quality papers, in all fields of Chemistry for over 50 years. The Journal went fully electronic in 2000 and is freely available through open access online (http://reference.sabinet.co.za/sa_epublication/chem). It is a CAS-abstracted publication and is listed in Current Web Contents. It has retained its status as an accredited publication with the South African Department of Higher Education and Training.
African Journals of Chemistry
African Journal of Chemical Education
Enquiries and manuscripts should be addressed to the Editor-in-Chief: email eic@faschem.org, PO Box 2305, Addis Ababa, Ethiopia. AJCE, 2016, 6(1) ISSN 2227-5835 The online version appears in the FASC website (www.faschem.org) and in the AJOL website (www.ajol.info)
CAIA Newsletter
The latest issue of CAIA news is available. Go to: http://www.caia.co.za/news/chemnews/
or e-mail: caia@iafrica.com for pdf files of news and information.
SACI and SACI related Conference events
Annual Young Chemists Symposium (Central Section)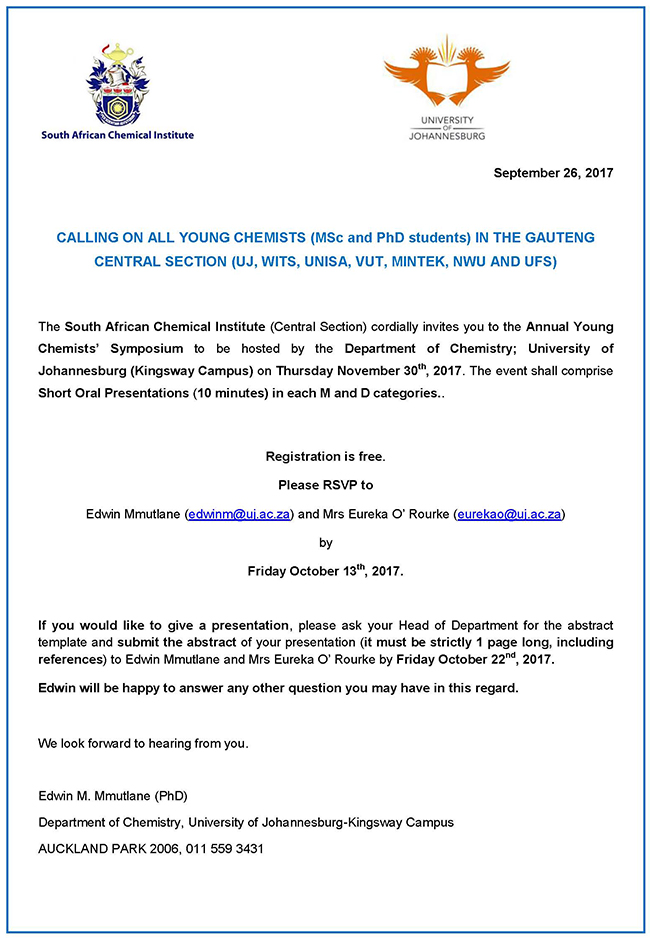 The 3rd TCS International Conference and the 6th FASC Congress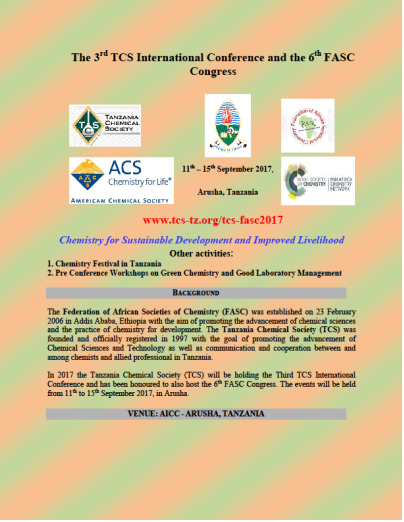 The conference will be held at the Arusha International Conference Center (AICC) in Arusha. Arusha city is exactly half-way between Cape Town and Cairo, only a stone's throw away from Africa's highest Mountain, Mt. Kilimanjaro and the safari-gateway to the astounding wildlife of Ngorongoro Crater, the Serengeti, Tarangire and Lake Manyara National Parks.
SYMPOSIUM THEMES

The conference will cover all areas of chemistry including but not limited to:
 Analytical Chemistry
 Physical Chemistry
 Inorganic Chemistry
 Organic Chemistry
 Natural Products Chemistry
 Environmental Chemistry
 Industrial Chemistry
 Forensic Chemistry
 Nanochemistry

Please register and make your submission at the following link:
http://www.tcs-tz.org/tcs-fasc2017

Or contact:



Prof. Othman C. Othman
+255 22 2410038
+255 713 433982
o_chande@yahoo.co.uk
ocothman@gmail.com
Chemistry Department
College of Natural and Applied Sciences
University of Dar es Salaam
P.O. Box 35061
Dar es Salaam, Tanzania

Dr. Clarence A. Mgina
+255 22 2410038
+255 767 547970
cmgina@yahoo.com
cmgina@udsm.ac.tz
Chemistry Department
College of Natural and Applied Sciences
University of Dar es Salaam
P.O. Box 35061
Dar es Salaam, Tanzania

Dr. Clarence A. Mgina
+255 22 2410038
+255 767 547970
cmgina@yahoo.com
cmgina@udsm.ac.tz
Chemistry Department
College of Natural and Applied Sciences
University of Dar es Salaam
P.O. Box 35061
Dar es Salaam, Tanzania

 Theoretical Chemistry
 Biochemistry
 Computational Chemistry
 Combinatorial Chemistry
 Chemical Education
 Green Chemistry
 Organometallic Chemistry
 Fuel Chemistry
 Medicinal Chemistry
Atlantic Basin Conference on Chemistry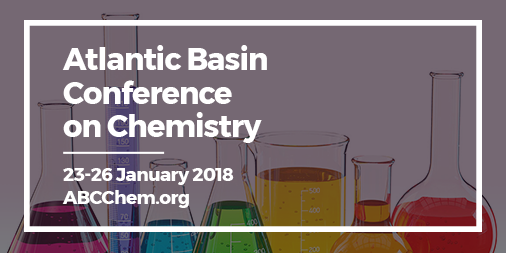 ABCChem – Plenary Speakers Announced!
ACS is partnering with societies in North and South America, Europe, and Africa for the first Atlantic Basin Conference on Chemistry (ABCChem) to be held in January 23–26, 2018, in sunny Cancún, Mexico. A dynamic lineup of plenary speakers from across the region have been confirmed and will cover a range of topics including Chemistry in Biology, Green Chemistry, Materials & Nano Chemistry, and Physical & Analytical Chemistry.
Call For Papers – Submit Yours Today
The ABCChem Technical Programming Committee invites chemistry professionals across the regions to give oral and poster presentations on the topics listed above. The deadline to submit abstracts is Monday, September 18, 2017.
Submit your papers and register now! To ensure international collaboration, registration is limited by region. Make sure to register early to secure your spot!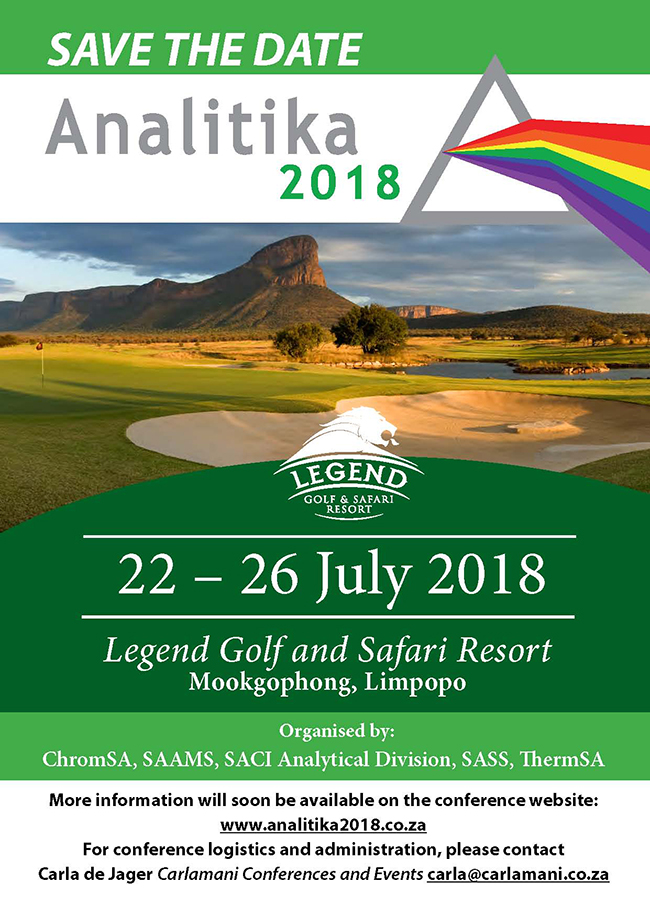 Others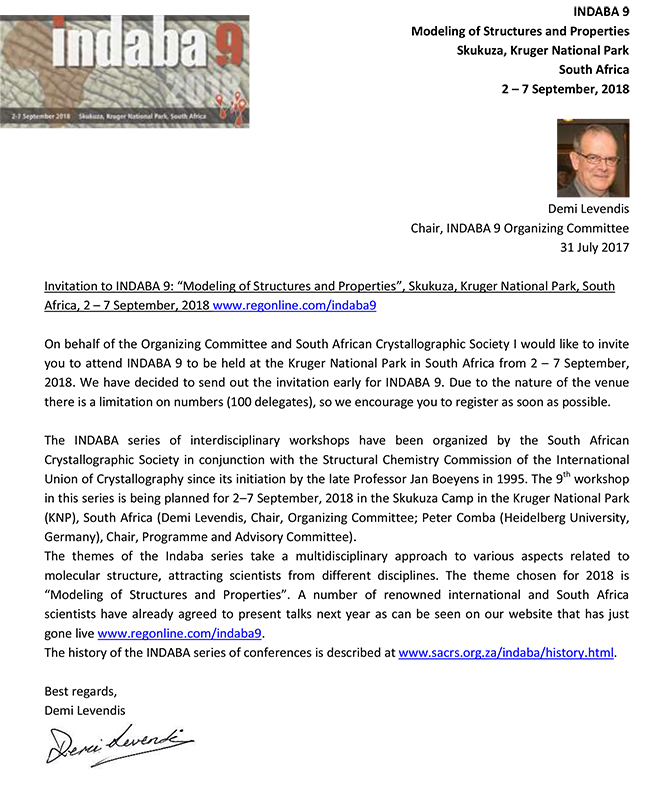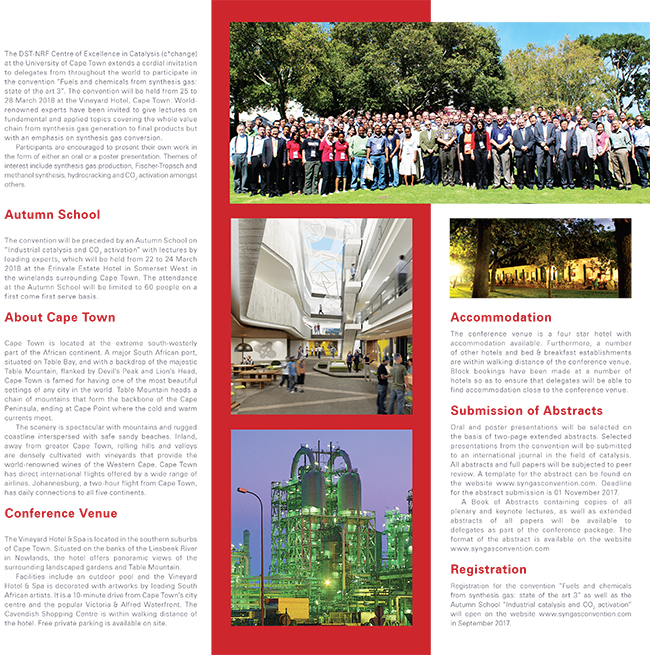 Dear Colleague,

On behalf of the Organizing Committee of FEMMS 2017, we would like to invite you to join us during this meeting. Poster submissions are open now http://femms2017.org/submission.html

Deadline for poster abstract submissions as well as for the early-bird registration is 31. JULY, 2017.
Participants are invited to present outcomes of their research at FEMMS 2017 as poster presentations. Those interested need to submit an abstract by downloading and completing the template, then filling out the form to submit it. All poster abstracts that are accepted for presentation will be published in the conference booklet.
FEMMS is a biennial meeting focused on the application of electron microscopy, primarily TEM, in materials science. The conference series primarily arose to satisfy the requirements of the electron microscopy community working on materials science problems, which grew explosively in the late 1980's and has expanded to include researchers working with analytical periphery, novel instrumentation, tomography, operando and correlative microscopy, and advancing into the domain of ultrafast time-resolved microscopy.

Traditionally, FEMMS brings together approx. 40 invited speakers plus one distinguished lecturer - all confirmed and listed below - that are world-renowned experts, principal investigators and project leaders, to present their latest advances in the field of electron microscopy in the materials sciences.

FEMMS 2017 will be held in at the Indaba Hotel & Conference Center in Fourways, Johannesburg,
Submissions for student posters will open in mid June 2017.

We are confident that FEMMS 2017 will be a great and successful meeting.
We look forward to your active support and participation.

Sincerely yours,

Alexander Ziegler
femms2017@gmail.com; http://femms2017.org/
AMRS2017 (Africa Materials Research Society)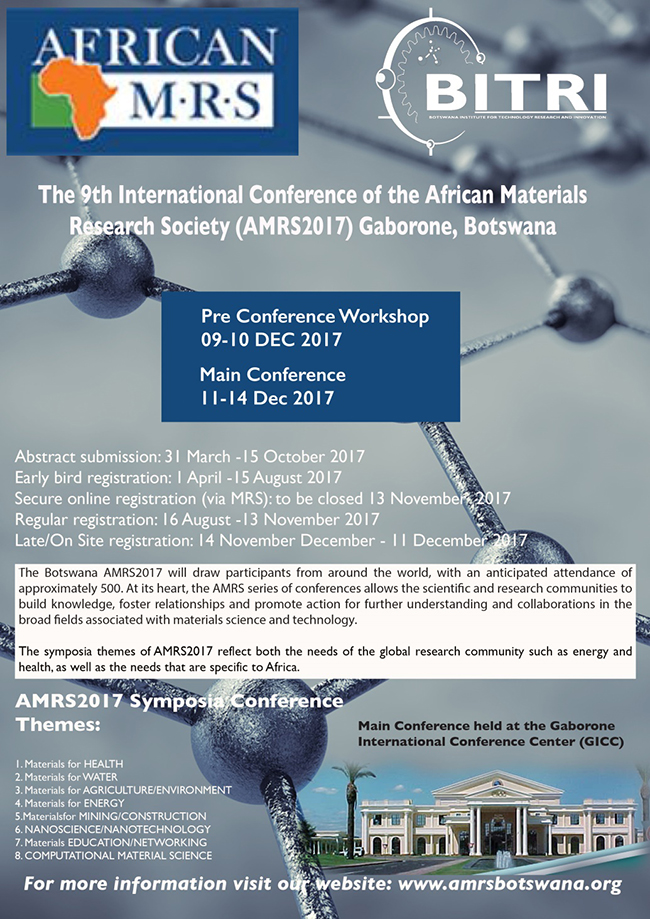 First Atlantic Basin Conference on Chemistry (ABCChem) – 24-26 January, 2018; Cancún, Mexico http://abcchem.org/about/societies/
International Conference on Chemical Education 18, July 10-14 2018, Sydney
ACRICE-3 Algeria October. The website is www.univ-setif.dz/OCS/FT/ACRICE. The conference is under the aegis of IUPAC and FASC
Science Forum South Africa 7-8 Dec 2017, CSIR International Convention Centre, Pretoria
African Materials Research Society (AMRS) Conference 2017, 11-14 Dec 2017, Gaborone, Botswana. www.amrsbotswana.org
7th SANi-NYRS symposium
The South African Nanotechnology Initiative (SANi) together with Tshwane University of Technology (TUT) are excited to announce the coming 7th SANi-NYRS symposium hosted at Tshwane University of Technology (TUT) in Pretoria west, TUT main campus, on the 20th of October 2017 under the theme "Nanotechnology For The 21st Century Challenges".
Tshwane University of Technology
Tel: 0123826406; 0769932734
Email: MakgopaK@tut.ac.za
Post-graduate Summer School on Green Chemistry, 7th to 14th of July 2018 in Venicehttp://www.unive.it/greenss2018

THE SOUTH AFRICAN RAMAN WORKSHOP, STIAS, Stellenbosch, 27-28 November 2017, saramanworkshop2017@gmail.com
Employment Opportunities