SACI News September 2016

During August the SACI AGM was held in Johannesburg. The Executive and Council did not change membership as they all serve a two year term of office. A highlight of the AGM was the release of the names of those who had won SACI awards for 2016. See the newsletter for details. Names of SACI fellows for 2016 have also been released. This is a good time to start thinking about proposing chemists for the SACI 2017 awards. The James Moir student awards are given to the top students (> 75 % mark required) at ALL SA Universities – but the students do need to be nominated by staff (HODs) from the Universities. See the web site for details.

Neil Coville
Content
SACI office address
Advertising in the SACI newsletter
Obituary: Nigel Sutherland
African Academy of Sciences
FASC
Lindau Nobel Laureates Meeting: Grant for a Science communication specialist/science journalist
ACS and Sabina
IUPAC
Section and Division news
Central Gauteng Section The SACI/RSC annual lunch event
Central Gauteng AGM and SACI Chemical Education Medal Award Talk
African Journals of Chemistry
RSC
RSC Funding Opportunity
RSC/PACN RSC/PACN Chemistry Network Congress 2016
Catalysis for Fuels: Faraday Discussion
CAIA Newsletter
SACI and SACI related conference events
Frank Warren 2016
6th Mintek Analytical Sciences Symposium
Gauteng Central Section Young Chemists Symposium
1st SACI Gauteng North Young Chemists event
2nd Annual Symposium and Workshop on Environmental Research and Pollution Monitoring of Environmental Persistent Pollutants (EPP)
RSC/PACN RSC/PACN Chemistry Network Congress 2016
Others
Workshops
The Industrial Sciences Division At Separation Scientific
Wirsam Scientific and Precision (Equipment Pty) LtdXRF Course
Life cycle assessment and green sample preparation techniques
GCMS: A Hands on Approach. RSC/PACN event; Ethiopia
UNDERSTANDING XRF SPECTROMETRY
GC–MS: A Hands-on Approach; RSC/PACN event; Nigeria
Vacancies
Junior Technical R&D/ Factory Liaison
Scientific Officer (Medicinal Chemistry) UCT
SACI office address
The SACI office, run by Laila Smith is located on the 1st Floor of Gate House, room 124. The telephone number is 011 717 6705 and e-mail address is: saci.chem@wits.ac.za.
Advertising in the SACI newsletter
The newsletter provides a means of getting messages to our membership. Currently the SACI membership stands at over 1000. This newsletter thus provides a means of advertising employment opportunities, conferences and workshops, and even for companies/Universities to promote themselves. We encourage members to use the Newsletter for advertising purposes. All SACI related conferences and events are advertised for free; if not a SACI related event there could be a small charge. For advertising costs contact Laila at the SACI office.

Obituary: Nigel Sutherland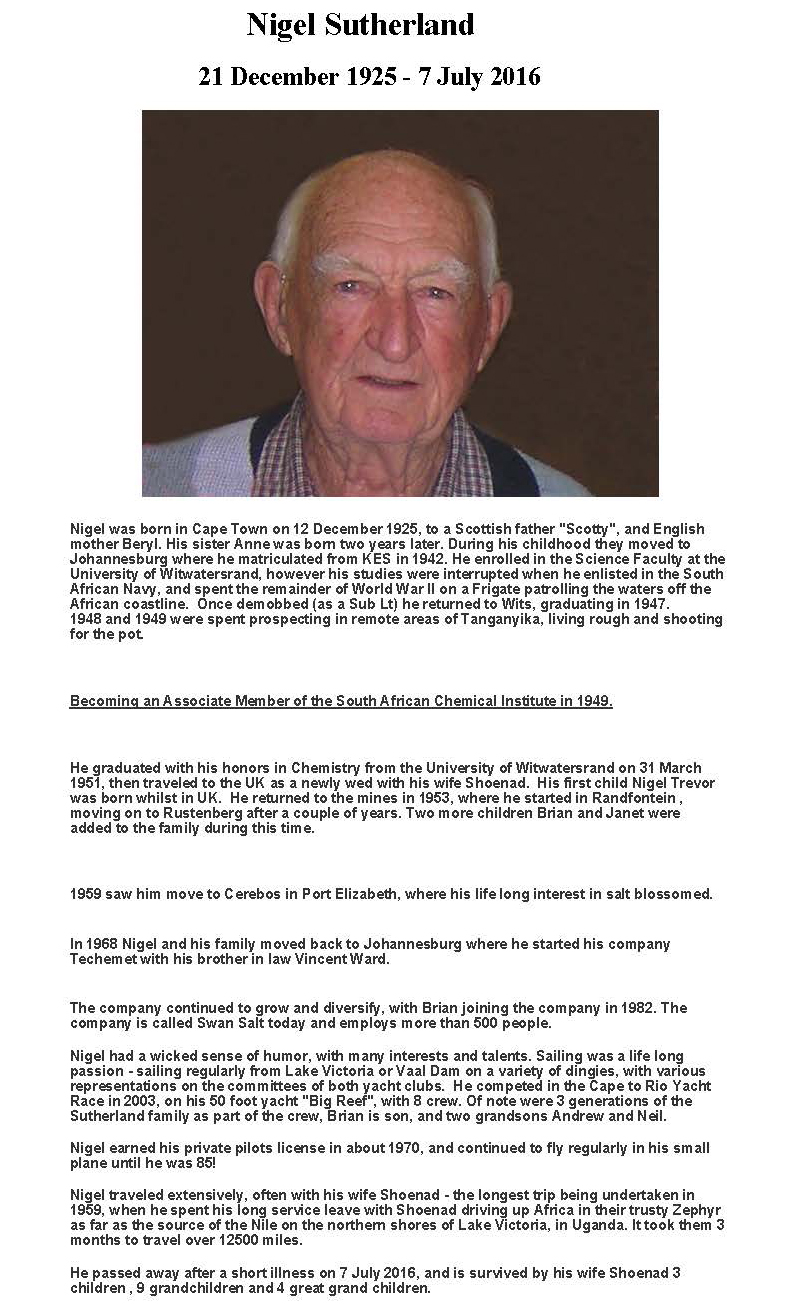 A
African Academy of Sciences
The 10th General Assembly of the African Academy of Sciences (AAS) was held from the 19-22 June 2016 at the Cresta Mowane Hotel in Kasane, Botswana. This event is held every two years and comprises many events that include a Business Meeting and the induction of new Fellows who were elected during the previous two years. The AAS is over 30 years old and the headquarters are in Nairobi, Kenya. The AAS has over 30 staff members and the CEO is Dr Berhanu Abegaz, a chemist well known to many in the SA chemical community.

The event was also used to celebrate the 50th year anniversary of Botswana as a nation and to inaugurate the Botswana Academy of Arts and Sciences. The President of Botswana, H.E
Lieutenant General Dr Seretse Khama Ian Khama, opened the meeting in Kisane.
Many talks on generic science issues were given during the three day event and the new Fellows were inducted into the AAS on the 22nd June.
SA chemists Prof Piet Steyn (U Stellenbosch) and Prof James Darkwa (U Johannesburg) are AAS Fellows and attended the Kisane meeting. Prof Tebello Nyokong (Rhodes U) is also a Fellow.

At the recent meeting three new chemists were inducted as Fellows:

2014: Prof Neil Coville (Field: Chemistry; Materials; Catalysis)

2015: Prof Kenneth Ikechukwu Ozoemena( Field: Chemistry, Electrochemistry and Materials Science and Nanotechnology)

2015: Prof Sreekantha Jonnalagadda (Chemical Sciences)

To further encourage science in Africa a first group of AAS affiliates was inducted. These affiliates are young career scientists. Dr Banothile Makhubela (U Johannesburg) who also attended the meeting was our lone chemist from SA who became a AAS affiliate

FASC
The dates for the upcoming FASC meeting have now been finalised. The 3rd TCS International Conference and the 6th FASC Congress will be held in Arusha, Tanzania from 11th to 15th September 2017. As will be seen from the title of the conference it will be held in conjunction with the Tanzanian Chemical Society event. Further information can be found on the website:
http://tcs-tz.org/tcs-fasc2017/
Lindau Nobel Laureates Meeting: Grant for a Science communication specialist/ science journalist
Grant to attend the 67th Lindau Nobel Laureates meeting.
The Academy of Science of South Africa (ASSAf), in partnership with the Department of Science and Technology (DST), is inviting a science communication specialist/science journalist from South Africa to attend the 67th Lindau Nobel Laureates Meeting to be held from 25 to 30 June 2017 in Lindau, Germany. The grant will cover a return flight and ground travel to Lindau, accommodation, and meals during the Lindau Nobel Laureates Meeting. The deadline for responses to this call is 23 October 2016.
landau-nobel@assaf.org.za or Edith Shikumo 012 349 6614
ACS and Sabina
The SOUTHERN AFRICAN BIOCHEMISTRY AND INFORMATICS FOR NATURAL PRODUCTS (SABINA) is a network of Southern African partners that was established at the end of 2008 with generous funding from the Carnegie Corporation through the Science Initiative Group (SIG), based at Princeton University. The founding partners included the Council for Scientific and Industrial Research (CSIR) of South Africa, the Tea Research Foundation of Central Africa (TRFCA) and the universities of Dar es Salaam, Malawi, Namibia, Pretoria and the Witwatersrand. Today, a number of additional institutions and researchers are also actively participating in network activities.

As the funding is coming to an end a conference highlighting research activities of the network was organized that took place at the Protea Hotel, Paul Kruger Gate just outside the Kruger National Park between 28 August and 1 September 2016. About 80 delegates from South Africa, Tanzania, Malawi, Namibia, Germany, the USA the UK and Norway were present.

As SABINA research areas are quite broad talks included presentations on natural product chemistry, biochemistry, bioinformatics, synthetic chemistry, molecular biology and functional genomics, as well as food science. The majority of the research is on various indigenous medicinal plants from the host countries and involves the isolation, characterization, identification and/or synthesis of active compounds, and testing their phytochemical, biological and pharmacological properties.
One of the highlights was the South African chapter of the American Chemical Society lecture delivered by Professor Bill Jorgensen (Yale University) on Computer-aided design of anti-HIV and anti-cancer agents. Of interest is that Professor Jorgensen has one paper cited about 16 000 times and an h-index of 102!!
Other highlights included the spotting of the big five, a buffalo kill with lions, leopards, hyena and vultures feeding.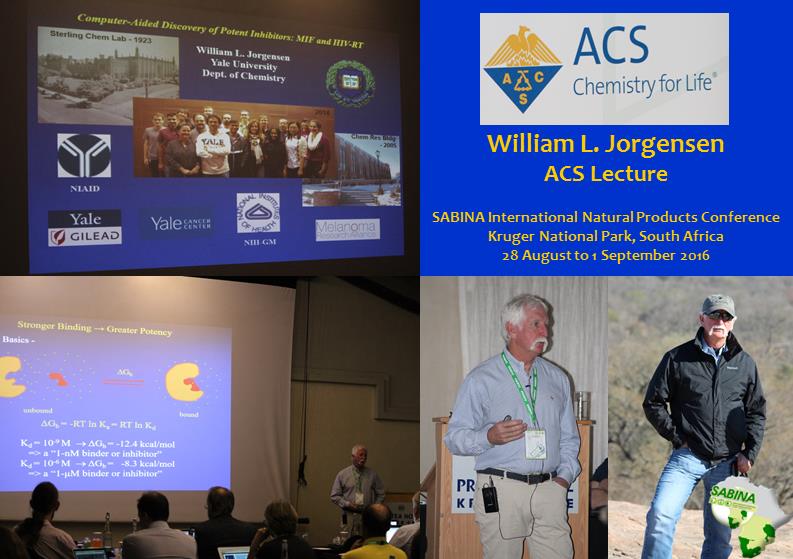 IUPAC
For the latest news see: http://www.saci.co.za/iupac.html
Section and Division news
The SACI/RSC annual lunch event
This was held on Sunday the 28th August at the Wanderers Club in Johannesburg. At this well attended event (over 40 attendees) Prof Ernst Breet was awarded his certificate for being elected as a new SACI Fellow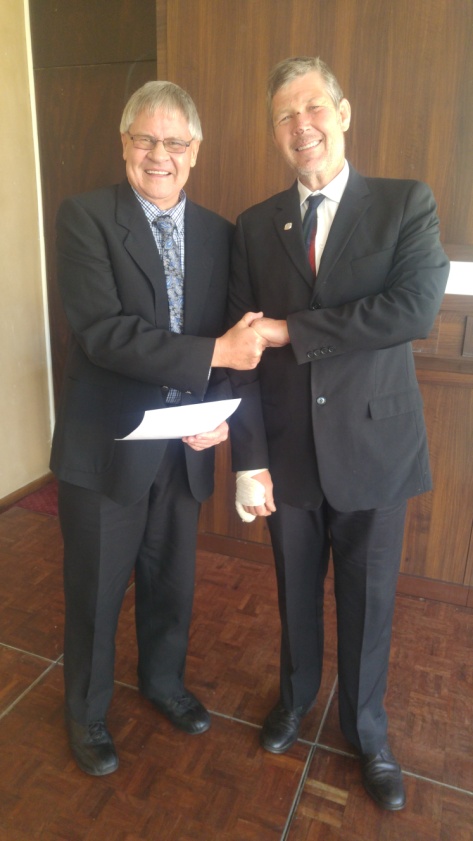 Dr Ian Bratt (broken finger) awarding the SACI Fellows certificate to Prof Ernst Breet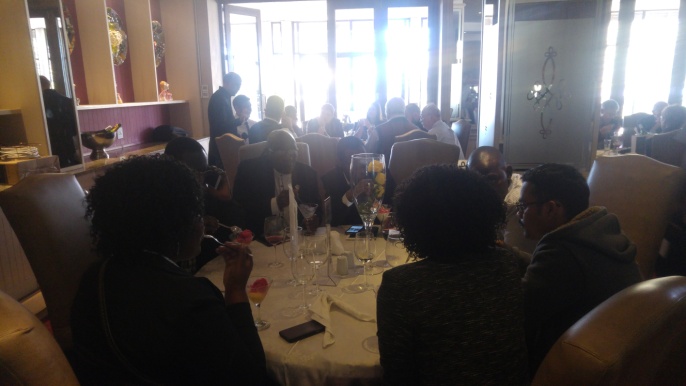 Central Gauteng AGM and SACI Chemical Education Medal Award Talk
The event will be held on the 6th October 2016 @ 5.00 pm in Room C6, School of Chemistry, University of the Witwatersrand. At the event the SACI Chemical Education Award 2016 certificate will be given to Dr H. Drummond. She will present a talk entitled "Competence in Chemistry: Component steps, skills and strategies"
RSVP for catering by to Laila Smith: email: saci.chem@wits.ac.za
African Journals of Chemistry
South African Journal of Chemistry

This Journal is published electronically. The webpage is: http://www.saci.co.za/ The South African Journal of Chemistry, published by the South African Chemical Institute, has been publishing high quality papers, in all fields of Chemistry for over 50 years. The Journal went fully electronic in 2000 and is freely available through open access online (http://reference.sabinet.co.za/sa_epublication/chem). It is a CAS-abstracted publication and is listed in Current Web Contents. It has retained its status as an accredited publication with the South African Department of Higher Education and Training.

African Corrosion Journal (online). Commenced in 2015 – a peer reviewed corrosion journal. This journal may be of interest to the "practical" chemists amongst the SACI membership. https://view.publitas.com/icp-1/african-corrosion-journal


African Journal of Pure and Applied Chemistry
Submit manuscripts: http://ms.academicjournals.me; Editorial office: ajpac@academicjournals.org
African Journal of Chemical Education
Enquiries and manuscripts should be addressed to the Editor-in-Chief: email eic@faschem.org, PO Box 2305, Addis Ababa, Ethiopia. AJCE, 2016, 6(1) ISSN 2227-5835 The online version appears in the FASC website (www.faschem.org) and in the AJOL website (www.ajol.info)
CAIA Newsletter
The latest issue of CAIA news is available. Go to: http://www.caia.co.za/news/chemnews/
or e-mail: caia@iafrica.com for pdf files of news and information.
RSC
RSC/PACN Chemistry Network Congress 2016
See advert on the Pan African Chemistry Network Congress 2016 - Sustainable Water Resources for Africa under events
Catalysis for Fuels: Faraday Discussion
The upcoming Catalysis for Fuels: Faraday Discussion will be held in Cape Town in January 2017. SACI members can receive a reduced rate to attend this event.

Please enter the code FDCATFUELS when prompted with the question 'Are you a member of an organisation which is supporting this event?'

Details: 24 - 26 January 2017, Cape Town. http://www.rsc.org/events/?searchtext=faraday&eventtype=3&rsc=1&membernetworkoptions=116&pagetitle=178

Contact me if there any queries relating to the registration (Neil Coville)
SACI and SACI related Conference events
Frank Warren 2016 conference


http://www.rhodesfrankwarren2016.com/


The 14th Edition of the Frank Warren Conference takes place from the 4th to the 8th of December in the Eastern Cape.
A line-up of local and international speakers includes Prof Kelly Chibale from H3D and UCT, Prof Charles de Koning from Wits University (our Frank Warren Speaker), and Prof Gert Kruger from UKZN.


Confirmed International speakers include Prof Peter O'Brien from the University of York, Prof Hans Joachim Knölker at Technical University of Dresden, and Eufranio Junior from the Federal University of Minas Gerais.


More details can be found on the Website: www.rhodesfrankwarren2016.com


We look forward to welcoming you to the beautiful Eastern Cape.
6th Mintek Analytical Science Symposium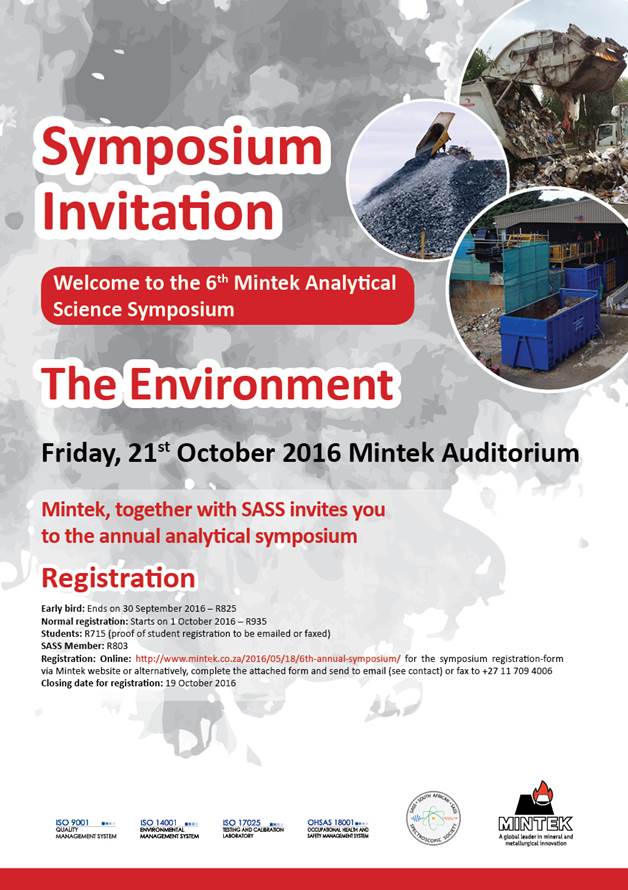 SACI Gauteng Central Section Young Chemists Symposium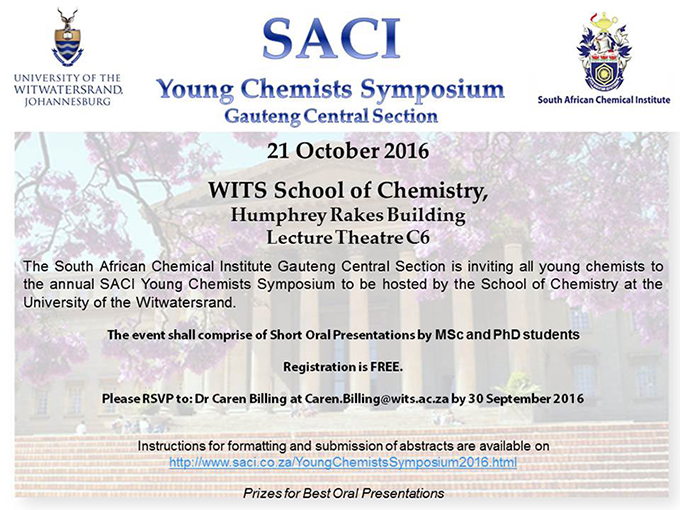 The Symposium is free and is open to all chemists, chemistry students and academics.
Abstract submission and well as RSVP to the event should be sent to Dr Caren Billing at Caren.Billing@wits.ac.za
There will be 12 oral presentations of 10 minutes each plus 5 minutes for questions. Presentation only by MSc and PhD student and there will be prizes for best oral in these categories .
Student presenting will be selected by an internal selection process from the various institutions, so there will be no call for abstracts. This will be communicated to the various institutions
2nd Annual Symposium and Workshop on Environmental Research and Pollution Monitoring of Environmental Persistent Pollutants (EPP)
DATES: 3– 7 October 2016
VENUE: Faculty of Science Auditorium, Tshwane University of Technology, 175 Nelson Mandela Drive, Arcadia Pretoria
Purpose:
A 1-day symposium for researchers and postgraduate students working on environmental persistent pollutants in Africa to share and discuss their work in the form of presentations and posters.
A 4-day hands-on-training workshop on sample preparation and analysis.
FOCAL THEME
EPP in environmental media and biological samples
Indoor exposure to EPP
Analytical methods and techniques for EPP analysis
Emerging EPP
Mercury and other trace metals
Biosensors for EPP detection
REGISTRATION FEE: No registration fee is required
Participation in both the symposium and workshop is offered at no cost, however, seats are limited. Training workshop attendance is limited to 10 delegates with preference to students from South African universities where high powered analytical facilities are not available and from other African countries. The training workshop covers sample handling, extraction and analysis using SPE, sonicator, Soxhlet for extraction and LCMSMS, GCMS, and AAS for analysis. Certificate of attendance will be issued at the end of the training. Training will be conducted by applications chemists from Shimadzu South Africa and postdoctoral and post-graduate students from TUT.
Submission of abstracts: Abstracts should be submitted to:
Please indicate on the abstract choice of presentation (ORAL or POSTER). Abstract can be submitted on or before 31st August 2016. Notifications for abstract acceptance will be sent out as from 7th September 2016. Time allocation for oral presentation is 15 min. The template for the abstract and registration forms are attached.
RSC/PACN RSC/PACN Chemistry Network Congress 2016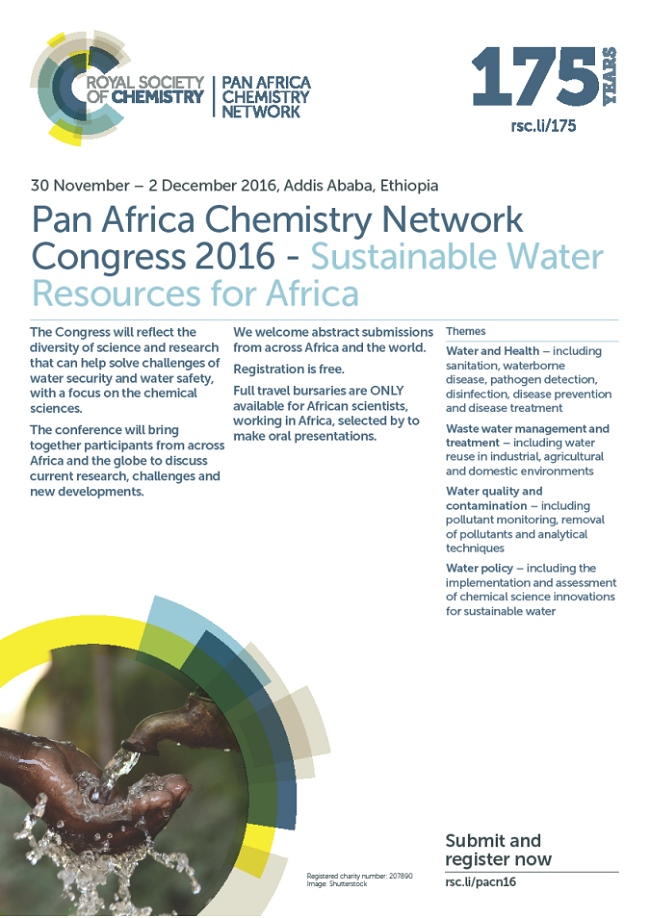 Others
Ninth International Symposium on New Trends in Chemistry ''Analytical Chemistry for Better Life'', Cairo University, Egypt from 2-5 January, 2017. http://egsac.sci.cu.edu.eg
The 3rd TCS International Conference and the 6th FASC Congress, Chemistry for Sustainable Development and Improved Livelihood Arusha, Tanzania http://tcs-tz.org/tcs-fasc2017/
IUPAC 2017 - July 6-14, 2017, São Paulo, Brazil
Asia Pacific Congress on Catalysis – 7 (APCAT – 7) January 17 – 21st, 2017 Mumbai, India at Hotel Lalit, with the core theme "Catalysis for Sustainable, Development, Peace and Prosperity".www.apcat7.in
Workshops

The Industrial Sciences Division At Separation Scientific
Three events will be held at the CSIR Nanotech Building 19A Auditorium from 11th to 13th October 2016
a) Inorganic Chemistry Mining and Geology Seminar (11 October 2016 Start Time: 09.00 am)
b) Material Sciences Seminar (12 October 2016 Start Time: 09.00 am)
c) Chromatography Seminar (13 October 2016 Start Time: 09.00 am)
RVSP to: triolan@sepsci.co.za By: 05 October 2016 to attend any/all of the events.
Life cycle assessment and green sample preparation techniques


Environmental Analytical Chemistry Research Group
School of Chemistry
University of the Witwatersrand, Johannesburg

Present a Two-day Course on

Green extraction techniques
(sampling and sample preparation like liquid phase microextraction, subcritical water and supercritical fluid extraction; solvent and solubility) and advances in chromatography

17-18th November 2016
University of the Witwatersrand, Johannesburg

Course objectives -To characterise effectively a pristine or contaminated environmental systems, it is essential to understand the sampling and sample preparation processes that can alter contaminants concentration, chemical forms and mobility.

This course is designed to provide participants with an understanding of the fundamental principles underlying modern green extraction technologies, to familiarize participants with these types of sample preparation (extraction and preconcentration) available, to answer questions for which samples which methods are appropriate (or not appropriate), and to provide supervised instruction in the use of different extraction methodologies. Real-world applications will be presented for broad categories of methods. Practical information on organic and xenobiota sample preparation will be presented along with recommendations on where to find and how to use these extraction techniques.

All participants will receive a complete set of notes which includes all the subject matter covered in the lectures.

Who should attend? This course is intended for practicing environmental analytical chemists, biologists, medical, pharmaceutical and food quality controllers, toxicology and forensic scientists, chemical engineers, and project managers who work on quality assessment, site characterisation, contaminant transport, and remediation but have had limited exposure to green sample preparation methods. The course is designed for those who want to start using extraction and/or preconcentration methods for their work and those who may have used them in their work but want to improve their understanding and effectiveness.

Course content

Day One

Introduction and overview of green sample preparation methods with theoretical background
Methodology and equipment for sampling and sample preservation
Extraction methods 1: Liquid phase micro extraction techniques
Extraction methods 2: Solvents and solubillity

Day Two

Extraction methods 3: Temperature dependent extraction methods –accelerated solvent extraction (ASE), subcritical water and supercritical fluid extraction
Separation technique4 Advances in chromatography

The exhibition of equipment supplied by Anatech will be on show during the workshop.

Course fees and closing date

Due to the interactive nature of the course, the number of participants is restricted. Thus, early booking is advised.

Course fees (per delegate for the two-day course):
R 1000 for bookings made on or before 15 October 2016.
R 1200 for bookings made after 15 October 2016.
Course fees include notes, teas and lunches.

The closing date for registration is 30 October 2016.
A cancellation fee of R 400 applies up to 15th October 2016. After that, the full course fee is payable, but substitutions are welcome.

To register - http://www.saci.co.za/EAC2016/registration.html

Enquiries
Prof. Luke Chimuka
School of Chemistry
University of the Witwatersrand
Private Bag 3, Wits 2050
Tel: 011 717 67 03
E-mail luke.chimuka@wits.ac.za

Bookings will be accepted via online registration and must be confirmed by a email copy of the deposit slip to saci.chem@wits.ac.za

The Environmental Analytical Chemistry Research Group in the School of Chemistry specialises in the speciation of metals in the environment, including modeling of transport and fate of elements, environmental risk assessments, computer modeling of solution equilibria and chemometric data analysis. The group also offers an environmental analytical service, including new analytical method development in the form of research and consulting work for industry.

School of Chemistry: www.chem.wits.ac.za

Anatech provides comprehensive solutions for: chromatography, applied separations, electrochemistry, microbiology, analytical standards, water analysis and liquid handling.

Anatech: sales@anatech.co.za

UNDERSTANDING XRF SPECTROMETRY 16 - 27 January, 2017 at UCT
Introduction
The Department of Geological Sciences will host a summer course for industry, research, and academia on the theory and practice of XRF Spectrometry from 16 to 27 January 2017. Initiated by Emeritus Prof James Willis, and now organized hosted by UCT in association with PANalytical B.V., this course presents the principles and practice of XRFS analysis. The emphasis will be on the application of the technique to geological materials, but applications in the cement, metals, and other industries and in environmental analysis will also be discussed.

Lectures will be given mostly by Dr B.A.R. Vrebos on both wavelength and energy dispersive XRF spectrometry. There will be practical exercises that will include an introduction to modern wavelength and energy dispersive XRF spectrometers, and a practical introduction to the various procedures necessary for successful major and trace element calibrations and data reduction for both techniques. Participants will carry out tutorial calculations on test data sets to familiarize themselves with the procedures involved. They will receive a comprehensive set of course materials, including "Understanding XRF Spectrometry" (a two-volume book by James Willis and Andrew Duncan published in 2008 by PANalytical B.V.) together with lecture handouts, notes, and other useful documentation. As always, the contents of the course and its presentation will be vendor neutral. It is NOT a course on the instrumentation or software of any particular vendor.

Participants completing the course should be in a strong position to successfully carry out XRF analysis on any vendor's machine. A certificate of attendance will be issued.

Course Structure
The course is divided into two distinct parts:

The first week comprises an introduction to the fundamentals of XRFS, qualitative analysis, selection and setting of instrumental parameters, matrix effects and how to deal with them, counting statistics, sampling procedures, sample preparation, and an introduction to quantitative XRFS analysis;

The second week covers in detail quantitative analysis for both major and trace elements, background and spectral overlap corrections, standardisation, absorption and enhancement problems and corrections, influence (alpha) coefficient corrections, commercial and manufacturer's software for correcting for inter-element matrix effects, special sample preparation techniques, analysis of small samples and solutions, and different applications of XRFS.

Each week can be attended separately, BUT persons attending the second week on quantitative analysis MUST have attended previously the introductory first week, although not necessarily in the same year. This is a very full, very intensive course containing an enormous amount of detail and building very rapidly on itself. For participants with little theoretical or practical knowledge of XRFS, it is strongly recommended that only the introductory week be attended in the first year. After gaining a year's experience in the laboratory and building on the knowledge gained from the first week, such participants will be in a much stronger position to extract the maximum advantage from the second week of the course. It is strongly recommended that in their second year, such participants should attend the full two-week course in order to reinforce their basic knowledge and thus gain the greatest benefit from the full course. All previous participants who have adopted this approach have found it to be extremely valuable and beneficial.

More information regarding registration will follow.
GC–MS: A Hands-on Approach
University of Lagos, Lagos, Nigeria; 21-25th November 2016
http://www.rsc.org/events/detail/23091/gc-ms-training-a-hands-on-approachM
Positions available

Junior Technical R&D/ Factory Liaison
This position will involve both laboratory as well as factory work. The successful candidate will form the bridge between R & D and the compounding teams in the plant.

Responsibilities will include:
Assisting R & D with the production of final lab samples for standard sign offs; Being responsible for all scale ups and pilot plant trials; Training compounders; Monitor & assist in all compounding; Enforce & oversee good GMP; Analyse problem batches in lab & troubleshoot solutions to resolve any issues

Skills: Good knowledge of manufacturing processes; Problem solving; Own transport; Able to work under pressure;
Self –motivated; Good people skills; Excellent communication skills

Requirements:
Bachelor or Diploma of Science in any applicable chemical field
This is a junior position with potential to grow into a senior supervisory role should performance so justify.
Interested parties to send their cv to marilize.hendricks@britec.co.za
Scientific Officer at UCT (Medicinal Chemistry)