SACI News October 2016

The student unrest on SA campuses is not over yet. This has had an impact on the SACI Office which is situated on the Wits campus. To ensure the smooth running of SACI during this time Laila Smith will work from home. She has a laptop, a copy of Pastel and a cell phone number 061 282 3477 for SACI business. This is already in place - so members might not even have realised that any change in communication had occurred. The decision to make the above changes was made after Laila's car was damaged on campus a few weeks ago.

In other news – many of the SACI events scheduled for November will be rescheduled for December or early in 2017.
Neil Coville
Content
SACI office address
Advertising in the SACI newsletter
Noble Prize in Chemistry 2016
Chemists without borders
IUPAC
African Journals of Chemistry
CAIA Newsletter
RSC
RSC/PACN RSC/PACN Chemistry Network Congress 2016
Catalysis for Fuels: Faraday Discussion
SACI and SACI related conference events
Frank Warren 2016
INORG2017 Second notice
1st Africa Energy Materials Conference Workshops
The 3rd TCS International Conference and the 6th FASC Congress
Others
Workshops
Life cycle assessment and green sample preparation techniques
GCMS: A Hands on Approach. RSC/PACN event; Ethiopia
UNDERSTANDING XRF SPECTROMETRY
GC–MS: A Hands-on Approach; RSC/PACN event; Nigeria
Use of scientific facilities in SA
DST- CSIR Nanomaterials Industrial Development Facility (NIDF)
DST-CSIR NIDF Call to industry, SMME's and researchers in academia and science councils who need to scale up chemical processes that require an autoclave, process tanks and particle drying systems
DST-CSIR NIDF Call to researchers in industry, academia and science councils who need to develop and test special polyolefin plastics

SACI office address
The SACI office, run by Laila Smith is located on the 1st Floor of Gate House, room 124. The telephone number is 011 717 6705 and e-mail address is: saci.chem@wits.ac.za. The cel number is 061 282 3477.
Advertising in the SACI newsletter
The newsletter provides a means of getting messages to our membership. Currently the SACI membership stands at over 1000. This newsletter thus provides a means of advertising employment opportunities, conferences and workshops, and even for companies/Universities to promote themselves. We encourage members to use the Newsletter for advertising purposes. All SACI related conferences and events are advertised for free; if not a SACI related event there could be a small charge. For advertising costs contact Laila at the SACI office.

Noble Prize in Chemistry 2016
Nobel Prize in Chemistry awarded to creators of the World's tiniest machines (WEDNESDAY OCTOBER 5 2016)

The winners of the 2016 Nobel Chemistry Prize are Jean-Pierre Sauvage, J. Fraser Stoddart and Bernard L. Feringa

"Both the Chemistry and Physics Nobel Prizes this year share the distinction of being material and molecular studies that have revealed much about the nature of matter but both also hint at new technology with a wide range of implications.

Tuesday, 4th October 2016, saw the announcement of the Physics prize, with half going to David J. Thouless of the University of Washington, Seattle, WA, and the other half to F. Duncan M. Haldane Princeton University, NJ and J. Michael Kosterlitz Brown University, Providence, Rhode Island, USA. The prize recognizes their theoretical discoveries of topological phase transitions and topological phases of matter. All three scientists are British born.

The scientists unlocked the secrets of exotics phases of matter using mathematics to help us understand the behavior and properties of superconductors, superfluids, and thin magnetic films. More specifically, they used topology, the branch of mathematics that describes continuous transitions from one shape or structure to another, that are preserved, deformations such as stretching and bending as opposed to tearing or gluing. The mathematics applies equally to abstract entities such as spacetime and black holes as well as everyday objects such as teacups and doughnuts as well as materials at the molecular and atomic levels.

In the early 1970s, Kosterlitz and Thouless overturned the theory that superconductivity or superfluidity could not exist in thin layers. They showed that superconductivity could occur at low temperatures and also explained the mechanism, a phase transition, that leads to the loss of superconductivity as the temperature rises above a critical point. In the 1980s, Thouless also explained earlier experiments with very thin electrically conducting layers and showed that topology could explain this too. Meanwhile, Haldane discovered how topology could explain the magnetic properties of certain materials.

A day later, the Chemistry prize was announced and will be shared by Jean-Pierre Sauvage of the University of Strasbourg, France, British-born Sir J. Fraser Stoddart, of Northwestern University, Evanston, Illinois, USA, and Bernard L. Feringa of the University of Groningen, the Netherlands. The prize this year is in recognition of the design and synthesis of molecular machines. Such a terse phrase belies the true enormity of their efforts of many years wherein they are laying the foundations for devices that work on a scale much smaller than any manufactured system and in some sense on a par with the machinery of living cells.
Sauvage took his first step towards a molecular machine in 1983 when he linked two ring-shaped molecules to form a catenane. Stoddart's work then extended this concept in 1991 to the so-called rotaxanes, a ring on a string, molecular system. And, in 1999 Feringa built a molecular motor. Together these three developments operating in parallel could one day allow technologists to build devices from the successors to these molecules".

Taken from Materials Today

7 October 2016 | David Bradley
Chemists without borders
For those interested in a 'different" type of chemistry
CandEN Sept 12 2106 p22/23
http://chemistswithoutborders.org/

https://en.wikipedia.org/wiki/Chemists_Without_Borders
IUPAC
For the latest news see: http://www.saci.co.za/iupac.html
African Journals of Chemistry
South African Journal of Chemistry

SAJChem welcomes Prof. Luke Chimuka as second Editor-in-Chief. The journal has embarked on a rotational system (two years) where the new Editor-in-Chief deals with the publications that were approved for publication during his first year in office. In the second year, this person deals with the screening of new submissions, while the incumbent Editor-in-Chief is rotated back to serve as a Subject Editor. The journal hopes that this will broaden the experience of Editors and also ensure improved service to authors.

Drs Marc Humphries from WITS (Analytical Editor) and Sam Mahomed from the University of KwaZulu-Natal (Inorganic Editor) are new editors. Dr March Humphries is filling the vacancy due to the move of Prof. Chimuka to Editor-in-Chief. Dr Mahomed is stepping in for Prof. Simon Lotz who will step down at the end of the year after 6 years of service to the Journal.

The Editorial team can be seen at https://www.sabinet.co.za/sajchem/ and authors that wish to submit publications to the journal should use the online system at http://www.saci.co.za/journal/.

Gert Kruger

This Journal is published electronically. The webpage is: http://www.saci.co.za/ The South African Journal of Chemistry, published by the South African Chemical Institute, has been publishing high quality papers, in all fields of Chemistry for over 50 years. The Journal went fully electronic in 2000 and is freely available through open access online (http://reference.sabinet.co.za/sa_epublication/chem). It is a CAS-abstracted publication and is listed in Current Web Contents. It has retained its status as an accredited publication with the South African Department of Higher Education and Training.

African Corrosion Journal (online). Commenced in 2015 – a peer reviewed corrosion journal. This journal may be of interest to the "practical" chemists amongst the SACI membership. https://view.publitas.com/icp-1/african-corrosion-journal


African Journal of Pure and Applied Chemistry
Submit manuscripts: http://ms.academicjournals.me; Editorial office: ajpac@academicjournals.org
African Journal of Chemical Education
Enquiries and manuscripts should be addressed to the Editor-in-Chief: email eic@faschem.org, PO Box 2305, Addis Ababa, Ethiopia. AJCE, 2016, 6(1) ISSN 2227-5835 The online version appears in the FASC website (www.faschem.org) and in the AJOL website (www.ajol.info)
CAIA Newsletter
The latest issue of CAIA news is available. Go to: http://www.caia.co.za/news/chemnews/
or e-mail: caia@iafrica.com for pdf files of news and information.
RSC
RSC/PACN Chemistry Network Congress 2016
See advert on the Pan African Chemistry Network Congress 2016 - Sustainable Water Resources for Africa under events
Due to the changing security situation in Ethiopia, the decision has been made by the RSC to move the location of the PACN Congress to the University of Nairobi, Kenya. The dates and programme will remain the same and we are currently confirming this with all speakers and selected abstract presenters.
http://rsc.li/pacn16

I am hugely grateful to the University of Nairobi for offering to host our Congress at such short notice. We will be working closely with them to ensure the event is a great success.
Registration for the event in Kenya will open on Tuesday 25th October and all attendees are invited to bring a poster to display at the Congress.
Dr Helen Driver (nee Bailey) MRSC
Senior Programme Manager, Africa
driverh@rsc.org
www.rsc.org
Catalysis for Fuels: Faraday Discussion
The upcoming Catalysis for Fuels: Faraday Discussion will be held in Cape Town in January 2017. SACI members can receive a reduced rate to attend this event.

Please enter the code FDCATFUELS when prompted with the question 'Are you a member of an organisation which is supporting this event?'

Details: 24 - 26 January 2017, Cape Town. http://www.rsc.org/events/?searchtext=faraday&eventtype=3&rsc=1&membernetworkoptions=116&pagetitle=178

Contact me if there any queries relating to the registration (Neil Coville)
SACI and SACI related Conference events
Frank Warren 2016 conference


http://www.rhodesfrankwarren2016.com/


The 14th Edition of the Frank Warren Conference takes place from the 4th to the 8th of December in the Eastern Cape.
A line-up of local and international speakers includes Prof Kelly Chibale from H3D and UCT, Prof Charles de Koning from Wits University (our Frank Warren Speaker), and Prof Gert Kruger from UKZN.


Confirmed International speakers include Prof Peter O'Brien from the University of York, Prof Hans Joachim Knölker at Technical University of Dresden, and Eufranio Junior from the Federal University of Minas Gerais.


More details can be found on the Website: www.rhodesfrankwarren2016.com


We look forward to welcoming you to the beautiful Eastern Cape.
INORG2017 Second Notice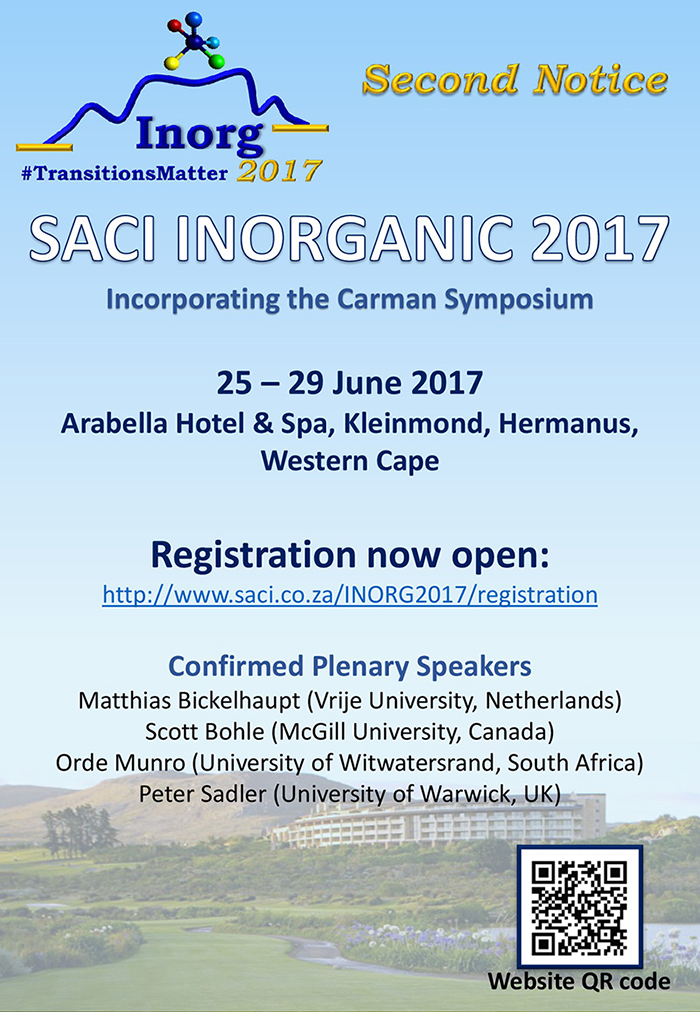 1st Africa Energy Materials Conference (AEM-2017)

University of Pretoria Conference Centre, Pretoria, South Africa, 28 - 31 March 2017. More information is available at: www.africaem2017.co.za
The 3rd TCS International Conference and the 6th FASC Congress



Others

Charge and spin density workshop to be held at Stellenbosch University from 23-27 January 2017.
https://blogs.sun.ac.za/chargedensity/ . For any additional information please contact Delia at dhaynes@sun.ac.za or
+27 (0)21 808-3358
Ninth International Symposium on New Trends in Chemistry ''Analytical Chemistry for Better Life'', Cairo University, Egypt from 2-5 January, 2017.
The 3rd TCS International Conference and the 6th FASC Congress, Chemistry for Sustainable Development and Improved Livelihood Arusha, Tanzania http://tcs-tz.org/tcs-fasc2017/
IUPAC 2017 - July 6-14, 2017, São Paulo, Brazil
The First International Conference on "SUSTAINABLE MATERIALS PROCESSING. Skukuza, Kruger National Park, South Africa | January 23-25, 2017. Email: tjen@uj.ac.za; Tel: +27 11 559-4208 Conference website: http://www.uj.ac.za/faculties/febe/Pages/SMPM-
Catalysis for Fuels: Faraday Discussion 24 - 26 January 2017, Cape Town, South Africa; Events Department Royal Society of Chemistry http://www.rsc.org/events/?searchtext=faraday&eventtype=3&rsc=1&membernetworkoptions=116&pagetitle=178
Asia Pacific Congress on Catalysis – 7 (APCAT – 7) January 17 – 21st, 2017 Mumbai, India at Hotel Lalit, with the core theme "Catalysis for Sustainable, Development, Peace and Prosperity".www.apcat7.in


Workshops





Environmental Analytical Chemistry Research Group
School of Chemistry
University of the Witwatersrand, Johannesburg

Present a Two-day Course on

Green extraction techniques
(sampling and sample preparation like liquid phase microextraction, subcritical water and supercritical fluid extraction; solvent and solubility) and advances in chromatography

17-18th November 2016
University of the Witwatersrand, Johannesburg

Course objectives -To characterise effectively a pristine or contaminated environmental systems, it is essential to understand the sampling and sample preparation processes that can alter contaminants concentration, chemical forms and mobility.

This course is designed to provide participants with an understanding of the fundamental principles underlying modern green extraction technologies, to familiarize participants with these types of sample preparation (extraction and preconcentration) available, to answer questions for which samples which methods are appropriate (or not appropriate), and to provide supervised instruction in the use of different extraction methodologies. Real-world applications will be presented for broad categories of methods. Practical information on organic and xenobiota sample preparation will be presented along with recommendations on where to find and how to use these extraction techniques.

All participants will receive a complete set of notes which includes all the subject matter covered in the lectures.

Who should attend? This course is intended for practicing environmental analytical chemists, biologists, medical, pharmaceutical and food quality controllers, toxicology and forensic scientists, chemical engineers, and project managers who work on quality assessment, site characterisation, contaminant transport, and remediation but have had limited exposure to green sample preparation methods. The course is designed for those who want to start using extraction and/or preconcentration methods for their work and those who may have used them in their work but want to improve their understanding and effectiveness.

Course content

Day One

Introduction and overview of green sample preparation methods with theoretical background
Methodology and equipment for sampling and sample preservation
Extraction methods 1: Liquid phase micro extraction techniques
Extraction methods 2: Solvents and solubillity

Day Two

Extraction methods 3: Temperature dependent extraction methods –accelerated solvent extraction (ASE), subcritical water and supercritical fluid extraction
Separation technique4 Advances in chromatography

The exhibition of equipment supplied by Anatech will be on show during the workshop.

Course fees and closing date

Due to the interactive nature of the course, the number of participants is restricted. Thus, early booking is advised.

Course fees (per delegate for the two-day course):
R 1000 for bookings made on or before 15 October 2016.
R 1200 for bookings made after 15 October 2016.
Course fees include notes, teas and lunches.

The closing date for registration is 30 October 2016.
A cancellation fee of R 400 applies up to 15th October 2016. After that, the full course fee is payable, but substitutions are welcome.

To register - http://www.saci.co.za/EAC2016/registration.html

Enquiries
Prof. Luke Chimuka
School of Chemistry
University of the Witwatersrand
Private Bag 3, Wits 2050
Tel: 011 717 67 03
E-mail luke.chimuka@wits.ac.za

Bookings will be accepted via online registration and must be confirmed by a email copy of the deposit slip to saci.chem@wits.ac.za

The Environmental Analytical Chemistry Research Group in the School of Chemistry specialises in the speciation of metals in the environment, including modeling of transport and fate of elements, environmental risk assessments, computer modeling of solution equilibria and chemometric data analysis. The group also offers an environmental analytical service, including new analytical method development in the form of research and consulting work for industry.

School of Chemistry: www.chem.wits.ac.za

Anatech provides comprehensive solutions for: chromatography, applied separations, electrochemistry, microbiology, analytical standards, water analysis and liquid handling.

Anatech: sales@anatech.co.za


UNDERSTANDING XRF SPECTROMETRY 16 - 27 January, 2017 at UCT
Introduction
The Department of Geological Sciences will host a summer course for industry, research, and academia on the theory and practice of XRF Spectrometry from 16 to 27 January 2017. Initiated by Emeritus Prof James Willis, and now organized hosted by UCT in association with PANalytical B.V., this course presents the principles and practice of XRFS analysis. The emphasis will be on the application of the technique to geological materials, but applications in the cement, metals, and other industries and in environmental analysis will also be discussed.

Lectures will be given mostly by Dr B.A.R. Vrebos on both wavelength and energy dispersive XRF spectrometry. There will be practical exercises that will include an introduction to modern wavelength and energy dispersive XRF spectrometers, and a practical introduction to the various procedures necessary for successful major and trace element calibrations and data reduction for both techniques. Participants will carry out tutorial calculations on test data sets to familiarize themselves with the procedures involved. They will receive a comprehensive set of course materials, including "Understanding XRF Spectrometry" (a two-volume book by James Willis and Andrew Duncan published in 2008 by PANalytical B.V.) together with lecture handouts, notes, and other useful documentation. As always, the contents of the course and its presentation will be vendor neutral. It is NOT a course on the instrumentation or software of any particular vendor.

Participants completing the course should be in a strong position to successfully carry out XRF analysis on any vendor's machine. A certificate of attendance will be issued.

Course Structure
The course is divided into two distinct parts:

The first week comprises an introduction to the fundamentals of XRFS, qualitative analysis, selection and setting of instrumental parameters, matrix effects and how to deal with them, counting statistics, sampling procedures, sample preparation, and an introduction to quantitative XRFS analysis;

The second week covers in detail quantitative analysis for both major and trace elements, background and spectral overlap corrections, standardisation, absorption and enhancement problems and corrections, influence (alpha) coefficient corrections, commercial and manufacturer's software for correcting for inter-element matrix effects, special sample preparation techniques, analysis of small samples and solutions, and different applications of XRFS.

Each week can be attended separately, BUT persons attending the second week on quantitative analysis MUST have attended previously the introductory first week, although not necessarily in the same year. This is a very full, very intensive course containing an enormous amount of detail and building very rapidly on itself. For participants with little theoretical or practical knowledge of XRFS, it is strongly recommended that only the introductory week be attended in the first year. After gaining a year's experience in the laboratory and building on the knowledge gained from the first week, such participants will be in a much stronger position to extract the maximum advantage from the second week of the course. It is strongly recommended that in their second year, such participants should attend the full two-week course in order to reinforce their basic knowledge and thus gain the greatest benefit from the full course. All previous participants who have adopted this approach have found it to be extremely valuable and beneficial.

More information regarding registration will follow. jenny@wirsam.com
GC–MS: A Hands-on Approach
University of Lagos, Lagos, Nigeria; 21-25th November 2016
http://www.rsc.org/events/detail/23091/gc-ms-training-a-hands-on-approachM
Use of scientific facilities in SA

DST- CSIR Nanomaterials Industrial Development Facility (NIDF). Call to industry, SMME's and researchers in academia and science councils who need to scale up chemical processes that require an autoclave, process tanks and particle drying systems.
DST- CSIR Nanomaterials Industrial Development Facility (NIDF). Call to researchers in industry, academia and science councils who need to develop and test special polyolefin plastics.