SACI News November - December 2020
This year has been unprecedented in all respects but, fortunately, it is drawing to a close and we hope that 2021 will be a better year for everyone.  We hope that all our members and their families are keeping well and healthy, and offer our sincere condolences to anyone who may have lost loved ones during the pandemic.  We end the year with some good news: two of our distinguished members have been honoured by the Royal Society of Chemistry, and we heartily congratulate them for flying the South African chemistry flag high.
On behalf of SACI, we wish all our members a blessed and safe festive season, and we wish you all the very best for 2021 and continued good health.

Bice Martincigh
Content
Advertising in the SACI newsletter

Pay your SACI membership fees with SnapScan

Salary Survey

From the President's Desk

Congratulations to our distinguished chemists!

Of interest: Corona Virus Updates

Down Memory Lane

SACI Statement on Tertiary Training in Chemistry

Diversity and Inclusion in the Chemical Sciences

Sections and Divisions News

Merck Innovation Cup 2021

Commonwealth Chemistry

RSC News

NSTF News

AYCN

IUPAC News

FASC News

CAIA Newsletter

OPCW Research Funding

South African Journal of Chemistry

African Journals of Chemistry

SACI and SACI-related conference events

Other Conferences

GC and GC-MS online training courses - NMISA
SACI office address and times
The SACI office, run by Laila Smith is located on the 1st Floor of Gate House, room 124. The telephone number is 011 717 6705 and e-mail address is: saci.chem@wits.ac.za. The cell number is 061 282 3477.

Office hours are from 8.30 am till 1.00 pm. She can be contacted at any time during her office hours.
Advertising in the SACI newsletter
The newsletter provides a means of getting messages to our membership. Currently the SACI membership stands at over 1000. This newsletter thus provides a means of advertising employment opportunities, conferences and workshops, and even for companies/Universities to promote themselves. We encourage members to use the Newsletter for advertising purposes. All SACI related conferences and events are advertised for free; if not a SACI related event there could be a small charge. For advertising costs contact Laila at the SACI office.
Pay your SACI membership fees with SnapScan
For those wishing to pay via credit card please let Mrs Laila Smith know so she can generate an online payment and email you a link.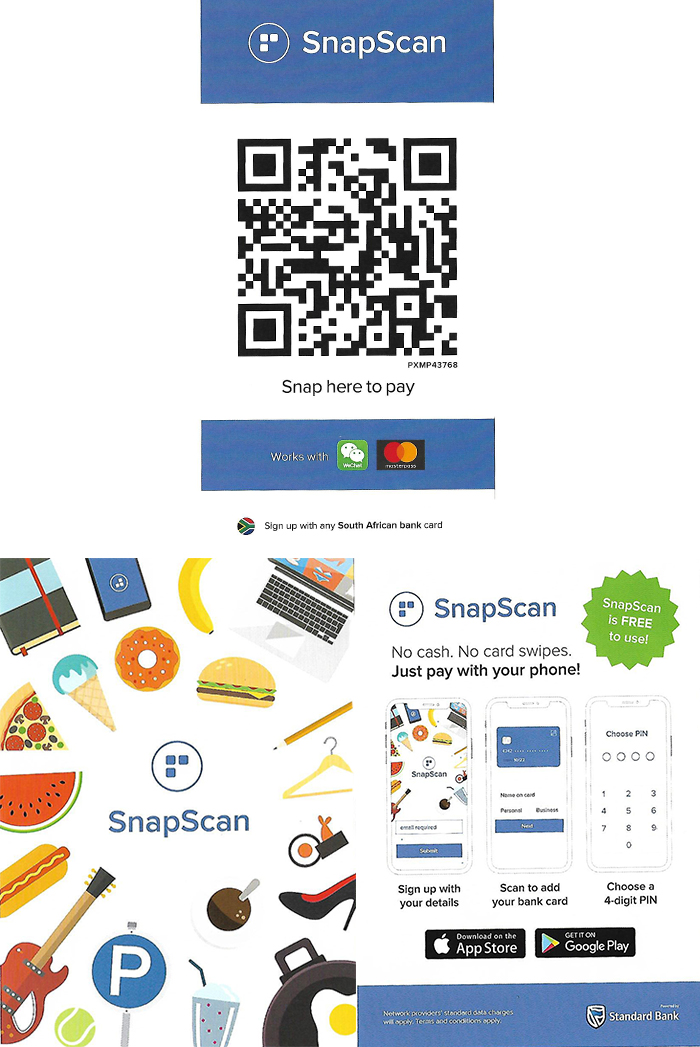 Salary Survey
Dear SACI Member

Please go to the below link and complete the survey before 31 December 2020

http://www.saci.co.za/salary_survey.html

We need these statistics so we release the correct figures annually.

The survey will be available to all SACI paid up members
From the President's Desk
Dear SACI Members

2020 has been an extraordinary year and certainly evolved in a way that few would have predicted in January of this year. The COVID-19 pandemic resulted in major disruptions to our work as well as our family and social lives. It has been challenging times for everyone including all of our members. In amongst our individual challenges, we should not forget that this pandemic has already claimed the lives of more than 23 000 of our fellow South Africans and more than 1.5 Million people globally. We express our condolences and support to all our members that have been directly impacted by the pandemic. The disruptions and sacrifices we have all experienced, no matter how difficult, are a small price to pay to protect lives. 

As an Institute, we have not been untouched by the current pandemic as all our face-to-face events and conferences had to be postponed or cancelled.  I am pleased to say, however, that many of our activities were able to migrate into the online space including for the first time in the more than 108-year history of SACI that the 563rd meeting of the SACI Council took place in an online environment in August. Many other Sectional and Divisional activities have also moved online including young chemist events!  It is clear that in some instances the online environment has facilitated greater participation but regretfully this is not universally the case nor is it a good substitute for the face-to-face networking that is an important feature of all our SACI events.

I want to thank all our members but especially the members who volunteer their time to work as part of our EXCO, Council and the Divisional and Sectional Committees as well as Laila for your tireless efforts to keep the important work of SACI going in these challenging times.

As we head into the festive season, I trust that all of you will have a chance to rest and spend some time with your families and loved ones! No doubt 2021 will present us with many challenges, but I have every confidence that we will be able to tackle these and make the best of 2021 no matter what these challenges are!

Warm regards

Peter

Professor Peter Mallon

SACI President
Congratulations to our distinguished chemists!
Two of our distinguished South African chemists, Professors Tebello Nyokong of Rhodes University and Emmanuel Iwuoha of the University of the Western Cape, have been selected as Honorary Fellows of the Royal Society of Chemistry.  This is a fantastic achievement and we heartily congratulate them for for achieving this distinction.  They join Professor Roger Sheldon who has a position at the University of the Witwatersrand, and was admitted in 2018.
| | |
| --- | --- |
| | |
| Professor Tebello Nyokong | Professor Emmanuel Iwuoha |
As of 2019, there were 112 Honorary Fellows.  These persons have each been admitted in recognition of their unique achievements ranging from public engagement to distinction in research.

The list of Honorary fellows can be found at:

https://www.rsc.org/about-us/our-history/our-honorary-fellows/
Of interest: Corona Virus Updates
Some useful sites for updates on COVID-19:

https://ig.ft.com/coronavirus-global-data
https://ourworldindata.org/coronavirus
https://www.worldometers.info/coronavirus/

Here is a link to a very interesting talk on the current status of the pandemic in South Africa given by Professor Salim Abdool Karim:
https://www.youtube.com/watch?v=TQL08iT8lHY&ab_channel=UniversityofKwaZulu-NatalSouthAfrica
Down Memory Lane
To add to the history of SACI it was decided to get some of the older SACI members to relate about their experience of SACI in years gone by me.  To do this a letter was sent out to the SACI membership form the then President, Prof Vincent Nyamori, in late 2017.  The letter requested that those members with 40 + years of SACI membership write a few paragraphs on their remembrance of SACI in times past.

For a variety of reasons, these anecdotal comments are only now being collated in mid-2020. These remembrances of times past provide a small window on the times that the members recollect. Below are listed (virtually unedited) the comments from these members.

If there are any others who would still like to add to this article – please do so. Send your information to me.

Prof Neil Coville
July 2020
The letter of invite

Dear SACI Member

You have been a SACI member for over 40 years.  We are trying to record some early history of SACI.  Could you write a paragraph for us (10 lines; or longer) on (i) an early memory relating to SACI and (ii) what you doing now.
Thanks

Prof Vincent Nyamori
Response from the late Professor Mike Brown

SACI Memories

When I was doing Chemistry II at Wits in 1957 we were lectured to by Prof Sam Israelstam who was very involved in SACI. He ensured that all the second-years became Student Members of SACI and so this year marks my 60 years of unbroken membership.

I lived in Sydenham, which was about 10 km by bus and 1 km walk from Wits, so returning to the campus in the evenings for SACI functions took quite an effort. The main recollection of these meetings is of audiences waiting patiently for the Committee and Speaker to arrive from their pre-meeting dinner. Arrival was usually late and the procession of elderly (to me) men was accompanied by a strong smell of port and cigar smoke, to the envy of the student members!

After graduating and moving to Rhodes University in 1962, I attended the fairly regular meetings of the EP Local Section, either in Grahamstown or Port Elizabeth. Prominent members at that time included the Schauder brothers, who were very active.

When I was in the final stages of my PhD I was invited to give my first public lecture to the Section. I was a bit disconcerted when during my talk I noticed that a senior member was fast asleep in the front row! He apologised afterwards and said that his flu medication was responsible, not me!

In 1963 I attended my first SACI Convention, the Diamond Jubilee Convention, held in the new Raikes Building at Wits. One of the invited guests was Prof F.C. Tompkins, FRS, from Imperial College, London. He had quite a reputation as a difficult and very influential person. He was given a very flattering introduction by the chairman of the first plenary session, to which he replied sarcastically that it was a pity that that they had left out his taste in silk pyjamas. He then continued by saying that now that we had got to the most important part of the Convention, he would deliver his lecture.

I don't know the details of the feud that had apparently raged for years between Prof Tompkins and his one-time employer, the University of Natal, but the Convention gave him an opportunity to get some revenge. During one of the ordinary sessions, Prof D. Schreiner from the University of Natal presented a paper on some aspect of catalysis, which was Tompkins's special field. At the end of the lecture there was the usual polite applause and the shuffling of papers as members of the audience looked up what was next on the programme. The session chairman took a first question from the audience, which Prof Schreiner answered without difficulty. Prof Tompkins then got the chairman's attention and said that he had a few comments to make on the paper. The comments were along the lines "You have not done ……….. which you should have done" and "You have done ….. which you should not have done." This included not referring to work by Tompkins that disagreed with Schreiner's work. The list went on and on and Prof Schreiner, a large man, seemed to be shrivelling up on the stage. He seemed to recover slightly as Tompkins started a comment with "Finally ….. " but, cruelly, this was only one of a further set of critical comments, each starting with "Finally …". There was no hope of anyone being able to recover from such an onslaught and the chairman wisely suggested that discussion was best done amongst those interested during the tea break. The incident has become one of the "legends" of the Faraday Division of the RSC. As a lowly Junior Lecturer, it was an eye-opener to me to see the "big guns" in fierce action!
Another, less-controversial, Convention guest was Dame Kathleen Lonsdale. Her lecture would have been superb if someone had checked the focal length of the projector lens in use in the brand new lecture theatre. Her crystallographic slides were overflowed the screen onto the ceiling and side walls. With very restrained sarcasm, she tried to refer the audience to the part of the structure "shown on the left-hand part of the ceiling."
Many years, and many conventions later, I was in charge of the lecture programme for the SACI Convention held at Rhodes in 1991. One of the Plenary Speakers in a session chaired by Jimmy Bull, totally refused to end his lecture, after overrunning his time by more than 30 minutes and in spite of a crowd gathering impatiently in the foyer for the next session. I came very close to switching off the building's main power switch!

The activities of the EP Section really brought together chemists from Rhodes, UPE and, later, Fort Hare. Many friendships were made and collaborations started. The joint students' symposium that we started has been duplicated in many other Sections.

I retired in 2003 and was awarded a DSc by Rhodes University in 2006 for my published work. Since then I have enjoyed a change of occupation – doing woodwork and catching up with all the books that keeping up with the chemical literature had deprived me of!.
SACI Statement on Tertiary Training in Chemistry
Statement from SACI Council on tertiary training in chemistry as a result of disruptions to the 2020 academic year due to the COVID-19 pandemic.

As the professional body representing the interests of all chemists in South Africa, we recognise the challenges that the current COVID-19 crisis presents to all our members in academia, research and industry. We also acknowledge the challenges the current situation presents to our tertiary institutions and specifically the challenges presented by moving to online teaching. We applaud the efforts of all our members who work at tertiary institutions who have adapted and innovated to ensure that we can continue as far as possible with our teaching and learning of chemistry even when on campus face-to-face contact is not possible. Our tertiary institutions play a critical role in not only training the next generation of chemists, but they are also tasked with the important responsibility of ensuring that many people from other professions and disciplines are trained in the fundamental principles of chemistry.

We reaffirm our belief that this training is essential, as chemistry is one of the central sciences. Key to this training is the practical component and laboratory based skills development. While we accept that this critical component of our training is not possible under the current situation, we strongly urge that plans be put in place to preserve this component of training as part of the curriculum as far as possible. In some cases, virtual laboratory tools can facilitate learning, but we believe that "in laboratory practical training" particularly for senior level courses should be preserved. SACI strongly recommends that at least a critical minimum practical experience should form part of the plans to complete the 2020 academic year at our tertiary institutions. We believe that this is essential to preserve the validity and integrity of the academic training programmes in chemistry.
Professor Peter Mallon
President of SACI
Diversity and Inclusion in the Chemical Sciences
There is currently a renewed international debate with regards to inclusion and diversity within the chemical community that has been triggered by the recent opinion article published by Angewandte Chemie "Organic synthesis—Where now?" is thirty years old. A reflection on the current state of affairs" by Prof. Tomas Hudlicky.  This paper has subsequently been withdrawn, however, that whole incident has highlighted that there is still a lot of work to be done to ensure inclusion and diversity.

SACI were approached by the RSC to see if we would support a clear statement of the stance of International Chemical Societies against all forms of discrimination and exclusion.  On behalf of SACI, our President, Professor Peter Mallon, was happy to commit and endorse the statement.  You can follow the link https://www.rsc.org/news-events/articles/2020/jun/id-joint-societies-statement/ to read the statement.
Sections and Divisions News
The SACI Central Section (CS) is now back in action!
In September a CS interim committee was established.  An AGM (by ZOOM) of the SC was then held on 3rd December 2020 to formalise the new committee membership.  For a variety of reasons the CS had not held an AGM for two years.

At this meeting Prof Lemmerer (Chair) handed over the reins of the old CS committee to the new committee.  Prof Coville, who coordinated the revival of the CS, proposed that those who were on the interim committee and those who had volunteered their services all be elected to the new committee.  The actual positions of Chair/Vice Chair/Secretary/Treasurer + co-opted members would be determined at the first SACI CS meeting.  This proposal was accepted unanimously.

New committee members are: Dr Caren Billing (Wits); Dr Phumlani Msomi (UJ); Dr Sadhna Mathura (Wits); Ms Bianca Davids (student rep); Dr John Moma (Wits); Dr Mark Smith (UNISA); Ms Alida-Louise Henning (Impala Plat); Dr Manoko Maubane-Nkadimeng (Wits); Dr Patrick Imoisili (UJ).

At the first meeting of the CS committee the various portfolios will be filled by election.  In the meantime, the first event, the Global Woman's breakfast, will be organised by Dr Mathura.

Prof Neil Coville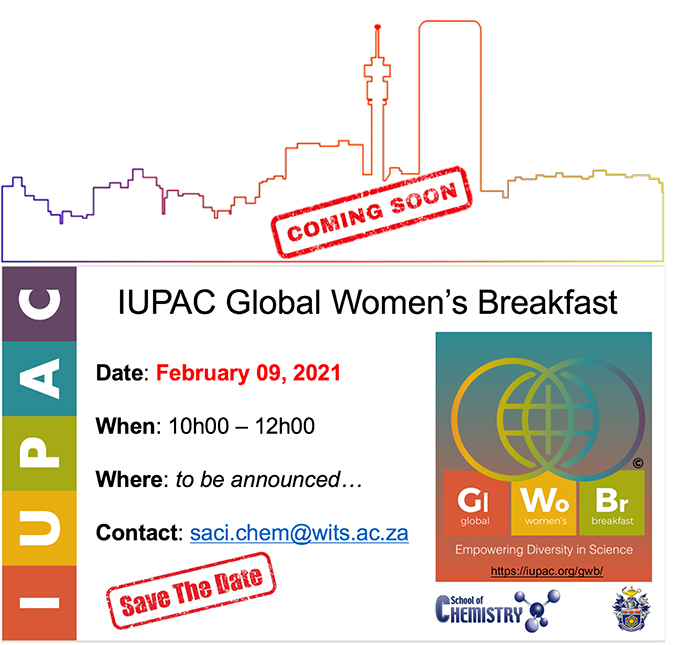 Merck Innovation Cup 2021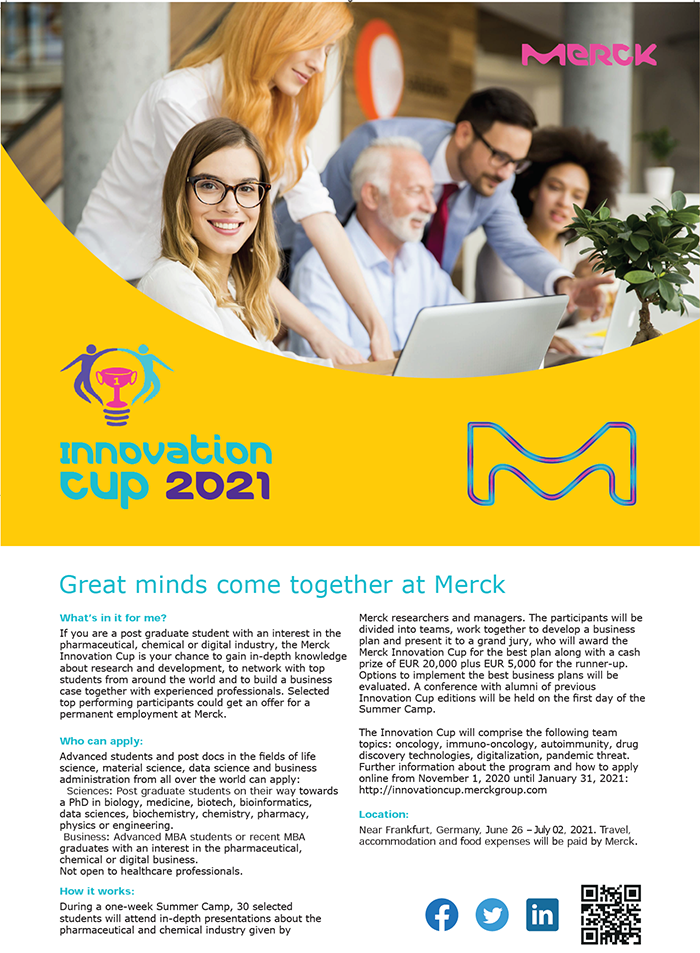 Commonwealth Chemistry

Commonwealth Chemistry is keen to support chemical societies and their members across the Commonwealth at this difficult time.  The Executive Board, chaired by Dr Vicki Gardiner, has been looking at different ways of doing this and would like to propose the following:
Access to Chemistry World Magazine
The Royal Society of Chemistry would like to offer unlimited access, free of charge, to its flagship magazine Chemistry World until the end of December 2020.
Chemistry World covers science news, research, reviews, features and opinions, providing a wide range of information relevant to chemical scientists globally. It is also provides access to a variety of free webinars through the same site.
This is available to all members of the individual Chemical Societies part of Commonwealth Chemistry and so please do promote to your membership. Gaining access is simple, each individual member just needs to create an account at this link: www.chemistryworld.com/commonwealth-chemistry.
For Commonwealth Chemistry societies who have members based in the education sector, a variety of resources are available to access at www.edu.rsc.org including the Chemical Education Research and Practice journal.
Additionally, all online PD courses are free until the end of August 2020, however please note that the content for these educational resources is focused primarily on the UK curricula.
We hope you will find these offers useful.

With kind regards,

Commonwealth Chemistry Secretariat



Dear member,

We are delighted to announce a partnership between our society and the Royal Society of Chemistry, working together as part of the Commonwealth Chemistry, Federation of Chemical Sciences Societies, that allows you to access Chemistry World magazine online for free for the duration of 2020.

Chemistry World is the flagship magazine of the Royal Society of Chemistry, available online at www.chemistryworld.com. It publishes a wide range of content covering the latest research, new and views from across the global chemical sciences community.

You can sign up to receive your free access by going to https://www.chemistryworld.com/commonwealth-chemistry and following the instructions on screen.

This access is available until the end of the year so we encourage you to sign up as soon as possible to get the maximum benefit.

With best wishes,
Commonwealth Chemistry Secretariat
RSC News
Royal Society of Chemistry Events Website
Our website can be used to advertise events from across the world – not just those organised by the Royal Society of Chemistry, www.rsc.org/events/africa.

So, if you need a simple website for your event, or want to reach a wider audience, then please submit your event to our website.  Simply click on this link and follow the instructions: www.rsc.org/events/submitevent
Free 2021 Affiliate Membership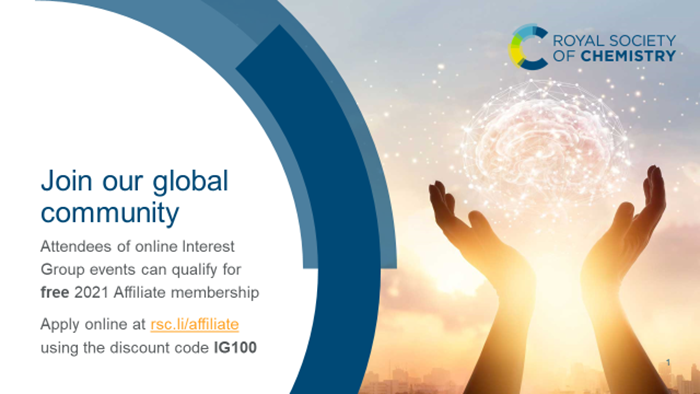 The RSC are offering free Affiliate membership to anyone who attends one of our online events. If you've ever considered joining but haven't gotten around to it, or aren't sure what you could get out of being a member, then maybe now is the time to sign up as an Affiliate for free and try it out.

Affiliate membership doesn't need a degree transcript or CV, simply go to rsc.li/affiliate and use the discount code LS100 to join and then you can become a member of our Interest Group and keep up to date with all of our events and activities!

Affiliate membership comes with:
Free membership of one Interest Group

Depending on where you are in the world, you will get automatic membership of an RSC Local Section (we have 35 Local Sections in the UK and Ireland and 23 international Local Sections)

10 free RSC journal article downloads a year and 35% off RSC books

Online access to Chemistry World

Access to careers resources and webinars and discounts for accredited training courses

Support from the Chemists' Community Fund

Discounts on travel, insurance, lifestyle and publications
NSTF News
For the latest news see:  http://www.nstf.org.za/news-category/nstf-news/

AYCN
NEW!! African Younger Chemists' Network (AYCN)

It is an exciting time to be an early-career chemist on the African continent - we are establishing the African Younger Chemists' Network (AYCN)! The need for a unifying "Afro-centric" early-career chemistry network is essential to showcase the unique talents and ideas from this region. AYCN's vision is to promote and establish global standards for the empowerment of early-career chemists and to prepare them for a sustainable future with constructive engagements and collaborations with stakeholders from across the globe. It is the intention to establish the AYCN in collaboration with other major African and global chemistry societies.

The criteria:
This group will comprise African Early-Career Chemists (AECC) who are either under the age of 35 or who are within 5 years of their terminal degree.

The purpose of this group is to:
1) encourage networking and create a community among AECCs,
2) create a space for collaboration between emerging researchers,
3) to share opportunities, including funding calls, conferences, job listings and writing workshops,
4) to promote leadership and development of AECCs.

This form serves as an expression of interest. Please complete this form if you meet the criteria listed above, and are keen to join this group. You will then be invited to join us during this establishment phase of the AYCN where the group's activities will be discussed. To receive an invitation for this meeting, we need a completed form with your email address.
Attached please find the Google form link introducing the AYCN (African Younger Chemists' Network) and requesting for volunteers to populate the various subcommittees.
https://forms.gle/hVAM8UeEY57hjusPA
Form will be open until the end of the year.
Contact email: aycn.chemists@gmail.com

Contact people: Ms Bianca Davids, Dr Sadhna Mathura
IUPAC
For the latest IUPAC news see: http://www.saci.co.za/iupac.html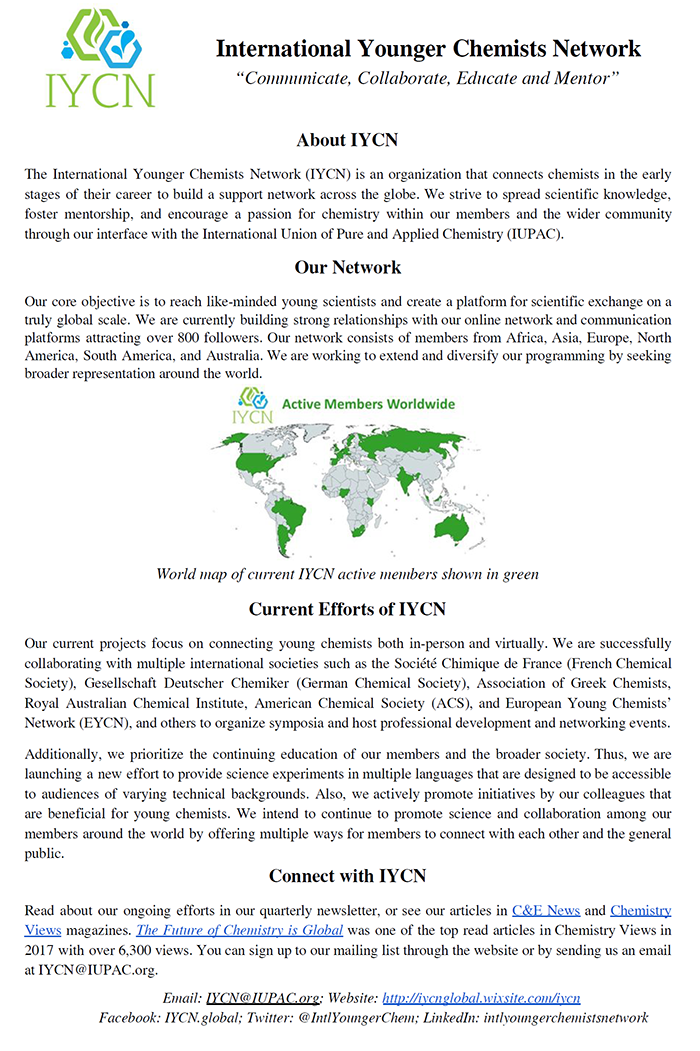 FASC News
ABC Chem Conference 2021

This event will be held at the Palais des Congrès –Marrakech, Morocco from 14-18 December 2021.  FASC will be hosting the event.  Please diarise the date.

We are hoping to have an excellent turnout from member countries at this event. More information will be made available in the months ahead.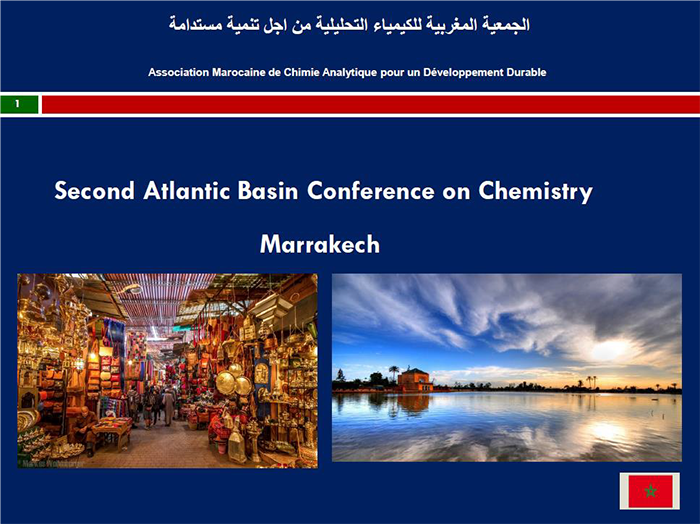 CAIA Newsletter
The latest issue of CAIA news is available. Go to: http://www.caia.co.za/news/chemnews/
or e-mail: caia@iafrica.com for pdf files of news and information.
OPCW Research Funding
INVITATION TO APPLY FOR RESEARCH PROJECTS IN AREAS RELEVANT TO THE CHEMICAL WEAPONS CONVENTION.
South African Journal of Chemistry
The South Journal of Chemistry is now 102 years old and we are pleased to note that the impact factor of the Journal is now 1.2 (and has a CiteScore of 2.2)."  We encourage all SACI members to submit manuscripts to the Journal.  Journal submission details can be found at http://saci.co.za/journal.

Details of the journal and the editors can be seen at http://www.journals.co.za/sajchem/.

All manuscripts since 1918 are electronically available online at
http://journals.co.za/content/journal/chem/browse?page=previous-issues

This Journal is published electronically.  The webpage is:  http://www.saci.co.za/.  The South African Journal of Chemistry, published by the South African Chemical Institute, has been publishing high quality papers, in all fields of Chemistry for over 100 years.  The Journal went fully electronic in 2000 and is freely available through open access online (http://reference.sabinet.co.za/sa_epublication/chem).  It is a CAS-abstracted publication and is listed in Current Web Contents.  It is also part of the Scielo group.  It has retained its status as an accredited publication with the South African Department of Higher Education and Training.

We encourage South African chemists to publish in the journal!

African Journals of Chemistry
African Corrosion Journal (online). Commenced in 2015 – a peer reviewed corrosion journal. This journal may be of interest to the "practical" chemists amongst the SACI membership. https://view.publitas.com/icp-1/african-corrosion-journal

African Journal of Chemical Education       
Enquiries and manuscripts should be addressed to the Editor-in-Chief: email eic@faschem.org, PO Box 2305, Addis Ababa, Ethiopia. AJCE, 2016, 6(1) ISSN 2227-5835 The online version appears in the FASC website (www.faschem.org) and in the AJOL website (www.ajol.info)

Papers on any aspect of Chemistry Education such as teaching organic, analytical, physical, inorganic, polymer, green, climate change/environmental chemistry, ICT in chemistry and chemistry curricula as well as assessment in chemistry are acceptable for publication. We also encourage issues on chemistry and indigenous knowledge/practice, chemical safety, natural products and related areas.
SACI and SACI related Conference events
ChromSAAMS 2020 - Conference Postponed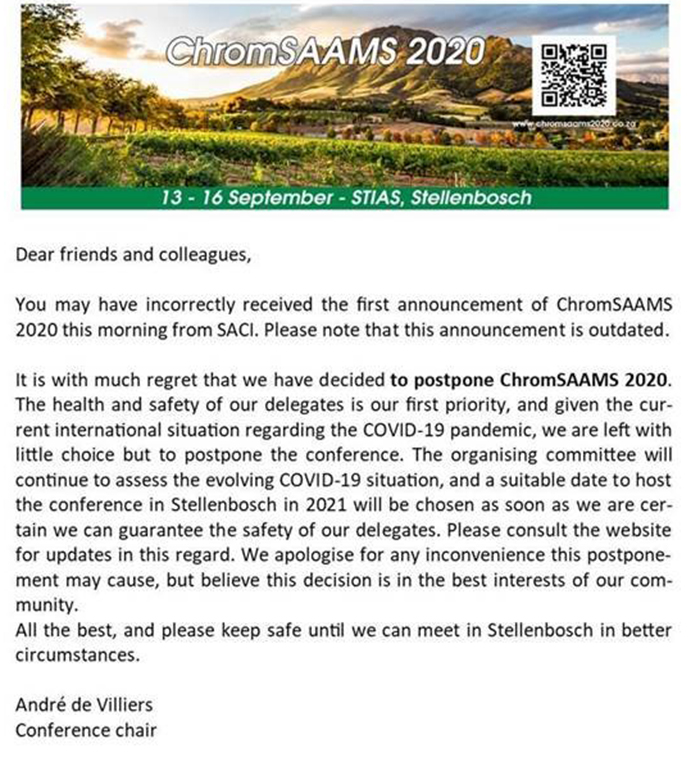 26th IUPAC International Conference on Chemistry Education
Conference Postponed
The Covid-19 pandemic has led to profound changes in the way we work and live. The current steep increase in cases as well as the uncertainty about international travel means that it is no longer feasible to host the 26th IUPAC International Conference on Chemistry Education in Cape Town in January 2021. The IUPAC Committee for Chemistry Education has agreed to a further postponement of the conference to July 2022. The conference will be known as ICCE 2022. Preliminary information about ICCE 2022 is given below.
Dates: 18-22 July 2022
Venue: Lagoon Beach Hotel and Conference Venue
Abstracts
The call for abstracts will be re-opened on 4 October 2021. If you have already submitted an abstract, you will be invited to resubmit your abstract when the submission process re-opens.
Registration
Registration will re-open on 4 October 2021. Should you have already paid your registration fee, we are pleased to advise that we will honour the 2020 registration fees. All unpaid registrations will be carried over to the 2022 event and re-invoiced at the revised registration fee. You are free to cancel your registration and to re-register for ICCE 2022 at the new rates. Please click on the link below to submit your response.
ICCE 2022 RESPONSE FORM
We would appreciate a response by 31 August 2020.
Accommodation
Delegates who have booked and paid their accommodation will be contacted by our booking office to arrange for the monies to be refunded. If you have booked directly with the hotel, (i.e. not through our secretariat), we ask you to please contact Lagoon Beach Hotel directly.
We look forward to seeing you in Cape Town in July 2022 and ask you to circulate this notice to your colleagues who may not be members of SACI.
Please address any questions to icce2022@allevents.co.za and consult the website, https://www.icce2022.org.za/, for regular updates.
Regards,
The Local Organising Committee for ICCE 2022
For registration queries:+27 (0)21 910 1913 • email: icce2022@allevents.co.za
Event Organiser office: +27 (0)21 712 0571
email: icce@eventmanagmentsolutions.co.za
First Commonwealth Chemistry Congress –

Conference Postponed

Other Conferences
NanoAfrica 2020
8th International Conference on Nanoscience and Nanotechnology in Africa – Conference Postponed
The South African Raman Workshop 2020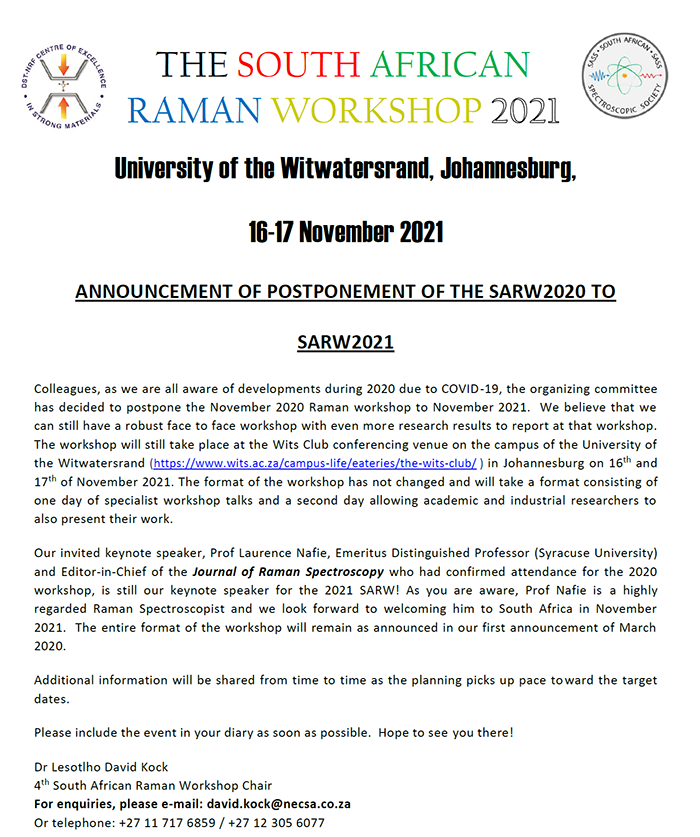 GC and GC-MS online training courses - NMISA
contentntentcontent