SACI News November/December 2016

For the University community the last few months have been a trying time and 2017 my still bring more difficulties. The issues need be analysed carefully as we move forwards. Attached are two articles on the 'Fees must Fall' issue that relate to the sciences. Other information contained in this issue is reports on Young Chemists Events held in the Western Cape and The North section. Events of this nature are now held in all five sections with numbers attending ranging between 100 and 180; a good sign that SACI continues to thrive even in difficult circumstances. All on SACI EXCO wish the members a happy festive season and hope that the New Year will bring success to all your ventures.

Neil Coville
Content
SACI office address
Advertising in the SACI newsletter
Message from the President
IUPAC fees 2017
Section and Divisions News
Western Cape
North Section
Central Section

Fees must fall articles
IUPAC names for new elements
IUPAC
African Journals of Chemistry
CAIA Newsletter
RSC
Catalysis for Fuels: Faraday Discussion
SACI and SACI related conference events
SACI Inorganic 201 (incorporating the Carmen Symposium)
1st Africa Energy Materials Conference Workshops
The 3rd TCS International Conference and the 6th FASC Congress
Others
Workshops
UNDERSTANDING XRF SPECTROMETRY


SACI office address
The SACI office, run by Laila Smith is located on the 1st Floor of Gate House, room 124. The telephone number is 011 717 6705 and e-mail address is: saci.chem@wits.ac.za. The cel number is 061 282 3477.
Advertising in the SACI newsletter
The newsletter provides a means of getting messages to our membership. Currently the SACI membership stands at over 1000. This newsletter thus provides a means of advertising employment opportunities, conferences and workshops, and even for companies/Universities to promote themselves. We encourage members to use the Newsletter for advertising purposes. All SACI related conferences and events are advertised for free; if not a SACI related event there could be a small charge. For advertising costs contact Laila at the SACI office.

Message from the President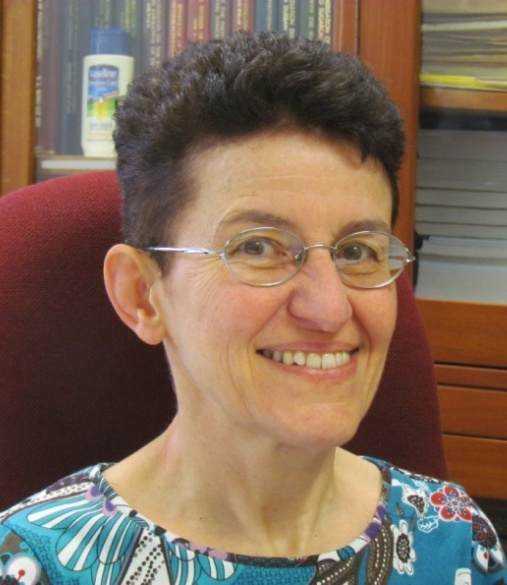 I cannot believe that we are drawing to the close of 2016. This year has just flown by! If we thought 2015 was a difficult year, 2016 has been even more challenging, particularly with all the academic disruptions that have affected everyone in one way or another. I hope that we will be able to find a solution so that everyone can progress.

The most notable achievement for this year has been that the South African Qualifications Authority (SAQA) has recognized SACI as a Professional Body and registered one profession designation, namely, that of Professional Chemist. This recognition holds for an initial five-year period with the possibility of renewal thereafter if all the requirements are met. Thus, a SACI member now has the opportunity to register as a Professional Chemist and to use the letters PrChemSA after his/her name. We have a committee in place under the chairmanship of Dr Mike Booth to screen all applications and the call for these registrations went live on 1 July 2016. We have already registered a dozen or so Professional Chemists and new applications are streaming in each day. For those members that are successfully registered we can also perform critical skills evaluations so that is another bonus that SACI can now offer. I would particularly like to thank Dr Mike Booth and Professor Neil Coville for their perseverance and sterling work done to ensure we achieved this recognition.

Our international links with the RSC, ACS and the European Federation for Medicinal Chemistry are still strong and beneficial for SACI and its members. The MOU with the ACS was recently renewed for a further five-year period. These links with international societies have borne fruit in the form of collaborations, professional development of our postgraduate students, research links, education workshops and scientific events.

There have also been changes in the structure of the SACI Sections. The largest Section in terms of members was the Gauteng Section. Its members did not only reside in Gauteng Province but also in Free State, Limpopo, North West and Mpumalanga Provinces. In order to serve the members better it was decided to split the Gauteng Section into two and to rename the sections as Central Section and North Section. These two Sections of SACI have been re-energised and have organised very successful meetings particularly for our younger members for which we are extremely pleased.

Again, I invite all members to make this your Institute by participating in the various activities as well as coming forward with any suggestions for improvement you may have. Without its members, SACI would not exist!

In closing, I would like to extend my best wishes to all the members for a joyous, peaceful and relaxing festive season with your families and friends. May 2017 bring all you wish for yourselves. I also wish to thank all the members for their efforts in keeping chemistry alive and well in South Africa!

With best wishes

Bice Martincigh


IUPAC fees 2017
These have been set at R300 for 2017 ($20 US). All members will receive a form asking for details if any members wish to belong to IUPAC. This form with proof of payment will then be handled by Laila in the SACI office.
Sections and Divisions news
Western Cape
Section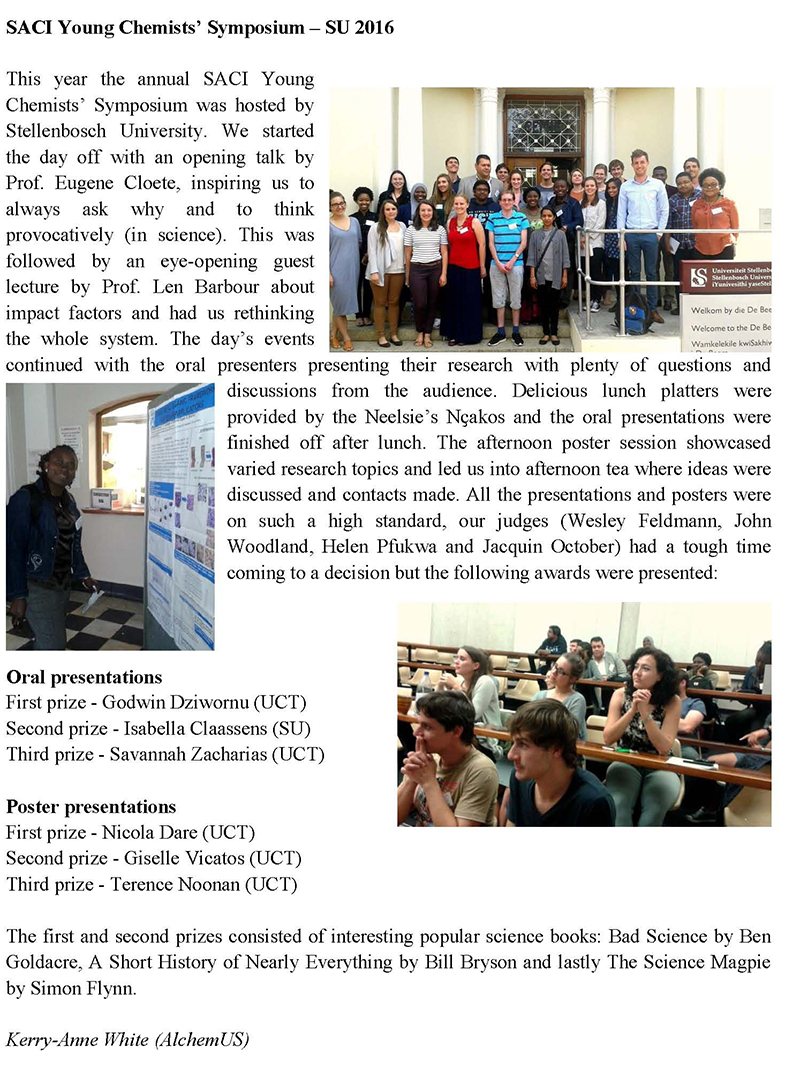 North Section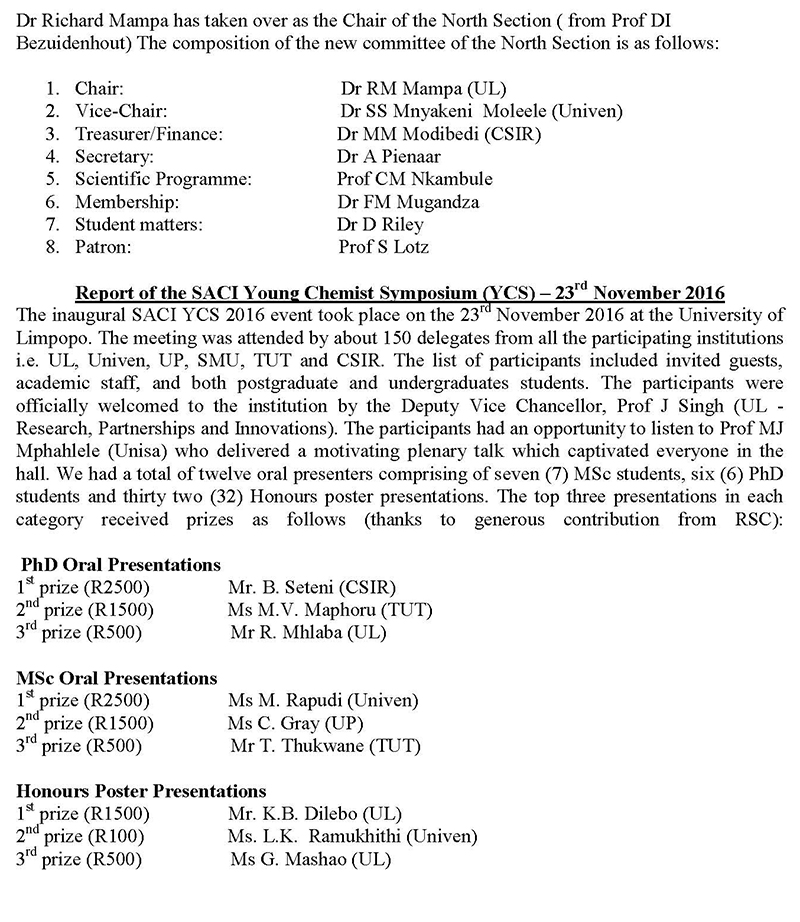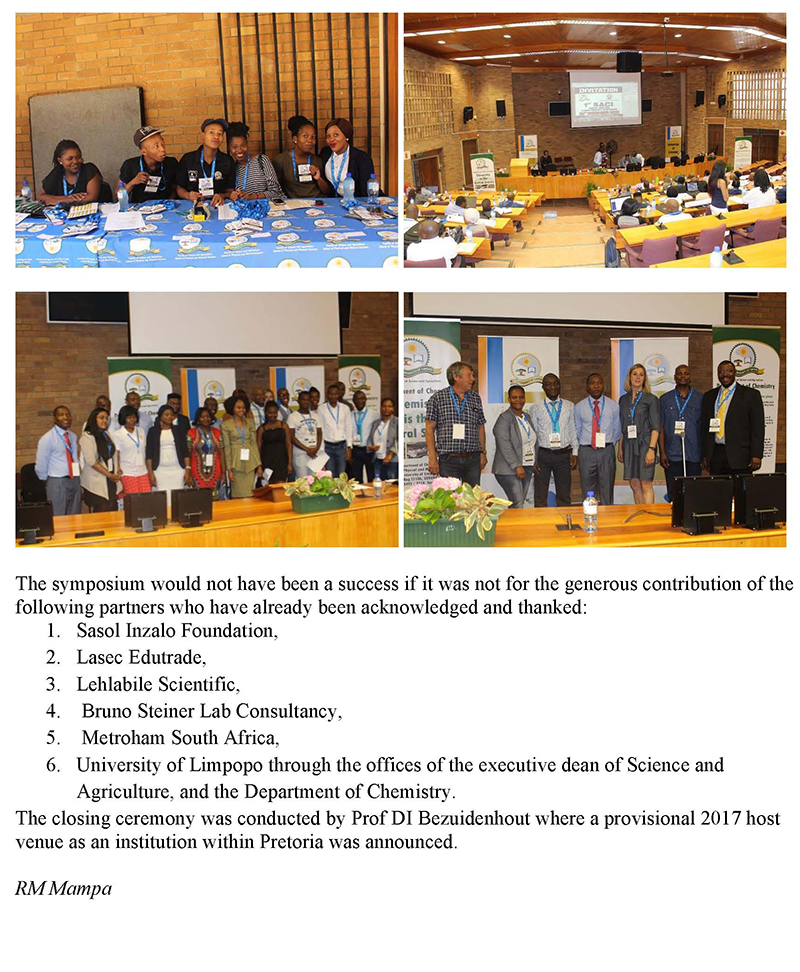 Central Section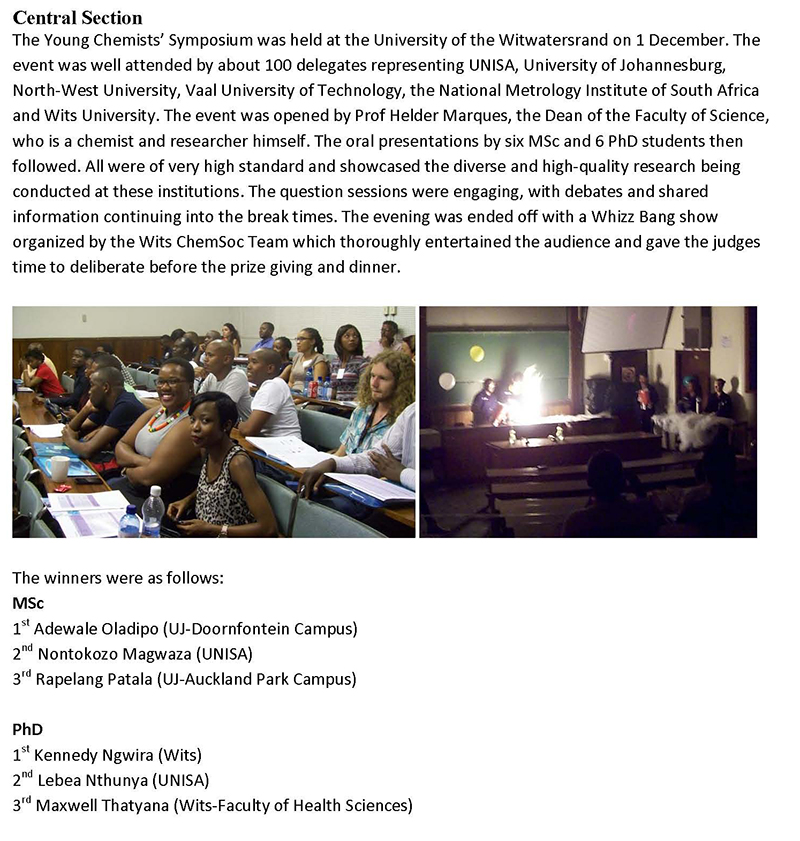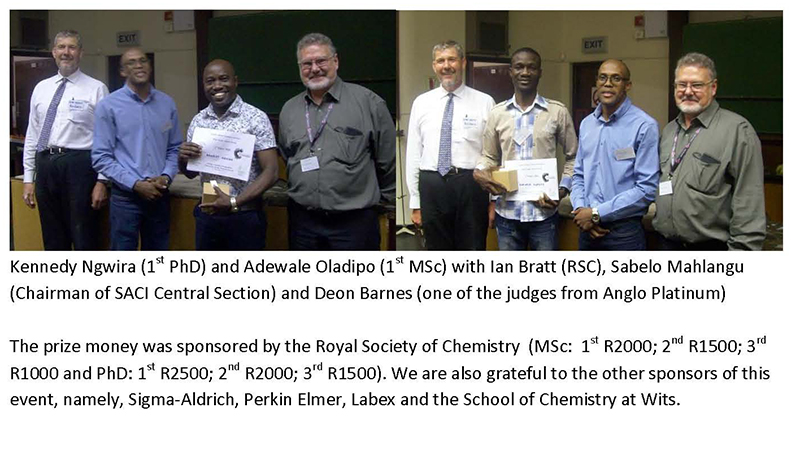 Fees must fall articles
These two articles can provide some thoughts on the issue from a science perspective. The one relates to a report in C and EN news with interviews of SA chemists. The other relates to a talk by Prof Pityana given at the NSTF AGM.
Chemical and Engineering News

Chemists at South African universities experience campus violence as part of #FeesMustFall; Students protest tuition increases amid enduring racial and economic inequities

Volume 94 Issue 47 | pp. 22-23 Issue Date: November
Jyllian Kemsley

(article at end of newsletter)

NSTF Address by Dr Pityana

Must Universities Fall?
The student unrest, that started in 2015, indicates a fundamental change of attitude to the working out of South Africa's constitutional democracy. Much is now under challenge and South Africans need to find a way out of this impasse, guided by the constitution's values.

For rest of article go to end of the Newsletter

Article reproduced from NSTF Newsletter

IUPAC names for new elements
On 28 November 2016, the International Union of Pure and Applied Chemistry (IUPAC) approved the names and symbols for four elements: nihonium (Nh), moscovium (Mc), tennessine (Ts), and oganesson (Og), respectively for element 113, 115, 117, and 118.
Following a 5-month period of public review, the names earlier proposed by the discoverers have been approved by the IUPAC Bureau. The following names and symbols are officially assigned:

Nihonium and symbol Nh, for the element 113,
Moscovium and symbol Mc, for the element 115,
Tennessine and symbol Ts, for the element 117, and
Oganesson and symbol Og, for the element 118.

In concordance with and following the earlier reports that the claims for discovery of these elements have been fulfilled [1,2], the discoverers have been invited to propose names. Keeping with tradition, the newly discovered elements have been named after a place or geographical region, or a scientist. The ending of the names also reflects and maintains historical and chemical consistency: "-ium" for elements 113 and 115 and as for all new elements of groups 1 to 16, "-ine" for element 117 and belonging to group 17 and "-on" for element 118 element belonging to group 18.[3] The recommendations will be published in the IUPAC journal Pure and Applied Chemistry (http://dx.doi.org/10.1515/pac-2016-0501). For further information please see: www.iupac.org/iupac-announces-the-names-of-the-elements-113-115-117-and-118.

The name nihonium with the symbol Nh for element 113 was proposed by the discoverers at RIKEN Nishina Center for Accelerator-Based Science (Japan); the name came from Nihon which is one of the two ways to say "Japan" in Japanese, and literally mean "the Land of Rising Sun".

Moscovium with the symbol Mc for element 115 and tennessine with the symbol Ts for element 117 were proposed by the discoverers at the Joint Institute for Nuclear Research, Dubna (Russia), Oak Ridge National Laboratory (USA), Vanderbilt University (USA) and Lawrence Livermore National Laboratory (USA). Both are in line with tradition honoring a place or geographical region. Moscovium is in recognition of the Moscow region and honors the ancient Russian land that is the home of the Joint Institute for Nuclear Research, where the discovery experiments were conducted using the Dubna Gas-Filled Recoil Separator in combination with the heavy ion accelerator capabilities of the Flerov Laboratory of Nuclear Reactions. Tennessine is in recognition of the contribution of the Tennessee region of the United States, including Oak Ridge National Laboratory, Vanderbilt University, and the University of Tennessee at Knoxville, to superheavy element research.

Lastly, and in line with the tradition of honoring a scientist, the name oganesson and symbol Og for element 118 was proposed by the collaborating teams of discoverers at the Joint Institute for Nuclear Research, Dubna (Russia) and Lawrence Livermore National Laboratory (USA) and recognizes Professor Yuri Oganessian (born 1933) for his pioneering contributions to transactinoid elements research. His many achievements include the discovery of superheavy elements and significant advances in the nuclear physics of superheavy nuclei including experimental evidence for the "island of stability".

Comments from the general public, during the 5 month period were many. Apart from many full agreements, comments were received suggesting other names, in some cases accompanied by petitions from large groups of people. However, these suggestions could not be accepted, given the fact that under the current guidelines only the discoverers have the right to propose names and symbols. Questions were also received about pronunciation of the names and the translations into other languages. Members of the chemistry community also raised the concern that Ts is one of the two commonly used abbreviations for the tosyl group. Recognizing however that many two-letter abbreviations have multiple meanings —even in chemistry, and for example Ac and Pr— the conclusion was made that the context in which the symbols are used, makes the meaning unambiguous.

"Overall, it was a real pleasure to realize that so many people are interested in the naming of the new elements, including high-school students, making essays about possible names and telling how proud they were to have been able to participate in the discussions," said Professor Jan Reedijk, President of the Inorganic Chemistry Division. He added "It is a long process from initial discovery to the final naming, and IUPAC is thankful for the cooperation of everyone involved. For now, we can all cherish our periodic table completed down to the seventh row."

For further information, contact Dr. Lynn M. Soby, Executive Director, IUPAC.
IUPAC
For the latest news see: http://www.saci.co.za/iupac.html
African Journals of Chemistry
South African Journal of Chemistry

This Journal is published electronically. The webpage is: http://www.saci.co.za/ The South African Journal of Chemistry, published by the South African Chemical Institute, has been publishing high quality papers, in all fields of Chemistry for over 50 years. The Journal went fully electronic in 2000 and is freely available through open access online (http://reference.sabinet.co.za/sa_epublication/chem). It is a CAS-abstracted publication and is listed in Current Web Contents. It has retained its status as an accredited publication with the South African Department of Higher Education and Training.

African Corrosion Journal (online). Commenced in 2015 – a peer reviewed corrosion journal. This journal may be of interest to the "practical" chemists amongst the SACI membership. https://view.publitas.com/icp-1/african-corrosion-journal


African Journal of Pure and Applied Chemistry
Submit manuscripts: http://ms.academicjournals.me; Editorial office: ajpac@academicjournals.org
African Journal of Chemical Education
Enquiries and manuscripts should be addressed to the Editor-in-Chief: email eic@faschem.org, PO Box 2305, Addis Ababa, Ethiopia. AJCE, 2016, 6(1) ISSN 2227-5835 The online version appears in the FASC website (www.faschem.org) and in the AJOL website (www.ajol.info)
CAIA Newsletter
The latest issue of CAIA news is available. Go to: http://www.caia.co.za/news/chemnews/
or e-mail: caia@iafrica.com for pdf files of news and information.
RSC
Catalysis for Fuels: Faraday Discussion
The upcoming Catalysis for Fuels: Faraday Discussion will be held in Cape Town in January 2017. SACI members can receive a reduced rate to attend this event.

Please enter the code FDCATFUELS when prompted with the question 'Are you a member of an organisation which is supporting this event?'

Details: 24 - 26 January 2017, Cape Town. http://www.rsc.org/events/?searchtext=faraday&eventtype=3&rsc=1&membernetworkoptions=116&pagetitle=178

Contact me if there any queries relating to the registration (Neil Coville)
SACI and SACI related Conference events
INORG2017 Second Notice



1st Africa Energy Materials Conference (AEM-2017)

University of Pretoria Conference Centre, Pretoria, South Africa, 28 - 31 March 2017. More information is available at: www.africaem2017.co.za
The 3rd TCS International Conference and the 6th FASC Congress


Others
The 23rd International Conference on the Chemistry of the Organic Solid State (ICCOSS-XXIII) will take place on the beautiful campus of Stellenbosch University (South Africa) from 2-7 April, 2017. For further information about the conference we invite you to visit the web site at http://iccoss2017.co.za/. Please note the following important dates: Abstract submission, 25 November 2016; Early registration, 16 December 2016 Len Barbour (Conference Chair)
Charge and spin density workshop to be held at Stellenbosch University from 23-27 January 2017. https://blogs.sun.ac.za/chargedensity/. For any additional information please contact Delia at dhaynes@sun.ac.za or +27 (0)21 808-3358
Ninth International Symposium on New Trends in Chemistry ''Analytical Chemistry for Better Life'', Cairo University, Egypt from 2-5 January, 2017.
The 3rd TCS International Conference and the 6th FASC Congress, Chemistry for Sustainable Development and Improved Livelihood Arusha, Tanzania http://tcs-tz.org/tcs-fasc2017/
IUPAC 2017 - July 6-14, 2017, São Paulo, Brazil
The First International Conference on "SUSTAINABLE MATERIALS PROCESSING. Skukuza, Kruger National Park, South Africa | January 23-25, 2017. Email: tjen@uj.ac.za; Tel: +27 11 559-4208 Conference website: http://www.uj.ac.za/faculties/febe/Pages/SMPM-
Asia Pacific Congress on Catalysis – 7 (APCAT – 7) January 17 – 21st, 2017 Mumbai, India at Hotel Lalit, with the core theme "Catalysis for Sustainable, Development, Peace and Prosperity". www.apcat7.in
Workshops

UNDERSTANDING XRF SPECTROMETRY 16 - 27 January, 2017 at UCT
Introduction
The Department of Geological Sciences will host a summer course for industry, research, and academia on the theory and practice of XRF Spectrometry from 16 to 27 January 2017. Initiated by Emeritus Prof James Willis, and now organized hosted by UCT in association with PANalytical B.V., this course presents the principles and practice of XRFS analysis. The emphasis will be on the application of the technique to geological materials, but applications in the cement, metals, and other industries and in environmental analysis will also be discussed.

Lectures will be given mostly by Dr B.A.R. Vrebos on both wavelength and energy dispersive XRF spectrometry. There will be practical exercises that will include an introduction to modern wavelength and energy dispersive XRF spectrometers, and a practical introduction to the various procedures necessary for successful major and trace element calibrations and data reduction for both techniques. Participants will carry out tutorial calculations on test data sets to familiarize themselves with the procedures involved. They will receive a comprehensive set of course materials, including "Understanding XRF Spectrometry" (a two-volume book by James Willis and Andrew Duncan published in 2008 by PANalytical B.V.) together with lecture handouts, notes, and other useful documentation. As always, the contents of the course and its presentation will be vendor neutral. It is NOT a course on the instrumentation or software of any particular vendor.

Participants completing the course should be in a strong position to successfully carry out XRF analysis on any vendor's machine. A certificate of attendance will be issued.

Course Structure
The course is divided into two distinct parts:

The first week comprises an introduction to the fundamentals of XRFS, qualitative analysis, selection and setting of instrumental parameters, matrix effects and how to deal with them, counting statistics, sampling procedures, sample preparation, and an introduction to quantitative XRFS analysis;

The second week covers in detail quantitative analysis for both major and trace elements, background and spectral overlap corrections, standardisation, absorption and enhancement problems and corrections, influence (alpha) coefficient corrections, commercial and manufacturer's software for correcting for inter-element matrix effects, special sample preparation techniques, analysis of small samples and solutions, and different applications of XRFS.

Each week can be attended separately, BUT persons attending the second week on quantitative analysis MUST have attended previously the introductory first week, although not necessarily in the same year. This is a very full, very intensive course containing an enormous amount of detail and building very rapidly on itself. For participants with little theoretical or practical knowledge of XRFS, it is strongly recommended that only the introductory week be attended in the first year. After gaining a year's experience in the laboratory and building on the knowledge gained from the first week, such participants will be in a much stronger position to extract the maximum advantage from the second week of the course. It is strongly recommended that in their second year, such participants should attend the full two-week course in order to reinforce their basic knowledge and thus gain the greatest benefit from the full course. All previous participants who have adopted this approach have found it to be extremely valuable and beneficial.

More information regarding registration will follow. jenny@wirsam.com
Fees must fall (Pityana article)
Rebellion to drive change in South Africa
| | |
| --- | --- |
| Context behind the current student unrest | |

The student unrest, that started in 2015, indicates a fundamental change of attitude to the working out of South Africa's constitutional democracy. Much is now under challenge and South Africans need to find a way out of this impasse, guided by the constitution's values.

The students' revolt exposes the contradiction that while universities are a critical feature of a developing society, there is a lack of understanding among students and the public of the university's role and purpose. The state doesn't invest sufficiently in universities and protesters seem willing to cripple these institutions for a perceived greater good.

This revolution has the potential to change South Africa for the better – if we pay attention to the critical elements.

About the NSTF Discussion Forum

The National Science and Technology Forum (NSTF) held a Discussion Forum on 'Universities must fall? with guest speaker Prof. Barney Pityana. The event was held on 18 November 2016 in Gauteng.


About Prof Barney Pityana

Prof Pityana is the newly-appointed Vice-President of the Academy of Science of South Africa, President of the Convocation of the University of Cape Town, ex-vice chancellor and principal of the University of South Africa and former Chairman of the South African Human Rights Commission.

Guest speaker at the NSTF Discussion Forum, Prof Barney Pityana, positioned the current situation as a rebellion with students casting off allegiances to authority and the current order. He says that this is a further stage in the national democratic revolution that must take place for a better South Africa.

Transformation in universities

"We tend to lose sight that universities have changed, but much still needs to change," says Pityana. Higher education institutions have developed a great deal since the 1980s. There are new ways of teaching, advancing research, student demographics have changed, and more money has been made available to needy students.

However, white students still go to historically white institutions (HWI) and historically black institutions (HBIs) tend to be 100% black. While there is an increase in the number of black staff and women at universities, it's difficult for black people to become full professors. These issues exist and need to be interrogated.

Cost of education
For a long time, universities have called for action on the funding problem and the need to prioritise higher education. But there are still ever-increasing costs to students.

This is compounded by government and the private sector contributing increasingly less funding to universities. Pityana says that it's a continuation of the apartheid system where HBIs receive even less of this third-stream income.

Difficulties with consistent student leadership and identifying problems

The current student unrest is a continuation from #rhodesmustfall and #feesmustfall, highlighting the organic nature of the student action. The elected student leadership has been cast aside, with the result that there is no consistent voice for all the students. "Without consistent leadership, you can't sit around a table and negotiate," says Pityana.

Another challenge is understanding demands to ensure they can be met. For example, the funding of higher education is a government responsibility and therefore addressing these demands to Vice Chancellors means they are unlikely to be satisfied.

Secondly, demands should be consistent and not ever-changing. "The purpose of action is to arrive at a goal but, if demands and goals are not articulated effectively, it's impossible to realise goals," says Pityana.

Ideology and strategy to combat intolerance and violence

"If you are working towards something, you need a foundation of ideas and principles," says Pityana. Current student activists need to create an ideology that underlies their actions and outlines future scenarios that respond to their demands.

Without an end strategy, how does one identify allies? How does one arrive at a concrete solution? The convolution of lack of strategy, ideology, leadership and demands also results in an intolerance of difference, violence and threats of violence.

Interrogating the decolonisation debate

Pityana contextualises the decolonisation debate around education and knowledge as "ignoring a body of knowledge because the perception is that it is informed by white power structures and hegemony".

This presumes that ideas are normative and unchangeable, and that ideas are capable of being 'owned' by a race, group or culture. Pityana disagrees with this: "Ideas need to be interrogated from a number of perspectives."

Can science be decolonised?
Within the call for decolonisation, there has been a backlash against science. But have the concept and history of science been understood?

Science is the ability to use collective thinking to solve problems. The general definition of science is the intellectual and practical activity where there is a pursuit and application of knowledge and understanding of the natural and social world, using a systematic methodology based on evidence.

This concept of science does not belong to the 'West'. Its origins and ongoing scientific practices can be found all over the world, including Egypt, India and China. Much needs to be done to change the misconceptions around science as a western concept.

Threat to existence of universities
"There is a real and imminent threat to the ideal of the university in our country," says Pityana. Universities cannot continue with ongoing instability.

He predicts a brain drain, with academics not wanting to be attached to South African universities, students sent to other countries to study, and the quantity and outcome of universities becoming increasingly less viable. "This is a slippery slide that will be hard to reverse," says Pityana.
Mirror of what is happening in the country
Pityana says that what is happening at universities is playing out in the rest of society. In sociological terms, the country is experiencing a state of anomie. There is government by demand, intolerance, impatience, and distrust of all forms of authority.
There needs to be a new appreciation of constitutional democracy. "We no longer recognise we are a country of multiplicities of language, culture, race etc, and this is what the constitution seeks to protect," says Pityana. "The imagination that propelled this country in 1994 needs to be recaptured."

Move forward with discussion
There is a need to get back to basics. "We're a society based on dialogue," says the professor and former student activist. "At CODESA, we were willing to sit at a table and discuss because we all loved our country and knew we all belonged." From the current unrest perspective, students need to talk as a starting point for moving forward.

Taking responsibility
"We have all this mayhem at universities but who is taking responsibility?" asks Pityana. For society to take responsibility, it also means looking to the black middle class, private sector and the government. There is a need for tools to resolve the issues. Pityana recommends a forum for dialogues and a place to test solutions.

Academics and academia also need to take responsibility. Pityana believes that we now have a culture where we're not supposed to say what is wrong and this has translated into actions of populism.

Universities should be hubs of engagement and critical discussion but, says Pityana, "...academics must take responsibility that we have failed students to enable the process of critical thought and logic to check themselves".

What is the African university?
Pityana says that not enough time has been spent on the idea of an African university. However, first young people need to understand why they go to university, beyond being able to support themselves and their family.

"The university does more than serve a utilitarian ideal. It's humanising and it's an agent of civilisation. Unless, as a society, we agree on a common understanding of the university's role, it will be difficult to come to a shared mindset about how current problems can be addressed," says Pityana. "We need to interrogate the idea of the African university, debate the issues and recognise that decolonisation is a process and not an event."

Recommendations
Following are some recommendations that came out of the discussion forum:
Issues in higher education stretch across the entire education system. Critical areas, like education and health, should be the priority and resources need to be allocated accordingly.
Revisit the current Fees Commission where issues are considered holistically. The commission needs to be more open and include more education representatives.
Appoint a national mediator/university ombudsman to bring together the various student issues concisely.
Discuss the notion of 'free' education, including dispelling the myth that education is ever really free.
More resources need to be put into HBIs, and vocational training institutions. It's important to eradicate the racist culture and perception that these facilities are not as good.
Address the issue of the unemployed and unemployed graduates as this is a time bomb waiting to happen.
Video clips with the full speech and discussion can be found on the NSTF web site (www.nstf.org.za).
Cand EN article
Violence flared for several weeks this fall at university campuses in South Africa as students objected to proposed tuition increases of as much as 8%. The #FeesMustFall movement began in 2015 when the government proposed a similar fee increase, which was later rescinded. Although the demonstrations started to protest these tuition increases, students quickly switched to demanding free higher education.

The protests have disrupted deliveries to laboratories and canceled classes. Protesters have torched buildings and police have used stun grenades and rubber bullets to subdue demonstrators. Overall damage is estimated to be $50 million. After police crackdowns, campuses are quieter now and students are writing their final exams, but it's unclear what will happen when a new academic year begins in February.

The roots of the movement lie in continued racial and economic inequality in the country, more than two decades after apartheid ended and Nelson Mandela was elected president in South Africa's first election with universal suffrage. "The black middle class is bigger and better off, but on average, the gap between the rich and poor is bigger," says Gert Kruger, a pharmaceutical sciences professor at the University of KwaZulu-Natal (UKZN). More than 26% of the workforce is unemployed, and the government still struggles to provide basic necessities such as clean water, electricity, housing, and health care, as well as quality primary and secondary education. The African National Congress (ANC), which has ruled South Africa since apartheid ended, is now plagued by allegations of corruption.
"Most of our students were born after 1994," the year Mandela took office, says Charles de Koning, a chemistry professor at the University of the Witwatersrand and the chair of the South Africa international chapter of the American Chemical Society. ACS publishes C&EN. "Society had high expectations of post-apartheid South Africa, including increased access to higher education. Progress toward this and other goals has been slow, and this has led to frustration that is being played out at the universities."

University enrollment has roughly doubled to nearly 1 million since 1994. But racial inequalities persist: Black South Africans make up roughly 80% of the population, but only about 16% of black people ages 20 to 24 are enrolled in higher education. White people make up about 9% of the population, but 55% of white 20- to 24-year-olds enroll in university. The racial composition of university academic staff is about 34% black and 51% white.

The South African government does have a National Student Financial Aid Scheme to provide funding for poor students to attend universities. Edwin Mmutlane is the son of a mine laborer and a housewife, and he received both scholarship money and a loan through the program. He is now a senior lecturer in chemistry at the University of Johannesburg. "I would not be where I am today if it was not for this scheme," Mmutlane says. But the program is underfunded and a "missing middle" class of students—children of people in professions such as teaching, nursing, and police work—often don't qualify for aid and struggle to pay tuition, sources tell C&EN.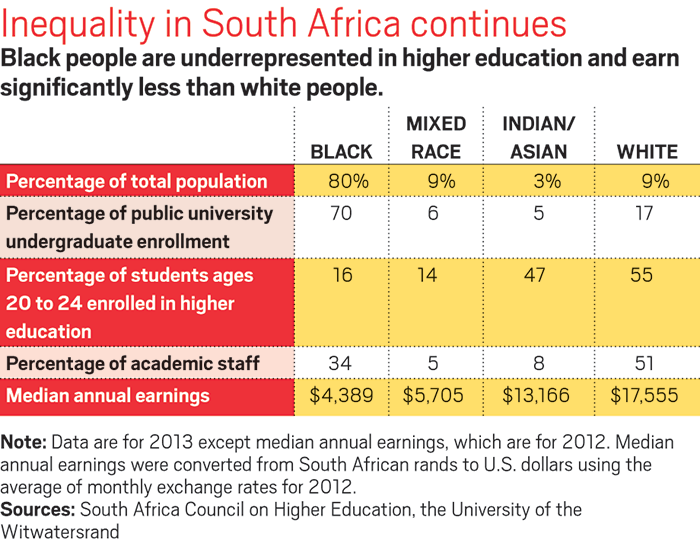 Meanwhile, neither government funding for universities nor faculty and staff hiring has increased proportionately with student enrollment. "It's put a strain on the whole system," Kruger says. At UKZN, "in chemistry, we now have something like 2,000 first-year undergraduates. I'm convinced that the overall quality of the degree has not decreased much, but to teach such large classes is a huge burden administratively."

The protests themselves have not had huge effects on chemistry departments, however. Although classes were interrupted on some campuses, they did finish eventually.

As for research, graduate students and faculty were largely able to get to their labs and offices when they wanted. "Personally, I have been able to come to campus nearly every day, although I had to leave early" when protests were happening, says a chemistry graduate student who asked to be identified only by her first name, Memory. "Our main problem was delivery of chemicals or services—we didn't have any chemicals delivery during the protests."

The fallout from the protests, however, has strained funding. When tuition increases were rescinded last year, the government made up only some of the shortfall. Campuses had to absorb the rest. "We wanted to get a new mass spectrometer," de Koning says. "We have a program called the national equipment program that provides two-thirds of funding for major equipment. The university did come up with its one-third share, but it was quite a struggle."

What happens from this point is an open question. In January, current South Africa President Jacob Zuma set up a commission to examine the feasibility of eliminating university fees. The commission's report is currently expected in June of 2017.
People who spoke with C&EN were skeptical that fee-free higher education is possible. "For a country like South Africa to have free university education now would be very destructive to the economy," Memory says. "We should be doing more to stimulate the economy so that we have more people working, more middle-class people, and more disposable income. That will, in turn, reduce the burden on the government." Others suggest that basic services and improved primary and secondary education perhaps should be tackled before university tuition.

"Why are universities being targeted?" asks Grant A. Farred, who grew up in South Africa and is now a professor of Africana studies at Cornell University. "The black working poor have been served badly by the ANC. Why are people not mobilizing against all of the inequities produced by a government that is corrupt, nepotistic, and primarily responsible for the failure to deliver services to black areas?"
UPDATE: This story was originally published with the headline "Chemists at South African universities endure campus violence as part of #FeesMustFall."
Chemical & Engineering News
ISSN 0009-2347
Copyright © 2016 American Chemical Society