SACI News June 2018
This month we have news from the Western Cape Section.  We would also like to remind everyone of the forthcoming National Convention of the Institute to be held in December 2018 in Pretoria.  Make sure that you register and submit your abstracts soon as this promises to be a very exciting conference.

Bice Martincigh
Content
Advertising in the SACI newsletter

SACI Members – 21 to 25 years of membership

Congratulations to Grace!

Sections and Divisions News

Western Cape Section

SACI/RSC Lunch - North and Central

Green Chemistry Division

North Section

RSC News

NSTF News

IUPAC

CAIA Newsletter

South African Journal of Chemistry

African Journals of Chemistry

SACI and SACI related conference events

43rd National Convention of the South African Chemical Institute

5th International Symposium on Electrochemistry
Other Conferences

Equipment

Vacancies
SACI office address and times
The SACI office, run by Laila Smith is located on the 1st Floor of Gate House, room 124. The telephone number is 011 717 6705 and e-mail address is: saci.chem@wits.ac.za. The cell number is 061 282 3477.

Office hours are from 8.30 am till 1.00 pm. She can be contacted at any time during her office hours.
Advertising in the SACI newsletter
The newsletter provides a means of getting messages to our membership. Currently the SACI membership stands at over 1000. This newsletter thus provides a means of advertising employment opportunities, conferences and workshops, and even for companies/Universities to promote themselves. We encourage members to use the Newsletter for advertising purposes. All SACI related conferences and events are advertised for free; if not a SACI related event there could be a small charge. For advertising costs contact Laila at the SACI office.
SACI members – 21 to 25 years of membership
Each month we would like to honour our loyal members of the Institute.  Last month we listed those that have been members for twenty years or less.  This month we would like to feature our members who joined the Institute between twenty one and twenty five years ago.  Their names are displayed below.  We wish to thank all our members for their contributions to the livelihood of SACI.  Without you, our Institute could not exist.
| | |
| --- | --- |
| Anderson, Dr AN                          | Jansen, Mev M                            |
| Arderne, Dr C                            | Jordaan, Mr LJ                           |
| Arendse, Dr MJ                           | Kemp, Mr M                               |
| Barnett, Mr JW                           | Khan, Dr AA                              |
| Billing, Dr DG                           | Krause, Dr RWM                           |
| Bourne, Prof SA                          | Leader, Mr JP                            |
| Britz, Mnr AJJ                           | Malan, Mr D                              |
| Bunn, Ms V                               | Mali, Miss TN                            |
| Combrinck, Mrs CG                        | Muller, Mrs SD                           |
| Cukrowska, Prof E                        | Naidoo, Prof EB                          |
| Darkwa, Prof J                           | Newby, Mr J                              |
| De Kock, Dr SS                           | Nyokong, Prof T                          |
| De Koning, Prof CB                       | Rollnick, Prof M                         |
| de Vos, Mrs BJ                           | Senabe, Mr JV                            |
| Dekker, Mr PL                            | Swart, Prof P                            |
| Duvenhage, Dr DJ                         | van der Mescht, Mnr C                    |
| Fatoki, Prof OS                          | van Eeden, Dr N                          |
| Finney, Mrs S                            | Van Otterlo, Prof W A L                  |
| Forbes, Prof PB                          | Zeevaart, Prof JR                        |
| Green, Mev JA                            | |
Congratulations to Grace!
We congratulate Grace Nomthandazo Ngubeni (28), one of our SACI student members and an Associate Lecturer and PhD candidate at Wits University, for being selected as one of the 200 influential Young South Africans for 2018.  This is a wonderful achievement!

For the full article see:  http://ysa.mg.co.za/2018/grace-nomthandazo-ngubeni/
Sections and Divisions news
The 37th Annual General Meeting of the Royal Society of Chemistry (South Africa,Southern Section) and 19th WARREN MEMORIAL LECTURE

On the 10th April 2018, the RSC South Africa (Southern Section) held its 37th AGM, which was combined with the prestigious 19th Frank Warren Memorial Lecture at the University of Cape Town in the Chemistry Department. The guest speaker for this event was Professor Willem van Otterlo from the University of Stellenbosch, who was also the Chairperson of the SACI Western Cape section between 2015 and 2017. The event was well supported by staff and students from the academic institutions in Western Cape. The lecture was very well received by the audience of around 50 people and enjoyed by all. Prof van Otterlo gave an overview of his research work, concentrating on his development of facile syntheses of mimics of podophyllotoxin and rigidin, by way of multi-component reactions, and synthesis of substituted 6-oxa-allocolchicinoids by way of a biaryl coupling–intramolecular transacetalization route. After the public lecture all were invited to refreshments where further discussions with staff and students alike were held with Prof van Otterlo about his work presented at the Lecture.

By Sophie Rees-Jones
"In an effort to increase the visibility of the Green Chemistry that is already taking place in South Africa and at the same time highlighting possible opportunities for more people to "green" their research."

The Green Chemistry Division would like to invite nominations for the best green chemistry paper by a South African chemist/group. The prize will be a sponsored talk at the SACI National Convention in 2018. Nominations should be sent to Rosa Klein (r.klein@ru.ac.za).

Contributor: Rosa Klein
The 43rd Convention of the South African Chemical Society is upon us and we are looking forward to an exciting event.  The 2018 SACI website is live and registration is now open for the "Early bird" movers http://www.saci.co.za/SACI2018/registration.html.  The Conference is set to offer multiple platforms for chemists to exchange ideas through more than ninety oral presentations and to socialise through the activities that caters for both laidback and adrenaline enthusiasts.  The 2018 SACI LOC is privileged to host the 2016 Nobel Laureate, Professor Sir F Stoddart, many eminent international and local speakers including multiple award winner Prof Kelly Chibale.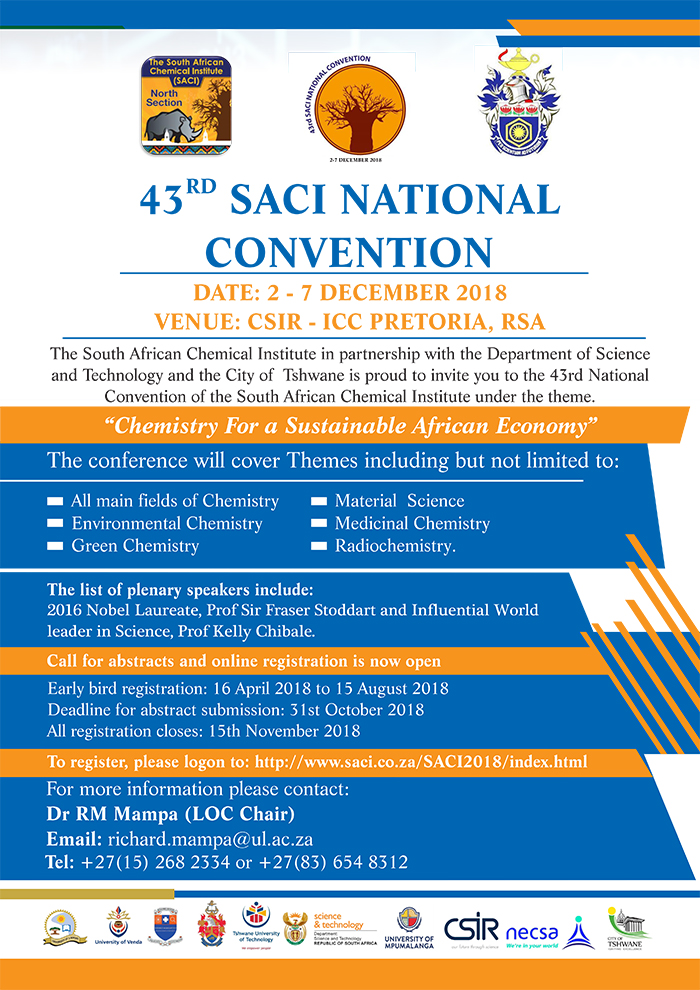 Please watch the website for more exciting news as we approach the conference date. Even better, there will be opportunities for our young chemists to win prizes in the student categories of "Best Oral and Best Poster Presentations". Please join us in numbers to experience the beautiful summer season in the Capital City of the country.
Looking forward to sharing the moment with you:  http://www.saci.co.za/SACI2018/index.html
Dr RM Mampa (Conference Chair)
RSC News
1. The Pan Africa Chemistry Network exists to support African science; events, training, access to resources and a strong community; full details are here: www.rsc.org/pacn.

2. There are a few ways that you access Royal Society of Chemistry journals and books – our entire archive is available free of charge across Africa, and to all RSC members.  Simply register online: http://www.rsc.org/membership-and-community/connect-with-others/geographically/pacn/research/

3. Our Funding Options are here:
http://www.rsc.org/membership-and-community/connect-with-others/geographically/pacn/funding-opportunities/

4. I welcome you to the community:
a. Join the LinkedIn Group: https://www.linkedin.com/groups/1900756

b. Sign up to our newsletter for updates and opportunities:

c. On twitter, please look up @hvdriver or #PanAfricaChem to find out more.

5. All our events in Africa are listed here: http://www.rsc.org/membership-and-community/connect-with-others/geographically/pacn/events/ including conferences and our programme of GCMS and LCMS training across the continent.

6. We are holding our annual Congress in Ghana in November discussing sustainable agriculture, and we would welcome you to the event. Registration will open next Thursday rsc.li/pacn2017

Helen Driver
NSTF News
For the latest news see:  http://www.nstf.org.za/news-category/nstf-news/

Of interest to members:
The nominations for the 2017/2018 NSTF-South32 Awards have been released
(http://www.nstf.org.za/awards/nominees/current-nominees/) and feature a number of our fellow Chemistry colleagues.  They include Prof John Bradley (Wits), Prof Eno Ebenso (NWU), Prof Nosipho Moloto (Wits), Prof Daniela Bezuidenhout (Wits), Prof Charles de Koning (Wits), Prof Leslie Petrik (UWC), Prof Titus Msagati (UNISA) and many others.  WE wish to congratulate them and wish them well on their magnificent achievements.
IUPAC
Dear Chemists from all over the world, dear Friends from Academia and Industry,
On behalf of the Academy of Sciences and of its National Committee for Chemistry, the French National Adhering Organization to IUPAC, gathering the main academic and research institutions, learned societies and industrial organizations relevant to Chemistry, we are very pleased and honoured to invite you to participate and contribute to the IUPAC 47th World Chemistry Congress to be held at the Palais des Congrès, Paris, July 7-12, 2019.
This IUPAC-2019 Congress and the joint 50th General Assembly will present an exceptional character as both will celebrate the Centenary of the Union. Special events will be organized all week long, encompassing a Celebration plenary session organized together with the IUPAC100 Committee, a celebratory evening organized by the Young Scientists at the Maison de la Chimie, the Celebration gala dinner, and an official Ceremony organized at the Sorbonne in presence of the French authorities, IUPAC Council, NAOs diplomatic delegations and prestigious scientists and guests [...]
Clément Sanchez
Professor at Collège de France
Chair of IUPAC-2019 WCC
and Centenary Events
2019 has been declared as the International Year of the Periodic Table.  This is also the time when IUPAC is turning 100!
As part of the celebration of IUPAC100, IUPAC and the International Younger Chemists Network (IYCN) announces the creation of a 'Periodic Table of Younger Chemists'.
Beginning in July 2018 and ending in July 2019 at the World Chemistry Congress and IUPAC General Assembly, we will honor a diverse group of 118 outstanding younger chemists from around the world who embody the mission and core values of IUPAC . The resulting periodic table will highlight the diversity of careers, creativity, and dedication of the young chemists leading us into the next century. See details here: http://iupac.org/100/pt-of-chemist/ .
Winners will be profiled on the IUPAC100 website and will receive a certificate from IUPAC. Elements of the Periodic Table of Younger Chemists will be revealed over time in order of scientific discovery ( see Wikipedia ). Approximately eight elements will be revealed each month beginning in July 2018 with the final elements being awarded at the IUPAC General Assembly and World Chemistry Congress in Paris , France in July, 2019.
Nominations are now being accepted. The deadline for nominations for the first 8 elements Copper, Lead, Gold, Silver, Iron, Carbon, Tin and Sulfur is 11 June 2018 at 5:00 EDT (UTC 21:00). Nominations received but not selected for the first group of elements will carry over for consideration for other elements. For criteria and to submit your nomination follow the link below:
http://iupac.org/100/pt-of-chemist/
For more activities associated with IUPAC100 and the Periodic Table see http://iupac.org/100/ http://iupac.org/cms/wp-content/uploads/2017/12/IYPT-Prospectus_20171209.pdf Watch the Video to find out more about IUPAC100 from our Younger Chemists!:
* Nominate a Younger Chemist!
* Check out IUPAC 100 Activities!
* Pass this along and keep watching for further news
Video by 2017 IUPAC-Solvay Award Winner and IUPAC100 Member, Dr. Scarabelli. See more videos on IUPAC YouTube Channel!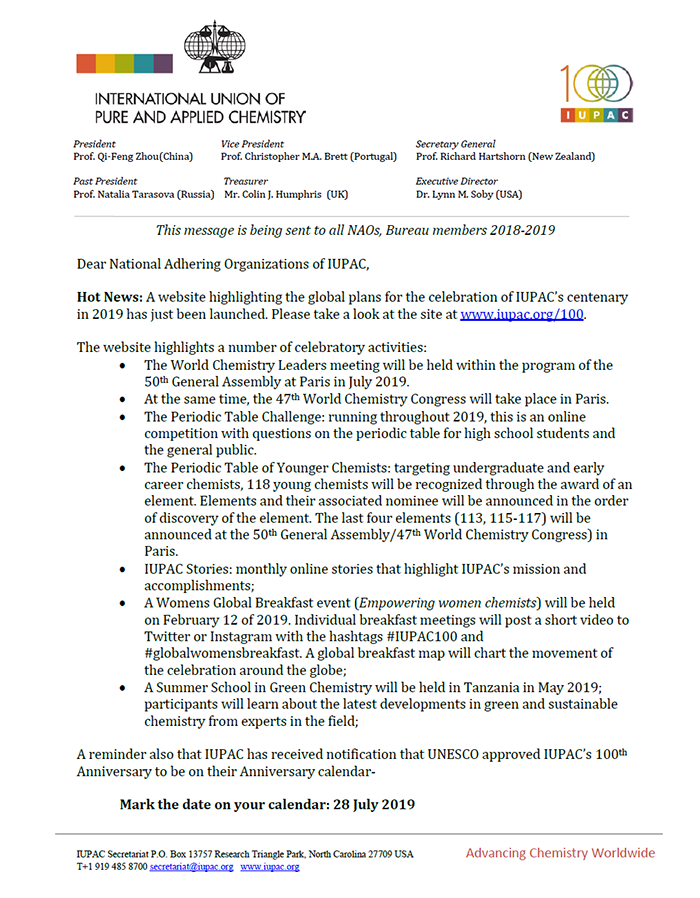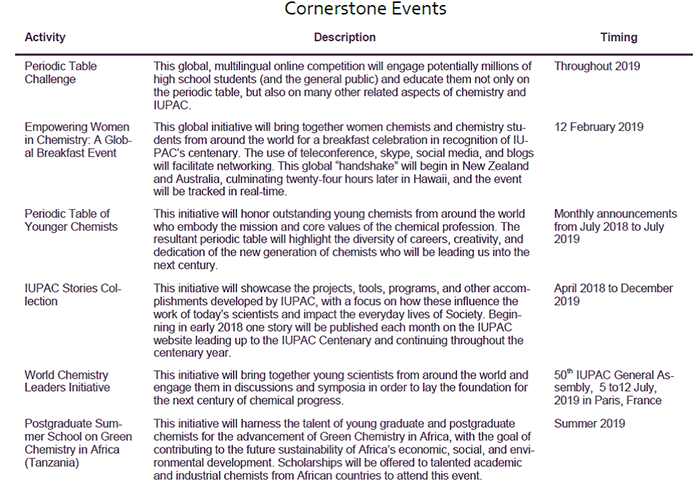 During the 49th IUPAC General Assembly held in Sao Paulo, Brazil in 2017, it was officially announced that the 2019 IUPAC Summer Schools on Green Chemistry will be held in Tanzania.  This is the first time this event is being held in Africa managed by the IUPAC Interdivisional Committee on Green Chemistry for Sustainable Development (ICGCSD).

The 2019 summer school is further special in being held during the 100th Anniversary of IUPAC.  As local organizers (University of Dar es Salaam,Tanzania Bureau of Standards,Tanzania Chemical Society, etc.) we have planned the event to be held in Dar es Salaam from 12th to 19th May 2019.  The event will provide the participants (mainly post graduate students) with an understanding of the latest developments of the concepts and management of green and sustainable chemistry.

We, therefore,would like this event to have an all African face and would like to invite you and your institution to be part of the event in planning, organization and participation.  You can circulate this information to other peers, organizations and institutions in the continent so that they also may join us in making this summer school a success.

The topics for the summer school will be, but not limited to:
1. Exploitation of Natural Resources
2. Green Methodologies
3. Green Analysis
4. Green Synthesis of Nanoparticles
5. Other green chemistry topics are welcome!

More information will be posted on a website which will be launched soon.
CAIA Newsletter
The latest issue of CAIA news is available. Go to: http://www.caia.co.za/news/chemnews/
or e-mail: caia@iafrica.com for pdf files of news and information.
Responsible Care Award
South African Journal of Chemistry
The South Journal of Chemistry is turning 100 years. As part of the 100th celebration of the journal, we are inviting special reviews that can be published later this year.  Interested authors can get in touch with the chief editors Prof Luke Chimuka and Prof Tricia Naicker on the journal website, https://www.sabinet.co.za/sajchem/.  Already a special issue from electrochemistry division from their 2018 symposium is planned.  The analytical division is also planning a special paper on the status of analytical chemistry in South Africa.  More review papers are still needed in various areas of chemistry.  Journal submission details can be found at http://saci.co.za/journal.

Details of the journal and the editors can be seen at http://www.journals.co.za/sajchem/.

All manuscripts since 1918 are electronically available online at
http://journals.co.za/content/journal/chem/browse?page=previous-issues

There will be one special (additional) issue this year on "South African Marine Natural Products" under the leadership of Dr Denzil Beukus.  This will be announced on the journal website in due course.

This Journal is published electronically.  The webpage is: http://www.saci.co.za/.  The South African Journal of Chemistry, published by the South African Chemical Institute, has been publishing high quality papers, in all fields of Chemistry for 100 years.  The Journal went fully electronic in 2000 and is freely available through open access online (http://reference.sabinet.co.za/sa_epublication/chem).  It is a CAS-abstracted publication and is listed in Current Web Contents.  It is also part of the Scielo group.  It has retained its status as an accredited publication with the South African Department of Higher Education and Training.

We encourage South African chemists to publish in the journal especially in this centenary year!
African Journals of Chemistry
African Corrosion Journal (online). Commenced in 2015 – a peer reviewed corrosion journal. This journal may be of interest to the "practical" chemists amongst the SACI membership. https://view.publitas.com/icp-1/african-corrosion-journal

African Journal of Chemical Education
Enquiries and manuscripts should be addressed to the Editor-in-Chief: email eic@faschem.org, PO Box 2305, Addis Ababa, Ethiopia. AJCE, 2016, 6(1) ISSN 2227-5835 The online version appears in the FASC website (www.faschem.org) and in the AJOL website (www.ajol.info)
SACI and SACI related Conference events
43rd National Convention of the South African Chemical Institute

Registrations are open - Click here to register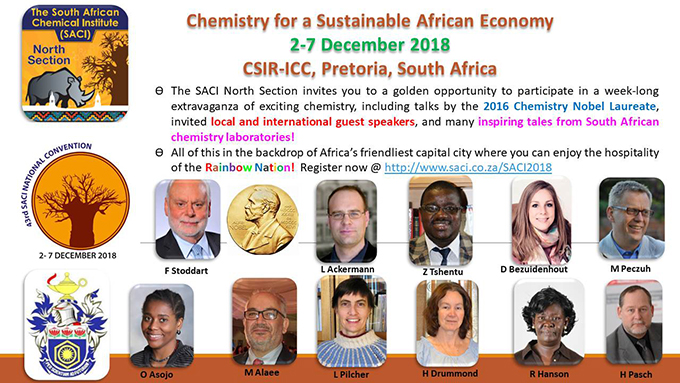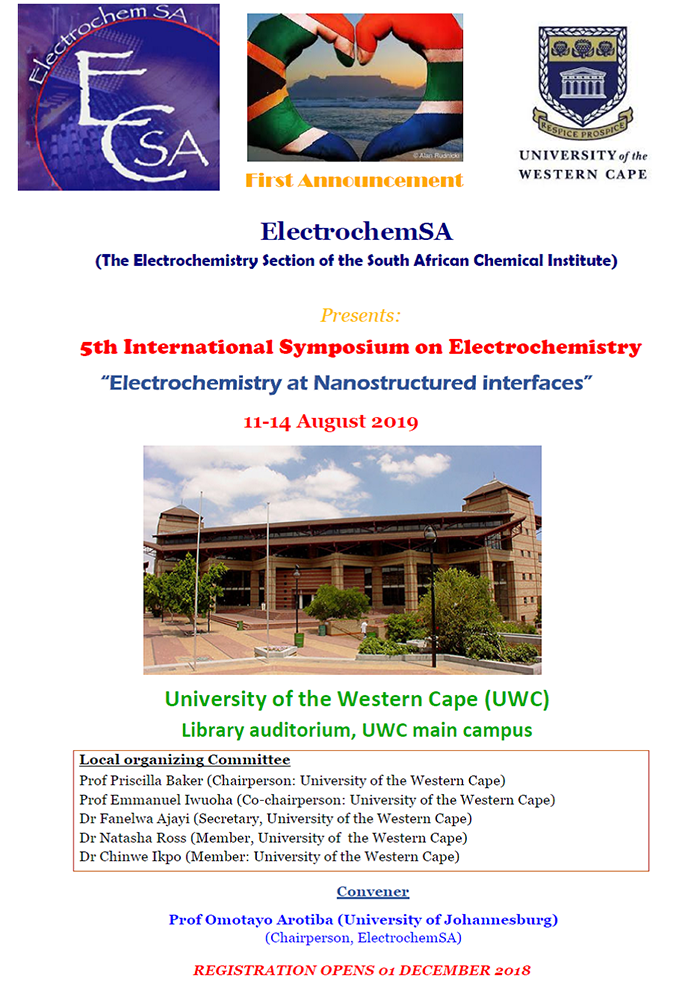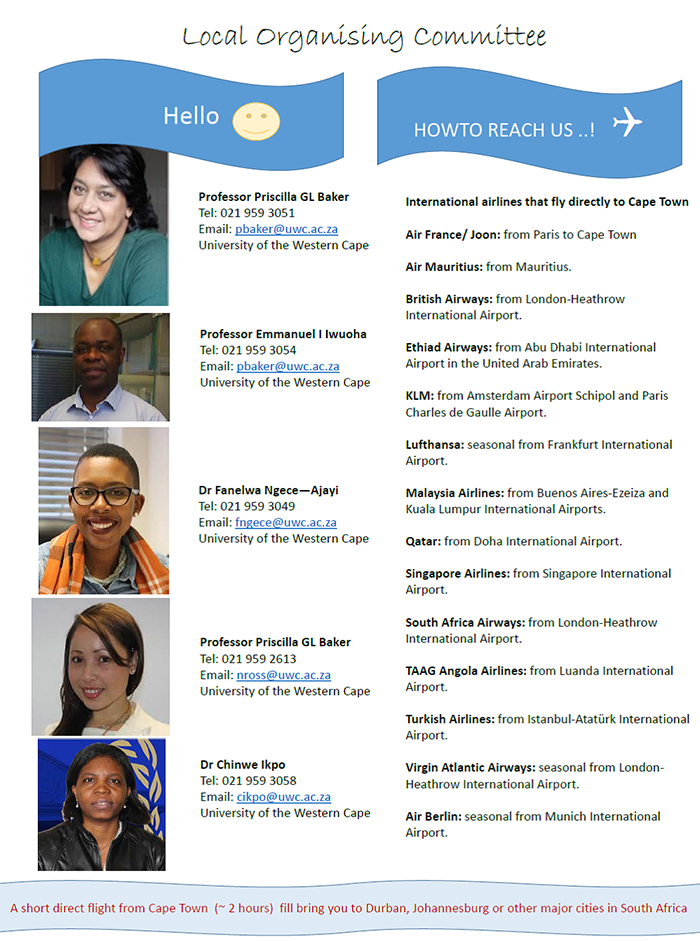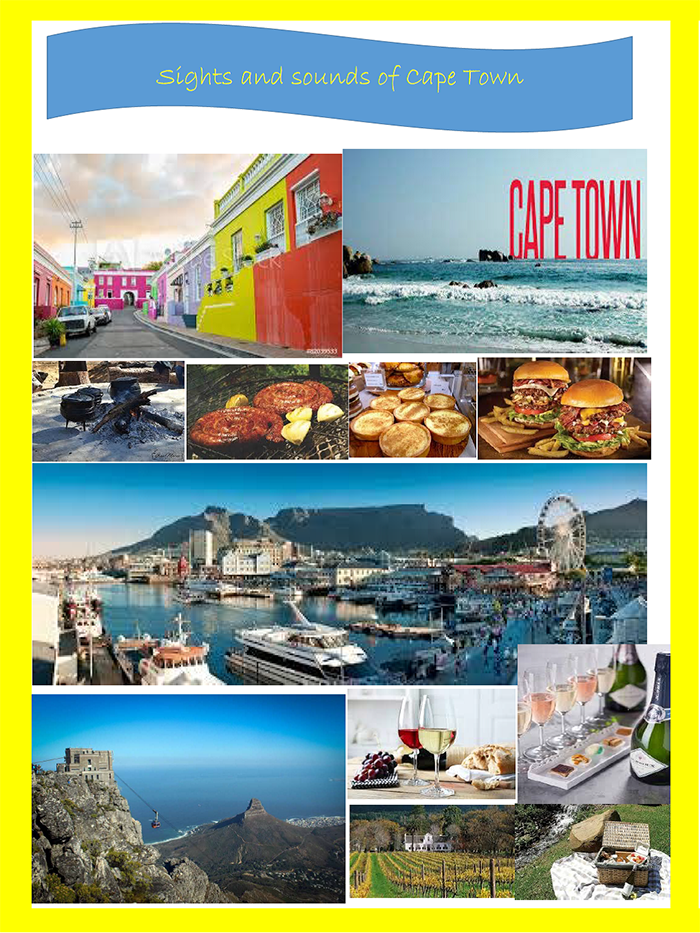 Others
Nanosmat-Africa 2018

You are invited to participate with your postgraduate students.  Each participant is entitled to publish two ISI publications in Applied Surface science (IF=4).

Africa Food Safety Workshop
5th International Conference on Material Science and Smart Materials (MSSM 2018)

XXII International Mass Spectrometry Confernece (IMSC 2018)

13th International Conference on Advanced Polymers via Macromolecular Engineering

Spring School on Solar Energy and Photosynthesis

2nd International Symposium on Catalysis and Specialty Chemicals ISCSC-2018

1st International Conference on Sustainable Management of Natural Resources
CATSA2018
CATSA holds an annual national catalysis conference with the aim of promoting widespread interaction among practitioners in the field and this event is rotated around the country. The 29th annual conference is being hosted by the North-West University and will take place at Legend Golf & Safari Resort from the 11 - 14 November 2018. The 2018 Eminent Visitor is Professor Gregory Jerkiewicz from Queens University in Kingston, Ontario, Canada. http://catsa.org.za/index.php/catsa-2018
Equipment
Anton Paar's new Cora Raman spectrometers
Let Anton Paar be of assistance to you

With our premium characterization instruments: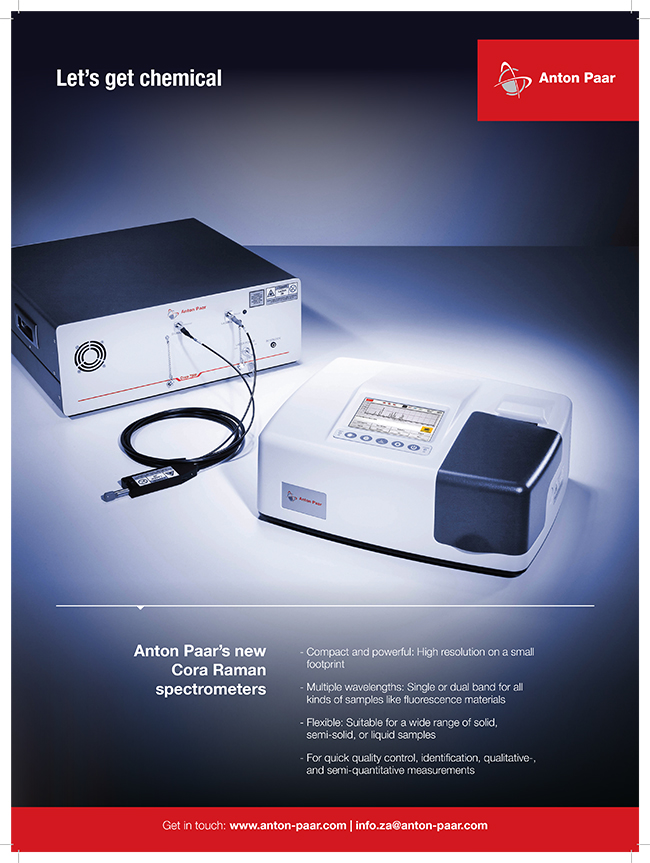 Bruker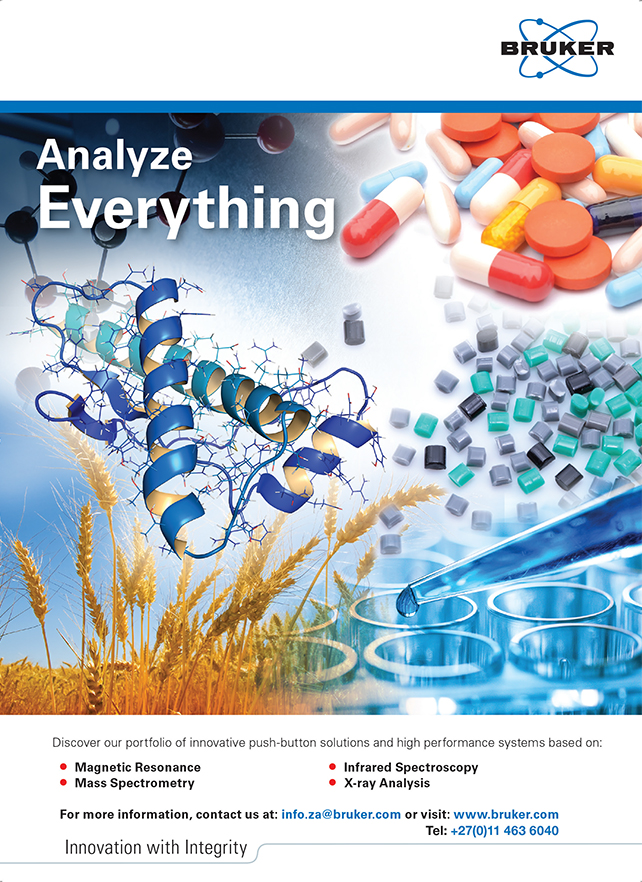 Vacancies
Any interested candidates can send their details to info@sepsci.co.za or triolan@sepsci.co.za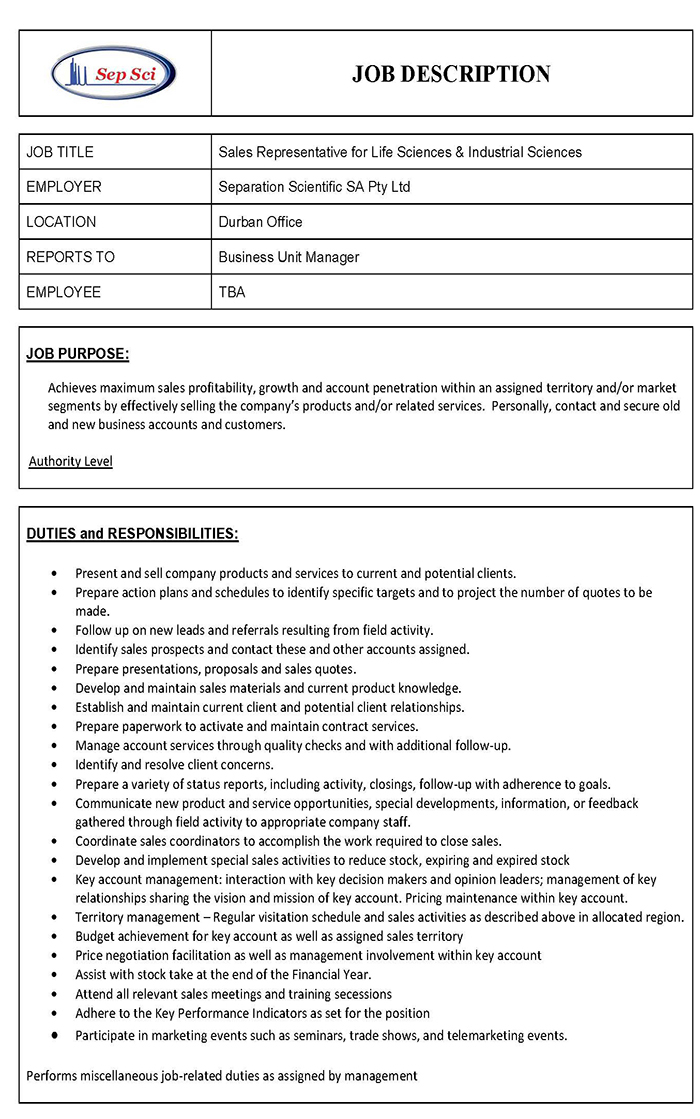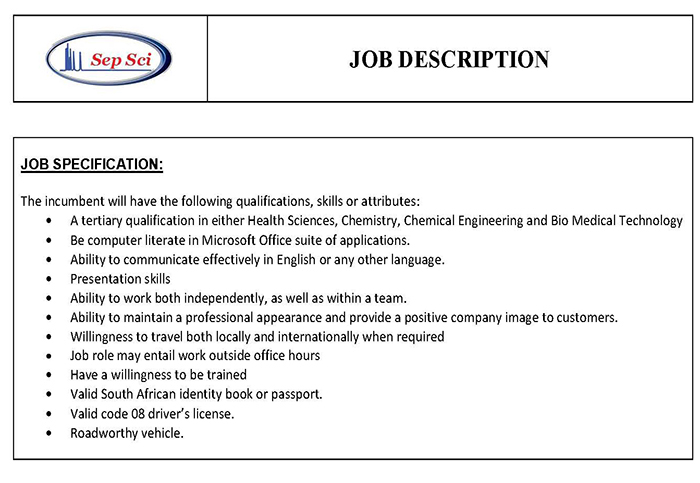 POST DOCTORAL FELLOWSHIPS IN MEDICINAL CHEMISTRY - UCT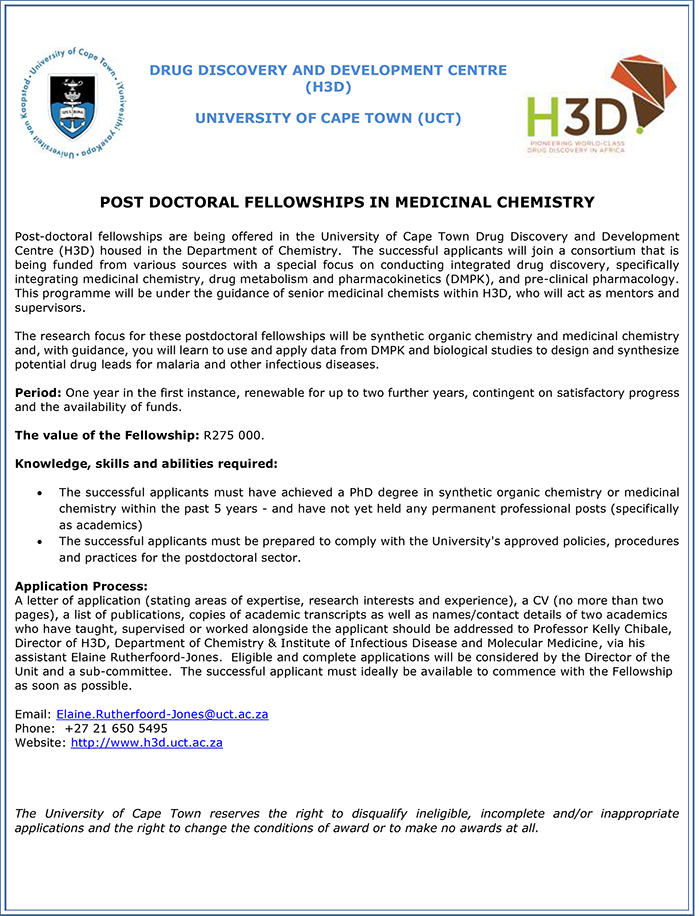 content