SACI News June 2017

The SACI AGM takes place in early August 2017 (University of the Witwatersrand) and at the event a new Executive will be elected for the next two years. Ballot papers will go out soon for nominations for the positions of Secretary/Treasurer/Vice-President and President. The current President will automatically be on the next executive (Prof Bice Martincigh). Other elections for various division/section executive members will also take place soon; some have done so already.

SACI is involved with many national and international initiatives and many SACI representatives will be involved in the next few months with events such as the IUPAC meeting in Brazil, signing of the MOU with the American Chemical Society, the Atlantic Basin Conference on Chemistry in Mexico and representing SACI at the upcoming Federation of African Chemical Societies meeting in Tanzania.

Neil Coville

Content
SACI office address and times
Advertising in the SACI newsletter
NSTF-South32 awards - winners
Section and Divisions News
Central and North Sections

IUPAC
African Journals of Chemistry
CAIA Newsletter
SACI and SACI related conference events
AMRS2017 (Africa Materials Research Society)
The 3rd TCS International Conference and the 6th FASC Congress
7th Mintek Analytical Sciences Symposium
Atlantic Basin Conference on Chemistry

Other conferences
Positions available
Principal Technician, UKZN
SACI office address and times
The SACI office, run by Laila Smith is located on the 1st Floor of Gate House, room 124. The telephone number is 011 717 6705 and e-mail address is: saci.chem@wits.ac.za. The cel number is 061 282 3477.

This year we are to experiment with having Laila work in the afternoons from home. This will mean that office hours will be from 8.30 am till 1.00 pm. She can still be contacted at any time during her office hours. We have noted that there are very few members (or others) who physically visit the office at Wits.
Advertising in the SACI newsletter
The newsletter provides a means of getting messages to our membership. Currently the SACI membership stands at over 1000. This newsletter thus provides a means of advertising employment opportunities, conferences and workshops, and even for companies/Universities to promote themselves. We encourage members to use the Newsletter for advertising purposes. All SACI related conferences and events are advertised for free; if not a SACI related event there could be a small charge. For advertising costs contact Laila at the SACI office.
NSTF-South32 awards - winners
This year some chemists or chemistry related activities were acknowledged at the NSTF – South32 awards ceremony.
The National Science and Technology Forum (NSTF) is pleased to announce the 19th group of finalists competing for the highly-acclaimed 2016/2017 NSTF-South32 Awards.

The NSTF-South32 Awards, was held at a prestigious Gala Dinner in Gauteng on Thursday, 29 June 2017. It is the 19th celebration of this flagship project of the National Science and Technology Forum (NSTF).

Award winners: The awards were presented by the Honourable Minister of Science and Technology, Mrs Naledi Pandor, who is also the event's patron. She celebrated along with almost 600 guests and over 50 different organisations from the broader community. It is an honour to be nominated, it is an outstanding achievement to reach the finals and an exceptional milestone and celebration of excellence to win one of these awards. Details of the award finalists, including the winners' are available online at www.nstf.org.za/whos-who/.
| | |
| --- | --- |
| Category | Winner`s name and details |
| NSTF-Water Research Commision Award towards achieving sustainable water management, knowledge generation and solutions to either an individual or an organisation (sponsored by Water Research Commission – WRC) | Prof Bhekie Mamba – Executive Dean and Director: Nanotechnology and Water Sustainability Unit, College of Science, Engineering and Technology, Unisa |
| Communication for outreach and creating awareness by a team or an individual | DST/NRF Centre of Excellence in Strong Materials (CoE-SM) team, University of the Witwatersrand – Prof Lesley Cornish, Professor: Physical Metallurgy, and Director: DST/NRF CoE-SM, and Director: African Materials Science and Engineering Network; Prof Alex Quandt, Professor: Physics; Prof Deena Naidoo, Professor: Physics; and Mr Casey Sparkes, Operations Manager |
Congratulations to all the winners!
Adapted from report by
Ms Jansie Niehaus
NSTF Executive Director and Spokesperson
Sections and Divisions news
SACI North and Central Sections
Many SACI members will be involved in the 7th SANi-NYRS symposium to be hosted at Tshwane University of Technology (TUT) in Pretoria west, TUT main campus, on the 20th of October 2017. See below for more details.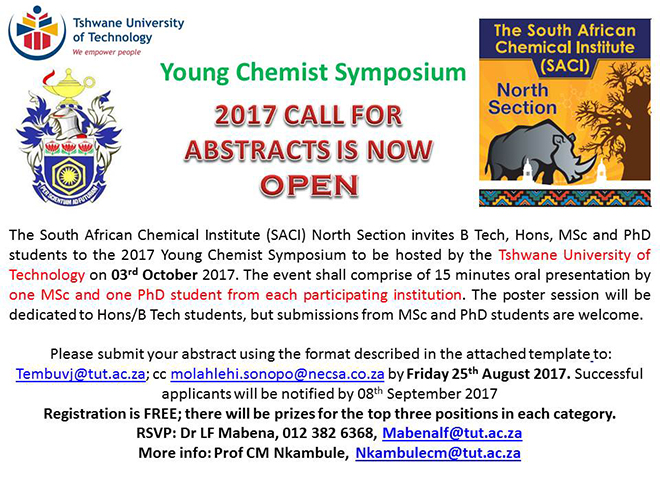 Download abstract template
IUPAC
For the latest news see: http://www.saci.co.za/iupac.html
African Journals of Chemistry
South African Journal of Chemistry



The SA Journal of Chemistry is a free open access journal. Details about the journal can be found at https://www.sabinet.co.za/sajchem/. Current issues of the journal can be seen at http://journals.co.za/content/journal/chem/browse.

The journal has recently implemented the use of author ORCIDs (https://orcid.org/). Authors will get the opportunity to link their ORCIDs to the submission. When the paper is published, the author's ORCIDs will be linked to the online PDF paper. This will enable automatic updates of the author's ORIC accounts.

The journal is also planning to reward referees in the near future via the ORCID system. See https://orcid.org/blog/2016/09/22/recognizereview-orcid for more details. We trust that giving recognition to reviewers will further improve the quality of the review process.

Report from Prof Kruger

This Journal is published electronically. The webpage is: http://www.saci.co.za/ The South African Journal of Chemistry, published by the South African Chemical Institute, has been publishing high quality papers, in all fields of Chemistry for over 50 years. The Journal went fully electronic in 2000 and is freely available through open access online (http://reference.sabinet.co.za/sa_epublication/chem). It is a CAS-abstracted publication and is listed in Current Web Contents. It has retained its status as an accredited publication with the South African Department of Higher Education and Training.
African Journal of Chemical Education
Enquiries and manuscripts should be addressed to the Editor-in-Chief: email eic@faschem.org, PO Box 2305, Addis Ababa, Ethiopia. AJCE, 2016, 6(1) ISSN 2227-5835 The online version appears in the FASC website (www.faschem.org) and in the AJOL website (www.ajol.info)
CAIA Newsletter
The latest issue of CAIA news is available. Go to: http://www.caia.co.za/news/chemnews/
or e-mail: caia@iafrica.com for pdf files of news and information.
SACI and SACI related Conference events
AMRS2017 (Africa Materials Research Society)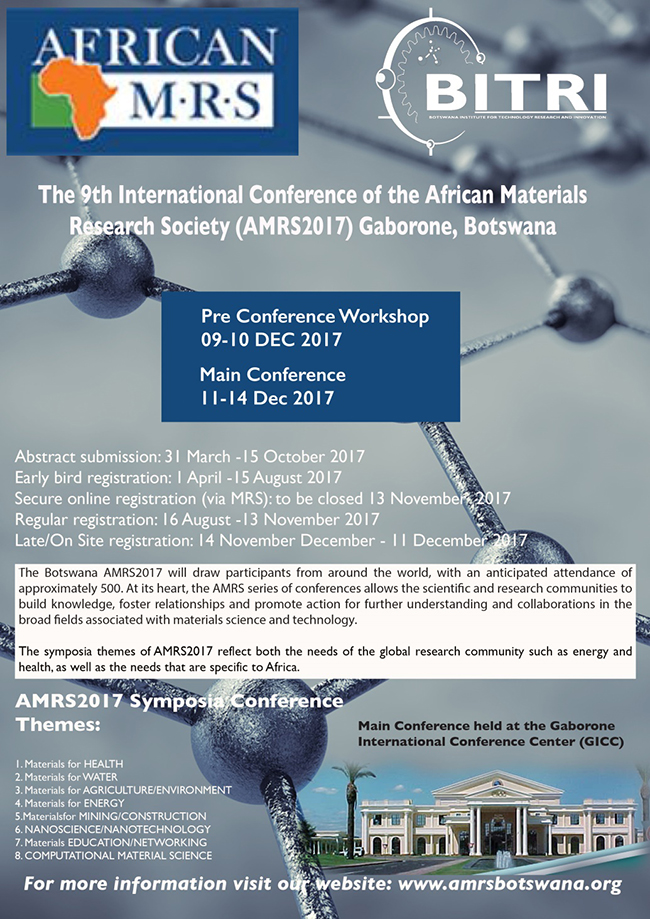 The 3rd TCS International Conference and the 6th FASC Congress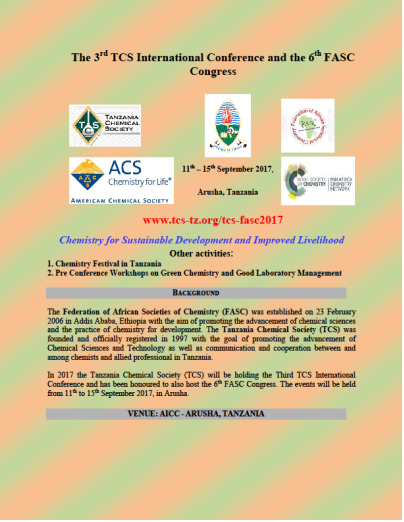 The conference will be held at the Arusha International Conference Center (AICC) in Arusha. Arusha city is exactly half-way between Cape Town and Cairo, only a stone's throw away from Africa's highest Mountain, Mt. Kilimanjaro and the safari-gateway to the astounding wildlife of Ngorongoro Crater, the Serengeti, Tarangire and Lake Manyara National Parks.
SYMPOSIUM THEMES

The conference will cover all areas of chemistry including but not limited to:
 Analytical Chemistry
 Physical Chemistry
 Inorganic Chemistry
 Organic Chemistry
 Natural Products Chemistry
 Environmental Chemistry
 Industrial Chemistry
 Forensic Chemistry
 Nanochemistry

Please register and make your submission at the following link:
http://www.tcs-tz.org/tcs-fasc2017

Or contact:



Prof. Othman C. Othman
+255 22 2410038
+255 713 433982
o_chande@yahoo.co.uk
ocothman@gmail.com
Chemistry Department
College of Natural and Applied Sciences
University of Dar es Salaam
P.O. Box 35061
Dar es Salaam, Tanzania

Dr. Clarence A. Mgina
+255 22 2410038
+255 767 547970
cmgina@yahoo.com
cmgina@udsm.ac.tz
Chemistry Department
College of Natural and Applied Sciences
University of Dar es Salaam
P.O. Box 35061
Dar es Salaam, Tanzania

Dr. Clarence A. Mgina
+255 22 2410038
+255 767 547970
cmgina@yahoo.com
cmgina@udsm.ac.tz
Chemistry Department
College of Natural and Applied Sciences
University of Dar es Salaam
P.O. Box 35061
Dar es Salaam, Tanzania

 Theoretical Chemistry
 Biochemistry
 Computational Chemistry
 Combinatorial Chemistry
 Chemical Education
 Green Chemistry
 Organometallic Chemistry
 Fuel Chemistry
 Medicinal Chemistry
7th Mintek Analytical Sciences Symposium

Atlantic Basin Conference on Chemistry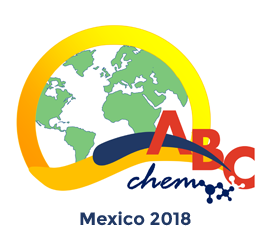 Others
First Atlantic Basin Conference on Chemistry (ABCChem) – 24-26 January, 2018; Cancún, Mexico http://abcchem.org/about/societies/
The 3rd TCS International Conference and the 6th FASC Congress, Chemistry for Sustainable Development and Improved Livelihood Arusha, Tanzania http://tcs-tz.org/tcs-fasc2017/
IUPAC 2017 - July 6-14, 2017, São Paulo, Brazil
2nd Green and Sustainable Chemistry Conference14-17 May 2017; Berlin, Germany http://www.greensuschemconf.com/; Nina Cosgrove: Email: n.cosgrove@elsevier.com
International Conference on Chemical Education 18, July 10-14 2018, Sydney
ACRICE-3 Algeria October. The website is www.univ-setif.dz/OCS/FT/ACRICE. The conference is under the aegis of IUPAC and FASC
Science Forum South Africa 7-8 Dec 2017, CSIR International Convention Centre, Pretoria
African Materials Research Society (AMRS) Conference 2017, 11-14 Dec 2017, Gaborone, Botswana. www.amrsbotswana.org
The formation of the AMRS, has its origins in the August 2000 'US-Africa Materials Workshop', held in Pretoria, South Africa. The workshop was co-organized and sponsored by the United States National Science Foundation (NSF) and the South African National Research Foundation (NRF) which sought to explore opportunities for collaboration between the USA and Africa with an overarching objective of developing materials research capacity in Africa. It brought together over 70 leading scientists, industry researchers and Government representatives from the USA and 15 African countries, and they sculpted a forward-looking sustainable framework for driving materials research in Africa. Two years later, building on this initiative, on 12 December, 2002, the African-MRS was officially launched in Dakar, Senegal. The Dakar meeting, was attended by various world leading experts in the different facets of materials science, engineering and research, thus becoming the 1st AMRS International Conference. Subsequent biennial International Conferences were held in South Africa (2003), Morocco (2005), Tanzania (2007), Nigeria (2009) and Victoria Falls, Zimbabwe, (2011), Ethiopia (2013), Ghana (2015) and the next one will be in Botswana (2017).
At its heart, the AMRS series of conferences allows the scientific and research communities to build knowledge, foster relationships and promote action for further understanding and collaborations in the broad fields associated with materials science and technology.
The themes of AMRS2017 reflect both the needs of the global research community such as energy and health, as well as the needs that are specific to Africa.
7th SANi-NYRS symposium

The South African Nanotechnology Initiative (SANi) together with Tshwane University of Technology (TUT) are excited to announce the coming 7th SANi-NYRS symposium hosted at Tshwane University of Technology (TUT) in Pretoria west, TUT main campus, on the 20th of October 2017 under the theme "Nanotechnology For The 21st Century Challenges".
Thus, we will appreciate it extensively if the attached announcement can be circulated to various Departments within your Institution and also be posted on the notice boards where students and interested candidates will clearly see it.
Katlego Makgopa (PhD)
Building 3, Office 614D
Department of Chemistry
Acardia Campus, 175 Mandela Drive
Tshwane University of Technology
Tel: 0123826406; 0769932734
Email: MakgopaK@tut.ac.za
Positions available
PRINCIPAL TECHNICIAN (INSTRUMENTATION) (PEROMNES GRADE 8) SCHOOL OF CHEMISTRY AND PHYSICS WESTVILLE CAMPUS, UKZN
The University of KwaZulu-Natal (UKZN) is committed to Employment Equity with the intention to promote representivity within the Institution. Preference will be given to applicants from the designated groups in accordance with our Employment Equity Plan.

COLLEGE OF AGRICULTURE, ENGINEERING AND SCIENCE

REF NO.: CP02/2017

This is a developmental post and progression by the successful appointee to a higher level will be dependent on fulfilling set objectives within specified timelines, in line with a Development Plan which will commence upon assumption of duty.

Ultimately, the incumbent will provide a high level NMR service to the School of Chemistry & Physics, to other Schools in the University and to the scientific community of KZN as a whole. The incumbent should be involved in research at the instrumental level and provide research support to the academic and postgraduates within the School. S/he will also maintain and manage the Liquid Nitrogen plant, and provide a backup service for other instrumentation in the School, including the NMR spectrometers on the Pietermaritzburg campus.

The successful incumbent will be responsible for the operation and first-line maintenance of the 600 and 400 MHz instruments, and will ensure the safe operation and security of the NMR facility. S/he will assist staff and students with the interpretation of NMR spectra and in selecting the appropriate NMR experiment for the purpose it is required. S/he will install the latest firmware updates to the spectrometer hardware, and be responsible for software upgrades and patches to the operating system of the spectrometer hosts and the spectrometer operating software.

The incumbent will report to the Manager: Technical Operations, Durban Centre.

Minimum Requirements: • Relevant Honours degree in Chemistry. • 4 years of relevant experience, inclusive of experiential training gained during post graduate studies.

Short-listed candidates may be required to undertake a skills test.

Enquiries and details regarding this post may be directed to the Manager, Technical Operations, Westville Campus, Mrs U. Belbhudder on email: Bellbhudder@ukzn.ac.za


All other recruitment related enquiries may be directed to Miss Nokwanda Nkomo on 033 260 6776or e-mail: Nkomon@ukzn.ac.za

Appointment to this post will be on the January 2012 Conditions of Service, where applicable.

The total remuneration package offered includes benefits.

The closing date for receipt of applications is 30 June 2017.

Applicants are required to complete the relevant application form which is available on the Vacancies website at www.ukzn.ac.za. Completed forms and Curriculum Vitae must be sent to Recruitment-aes@ukzn.ac.za