SACI News June 2016

Congratulations to Prof's Ray and Klumperman for their successes at the NSTF event; also to Ms Noszipho Gumbi for her success as a SA winner and FameLab Finalist in the UK. The SACI AGM takes place on Thursday 4th August (5 pm, School of Chemistry, University of the Witwatersrand) – so note the date. Prof Sheldon will be the guest speaker.

Neil Coville
Content
SACI office address

Advertising in the SACI newsletter

SACI AGM

SAQA

Chemistry winners at 2015/2016 NSTF Awards ceremony

Nozipho Gumbi: a FameLab Finalist

Profiles on 2015 SACI Gold medal on Raikes Medal winners

Section and Division news

Western Cape Section

CHIETA

Challenges and opportunities for chemistry in Africa (Prof Abegaz)

IUPAC : Four new elements nihonium, moscovium, tennessine, and oganesson

Chemicals in Nature (Nature article)

African Journals of Chemistry

CAIA Newsletter

RSC

RSC/PACN news

Catalysis for Fuels: Faraday Discussion
SACI and SACI related conference events

Frank Warren 2016

1st SACI Gauteng North Young Chemists event

SACI Gauteng Central Section Young Chemists Symposium

ChromSAAMS 2016

Others

Upcoming talks to the public

Prof Dave Billing, SciBono


Prof Roger Sheldon. SACI AGM

Workshops

Design and analysis of experiments

X-ray Fluorescence Spectrometry - Wirsam Scientific and Precision Equipment (Pty) Ltd

Anrton Paar - Advanced Mechanical Surface Testing - Free

Employment:

Lecturer/Senior Lecturer, Organic and Medicinal Chemistry, Stellenbosch University

Research Assistant, Wildlife Pharmaceuticals

Post Doctoral position, Scientific Computing Research Unit, UCT
SACI office address
The SACI office, run by Laila Smith is located on the 1st Floor of Gate House, room 124. The telephone number is 011 717 6705 and e-mail address is: saci.chem@wits.ac.za.
Advertising in the SACI newsletter
The newsletter provides a means of getting messages to our membership. Currently the SACI membership stands at over 1000. This newsletter thus provides a means of advertising employment opportunities, conferences and workshops, and even for companies/Universities to promote themselves. We encourage members to use the Newsletter for advertising purposes. All SACI related conferences and events are advertised for free; if not a SACI related event there could be a small charge. For advertising costs contact Laila at the SACI office.
SACI AGM
The President of the SA Chemical Institute - Professor Bice Martincigh
Requests the pleasure of your company at the 104th Annual General Meeting of the Institute
Date : Thursday, 4th August 2016
Time : 17h00
Venue : Lecture Room C6, School of Chemistry
Humphrey Raikes Building, East Campus
University of the Witwatersrand
Station Road
Braamfontein, Johannesburg
RSVP : ASAP; E-mail : saci.chem@wits.ac.za

AGENDA
Confirmation of the minutes of the 103rd Annual General Meeting held on Thursday, 6th August 2016
Matters arising from the minutes
Presentation of New Fellows
Annual Report of Council for the year ended 30 June 2016
Financial report
Awards of the Institute 2016
Election of Auditors and Legal Advisers for the year 2016/2017
General
Talk by Prof Roger Sheldon
Cocktail party
SAQA
Register as a Professional Chemist with SACI

Information on how to be registered can now be found on the SACI website
Registration open on 1 July 2016 at 12.00
Chemistry winners at 2015/2016 NSTF Awards ceremony
The NSTF Gala event where the 2016 winners of NSTF awards took place was held at Emperors Place on Thursday night (30th June). Congratulations to the two chemists who won awards at the event.
Congratulations to the chemists who are finalists for NSTF awards in 2016.

Lifetime Award (for an outstanding contribution to SET and innovation by an individual over a period of 15 years or more)
Klumperman, Prof Bert - Distinguished Professor of Polymer Science, Stellenbosch University (SU)
Management and related activities (for an outstanding contribution to SET and innovation over the last 5-10 years by an individual)
Ray, Dr Suprakas Sinha - Chief Researcher and Director: Department of Science and Technology-Council for Scientific and Industrial Research (CSIR) National Centre for Nano-structured Materials, CSIR
Nozipho Gumbi: a FameLab Finalist (also recognised as a Mail and Guardian top 100 young South African of the future)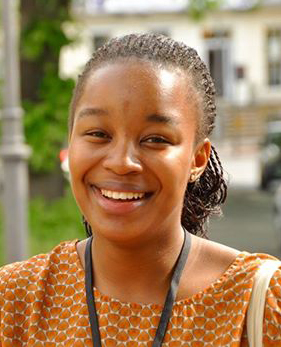 Congratulations to UNISA PhD Chemistry student, Nozipho Gumbi, who represented South Africa in the 2016 FameLab International Finals in the Cheltenham Science Festival, Cheltenham, United Kingdom (07 - 12 June 2016). Nozipho had initially won 1st prize in the South Africa version of the FameLab and was then sent to represent South Africa in the international stage. In the Cheltenham Science Festival in 2016, there were 27 finalists from 27 different countries. Nozipho ended up in top 10.

FameLab, normally referred to as the 'pop Idols for scientists' invites young academics (aged between 21 - 35) annually to pitch their science to the audience, hence developing their skills for engaging with the public.

Nozipho spoke about carbon nanomaterials and their use in water filtration. She has indeed made our country proud by representing South African science so beautifully in the world stage. During her pitch she explained how recent technological advances in controlling the structure of carbon nanomaterials could be applied in water filtration, especially in the removal of undesirable micro-pollutants via membrane nanofiltration.

She is currently based at the Karlsruhe Institute of Technology, Membrane Technology Department (Institute of Functional Interfaces) in Germany as an exchange student throughout the year 2016.
Profiles on 2015 SACI Gold medal on Raikes Medal winners
2015 GOLD MEDAL AWARD: Prof Helder Marques
The SACI Gold Medal award is made to a member of the Institute, whose scientific contributions in the field of chemistry or chemical technology are adjudged to be of outstanding merit.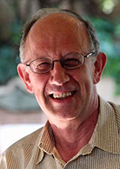 Helder Marques is Professor of Bio-inorganic Chemistry and Dean of the Faculty of Science at the University of the Witwatersrand. After graduating with both an Honours degree in chemistry and a Higher Diploma in Education from the University of the Witwatersrand, he spent two years as a high-school teacher before returning to his alma mater to complete a PhD degree, which was awarded in 1986. His doctoral research on the thermodynamic and kinetic properties of model complexes for metalloproteins laid the foundation for an abiding interest in phenomena at the interface between inorganic chemistry and biology. After spending a year as a post-doctoral fellow at the University of Texas at Arlington, he was appointed in 1987 to a lectureship at the University of the Witwatersrand. A spectacular combination of talents as a teacher, researcher and administrator resulted in his appointment to a Personal Chair (1998), Headship of the School of Chemistry (1999) and Deputy Deanship in the Faculty of Science (1997), all within the space of a dozen years of his appointment to the staff of Chemistry. His achievements as a teacher were acknowledged when he received both the Convocation Distinguished Teachers' Award in the Faculty of Science and the Vice-Chancellor's Award for Teaching in 1992. The South African Chemical Institute recognised his research potential by the award of its Raikes Medal (awarded to an outstanding chemist under the age of 35) in 1989. In the same year he won the Vice-Chancellor's Research Award from the University of the Witwatersrand. It is worth noting that Professor Marques was the first person to achieve the "double" of the Vice-Chancellor's Teaching and Research Awards at the University of the Witwatersrand. Professor Marques stepped down as Head of the School of Chemistry at the end of 2007 only as a result of the award of the DST/NRF Research Chair in Bioinorganic Chemistry, which required him to concentrate on research. Despite this move, he maintained a substantial presence in the affairs of the Faculty of Science (as Assistant Dean for Research, then as Deputy Dean) and in the University (as Deputy Chair of Senate, among many other functions). He was appointed as Dean of the Faculty of Science in 2013. Professor Marques's current research focuses on exploring the relationships between structure and function in biologically important compounds containing metal ions, for example, corrinoids such as vitamin B12, and porphinoids such as hemoglobin and related heme proteins; and he has become internationally known for his use of computational methods to model and predict such relationships. Both national and international collaborations have seen him applying these methods to problems as diverse as defining parameters for molecular mechanics calculations on metalloporphyrins, and the interaction of antimalarial drugs with haemoglobin. His impressive curriculum vitae includes almost 150 publications in journals of international repute (including several in J. Am. Chem. Soc., regarded by some as the ne plus ultra for publications in chemistry), several book chapters, a host of invited or keynote lectures at local and international conferences, frequent invitations to act as referee for prestigious international journals, and supervision of many MSc and PhD students. He has an h index of 31; and over 2100 citations (excluding self-citations) to his published research. He currently enjoys a B2 rating from the NRF. Among other forms of professional recognition have been election to Fellowship of the Royal Society of South Africa (2004), the award of the Merck Medal of the South African Chemical Institute (2006), and election to Fellowship of the South African Chemical Institute (2013).
2015 RAIKES MEDAL: André de Villiers
The award is made to a member of the Institute, under the age of 40 on 31 December in the year of the award, whose original chemical research shows outstanding promise, as adjudged by publications in reputable journals. It is further stipulated that the research shall have been performed in South Africa.



André de Villiers completed his BSc degree at Stellenbosch University (SU) in 1997, and received the Merck Prize for the best final-year Chemistry student in this year. He subsequently received his BSc (Hons) degree in Chemistry cum laude in 1998, and was awarded the South African Chemical Institute (SACI) James Moir medal. He completed his MSc (cum laude) in 2000 and his PhD in 2004, both under the supervision of Prof. Pat Sandra. This was followed by a post-doctoral fellowship at the Pfizer Analytical Research Centre (PARC) at the Ghent University, Belgium (2004-2006). He was subsequently appointed as academic staff member at SU in August 2006, where he has recently been promoted to Associate Professor. Prof. de Villiers' research entails both fundamental studies aimed at pushing the boundaries of the chemical characterisation of complex mixtures using state-of-the-art techniques such as multidimensional liquid- and gas chromatography combined with mass spectrometry, as well as their applications, primarily to natural product analysis. Since 2001, Prof. de Villiers published 59 papers in leading international peer-reviewed journals. His papers have been cited 1368 times in total and his h-index is 23 (Scopus, June 2015). He was awarded the Csaba Horváth Memorial Award at HPLC 2009 in Dresden, and received the Chromatographer of the Year award from the South African Chromatographic Society (ChromSA) in 2012, and LCGC's Emerging Leader in Chromatography Award in 2014. In the same year he was included in The Analytical Scientist "Top 40 under 40" list. He has presented invited lectures at HPLC 2010 in Boston, HTC 2010 in Brugge, Belgium; Separation Science Singapore 2010; HTC 2012 in Brugge; Separation Science Asia 2012, Kuala Lumpur, ChromSAAMS 2012 in South Africa, HPLC 2013 in Hobart, HTC 2014 in Brugge and HPLC 2015 in Geneva. Prof. de Villiers currently chairs the Western Cape board of the ChromSA. He has also served as chair of the scientific committees for the 39th National Convention of the South African Chemical Institute (SACI) (2008) and ANALITIKA 2010, both held in Stellenbosch, and was a member of the scientific committee for HPLC 2013 held in Australia in November 2013. He is an editorial board member of J. Chromatogr. A and LCGC.
Section and Division news
See information on the upcoming Frank Warren 2016 event, the North Section Young Chemists event and SACI Central Section Young Chemists Symposium under the upcoming conferences
Western Cape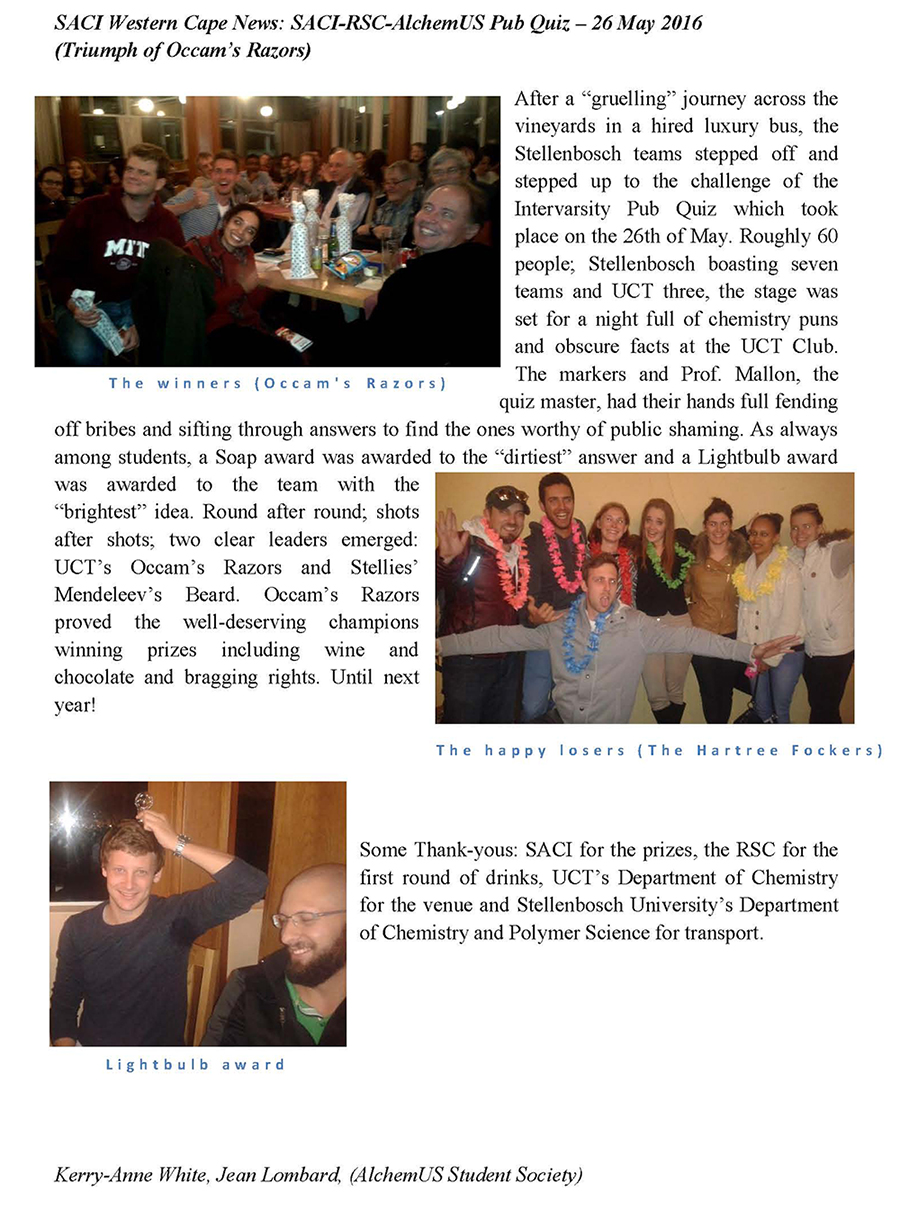 CHIETA
Dear ICSU National Members, Scientific Unions and Associates, based in Africa and/or working with Africa,
We would like to draw your attention that ICSU signed a five-year agreement with the Swedish International Development Cooperation Agency (Sida) to work with NASAC and ISSC to support integrated science in Africa.

The programme entitled «Leading integrated research for Agenda 2030 in Africa » seeks to develop the potential of next-generation scientists in Africa in production and communication of solution-oriented knowledge required for addressing complex regional sustainability challenges.
The programme will provide two-year collaborative research grants (each 90 000 Euro/2 years) with a thematic focus on global environmental change, disaster risk reduction, sustainable energy, human health and well-being in urban environments and related nexus issues. The grants are intended to support integrated and solutions-oriented research by reaching across disciplines, and engaging with other knowledge partners (e.g. civil society, policy makers, and private sector). The grants are expected to foster research collaboration among early-career scientists in Africa, with an emphasis on researchers based in low income countries.

The programme will also provide training for early career scientists on co-design and co-production, science communication and science advice to governments.

Annual events will be organized to promote scientific exchange and provide opportunities for South-South and North-South research collaboration. Outstanding early career scientists will also have opportunities for career development through participation in international scientific committees and conferences, working groups, and inter-governmental policy processes.

ICSU's co-sponsored international research programmes - Future Earth, Integrated Research on Disaster Risk, and Health and Wellbeing in the Changing Urban Environment - will provide an overall thematic framing for the programme's activities. In that way, ICSU aims to increase contribution from the African scientific community to the implementation of ICSU co-sponsored global research programmes.

Therefore, we would like to encourage you to use this opportunity and mobilise your scientific community to participate in the upcoming call for pre-proposals to be launched through ICSU website later during the summer (in the Northern Hemisphere). Representatives of successful pre-proposals will be invited to attend a training event on integrated research to be held during fall of 2016. Following the training, participants will be given two months to develop full proposals, which will be peer-reviewed. Based on the review, the programme advisory committee will make research funding decisions to be announced in the beginning of 2017.

The 5-year programme seeks to increase global and regional institutional and financial support for integrated research and capacity building by building partnerships with regional stakeholders and by holding strategic meetings with funding agencies and key regional institutions. Therefore, if your institution is interested in supporting integrated research and associated capacity building and networking activities, please contact katsia.paulavets@icsu.org to discuss collaboration opportunities.

Visit the programme's pages for more information about the programme. We would appreciate if you could disseminate this information through your relevant networks.
Arno de Marchi
Challenges and opportunities for chemistry in Africa
Article in Nature by Dr Berhanu Abegaz (first page attached)
NATURE CHEMISTRY | VOL 8 | JUNE 2016 | www.nature.com/naturechemistry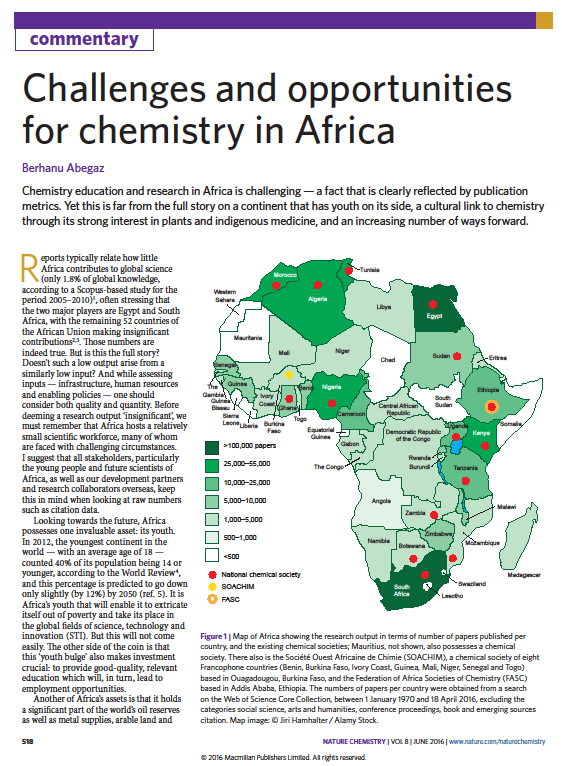 IUPAC : four new elements nihonium, moscovium, tennessine, and oganesson
Following earlier reports that the claims for discovery of these elements have been fulfilled [1, 2], the discoverers have been invited to propose names and the following are now disclosed for public review:
Nihonium and symbol Nh, for the element 113,
Moscovium and symbol Mc, for the element 115,
Tennessine and symbol Ts, for the element 117, and
Oganesson and symbol Og, for the element 118.
The IUPAC Inorganic Chemistry Division has reviewed and considered these proposals and recommends these for acceptance. A five-month public review is now set, expiring 8 November 2016, prior to the formal approval by the IUPAC Council.

The guidelines for the naming the elements were recently revised [3] and shared with the discoverers to assist in their proposals. Keeping with tradition, newly discovered elements can be named after: (a) a mythological concept or character (including an astronomical object), (b) a mineral or similar substance, (c) a place, or geographical region, (d) a property of the element, or (e) a scientist. The names of all new elements in general would have an ending that reflects and maintains historical and chemical consistency. This would be in general "-ium" for elements belonging to groups 1-16, "-ine" for elements of group 17 and "-on" for elements of group 18. Finally, the names for new chemical elements in English should allow proper translation into other major languages.

For the element with atomic number 113 the discoverers at RIKEN Nishina Center for Accelerator-Based Science (Japan) proposed the name nihonium and the symbol Nh. Nihon is one of the two ways to say "Japan" in Japanese, and literally mean "the Land of Rising Sun". The name is proposed to make a direct connection to the nation where the element was discovered. Element 113 is the first element to have been discovered in an Asian country. While presenting this proposal, the team headed by Professor Kosuke Morita pays homage to the trailblazing work by Masataka Ogawa done in 1908 surrounding the discovery of element 43. The team also hopes that pride and faith in science will displace the lost trust of those who suffered from the 2011 Fukushima nuclear disaster.

For the element with atomic number 115 the name proposed is moscovium with the symbol Mc and for element with atomic number 117, the name proposed is tennessine with the symbol Ts. These are in line with tradition honoring a place or geographical region and are proposed jointly by the discoverers at the Joint Institute for Nuclear Research, Dubna (Russia), Oak Ridge National Laboratory (USA), Vanderbilt University (USA) and Lawrence Livermore National Laboratory (USA).

Moscovium is in recognition of the Moscow region and honors the ancient Russian land that is the home the Joint Institute for Nuclear Research, where the discovery experiments were conducted using the Dubna Gas-Filled Recoil Separator in combination with the heavy ion accelerator capabilities of the Flerov Laboratory of Nuclear Reactions.

Tennessine is in recognition of the contribution of the Tennessee region, including Oak Ridge National Laboratory, Vanderbilt University, and the University of Tennessee at Knoxville, to superheavy element research, including the production and chemical separation of unique actinide target materials for superheavy element synthesis at ORNL's High Flux Isotope Reactor (HFIR) and Radiochemical Engineering Development Center (REDC)

For the element with atomic number 118 the collaborating teams of discoverers at the Joint Institute for Nuclear Research, Dubna (Russia) and Lawrence Livermore National Laboratory (USA) proposed the name oganesson and symbol Og. The proposal is in line with the tradition of honoring a scientist and recognizes Professor Yuri Oganessian (born 1933 ) for his pioneering contributions to transactinoid elements research. His many achievements include the discovery of superheavy elements and significant advances in the nuclear physics of superheavy nuclei including experimental evidence for the "island of stability".

"It is a pleasure to see that specific places and names (country, state, city, and scientist) related to the new elements is recognized in these four names. Although these choices may perhaps be viewed by some as slightly self-indulgent, the names are completely in accordance with IUPAC rules", commented Jan Reedijk, who corresponded with the various laboratories and invited the discoverers to make proposals. "In fact, I see it as thrilling to recognize that international collaborations were at the core of these discoveries and that these new names also make the discoveries somewhat tangible."

Ultimately, and after the lapse of the public review, the final Recommendations will be published in the IUPAC journal Pure and Applied Chemistry.

The Provisional Recommendation regarding the naming of the four new elements can be found on the IUPAC website at www.iupac.org/recommendations/under-review-by-the-public/.

Finally, laboratories are already working on searches for the elements in the 8th row of the periodic table, and they are also working to consolidate the identification of copernicium and heavier elements. To be able to evaluate this work, IUPAC and IUPAP are currently reviewing the selection principle and operations of a future Joint Working Party (JWP) and as soon as these principles have been decided a new group will be formed. This new JWP will review new claims and the consistency of new results with those already evaluated by earlier JWPs.

References:
[1] P.J. Karol, R.C. Barber, B.M. Sherrill, E. Vardaci, T. Yamazaki, Pure Appl. Chem. 88 (2016) 139;
http://dx.doi.org/10.1515/pac-2015-0502
[2] P.J. Karol, R. C. Barber, B. M. Sherrill, E. Vardaci, T. Yamazaki, Pure Appl. Chem. 88 (2016) 155;
http://dx.doi.org/10.1515/pac-2015-0501
[3] W.H. Koppenol, J. Corish, J. Garcia-Martinez, J. Meija, J. Reedijk, Pure Appl. Chem. 88 (2016) online 21 Apr 2016; http://dx.doi.org/10.1515/pac-2015-0802
Dr. Lynn M. Soby, Executive Director, at secretariat@iupac.org or lsoby@iupac.org.
Chemicals in Nature
A wonderful article on chemistry free products published in Nature (vol 6 p1, 2014): entitled - A comprehensive overview of chemical-free consumer products.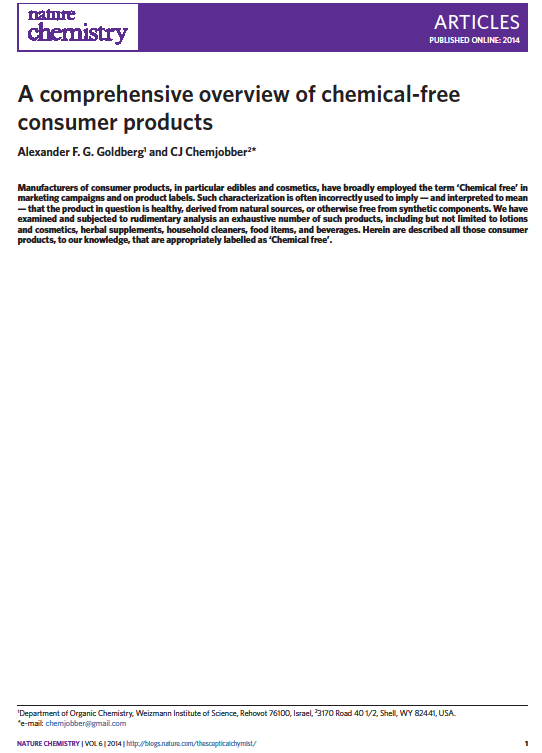 African Journals of Chemistry
South African Journal of Chemistry

This Journal is published electronically. The webpage is: http://www.saci.co.za/ The South African Journal of Chemistry, published by the South African Chemical Institute, has been publishing high quality papers, in all fields of Chemistry for over 50 years. The Journal went fully electronic in 2000 and is freely available through open access online (http://reference.sabinet.co.za/sa_epublication/chem). It is a CAS-abstracted publication and is listed in Current Web Contents. It has retained its status as an accredited publication with the South African Department of Higher Education and Training.

African Corrosion Journal (online). Commenced in 2015 – a peer reviewed corrosion journal. This journal may be of interest to the "practical" chemists amongst the SACI membership.


African Journal of Pure and Applied Chemistry
Submit manuscripts: http://ms.academicjournals.me; Editorial office: ajpac@academicjournals.org
African Journal of Chemical Education
Enquiries and manuscripts should be addressed to the Editor-in-Chief: email eic@faschem.org, PO Box 2305, Addis Ababa, Ethiopia. AJCE, 2016, 6(1) ISSN 2227-5835 The online version appears in the FASC website (www.faschem.org) and in the AJOL website (www.ajol.info)
South African Journal of Chemical Engineering
A fully open access journal in 2016, all authors can publish their papers on an open access basis in the South African Journal of Chemical Engineering at the reduced rate of $400 (USD).
CAIA Newsletter
The latest issue of CAIA news is available. Go to: http://www.caia.co.za/news/chemnews/
or e-mail: caia@iafrica.com for pdf files of news and information.
RSC
RSC/PACN News
Dear colleague,

I wanted to get in touch and share some aspects of the Pan Africa Chemistry Network that might be of interest to you:


1. Archives for Africa:
This scheme gives Universities across Africa free of charge access to the entire RSC publishing archive from 1941-2007.
If your institution doesn't already have access, please ask your Library to register: http://www.rsc.org/Membership/Networking/PanAfrica/Archives.asp

2. RSC e-Book access
Researchers in Kenya, Nigeria, Ethiopia and Ghana have free access to the entire RSC e-Book catalogue. This can be accessed through the Archives for Africa registration above

3. Twitter
Please use #PanAfricaChem for any related tweets. Please follow @RoySocChem and @hvdriver

4. The Royal Society of Chemistry has some journals that are Open Access, so they are free to read to anyone, anywhere. Including:
Chemical Science (http://www.rsc.org/journals-books-databases/about-journals/chemical-science/)
Environmental Science: Water Research & Technology journal, http://pubs.rsc.org/en/journals/journalissues/ew#!recentarticles&adv
Chemistry Education Research and Practice magazine (http://www.rsc.org/journals-books-databases/about-journals/chemistry-education-research-practice/_

5. RSC Membership
If you are not already, you are very welcome to become a member of the Royal Society of Chemistry. The benefits can be found here: http://www.rsc.org/membership-and-community/join/#benefits. For example, the Virtual Library includes free access to many journals and e-books from different publishers; free online access to one RSC journal of your choice, plus 20 additional article downloads.
Reduced rates are available for scientists across Africa, 50% reduction.

Dr Helen Driver, Senior Programme Manager, Africa, RSC
Newton Funds
There is an opportunity for funding for UK-South Africa workshops as part of the British Council Researcher Links scheme: https://www.britishcouncil.org/education/science/current-opportunities/workshop-grants-newton-april-2016 For UK-based researchers who are 'early-career' (e.g. hold a PhD) to come to SA for 3 to 6 months.
Catalysis for Fuels: Faraday Discussion
The upcoming Catalysis for Fuels: Faraday Discussion will be held in Cape Town in January 2017. SACI members can receive a reduced rate to attend this event.

Please enter the code FDCATFUELS when prompted with the question 'Are you a member of an organisation which is supporting this event?'
Details: 24 - 26 January 2017, Cape Town.
http://www.rsc.org/events/?searchtext=faraday&eventtype=3&rsc=1&membernetworkoptions=116&pagetitle=178

Contact me if there any queries relating to the registration (Neil Coville)
SACI and SACI related Conference events
Frank Warren 2016 conference


http://www.rhodesfrankwarren2016.com/

SACI Gauteng Central Section Young Chemists Symposium

The Symposium is free and is open to all chemists, chemistry students and academics.

Abstract submission and well as RSVP to the event should be sent to Dr Caren Billing at Caren.Billing@wits.ac.za

There will be 12 oral presentations of 10 minutes each plus 5 minutes for questions. Presentation only by MSc and PhD student and there will be prizes for best oral in these categories .

Student presenting will be selected by an internal selection process from the various institutions, so there will be no call for abstracts. This will be communicated to the various institutions
11-14 Sept 2016, Riverside Sun, Vanderbijl Park. www.chromsaams2016.co.za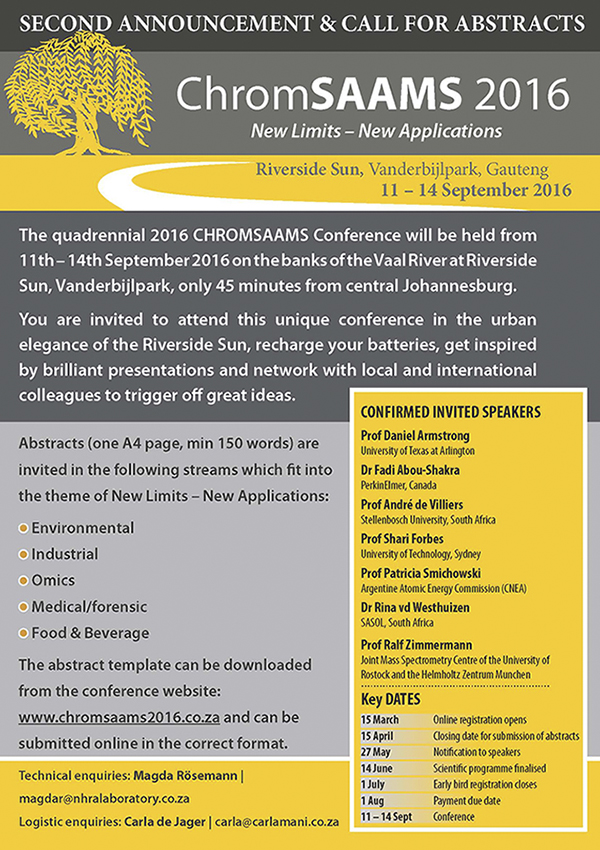 Others
39th Chemical Society of Nigeria (CSN) International Annual Conference, Exhibition, Workshop and Annual General Meeting (Garden City 2016) in Port Harcourt, Rivers State, Nigeria. "The Roles of Hydrocarbon and the Application of Chemistry in the Emerging Trend of Global Energy Innovations"
Ninth International Symposium on New Trends in Chemistry ''Analytical Chemistry for Better Life'', Cairo University, Egypt from 2-5 January, 2017. http://egsac.sci.cu.edu.eg
The Corrosion Institute of Southern Africa (CorrISA) biennial corrosion congress (AfriCORR) 25-29 July 2016 at the Midrand Conference Centre. corrosioninstitute.org.za website and africorr.org.za for more info.

SEANAC-2016 Conference, "Innovative & Sustainable Solutions for Water, Energy and Food Security". Venue: Chobe Marina Lodge, Kasane, Botswana, 19th - 22nd June 2016. Further announcements will be made on the website: www.seanac.org . E-mail: lmmualefe@bitri.co.bw and obusengv@mopipi.ub.bw
IUPAC 2017 - July 6-14, 2017, São Paulo, Brazil
28th IUPAP International Conference on Computational Physics (CCP2016) 10 to 14 July 2016 at St George's Hotel and Conference Centre in Irene, Gauteng, South Africa. http://events.saip.org.za/event/ccp2016
6th IUPAC Green Chemistry conference. 4th - 8th September, 2016 - Venice (Italy) Registration opens: December 1st, 2015 Early-bird registration deadline: May 30th, 2016 Online registration deadline: August 19th, 2016 www.greeniupac2016.eu
Test and Measurement International conference 2016 26th - 28th September 2016; Saint George Hotel and Convention Centre Rietvleidam, Centurion, Gauteng Tel: +27(0)12 349 1500 ; www.nla.org.za; Fax: +27(0)12 349 1501 • E-mail: steves@nla.org.za
The First International Conference on "SUSTAINABLE MATERIALS PROCESSING. Skukuza, Kruger National Park, South Africa | January 23-25, 2017. Email: tjen@uj.ac.za; Tel: +27 11 559-4208 Conference website: http://www.uj.ac.za/faculties/febe/Pages/SMPM-
Asia Pacific Congress on Catalysis – 7 (APCAT – 7) January 17 – 21st, 2017 Mumbai, India at Hotel Lalit, with the core theme "Catalysis for Sustainable, Development, Peace and Prosperity".www.apcat7.in



Upcoming Talks to the Public
Renewable Energy: Devices and the Materials that make them work.
Prof Dave Billing. SciBono Johannesburg, 28 July, 18h00 for 18h30

Abstract: An abundance of clean, renewable and affordable energy would alleviate many of the socio-economic and environmental challenges facing humanity. This is achievable through the use of various devices and technologies to capture, store and interconvert the energy from the renewable primary sources, such as solar, wind, geothermal and biomass. Effective implementation and future beneficiation of these resources depends on a range of electrochemical devices that includes solar cells, batteries, supercapacitors and fuel cells. The functioning and performance of these devices in turn are dependent on the properties of the materials from which they are made. In this presentation we will look at the construction and operating principles of some devices before considering the fascinating structure – property- function relationships inherent in the materials that are used in the construction of these devices. Ultimately many of the needed improvements in the performance of these devices are dependent on the discovery of novel materials with improved properties. A brief description of our research efforts in this regard will be provided.
The Circular Economy: from Waste to Wealth"
Prof Roger Sheldon Thursday August 4th 2016 (5 pm). SACI AGM, School of Chemistry, University of the Witwatersrand.
Workshops
Design and analysis of experiments; 3-6 August 2016
University of the Witwatersrand, Johannesburg; Please register online
at http://wits-enterprise.co.za/c/design-and-analysis-of-experiments
Dimple.Paima@wits.ac.za; Tel: +27 11 717 9025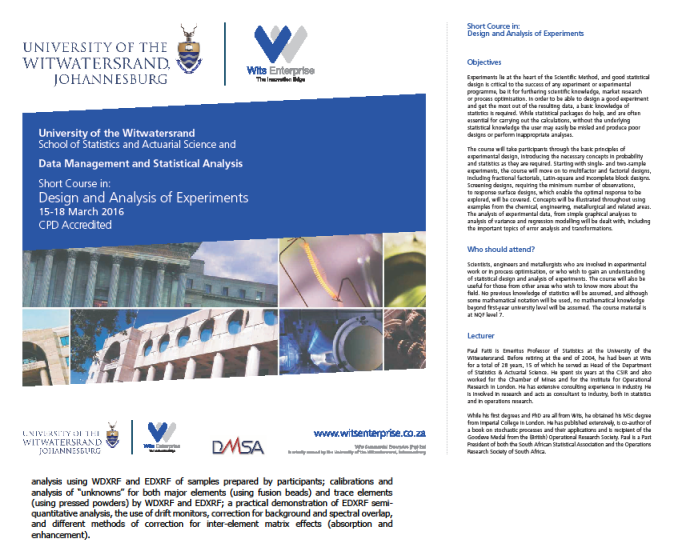 Wirsam Scientific and Precision (Equipment Pty) Ltd will be hosting another XRF Vendor Neutral Course in Johannesburg from 5 – 9 of September 2016. If you would like to attend the course, please send an e-mail message to Jenny Smith or Mariana Wirsam at Wirsam Scientific at email addresses: jenny@wirsam.com or mariana@wirsam.com


Download announcement and registration



Anton Paar Road Show - Advanced Mechanical Surface Testing. attending is free of charge. Each Workshop will run from 09h00 to 16h00 with Tea Breaks and Lunch included. CT- 11 July 2016, PE – 12 July 2016 , DBN – 13 July 2016 and JHB – 14 July 2016
Email: info.za@anton-paar.com Web: http://www.anton-paar.com/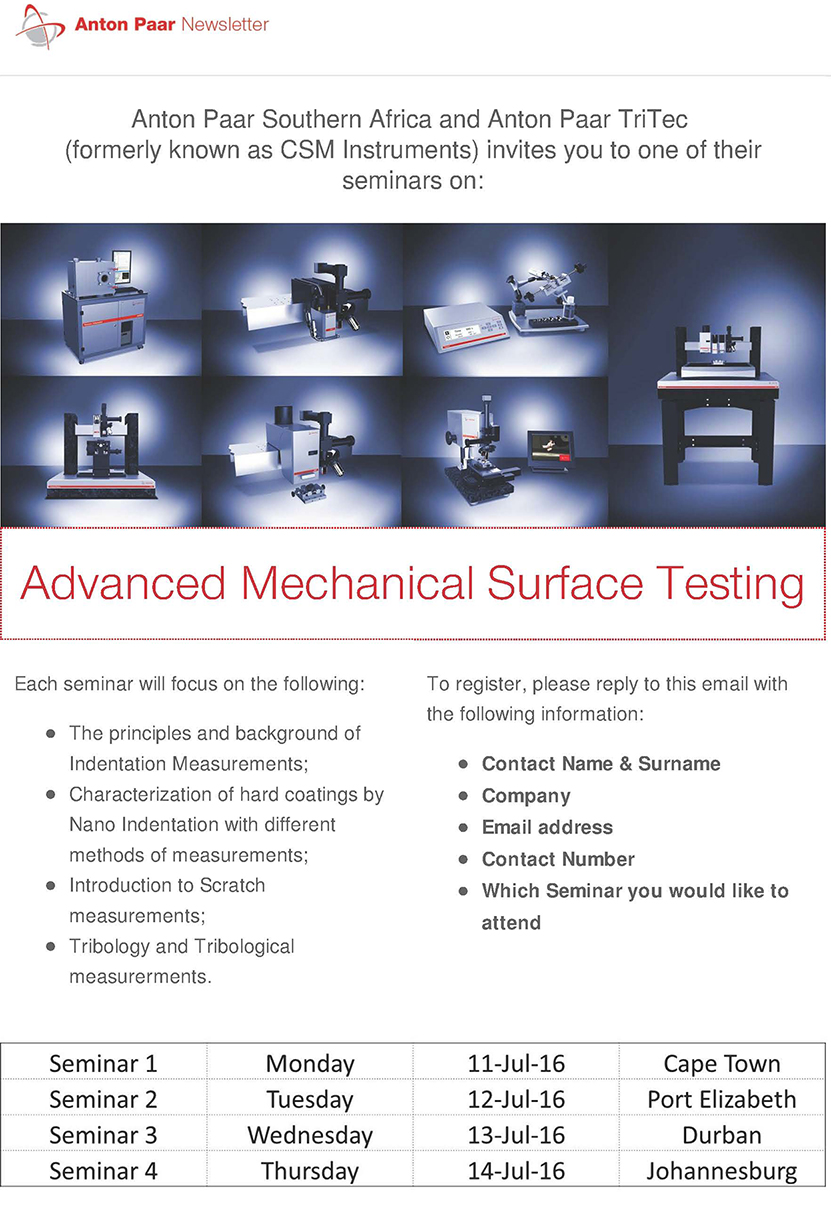 Positions available
Lecturer/Senior Lecturer, Organic and Medicinal Chemistry, Stellenbosch University

Senior Lecturer / Lecturer (Ref. NW02/211/0516)

The Department of Chemistry and Polymer Science is a research intensive department and currently has
over 120 postgraduate research students. The Department has excellent research facilities and equipment.
We are seeking a dynamic person who can contribute to the research activities of the Organic and
Medicinal Chemistry research grouping within the Department, as well as to the teaching of undergraduate
and postgraduate modules within the synthetic organic theme. The Organic and Medicinal Chemistry
research grouping consists of three researchers with interests spanning from stereoselective synthesis and catalysis, to medicinal chemistry projects involving antiprotozoals and cytotoxic compounds.

Duties:
 Undertaking and supervising research within, or complimentary to, any of the current Organic and
Medicinal Chemistry research within the Department;
 Teaching at undergraduate and postgraduate level (first year to Honours) in Organic Synthetic Chemistry;
 Assisting with departmental and faculty responsibilities and duties as needed.

Requirements:

Senior Lecturer:
 A PhD degree in Synthetic Organic Chemistry (Synthesis, Medicinal Chemistry, Natural Products
Chemistry, etc.);
 Post-doctoral or appropriate academic/industrial research experience;
 A coherent body of published research results as first or principal (corresponding) author in leading
international journals;
 Proven ability to secure research funding;
 Proof of successful postgraduate student supervision;
 Evidence of excellence in teaching;
 Excellent verbal and written skills in English or Afrikaans.

Lecturer:
 A PhD degree in Synthetic Organic Chemistry (Synthesis, Medicinal Chemistry, Natural Products
Chemistry etc.);
 Post-doctoral or appropriate academic/industrial research experience;
 Published research results in leading international journals;
 Demonstrated potential to develop an active research programme;
 Demonstrated potential to develop an innovative teaching programme;
 Excellent verbal and written skills in English or Afrikaans.

Recommendation:
 NRF rating.

Commencement of duties: 1 October 2016 or as soon as possible thereafter
Closing date: 15 July 2016

Enquiries regarding this post: Prof Peter Mallon on pemallon@sun.ac.za

Enquiries regarding remuneration/benefits as well as technical assistance with the electronic application process: Human Resources Client Services Centre on 021 808 2753

Research Assistant, Wildlife Pharmaceuticals

Post Doctoral position, Scientific Computing Research Unit, UCT