SACI News July - August 2018
This month we have news from the SACI AGM and, in particular, the announcement of the 2018 SACI Awards.  Congratulations to all the awardees for this wonderful achievement!  Keep up the good work and the face of chemistry on our country.  We also have a number of interesting reports where South African chemists are making a difference.  Also, another reminder of the forthcoming National Convention of the Institute to be held in December 2018 in Pretoria.  Make sure that you register and submit your abstracts soon as this promises to be a very exciting conference.

Bice Martincigh
Content
SACI office address and times

Advertising in the SACI newsletter

SACI Members – 26 to 30 years of membership

Congratulations to our SACI award winners!

Sections and Divisions News

Witsies bubble to the top at science exhibitions

Of interest – Chemistry Kits Ignite the Spark of Science

Sections and Divisions News

SACI AGM

Green Chemistry Division

North Section

RSC News

PACN News

NSTF News

IUPAC

Department of Trade and Industry Industrial Policy Action Plan

CAIA Newsletter

South African Journal of Chemistry

African Journals of Chemistry

Invitation to submit manuscript to Special Issue

SACI and SACI-related conference events

43rd National Convention of the South African Chemical Institute

5th International Symposium on Electrochemistry

Other Conferences

Equipment

Vacancies
SACI office address and times
The SACI office, run by Laila Smith is located on the 1st Floor of Gate House, room 124. The telephone number is 011 717 6705 and e-mail address is: saci.chem@wits.ac.za. The cell number is 061 282 3477.

Office hours are from 8.30 am till 1.00 pm. She can be contacted at any time during her office hours.
Advertising in the SACI newsletter
The newsletter provides a means of getting messages to our membership. Currently the SACI membership stands at over 1000. This newsletter thus provides a means of advertising employment opportunities, conferences and workshops, and even for companies/Universities to promote themselves. We encourage members to use the Newsletter for advertising purposes. All SACI related conferences and events are advertised for free; if not a SACI related event there could be a small charge. For advertising costs contact Laila at the SACI office.
SACI members – 26 to 30 years of membership
Each month we would like to honour our loyal members of the Institute.  This month we would like to feature our members who joined the Institute between 26 and 30 years ago.  Their names are displayed below.  We wish to thank all our members for their contributions to the livelihood of SACI.  Without you, our Institute could not exist.
| | |
| --- | --- |
| Allner, Mnr AM                           | Naidoo, Mr P                             |
| Bode, Dr ML                              | Nel, Mr PG                               |
| Cukrowski, Prof I                        | Oosthuysen, Dr STR                       |
| de Villiers, Dr JWL                      | Osborne, Mr JD                           |
| Elsenbroek, Mnr JH                       | Rossouw, Mej MH                          |
| Fraser, Dr LA                            | Sealy-Fisher, Mrs V                      |
| Freese, Mrs SD                           | Shaikjee, Mr MS                          |
| Gelebe, Mr AC                            | Smith, Mrs J                             |
| Graham, Miss SM                          | Talbot, Dr MMJ                           |
| Gray, Mnr IA                             | Tribelhorn, Dr MJ                        |
| Hosten, Dr EC                            | Van der Lingen, Dr E                     |
| Kruger, Dr L                             | van Sittert, Dr GCE                      |
| Kruger, Prof GJ                          | van Straten, Mr FM                       |
| Louw, Mev I                              | van Tonder, Mrs CG                       |
| Mabusela, Dr WT                          | Visser, Mnr FDH                          |
| Marques, Prof HM                         | Vosloo, Mnr HCM                          |
| | Vuorinen, Dr EK                          |
Congratulations to our SACI Award Winners
We wish to congratulate all the winners of the 2018 SACI Awards.  This is a wonderful achievement!
The 2018 winners are:

THE GOLD MEDAL  -  Professor Kelly Chibale, University of Cape Town

THE MERCK MEDAL  –  Professor Patrick Ndungu, as the senior author for the publication:  S. Afr. J. Chem., 2015, 68, 153-164, entitled: "Multiwalled Carbon Nanotube-Titania Nanocomposites: Understanding Nano-Structural Parameters and Functionality in Dye-sensitized Solar Cells" and authored by Mombeshora, Edwin T.; Simoyi, Reuben; Nyamori, Vincent O.; Ndungu, Patrick G.*

THE CHEMICAL EDUCATION MEDAL  -  Dr Kgadi Mathabathe, University of Pretoria

THE SACI POST-GRADUATE AWARDS  -  Edwin Mombeshora – University of KwaZulu-Natal
Somandla Ncube – University of the Witwatersrand
Shakeela Sayed – University of Cape Town
Alet van der Westhuyzen – Stellenbosch University
THE JAMES MOIR MEDALS:
| | |
| --- | --- |
| SL Bewana | University of Johannesurg, Auckland Park |
| L Parrott | University of the Free State |
| S Jama | University of Fort Hare |
| Z Nqakala | University of the Western Cape |
| T Sithuba | University of Venda |
| A Welsh | University of Cape Town |
| JJ Moser | Cape Peninsula University of Technology |
| jl Slabbert | Nelson Mandela University |
| F Jagot | University of the Witwatersrand |
| AL Henning | North-West University |
| VL Porter | University of Pretoria |
| U Ndagano | Rhodes University |
| T Naidoo | University of KwaZulu-Natal |
Witsies bubble to the top at science exhibition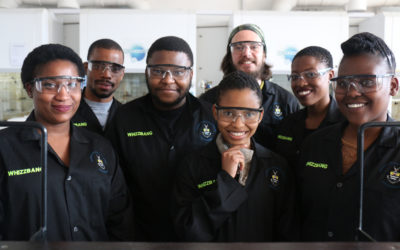 TWENTY-FIVE Wits postgraduate students who attended the Sasol Techno X career exhibition on August 13 – 17 in Sasolburg, Free State won "Best University" for having the most exciting and informative exhibits, and beat 10 other tertiary institutions in the process.
The group, which consisted of students from the schools of engineering, digital arts, chemistry and physics attended the exhibition organised to encourage learners from around the country to join the fields of science, technology, engineering and mathematics (STEM).
The School of Chemistry's WhizzBang group presented seven experiments but, according to masters in chemistry student, Nikiwe Khoza, the outright favourites among the learners were Dragon's breath and Elephant's toothpaste.
Dragon's breath is done by dipping a ball of cotton wool in acid that would disappear when enflamed. Elephant's toothpaste showed the learners the reaction of dishwashing liquid when the reaction was accelerated with potassium iodide.
"The learners enjoyed seeing experiments that were part of their syllabus. Their excitement really kept us going," Khoza said.
"After interacting with some of the experiments, I heard one of the learners say, "I'm a scientist!", with such conviction. It really made me feel good about inspiring a kid to be interested in science," she added.
School liaison officer, Sershin Naicker, was the project manager of Wits at the exhibition. He told Wits Vuvuzelathat the aim of Wits' attendance was to get learners excited about STEM by making the exhibition interactive.
"The exhibition was extremely successful," Naicker said. "The students were very enthusiastic and described and explained multiple experiments to the learners. The idea is to encourage the youth of this country to join STEM and remove the boring perception of science.
"We also want to promote Wits as one of the leading institutions to study STEM in Africa," the 34 year-old added.
According to Sasol Techno X, the exhibition has become the largest STEM career guidance exhibition in the country and attracts 20 000 visitors from seven provinces. The exhibition is focused on promoting STEM to learners in grades 7-12 to encourage them to engage with a real world application of STEM in a way that creates interest and captures the imagination.
This was Wits' second consecutive win at the exhibition. Naicker told Wits Vuvuzela that while the aim was to make STEM exciting for the kids, Wits winning the "Best university" category was an added bonus. "It's nice friendly banter," he said.
FEATURED IMAGE: Members from Whizzbang performed 'magic' at Sasol Techno X. Photo: Onke Ngcuka
Article reprinted from Wits Vuvuzela
Of interest – Chemistry Kits Ignite the Spark of Science
Chemistry kits can help teachers ignite the spark of science
Sections and Divisions news
| | | |
| --- | --- | --- |
| Name of Member | Date joined the Institute | Years of membership |
| Prof S Lotz | 1974/01/21 | 44 |
| Mrs EU Anderson | 1978/03/25 | 40 |
| Prof ELJ Breet | 1970/10/19 | 48 |
| Mr GWP de Mattos | 1981/01/21 | 37 |
Collectively, they have served the Institute for over 169 years!!  That is a phenomenal achievement and we wish to congratulate them and thank them profusely for their loyalty and dedication to the Institute!
The new Fellows of the Institute were also presented.  These are:
| | |
| --- | --- |
| | |
| Prof Peter Loyson | Prof Bice Martincigh |
We also congratulate them on this wonderful achievement.

The financial statements of the past year were presented by the Treasurer, Dr Ian Bratt, and we are pleased that SACI is on a sound financial footing.

The AGM concluded with a very stimulating talk presented by Professor Helder Marques entitled: "Some Challenges Facing Chemistry".  He endeavoured to show that Chemistry remains an exciting discipline, full of challenges for the younger generation.  While the older generation understand (and love) the discipline, it does not always resonate with what should be the next generation of research chemists.  He pointed out the many international opportunities (especially Horizon 2020 from the EU and the Eight Great Technologies from the UK) to counter the perception that – given the woes of the NRF – South African chemists are going to find it tough to get funding for their work.
Among what Professor Marques perceives to be the Grand Challenges are:
Understanding how epigenetic factors control gene expression;

How microbiotica in the gut, the skin, and the respiratory tract communicate with and regulate each other to form microbiotica, essential for human health;

New drug therapies to fight diseases facing the third world that are unlikely to attract much attention from big pharma: HIV, Malaria, TB, Ebola;

The challenges facing computational chemistry and the need to develop new methodologies that tackle longer time scales so we can get to properly understand, for example, protein folding and the interaction of nascent proteins with their chaperones;

The Grand Challenges facing materials science: energy storage and transport; electric vehicles; renewable energy;

New materials, including metallomesogens and single molecule magnets; and

Theranostics: combining diagnostics and therapeutic agents in a single, unified imaging and delivery system.
He ended off the talk by referring to Behanu Abegaz's 2016 Nature Chemistry paper in which he nicely delineates the challenges and opportunities for chemistry in Africa.  Professor Marques urged the younger members of the audience to carry the message to their friends and colleagues that opportunities abound – and especially for those with an entrepreneurial bent – and that if we as a civilization have problems, then for sure Chemistry has at least some of the solutions!
"In an effort to increase the visibility of the Green Chemistry that is already taking place in South Africa and at the same time highlighting possible opportunities for more people to "green" their research."

The Green Chemistry Division would like to invite nominations for the best green chemistry paper by a South African chemist/group. The prize will be a sponsored talk at the SACI National Convention in 2018. Nominations should be sent to Rosa Klein (r.klein@ru.ac.za).

Contributor: Rosa Klein
The 43rd Convention of the South African Chemical Society is upon us and we are looking forward to an exciting event.  The 2018 SACI website is live and registration is now open for the "Early bird" movers http://www.saci.co.za/SACI2018/registration.html.  The Conference is set to offer multiple platforms for chemists to exchange ideas through more than ninety oral presentations and to socialise through the activities that caters for both laidback and adrenaline enthusiasts.  The 2018 SACI LOC is privileged to host the 2016 Nobel Laureate, Professor Sir F Stoddart, many eminent international and local speakers including multiple award winner Prof Kelly Chibale.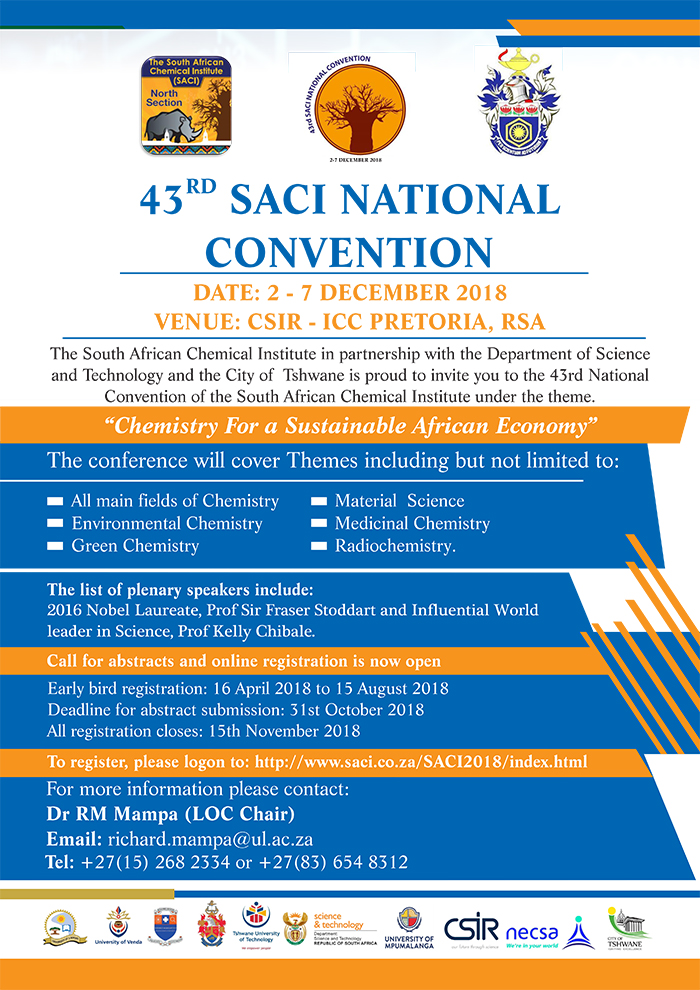 Please watch the website for more exciting news as we approach the conference date. Even better, there will be opportunities for our young chemists to win prizes in the student categories of "Best Oral and Best Poster Presentations". Please join us in numbers to experience the beautiful summer season in the Capital City of the country.
Looking forward to sharing the moment with you:  http://www.saci.co.za/SACI2018/index.html
Dr RM Mampa (Conference Chair)
RSC News
Research Writing in the Sciences' online AuthorAID course starts 4th September
After the successes of previous online courses from AuthorAID, they are delighted to announce that enrolment is open on the latest online course 'Research Writing in the Sciences'.
OPEN TO ALL. This is a great opportunity to enhance your research writing - a crucial skill for any scientist.
Main topics covered in the course:
Core topics (weeks 1 to 5) - Literature review, publication ethics, making a targeting the right journals, writing and publishing a research paper.

Optional topics: (weeks 6 to 8) Writing a grant proposal and Communicating Research Outside Academia (learners can choose either subject or both)
Course dates: 4th September to 29th October 2018
Course leaders: Andy Nobes and Ravi Murugesan of INASP, along with a team of experienced guest facilitators from the AuthorAID network.
https://www.authoraid.info/en/news/details/1316/
They are also looking for senior researchers who are able to support the delegates by being 'guest facilitators'.  It would be great if we could get some of the FASC community to be facilitators.
Our website can be used to advertise events from across the world – not just those organised by the Royal Society of Chemistry, www.rsc.org/events/africa.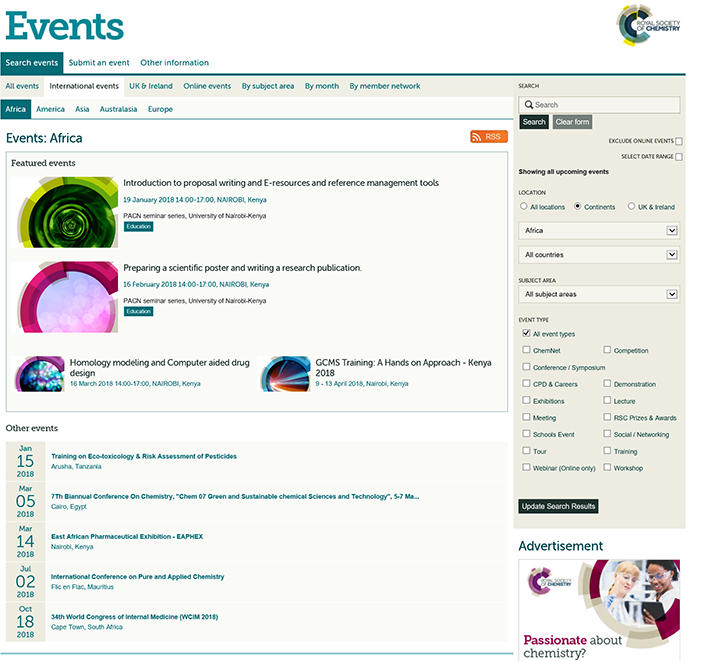 So, if you need a simple website for your event, or want to reach a wider audience, then please submit your event to our website.  Simply click on this link and follow the instructions: www.rsc.org/events/submitevent
Applications now open, closing date 24th September
Apply to the Royal Society of Chemistry's Research Fund for grants of up to £4,000 to purchase chemicals and/or equipment for your research project.
The Research Fund enables research with high scientific or societal impact that can not be funded through mainstream sources of funding. We have identified as priority groups those working in less well funded institutes, those in developing countries and early career researchers.
The Fund is available to our members at Universities, colleges or research institutes conducting their own research.
http://www.rsc.org/ScienceAndTechnology/Funding/research-fund/
If you're working in analytical science in part of the developing world, this scholarship (run by our Analytical Division) is an opportunity to visit the UK or Ireland to acquire new skills or knowledge that would have a practical impact on your country. Unless already a member, scholars should apply for membership of the Royal Society of Chemistry and its Analytical Division within one month of the commencement of the scholarship.
The emphasis would be very much on achieving a practical and beneficial impact in their Home Country, rather than on purely academic research.
http://www.rsc.org/Membership/Networking/InterestGroups/Analytical/developingworldscholarships.asp
 Applications now open, closing date 25th September
Awards are available to support collaboration in the chemical sciences between the UK and Sub-Saharan Africa (excluding South Africa). Up to £12,000 is available for each 2 year award and up to £2,000 of this can be used to fund research costs. This scheme is open to members and non-members of the Royal Society of Chemistry. Applications must be made through the International Exchanges Standard Programme from the Royal Society.
https://royalsociety.org/grants-schemes-awards/grants/international-exchanges/
Case study: Addis Ababa University and Nottingham University working together on environmentally sustainable biopolymers.
http://www.rsc.org/news-events/articles/2018/jan/international-exchange/
Full details here: http://www.rsc.li/pacn2018
Register your interest here to be informed when registration opens later in the year: rsc.li/africanews
PACN News
We have recently launched a new mailing list and, if you have not already done so, you need to take some action to ensure that you still receive updates from the Royal Society of Chemistry and PACN in the future:
Please share this information across your networks, and through your societies. We welcome all to the PACN and we want to share our opportunities for training, funding and events with a wide community across Africa and globally. Help us to reach those who could benefit from our work.
Dr Helen Driver (nee Bailey) MRSC, Senior Programme Manager, Africa
driverh@rsc.org ; www.rsc.org/pacn; rsc.li/africanews
Managing resources through Chemistry: Wealth not waste

Each of these topics may also include: appropriate monitoring - Analytical chemistry, engagement to help ensure resources are managed effectively; regulatory issues; socioeconomic issues: and work to define or understand 'The African context'.
For more details and to submit your abstract: https://rsc.li/pacn2018; Contact: driverh@rsc.org
Helen Driver
NSTF News
For the latest news see:  http://www.nstf.org.za/news-category/nstf-news/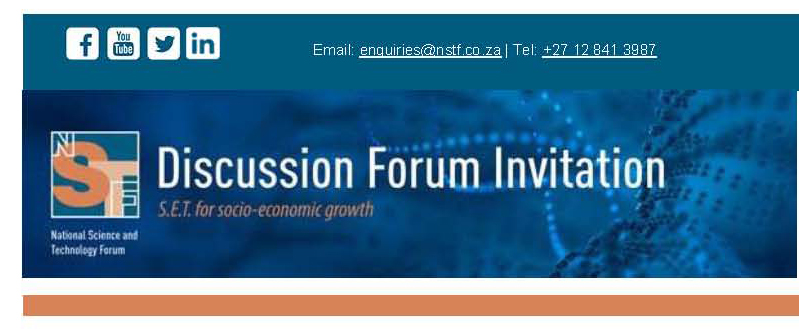 What does the 4th Industrial Revolution mean for science, engineering and technology?
11-13 September 2018, Cape Town Stadium
#4IRsciZA
The National Science and Technology Forum (NSTF) is hosting a Discussion Forum on 'The 4th Industrial Revolution (4IR) and science, engineering and technology (SET), industry, society, and education'. The event will be held from 11-13 September 2018 in partnership with the South African Innovation Summit (NSTF member). It is full day on 11 September and in the afternoons of 12 and 13 September.

NEW Continuous Professional Development (CPD) points: CPD points will be awarded to attendees who are members of SACNASP (South African Council for Natural Scientific Professions). One point for attending the whole day on 11 September, and half a point each for the afternoons of 12 and 13 September.

NEW Cocktail event with the South African National Convention Bureau (SANCB), SA Tourism: The event is on 11 September 2018 at 16:30. Beyond networking, find out more about assistance and funding available from SANCB.

NEW NSTF will be exhibiting: Come and visit! We will be at stand 01- 01, Level 1.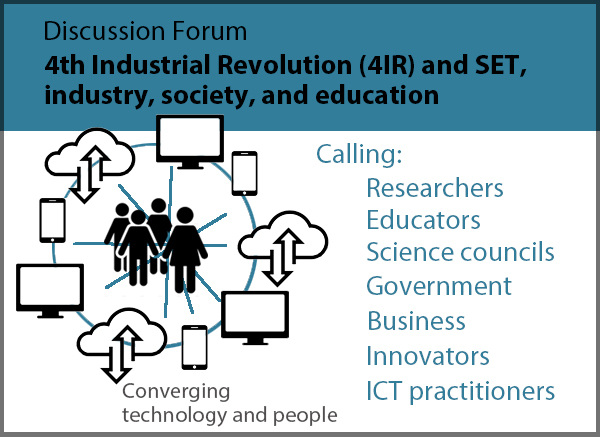 Join the conversation about our future.

Click here to RSVP

Fundamental changes are anticipated for everything – such as industries, economies, jobs, transport, skills, and education. These include job losses, new legislation, and changes to education and training.


Envisaged outcomes:

Collating recommendations for government, which will be publicised and sent to the relevant authorities

Identifying issues for further discussion and possible follow-up actions

Ensure that the SET community has a voice – be part of the discussion.
Increase the impact and let your colleagues in Cape Town
know about this event.


Special NSTF discounts for the SA Innovation Summit: To get 30% discount to the
SA Innovation Summit (SAIS), register for the SAIS with the unique NSTF promo code:
2018NSTF. All SAIS delegates with tickets attend the NSTF 4IR Discussion Forum
free of charge.

Registrations for the NSTF 4IR Discussion Forum only: If you want to register for the NSTF 4IR Discussion Forum but not participate in the SA Innovation Summit:

NSTF members have free access to the NSTF 4IR Discussion Forum, even if not registered for the SA Innovation Summit.

Non-members pay R2000 registration fee excl VAT. (All SAIS delegates with tickets attend the NSTF 4IR Discussion Forum free.)

This event is free for media, the diplomatic corps, and government (all government is already an NSTF member).

Delegate registration information

Dates & times:
Day 1: Tuesday 11 September (08:30 for 09:00-17:00) – full day with lunch
Day 2: Wednesday 12 September (13:30 for 14:00-17:00) – half day, lunch not
included
Day 3: Thursday 13 September (13:30 for 14:00-17:00) – half day, lunch not
included

Venue: Cape Town Stadium, main entrance, level 2, Fritz Sonnenberg Rd,
Green Point, Cape Town, Western Cape

Programme: Day 1, Day 2 & Day 3

RSVP: RSVP online your participation in the different events by Thursday 6
September 2018. Terms and conditions apply.

Parking: Opposite the stadium (walk over and enter through the main entrance)

Join us for lunch on the first day. Please use the opportunity for further discussion and
networking.


Registration information***

Non-Member Organisations of the NSTF: Attendance is open for anyone interested but as explained above and on the registration form (all fees are excluding VAT). The registration fee where applicable includes attendance, documentation relating to the event, conference stationery, refreshments and lunch on Day 1 only.


Please note that if you do not RSVP, the NSTF cannot be held responsible for any unforeseen changes or cancellations of programmes. Communications are sent only via e-mail or through notifications on the NSTF website.

***Non-members of the NSTF – Please note, your registration fee for this Discussion Forum contributes directly to the non-profit mission of the NSTF, as a collaborative consultative forum and watchdog for influencing the formulation and delivery of science, engineering, technology (SET) and innovation public policy in South Africa. Furthermore, the NSTF:

·Provides information

·Promotes SET and innovation

·Hosts platforms for networking and debate on current SET issues

Engages with government on SET-related policy
IUPAC
In celebration of the 100th anniversary of IUPAC and the International Year of the Periodic Table, a Periodic Table of Younger Chemists has been released to honour 118 outstanding younger chemists from around the world who in embody the mission and core values of IUPAC (https://iupac.org/100/pt-of-chemist/). Sadhna Mathura has been named as one of the first of the 118 (Click on cobalt "Co" element 27 to see).

Sadhna Mathura
Lecturer and Academic Coordinator, University of the Witwatersrand, South Africa

Co - Cobalt
Dr Sadhna Mathura is nominated for her dedication to multi-disciplinary scientific approaches, and for her teaching passion.
Sadhna obtained her Doctorate in Bioinorganic Chemistry from the University of the Witwatersrand (Wits) for her significant contribution to the understanding of vitamin B12 and cobalt chemistry. Her work was recognised through several Doctoral scholarships and three publications. She provided quality Chemistry training to three postgrad students, and well over a 100 undergraduate students, many of whom have gone on to further their Chemistry career.

Her Masters (cum laude) was awarded for her innovation in Genetics and Forestry; she used her Chemistry knowledge to develop diagnostics for identifying invasive black wattle species. Her multi-disciplinary mind-set equipped her to find relationships between chlorophyll content in leaves, and their chromosomal content. She obtained 4 publications here.

Her Structural Biochemistry postdoc used Physical Chemistry to investigate the mechanism of detoxification protein hGSTP1-1. This work contributes to the larger body of research on anticancer drug resistance. Her findings were presented at the 30th Annual Protein Society Symposium in Maryland, USA.

Currently, Sadhna is a sessional Lecturer at Wits University and is developing a project that relies on her knowledge of Chemistry, Biochemistry and Genetics. She aims to investigate Bilirubin Chemistry as it pertains to neonatal jaundice. Neonatal jaundice affects over 60% of all newborns and there is a need for better diagnostic technology.

It is in these ways that she supports the IUPAC Core Values and the Sustainable Development vision.
20 July 2018
Dear IUPAC National Adhering Organizations,
On behalf of Marie-Francoise Roy (IMU) and Mei-Hung Chiu (IUPAC), you are invited to participate in the 2018 Global Survey of Mathematical, Computing, and Natural Scientists.
You will find the survey at http://statisticalresearchcenter.org/global18
The survey is available in seven languages (English, French, Russian, Spanish, Arabic, Chinese, and Japanese). Simply choose your language on the first page of the survey.
The update info can be found at https://gender-gap-in-science.org/2018/07/13/news-from-the-global-survey-of-scientists/ ​
The survey is part of an interdisciplinary collaboration of eleven partners, supported by the International Council for Science (ICSU), which aims to better understand the problems mathematical, computing, and natural science academics and practitioners are facing around the world. The partners are:

1. International Mathematical Union (IMU) 2. International Union of Pure and Applied Chemistry (IUPAC) 3. International Union for Pure and Applied Physics (IUPAP) 4. International Council for Industrial and Applied Mathematics (ICIAM) 5. International Astronomical Union (IAU) 6. United National Educational, Scientific and Cultural Organization (UNESCO) 7. International Union of Biological Sciences (IUBS) 8. Gender in Science, Innovation, Technology and Engineering (GenderInSITE) 9. International Union of History and Philosophy of Science and Technology (IUHPST) 10. Organization for Women in Science for the Developing World (OWSD) 11. Association for Computing Machinery (ACM)
One of the specific tasks for the project is to collect data across the world to inform policy makers from all countries, especially developing countries, about reducing the gap between men and women in mathematical, computing, and natural sciences.
The data are being collected by the non-profit Statistical Research Center of the American Institute of Physics. Responses to this survey are voluntary, and your individual information will be held in strict confidence. We are aiming for thousands of respondents from every corner of the world!
We will also need your help to find more respondents (men and women), to answer this survey. Please forward this e-mail to send it to anyone (both men and women) who has studied or worked in mathematics, computing, natural sciences, or the history and philosophy of science and technology. It is only by hearing from as many people as possible that we can understand the worldwide situation for people in these fields.
Thank you for your help with this important effort.
Sincerely,
Marie-Francoise Roy (IMU) and Mei-Hung Chiu (IUPAC) Coordinators of the Gender Gap in Science project
Dear Chemists from all over the world, dear Friends from Academia and Industry,
On behalf of the Academy of Sciences and of its National Committee for Chemistry, the French National Adhering Organization to IUPAC, gathering the main academic and research institutions, learned societies and industrial organizations relevant to Chemistry, we are very pleased and honoured to invite you to participate and contribute to the IUPAC 47th World Chemistry Congress to be held at the Palais des Congrès, Paris, July 7-12, 2019.
This IUPAC-2019 Congress and the joint 50th General Assembly will present an exceptional character as both will celebrate the Centenary of the Union. Special events will be organized all week long, encompassing a Celebration plenary session organized together with the IUPAC100 Committee, a celebratory evening organized by the Young Scientists at the Maison de la Chimie, the Celebration gala dinner, and an official Ceremony organized at the Sorbonne in presence of the French authorities, IUPAC Council, NAOs diplomatic delegations and prestigious scientists and guests [...]
Clément Sanchez
Professor at Collège de France
Chair of IUPAC-2019 WCC
and Centenary Events
2019 has been declared as the International Year of the Periodic Table.  This is also the time when IUPAC is turning 100!
As part of the celebration of IUPAC100, IUPAC and the International Younger Chemists Network (IYCN) announces the creation of a 'Periodic Table of Younger Chemists'.
Beginning in July 2018 and ending in July 2019 at the World Chemistry Congress and IUPAC General Assembly, we will honor a diverse group of 118 outstanding younger chemists from around the world who embody the mission and core values of IUPAC . The resulting periodic table will highlight the diversity of careers, creativity, and dedication of the young chemists leading us into the next century. See details here: http://iupac.org/100/pt-of-chemist/ .
Winners will be profiled on the IUPAC100 website and will receive a certificate from IUPAC. Elements of the Periodic Table of Younger Chemists will be revealed over time in order of scientific discovery ( see Wikipedia ). Approximately eight elements will be revealed each month beginning in July 2018 with the final elements being awarded at the IUPAC General Assembly and World Chemistry Congress in Paris , France in July, 2019.
Nominations are now being accepted. The deadline for nominations for the first 8 elements Copper, Lead, Gold, Silver, Iron, Carbon, Tin and Sulfur is 11 June 2018 at 5:00 EDT (UTC 21:00). Nominations received but not selected for the first group of elements will carry over for consideration for other elements. For criteria and to submit your nomination follow the link below:
http://iupac.org/100/pt-of-chemist/
For more activities associated with IUPAC100 and the Periodic Table see http://iupac.org/100/ http://iupac.org/cms/wp-content/uploads/2017/12/IYPT-Prospectus_20171209.pdf Watch the Video to find out more about IUPAC100 from our Younger Chemists!:
* Nominate a Younger Chemist!
* Check out IUPAC 100 Activities!
* Pass this along and keep watching for further news
Video by 2017 IUPAC-Solvay Award Winner and IUPAC100 Member, Dr. Scarabelli. See more videos on IUPAC YouTube Channel!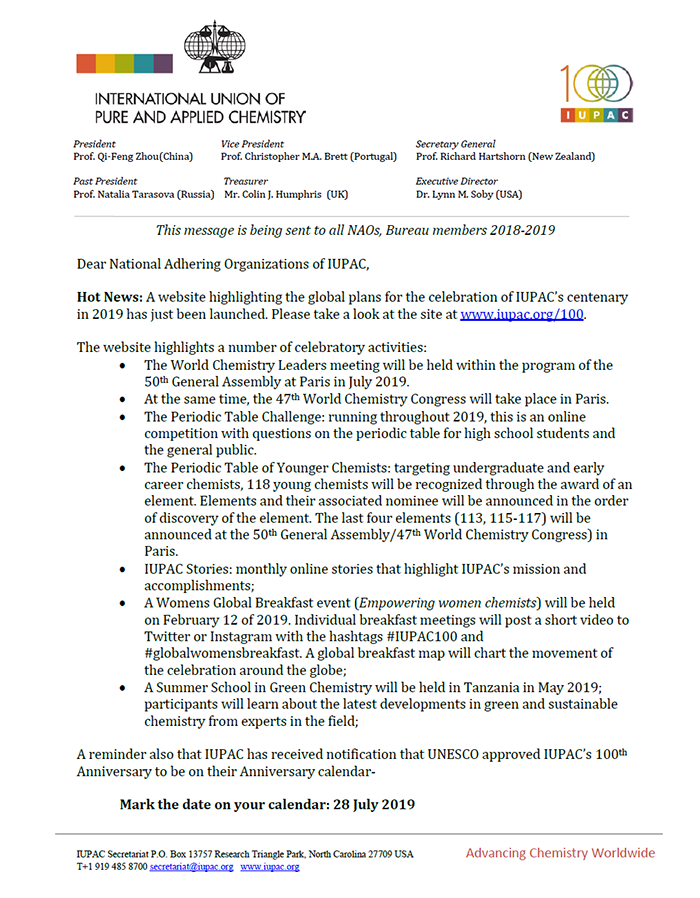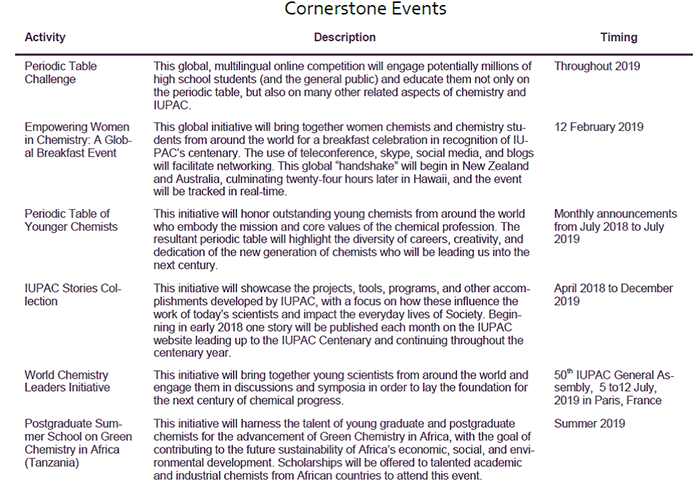 During the 49th IUPAC General Assembly held in Sao Paulo, Brazil in 2017, it was officially announced that the 2019 IUPAC Summer Schools on Green Chemistry will be held in Tanzania.  This is the first time this event is being held in Africa managed by the IUPAC Interdivisional Committee on Green Chemistry for Sustainable Development (ICGCSD).

The 2019 summer school is further special in being held during the 100th Anniversary of IUPAC.  As local organizers (University of Dar es Salaam,Tanzania Bureau of Standards,Tanzania Chemical Society, etc.) we have planned the event to be held in Dar es Salaam from 12th to 19th May 2019.  The event will provide the participants (mainly post graduate students) with an understanding of the latest developments of the concepts and management of green and sustainable chemistry.

We, therefore,would like this event to have an all African face and would like to invite you and your institution to be part of the event in planning, organization and participation.  You can circulate this information to other peers, organizations and institutions in the continent so that they also may join us in making this summer school a success.

The topics for the summer school will be, but not limited to:
1. Exploitation of Natural Resources
2. Green Methodologies
3. Green Analysis
4. Green Synthesis of Nanoparticles
5. Other green chemistry topics are welcome!

More information will be posted on a website which will be launched soon.
Department of Trade and Industry Industrial Policy Action Plan
The Department of Trade and Industry has published the latest version of the Industrial Policy Action Plan (IPAP). The chemical sector is represented from pages 76 to 77 and 151 to 155.
CAIA Newsletter
The latest issue of CAIA news is available. Go to: http://www.caia.co.za/news/chemnews/
or e-mail: caia@iafrica.com for pdf files of news and information.
Responsible Care Award
South African Journal of Chemistry
The South Journal of Chemistry is turning 100 years. As part of the 100th celebration of the journal, we are inviting special reviews that can be published later this year.  Interested authors can get in touch with the chief editors Prof Luke Chimuka and Prof Tricia Naicker on the journal website, https://www.sabinet.co.za/sajchem/.  Already a special issue from electrochemistry division from their 2018 symposium is planned.  The analytical division is also planning a special paper on the status of analytical chemistry in South Africa.  More review papers are still needed in various areas of chemistry.  Journal submission details can be found at http://saci.co.za/journal.

Details of the journal and the editors can be seen at http://www.journals.co.za/sajchem/.

All manuscripts since 1918 are electronically available online at
http://journals.co.za/content/journal/chem/browse?page=previous-issues

There will be one special (additional) issue this year on "South African Marine Natural Products" under the leadership of Dr Denzil Beukus.  This will be announced on the journal website in due course.

This Journal is published electronically.  The webpage is: http://www.saci.co.za/.  The South African Journal of Chemistry, published by the South African Chemical Institute, has been publishing high quality papers, in all fields of Chemistry for 100 years.  The Journal went fully electronic in 2000 and is freely available through open access online (http://reference.sabinet.co.za/sa_epublication/chem).  It is a CAS-abstracted publication and is listed in Current Web Contents.  It is also part of the Scielo group.  It has retained its status as an accredited publication with the South African Department of Higher Education and Training.

We encourage South African chemists to publish in the journal especially in this centenary year!
African Journals of Chemistry
African Corrosion Journal (online). Commenced in 2015 – a peer reviewed corrosion journal. This journal may be of interest to the "practical" chemists amongst the SACI membership. https://view.publitas.com/icp-1/african-corrosion-journal

African Journal of Chemical Education
Enquiries and manuscripts should be addressed to the Editor-in-Chief: email eic@faschem.org, PO Box 2305, Addis Ababa, Ethiopia. AJCE, 2016, 6(1) ISSN 2227-5835 The online version appears in the FASC website (www.faschem.org) and in the AJOL website (www.ajol.info)

Hacked website
After several attempts, my UNESCO colleague (Henok Workye) redesigned our hacked website and uploaded the issues of the Journal. I am grateful to him! You can access the journals at
http://faschem.org/index.html
It is also available at the AJOL site https://www.ajol.info/index.php/ajce
Temechegn Engida
EDITORIAL CHEMISTRY FOR SUSTAINABLE PEACE DEVELOPMENT
According to Rummel [1], peace has always been among humanity's highest values--for some, supreme. Peace is defined as equilibrium within social field. Peace can therefore, be seen as absence of dissension, violent conflict or war. It is the occurrence of harmony which is characterized by lack of violence and other conflict behaviors and includes freedom from fear of violence. Peace is not mere absence of war but includes social balance that ensures the absence of real or imagined causes of conflict from a human grouping. Peace is a perquisite for real development. Chemistry has been mostly linked to the development of weapons that are anti-peace and anti-humanities. In this regard, RSC [2] states that Chemistry has been central to warfare ever since the first arrow head was forged and never more so following the industrialization of war in the twentieth century with the improvement of explosives and the development of chemical weapons. UNESCO [3] states that "since wars begin in the minds of men, it is in the minds of men that the defenses of peace must be constructed". Education in general and science education in particular, thus, have a strong place in realizing this vision. It is therefore vital to look at how Chemistry instills peace in the minds of men and women who study (get acquainted with) Chemistry formally (and informally). AJCE thus Calls for Papers under the theme of Chemistry and Peace Development. If sufficient manuscripts are submitted until end of October 2018, they will be published as a Special Issue of AJCE in 2018. In the absence of sufficient manuscripts, then the available ones will appear in the January 2019 issue.

REFERENCES
1. Rummel, R. J. Understanding Conflict and War: Volume 5: The Just Peace. Retrieved from https://www.hawaii.edu/powerkills/TJP.CHAP2.HTM on 8 August 2018.
2. RSC (2014). War and Peace - Chemistry's contribution. Retrieved from ttps://www.youtube.com/watch?v=HWzxT21z__w on 8 August 2018.
3. UNESCO (1945). UNESCO's Constitution. Retrieved from http://www.unesco.org/education/pdf/UNESCO_E.PDF on 8 August 2018.
Dr. Temechegn Engida
Program Officer, ICT and STEM Education, UNESCO-IICBA
Editor-in-Chief, African Journal of Chemical Education (AJCE)
e-mail: temechegne@faschem.org, t.engida@unesco.org
A PDF version of the first issue of volume 8 AJCE 2018 is available. The online version is available at the FASC website: http://www.faschem.org/sites/default/files/u1/AJCE_2018_January2.pdf
You will find the individual articles in the AJOL website (www.ajol.net.)
The Table of Contents of this issue:
Proving the paramagnetism of oxygen by molecular modelling (Robson Fernandes de Farias)

Effects of conceptual change instructional approach on achievement of pre-service chemistry teachers in aliphatic hydrocarbon concepts (Woldie Belachew, Hans-Dieter Barke and Sileshi Yitbarek)

A toolkit for mastering organic nomenclature in general chemistry (Cassandra Orozco, James E. Becvar and Mahesh Narayan)

Comparative effect of two problem-solving instructional strategies on students' achievement in stoichiometry (Mandina Shadrec and Ochonogor Chukunoye Enunuwe)

Utilization of learning activity package in the classroom: impact on senior secondary school students' academic achievement in organic chemistry (David Agwu Udu and Charles .U. Eze)

Re-structuring secondary school chemistry education for sustainable development in Nigerian developing economy (Olufunmilayo D. Ayodele)

Readability of some topics in select current ordinary level chemistry textbooks and Nigerian students' perception about difficulty of the topics (Macson Joshua Ahiakwo and Godsgrace Chiagaweye Ene)

Kitchen chemistry: practical chemistry with simple equipment and readily available materials (Stephen H. Ashworth)

Innovative mnemonics in chemical education: review article (Arijit Das)

Early chemistry misconceptions: status and implications for science education in Ethiopia (Abayneh Lemma Gurmu)
Papers on any aspect of Chemistry Education such as teaching organic, analytical, physical, inorganic, polymer, green, climate change/environmental chemistry, ICT in chemistry and chemistry curricula as well as assessment in chemistry are acceptable for publication. We also encourage issues on chemistry and indigenous knowledge/practice, chemical safety, natural products and related areas.
Invitation to submit manuscript to Special Issue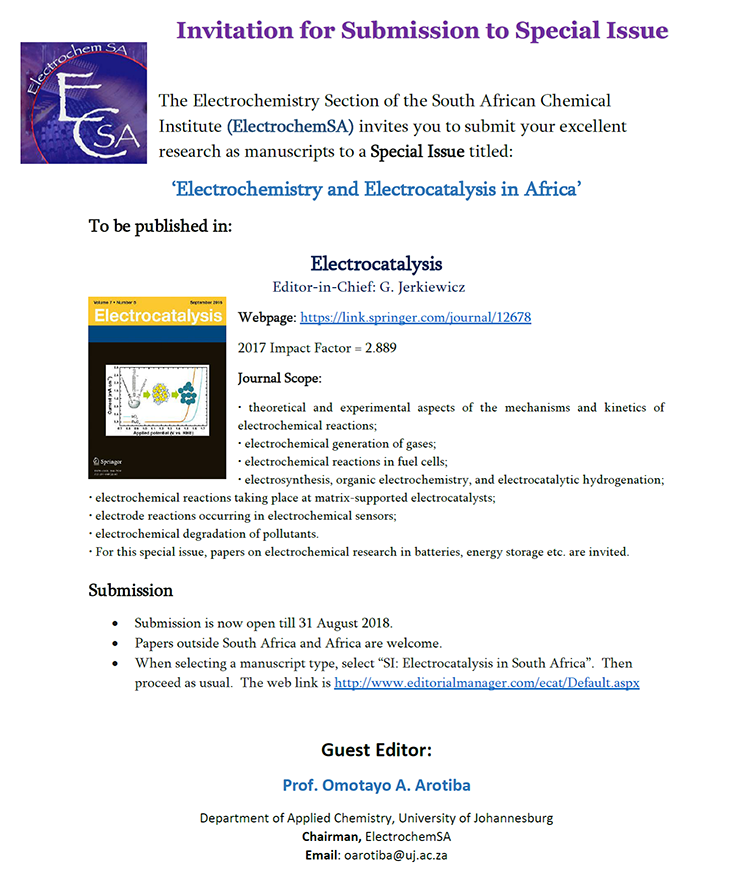 SACI and SACI related Conference events
43rd National Convention of the South African Chemical Institute

Registrations are open - Click here to register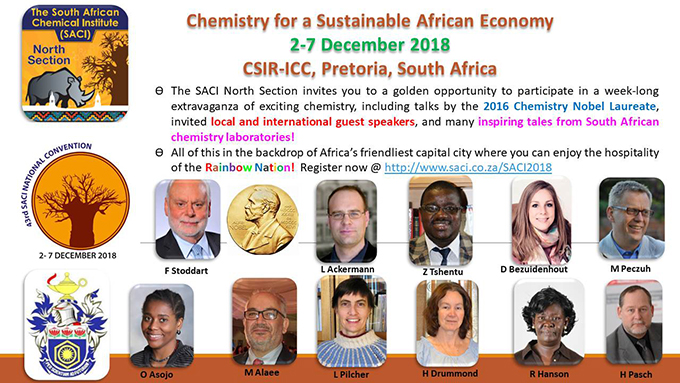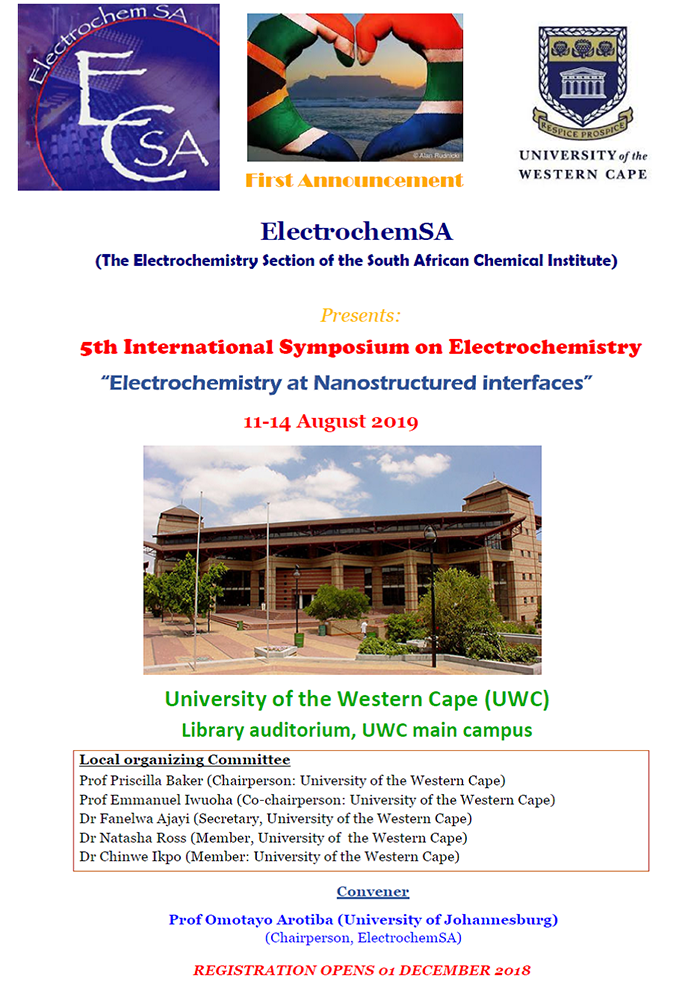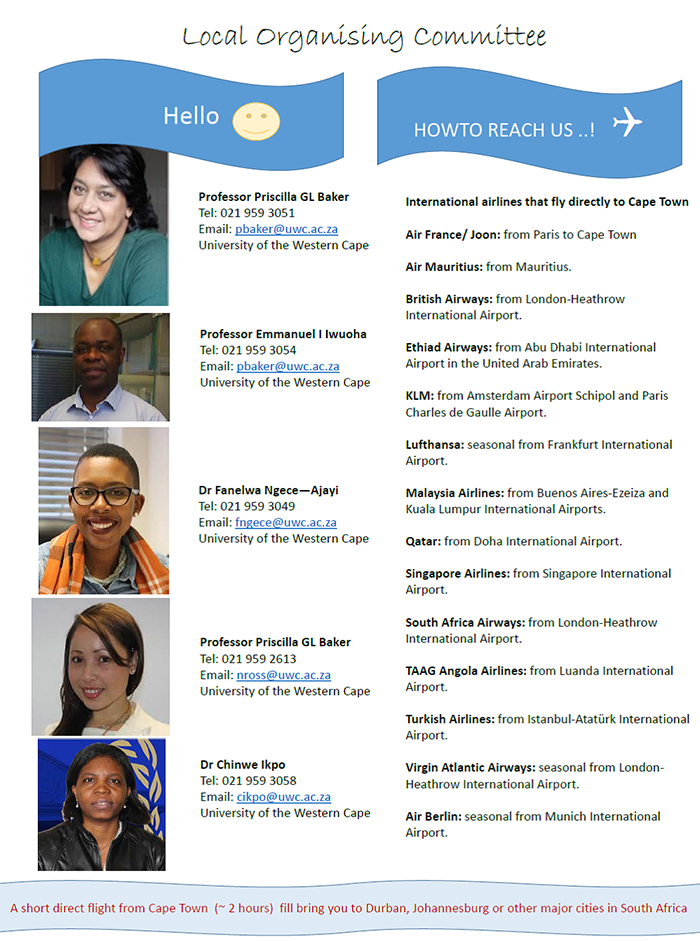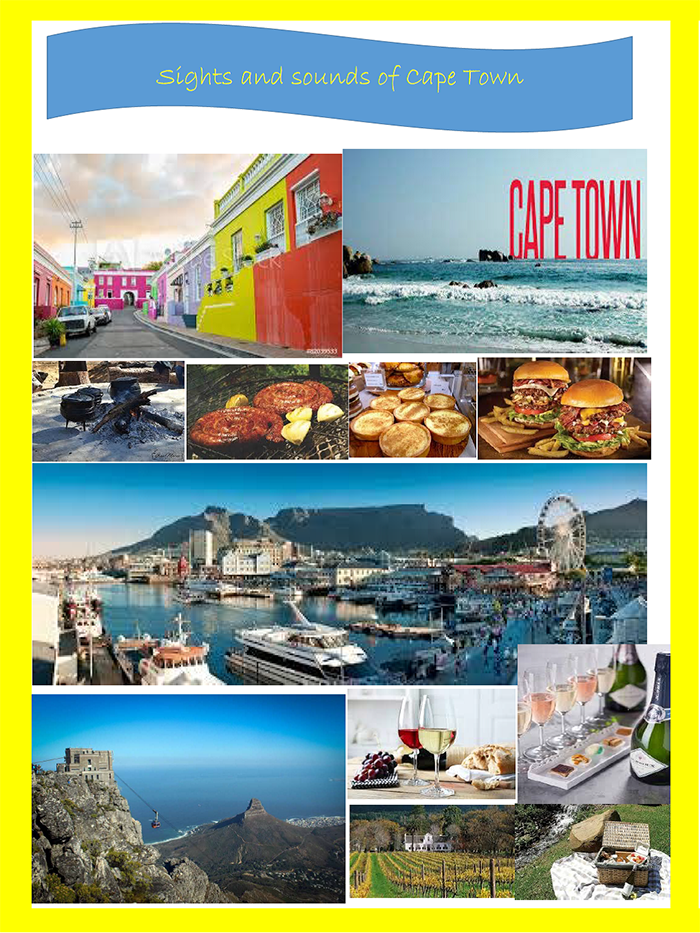 Others
13th International Conference on Advanced Polymers via Macromolecular Engineering

Spring School on Solar Energy and Photosynthesis

2nd International Symposium on Catalysis and Specialty Chemicals ISCSC-2018

1st International Conference on Sustainable Management of Natural Resources
CATSA2018
CATSA holds an annual national catalysis conference with the aim of promoting widespread interaction among practitioners in the field and this event is rotated around the country. The 29th annual conference is being hosted by the North-West University and will take place at Legend Golf & Safari Resort from the 11 - 14 November 2018. The 2018 Eminent Visitor is Professor Gregory Jerkiewicz from Queens University in Kingston, Ontario, Canada. http://catsa.org.za/index.php/catsa-2018
ACRICE-3 Algeria October. The website is www.univ-setif.dz/OCS/FT/ACRICE. The conference is under the aegis of IUPAC and FASC.

The 23rd International Workshop on Quantum Systems in Chemistry, Physics and Biology (QSCP-XXIII) will be held in the Kruger park are, South Africa, on September 23-29, 2018.  It will be hosted by the University of Venda.  QSCP is a prominent conference series that covers a wide range of topics, bringing together researchers from around the world with cutting-edge contributions to the description of a broad range of quantum systems and phenomena.  For further details, please visit the web page: https://sites.google.com/view/qscp-2018.  If you have any queries, please contact the local organisers at qscpxxiii@gmail.com.

XXIII Workshop on Quantum Systems in Chemistry, Physics and Biology (QSCP)

Registration and abstract submission are now open.

QSCP is a prestigious international conference series that covers a wide range of topics, including:
Concepts and methods in quantum chemistry · Relativistic effects in quantum chemistry · Molecular structure, dynamics and spectroscopy · Reactive collisions and chemical reaction · Complexes and clusters; surfaces and interfaces; catalysis · Molecular and nano-materials · Computational chemistry, physics and biology.

Please, visit our conference website https://sites.google.com/view/qscp-2018 for more information.
Equipment
Anton Paar's new Cora Raman spectrometers
Let Anton Paar be of assistance to you

With our premium characterization instruments: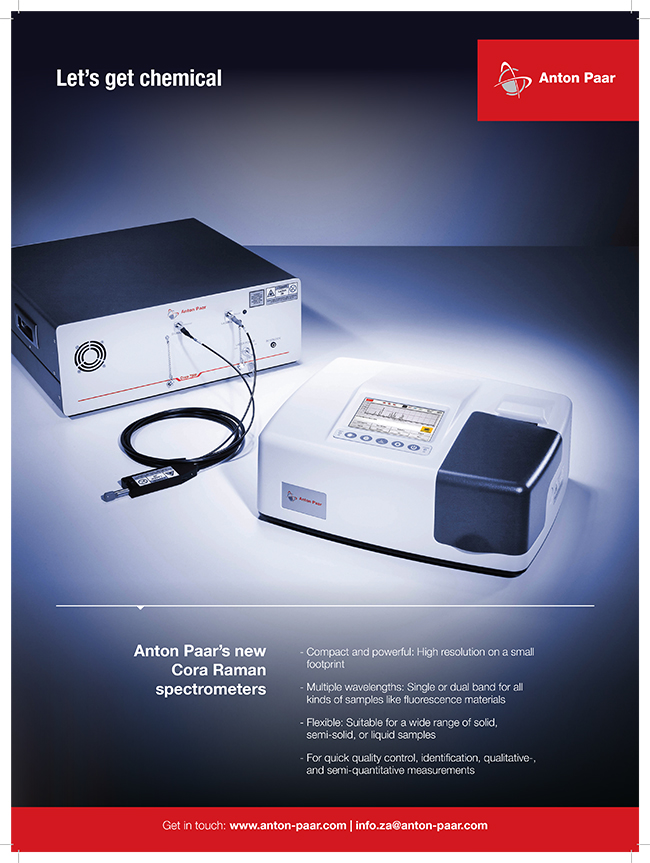 Bruker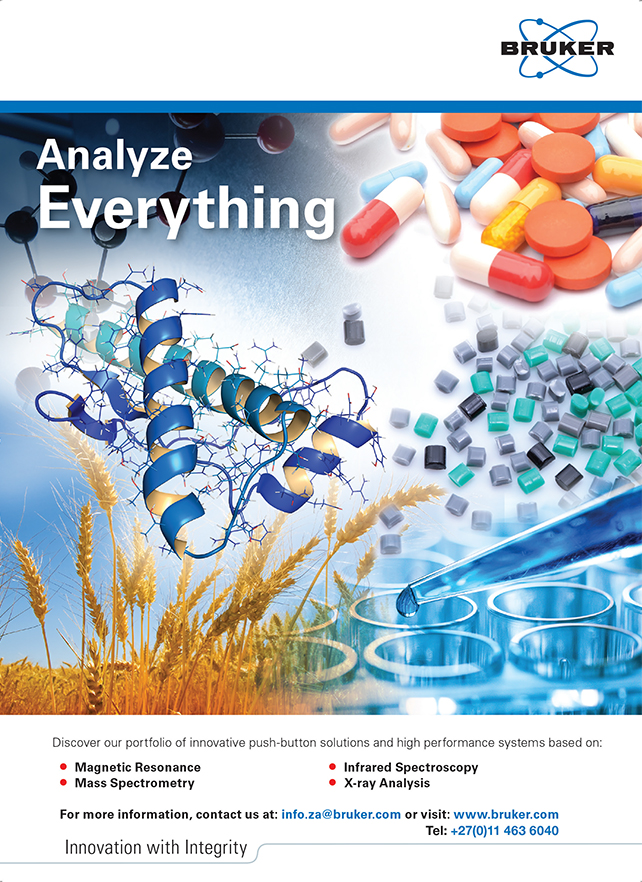 Vacancies
Any interested candidates can send their details to info@sepsci.co.za or triolan@sepsci.co.za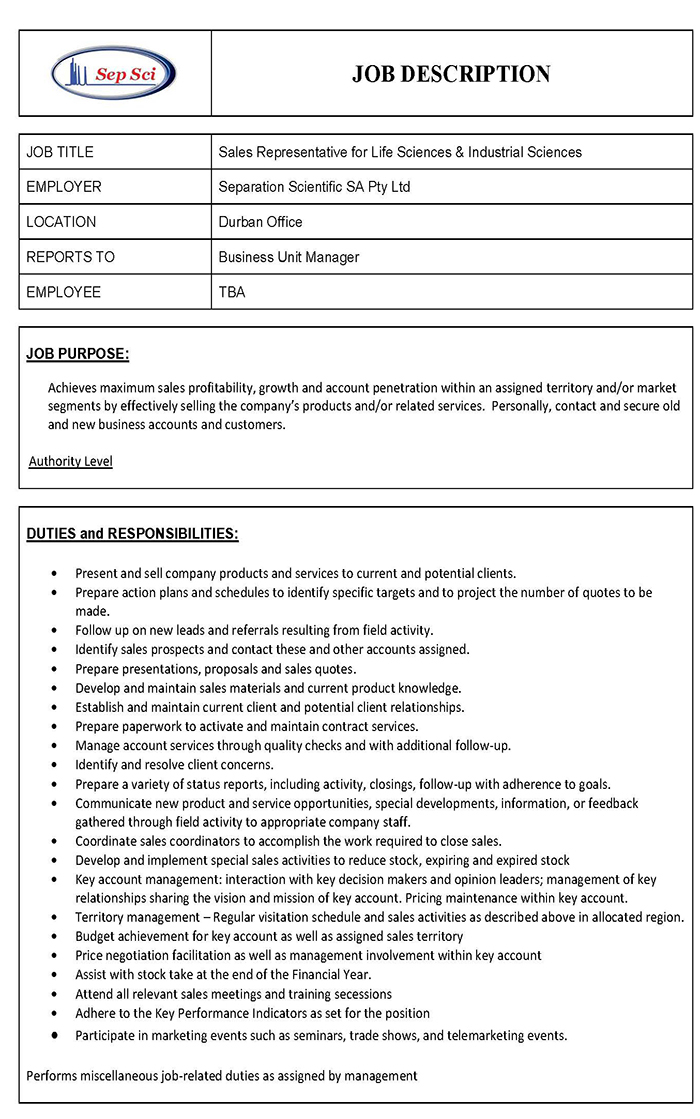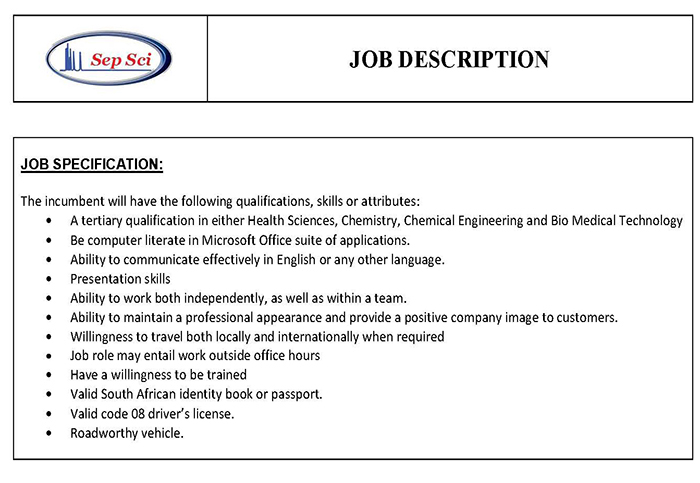 POST DOCTORAL FELLOWSHIPS IN MEDICINAL CHEMISTRY - UCT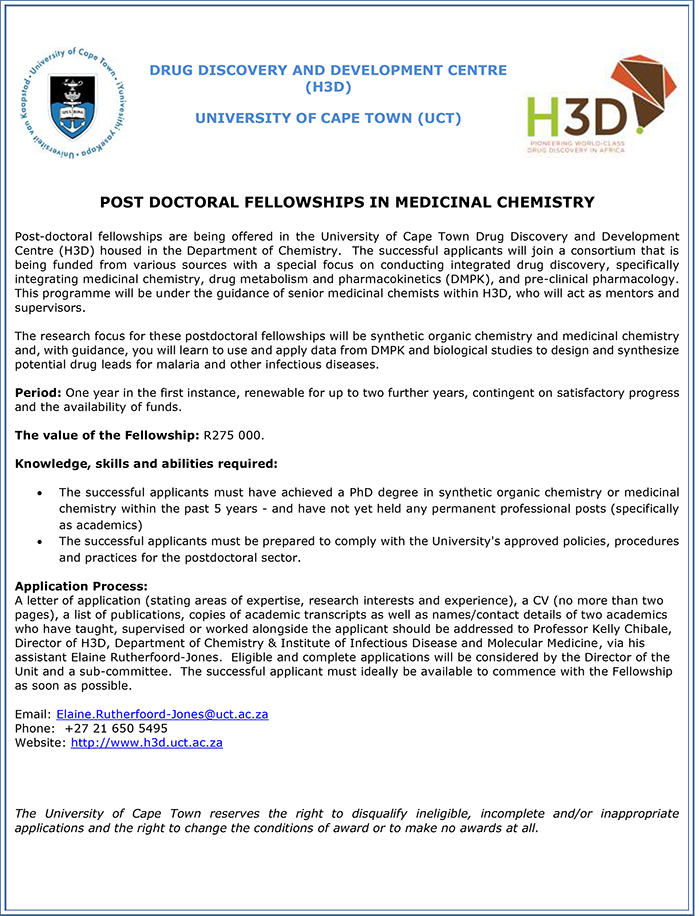 contentcontent