SACI News July 2016

This month's newsletter contains information on numerous workshops and conferences that will be held in SA and Africa over the next months. It certainly is reflective of the many activities underway in the chemical world, especially in South Africa. The SACI AGM will be held next week and information on the venue etc is given below.

On a personal note. I have been in China for the past 4 weeks. It has been an illuminating stay as I have got to attend conferences and interact with many students. There is no doubt in my mind that China is a powerhouse in the new directions underway in Chemistry. The standard of understanding, presentations and the novelty of the work in the areas of materials/catalysis/nanotechnology I have encountered are top class. The access of Chinese chemists to an excellent equipment base is remarkable. I am not sure what this means for SA Chemistry – perhaps the BRICS route will allow good chemistry interaction between the two nations in the future. Language barriers will prove difficult but signs of a shift in the centre of the chemistry world are underway.
Neil Coville
Content
SACI office address
Advertising in the SACI newsletter
SAQA
Section and Division news
Central Gauteng
Section SACI-RSC lunch
W Cape Section
African Journals of Chemistry
CAIA Newsletter
RSC
RSC/PACN RSC/PACN Chemistry Network Congress 2016 Catalysis for Fuels: Faraday Discussion
SACI and SACI related conference events
Frank Warren 2016 Gauteng Central Section Young Chemists Symposium 1st SACI Gauteng North Young Chemists event ChromSAAMS 2016 2nd Annual Symposium and Workshop on Environmental Research and Pollution Monitoring of Environmental Persistent Pollutants (EPP)
RSC/PACN RSC/PACN Chemistry Network Congress 2016
Others
Workshops
Wirsam Scientific and Precision (Equipment Pty) LtdXRF Course
GCMS: A Hands on Approach
ChromSAMMS Post-Conference GC and GC/MS Workshop

Vacancies
Associate Professor: Organic Chemistry CPUT
SACI office address
The SACI office, run by Laila Smith is located on the 1st Floor of Gate House, room 124. The telephone number is 011 717 6705 and e-mail address is: saci.chem@wits.ac.za.
Advertising in the SACI newsletter
The newsletter provides a means of getting messages to our membership. Currently the SACI membership stands at over 1000. This newsletter thus provides a means of advertising employment opportunities, conferences and workshops, and even for companies/Universities to promote themselves. We encourage members to use the Newsletter for advertising purposes. All SACI related conferences and events are advertised for free; if not a SACI related event there could be a small charge. For advertising costs contact Laila at the SACI office.
SAQA
Information on how to be registered can now be found on the SACI website.
As part of our recognition as a professional society we now get invited to regular forums by SAQA. Recently, Mike Booth as Chairman of the committee vetting applications for awarding of the PrChemSA to members, attended a forum on Recognition of Prior Learning (RPL). There are currently 85 bodies registered with SAQA and 219 professional designations. One aspect that came out quite clearly from delegates was the importance of the interaction with our respective industries and the professionalism of the
industry. We will be promoting this in a number of ways. During the forum we also clarified the recognition of our members abroad, particularly in Africa, that they are indeed eligible for the PrChemSA.
Recognition of prior learning has three competencies, theoretical, practical skills and work experience. In the National Policy for the Implementation of RPL the responsibilities of recognised professional bodies are laid out.
These are
To comply with the national SAQA policy and criteria for the recognition of professional bodies and registration of professional designations;
To include an RPL route as an integral requirement for attainment of the professional designation;
To collaborate with SAQA, the Quality Councils and the relevant providers to advance RPL in the sector;
To develop and support RPL provision.
Mike Booth
Section and Division news
The SACI Central Section Facebook group page for members is up and running. The group is administered by the Chairperson and Secretary of the Division. Its purpose is to keep our members up to date with events, Chemistry news, job/business opportunities, etc. Please join and invite other.

Chair: Sabelo Mhlanga, UNISA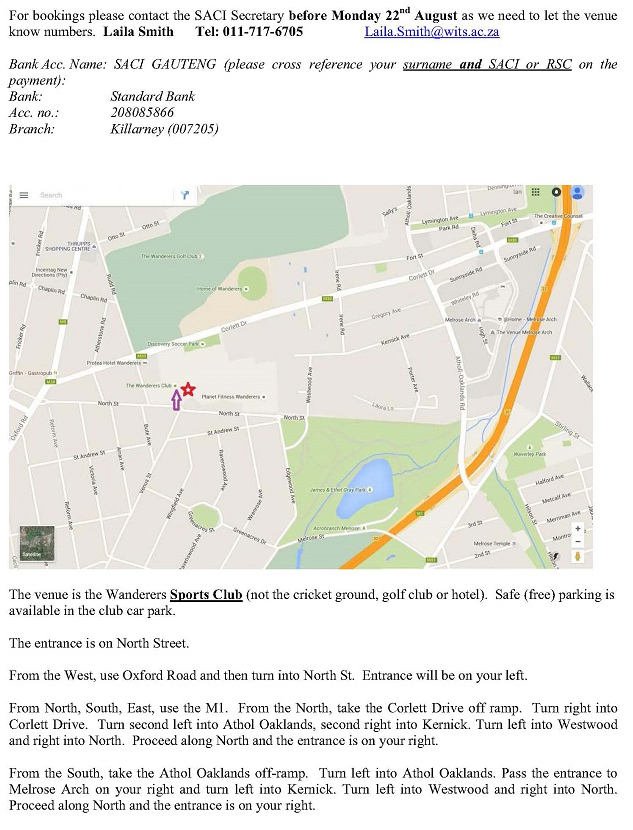 New Chemistry on the Block – an event held by the WC Section on Tuesday the 14th June
In the Western Cape we have four chemistry departments within a 50km radius. We hold an annual event for students to present their work every November, but have become increasingly aware that we are not keeping up with the new faces amongst the academic staff at the various institutions. So this year, we held the first SACI-sponsored 'New Chemistry on the Block' session in the Department of Chemistry and Polymer Sciences, Stellenbosch University. To this end, we asked each institution to select one or two of their recent appointees to come and give a talk. It should be noted that most nominees had been around long enough to begin to set up a clear career trajectory!
At this afternoon event we thus had the pleasure of hearing from the following speakers, concerning their research and their future plans:
Dr Chris Barnett (UCT) on his computational work investigating the features of glycans and glycomes
Prof. Martin Onani (UWC) on biologically active organometallic complexes
Dr Sunny Sunassee (UCT) on medicinal chemistry applications of marine natural products
Dr Nikoletta Bathori (CPUT) on developments and challenges in synthon engineering in supramolecular chemistry
Dr Njabu Gule (SU) on biologically compatible polymeric nanomaterials
Prof. Denzil Beukes (UWC) on the wonders of the biosphere of marine natural products.
It was an interesting and intellectually stimulating afternoon with over 60 attendees, followed by a relaxed gathering over snacks and a glass of wine. The aim of networking across the Peninsula was certainly achieved and we hope this will be the start of a new tradition in the Western Cape, aimed at taking place every 2-3 years.

Dr Margaret Blackie
African Journals of Chemistry
South African Journal of Chemistry

This Journal is published electronically. The webpage is: http://www.saci.co.za/ The South African Journal of Chemistry, published by the South African Chemical Institute, has been publishing high quality papers, in all fields of Chemistry for over 50 years. The Journal went fully electronic in 2000 and is freely available through open access online (http://reference.sabinet.co.za/sa_epublication/chem). It is a CAS-abstracted publication and is listed in Current Web Contents. It has retained its status as an accredited publication with the South African Department of Higher Education and Training.

African Corrosion Journal (online). Commenced in 2015 – a peer reviewed corrosion journal. This journal may be of interest to the "practical" chemists amongst the SACI membership. https://view.publitas.com/icp-1/african-corrosion-journal


African Journal of Pure and Applied Chemistry
Submit manuscripts: http://ms.academicjournals.me; Editorial office: ajpac@academicjournals.org
African Journal of Chemical Education
Enquiries and manuscripts should be addressed to the Editor-in-Chief: email eic@faschem.org, PO Box 2305, Addis Ababa, Ethiopia. AJCE, 2016, 6(1) ISSN 2227-5835 The online version appears in the FASC website (www.faschem.org) and in the AJOL website (www.ajol.info)
CAIA Newsletter
The latest issue of CAIA news is available. Go to: http://www.caia.co.za/news/chemnews/
or e-mail: caia@iafrica.com for pdf files of news and information.
RSC
RSC/PACN Chemistry Network Congress 2016
See advert on the Pan African Chemistry Network Congress 2016 - Sustainable Water Resources for Africa under events
Catalysis for Fuels: Faraday Discussion
The upcoming Catalysis for Fuels: Faraday Discussion will be held in Cape Town in January 2017. SACI members can receive a reduced rate to attend this event. Please enter the code FDCATFUELS when prompted with the question 'Are you a member of an organisation which is supporting this event?'

Details: 24 - 26 January 2017, Cape Town.
http://www.rsc.org/events/?searchtext=faraday&eventtype=3&rsc=1&membernetworkoptions=116&pagetitle=178

Contact me if there any queries relating to the registration (Neil Coville)
SACI and SACI related Conference events
Frank Warren 2016 conference


http://www.rhodesfrankwarren2016.com/


The 14th Edition of the Frank Warren Conference takes place from the 4th to the 8th of December in the Eastern Cape.
A line-up of local and international speakers includes Prof Kelly Chibale from H3D and UCT, Prof Charles de Koning from Wits University (our Frank Warren Speaker), and Prof Gert Kruger from UKZN.


Confirmed International speakers include Prof Peter O'Brien from the University of York, Prof Hans Joachim Knölker at Technical University of Dresden, and Eufranio Junior from the Federal University of Minas Gerais.


EXTENDED ABSTRACT submission is at the end of August 2016 and more details can be found on the Website: www.rhodesfrankwarren2016.com


We look forward to welcoming you to the beautiful Eastern Cape.

SACI Gauteng Central Section Young Chemists Symposium

The Symposium is free and is open to all chemists, chemistry students and academics.

Abstract submission and well as RSVP to the event should be sent to Dr Caren Billing at Caren.Billing@wits.ac.za

There will be 12 oral presentations of 10 minutes each plus 5 minutes for questions. Presentation only by MSc and PhD student and there will be prizes for best oral in these categories .

Student presenting will be selected by an internal selection process from the various institutions, so there will be no call for abstracts. This will be communicated to the various institutions
11-14 Sept 2016, Riverside Sun, Vanderbijl Park. www.chromsaams2016.co.za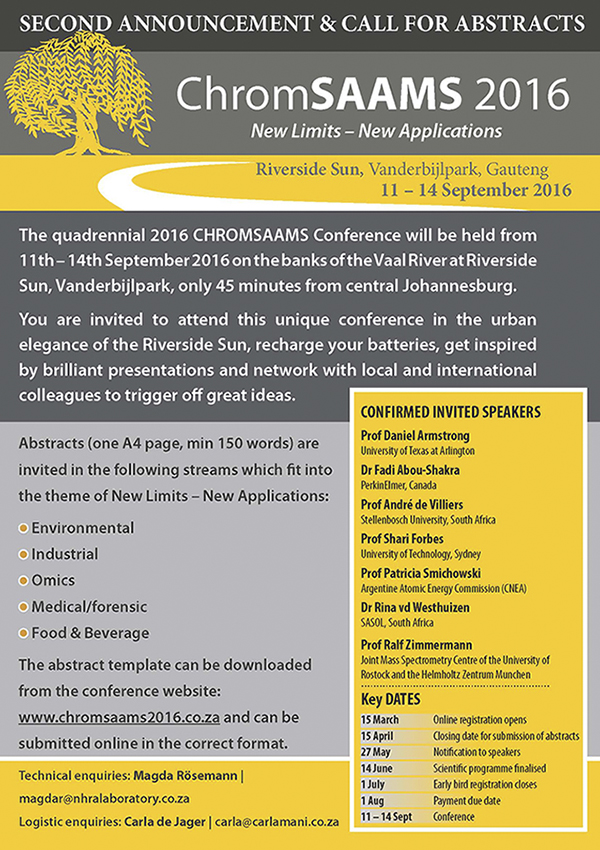 2nd Annual Symposium and Workshop on Environmental Research and Pollution Monitoring of Environmental Persistent Pollutants (EPP)
DATES: 3– 7 October 2016
VENUE: Faculty of Science Auditorium, Tshwane University of Technology, 175 Nelson Mandela Drive, Arcadia Pretoria
Purpose:
A 1-day symposium for researchers and postgraduate students working on environmental persistent pollutants in Africa to share and discuss their work in the form of presentations and posters.
A 4-day hands-on-training workshop on sample preparation and analysis.
FOCAL THEME
EPP in environmental media and biological samples
Indoor exposure to EPP
Analytical methods and techniques for EPP analysis
Emerging EPP
Mercury and other trace metals
Biosensors for EPP detection
REGISTRATION FEE: No registration fee is required
Participation in both the symposium and workshop is offered at no cost, however, seats are limited. Training workshop attendance is limited to 10 delegates with preference to students from South African universities where high powered analytical facilities are not available and from other African countries. The training workshop covers sample handling, extraction and analysis using SPE, sonicator, Soxhlet for extraction and LCMSMS, GCMS, and AAS for analysis. Certificate of attendance will be issued at the end of the training. Training will be conducted by applications chemists from Shimadzu South Africa and postdoctoral and post-graduate students from TUT.
Submission of abstracts: Abstracts should be submitted to:
Please indicate on the abstract choice of presentation (ORAL or POSTER). Abstract can be submitted on or before 31st August 2016. Notifications for abstract acceptance will be sent out as from 7th September 2016. Time allocation for oral presentation is 15 min. The template for the abstract and registration forms are attached.
RSC/PACN RSC/PACN Chemistry Network Congress 2016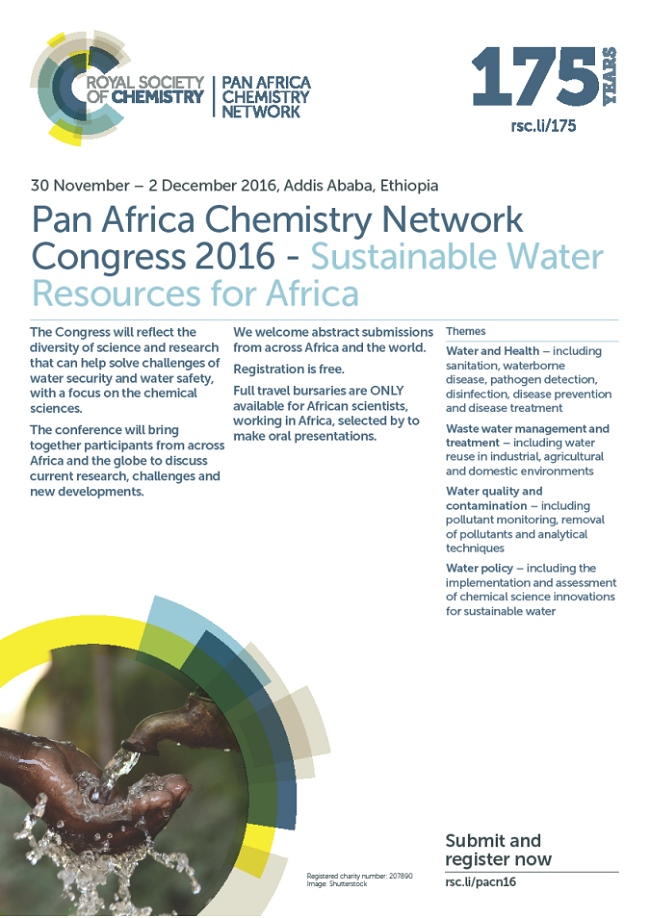 Others
Anton Paar Southern Africa Interactive Pharma & Cosmetic Workshops. 3 sessions for you to choose from: Port Elizabeth: Wednesday, 7 September 2016 ; Cape Town: Thursday, 8 September 2016; Pretoria: Friday, 9 September 2016 T: +27 (0) 11 021 5165/6/7 | info.za@anton-paar.com
Ninth International Symposium on New Trends in Chemistry ''Analytical Chemistry for Better Life'', Cairo University, Egypt from 2-5 January, 2017. http://egsac.sci.cu.edu.eg
IUPAC 2017 - July 6-14, 2017, São Paulo, Brazil
6th IUPAC Green Chemistry conference. 4th - 8th September, 2016 - Venice (Italy) Registration opens: December 1st, 2015 Early-bird registration deadline: May 30th, 2016 Online registration deadline: August 19th, 2016 www.greeniupac2016.eu
Society of Cosmetic Chemists South Africa Annual Scientific Conference & Gala Dinner Frugal Innovations
14-15 September 2016 Fax: 086 686-9674 or e-mail:coschem@iafrica.com; 27 11 792-4531
Test and Measurement International conference 2016 26th - 28th September 2016; Saint George Hotel and Convention Centre Rietvleidam, Centurion, Gauteng Tel: +27(0)12 349 1500 ; www.nla.org.za; Fax: +27(0)12 349 1501 • E-mail: steves@nla.org.za
The First International Conference on "SUSTAINABLE MATERIALS PROCESSING. Skukuza, Kruger National Park, South Africa | January 23-25, 2017. Email: tjen@uj.ac.za; Tel: +27 11 559-4208
Conference website: http://www.uj.ac.za/faculties/febe/Pages/SMPM-
Asia Pacific Congress on Catalysis – 7 (APCAT – 7) January 17 – 21st, 2017 Mumbai, India at Hotel Lalit,
with the core theme "Catalysis for Sustainable, Development, Peace and Prosperity".www.apcat7.in

Workshops
Wirsam Scientific and Precision (Equipment Pty) Ltd will be hosting another XRF Vendor Neutral Course in Johannesburg from 5 – 9 of September 2016. If you would like to attend the course, please send an e-mail message to Jenny Smith or Mariana Wirsam at Wirsam Scientific at email addresses: jenny@wirsam.com or mariana@wirsam.com


Download announcement and registration



Chromsa Post-Conference GC and GC/MS Workshop Registration for the Post-Conference Workshop will open shortly. The Workshop will be held from 15 to 16 September in Pretoria and will be presented by the ever popular Dr Jack Cochran from the Restek Corporation. The workshop is aimed at all levels of users and will focus on practical tips for trouble shooting GC, GCxGC and GC/MS results. More details will be on the website soon.

Follow the link on the website to register http://www.chromSAAMS2016.co.za/
Positions available

Associate Professor: Organic Chemistry – 2893

Job Title
Associate Professor: Organic Chemistry

Campus/ Location
Bellville Campus - Bellville, Cape Town, WC ZA
Cape Town Campus - Cape Town, WC ZA (Primary)

Department
Cape Peninsula University of Technology -> Applied Sciences -> Chemistry

Faculty
Applied Sciences

Advert Closing Date
19/8/2016

Highest Qualification Required
Doctorate

Job Purpose
Assist in developing the discipline of Organic Chemistry in the Faculty; strengthen the research capacity in Chemistry through collaborations, fund-raising and post graduate recruitment and supervision; and contribute to the Department's goals in teaching, research community engagement/administration, and work integrated learning.

Job Knowledge, Skills and Experience
Doctoral degree in Organic Chemistry
Base qualification in Chemistry with a Masters in Organic Chemistry
At least six (6) years' experience in the relevant field, four (4) of which must be teaching in Higher Education
Successful supervision of postgraduate students
Record of publication in SAPSE-accredited journals with at least twelve (12) publications, six (6) of which must be from the last five (5) years

Key Performance Areas / Principal Accountabilities
Undergraduate up to postgraduate level teaching General chemistry, Organic and Physical chemistry
Supervise post graduate student projects
Provide appropriate academic and administrative leadership in the department
Participate in curriculum development
Lead research in Organic Chemistry
Perform student assessment
Participate in the Quality Assurance activities of the Department
Mentor junior staff in teaching and Research Develop and maintain linkages/collaborations with industry, international researchers and professional bodies
Assist with marketing and recruitment activities
Perform other functions as may be assigned by the Head of Department

Competencies
Excellent organizational and planning skills
Presentation skills
Adaptability and team work
Continuous learning
Strong learner focus
Communication and Coaching skills
Administrative skills
Proficiency in English
Excellent research output
Significant impact in one or more of the following: research, policy development, research, curriculum change or academic leadership

General Information
Closing Date: 19 August 2016
Enquiries: (021) 959 6265

The Cape Peninsula University of Technology is committed to Employment Equity and aims to attract and retain talented individuals to achieve our equity objectives and therefore, people from the designated groups, including those with disabilities are encouraged to apply. Preference will be given to applicants whose appointment contributes towards the achievement of demographic representation. We reserve the right not to make an appointment.

https://www.cput.hua.hrsmart.com/hr/ats/Posting/view/2893