SACI News August 2017

At the recent SACI AGM the new SACI Executive was voted into office. The new President is Prof Vincent Nyamori and he will be assisted by Prof Peter Mallon, Dr Ian Bratt and Prof Zeni Tshentu and the Past President, Prof Bice Martincigh as they guide SACI for the next two years. At the Council Meeting (and AGM) the SACI awards for 2017 were announced (see below) – congratulations to all the winners.

An important event: In 2018 the South African Journal of Chemistry will be 100 years old. More information on the celebration will follow in later newsletters. While mentioning journals – a recent article on the use of Predatory journals by SA authors is listed in the content. Young chemists should be aware of the negative effect that the use of these journals has on a career.

Neil Coville

Content
SACI office address and times
Advertising in the SACI newsletter
Message from our outgoing SACI President: Prof Bice Martincigh
SACI AGM
SACI awards – 2017
Nelson Torto: New Executive Director of AAS
Obituary: Professor André Goosen
Section and Divisions News
Education Division
SACI North Section- Young Chemist Symposium

4th Jan Boeyens Prize for INDABA9 (2018)
RSC Newton Mobility Grants
IUPAC
South African Journal of Chemistry – 2017 report
The extent of South African authored articles in predatory journals
African Journals of Chemistry
CAIA Newsletter

SACI and SACI related conference events

2017 ChromSA Chromatography Postgraduate Student Seminar
4th International Symposium on Electrochemistry
The 3rd TCS International Conference and the 6th FASC Congress
Analitika 2018

Other conferences
Indaba 9
Syngas 3 convention
Frontiers of Electron Microscopy in Materials Science (FEMMS) 2017
AMRS2017 (Africa Materials Research Society)
Atlantic Basin Conference on Chemistry
7th Mintek Analytical Sciences Symposium

SACI office address and times
The SACI office, run by Laila Smith is located on the 1st Floor of Gate House, room 124. The telephone number is 011 717 6705 and e-mail address is: saci.chem@wits.ac.za. The cel number is 061 282 3477.

This year we are to experiment with having Laila work in the afternoons from home. This will mean that office hours will be from 8.30 am till 1.00 pm. She can still be contacted at any time during her office hours.
Advertising in the SACI newsletter
The newsletter provides a means of getting messages to our membership. Currently the SACI membership stands at over 1000. This newsletter thus provides a means of advertising employment opportunities, conferences and workshops, and even for companies/Universities to promote themselves. We encourage members to use the Newsletter for advertising purposes. All SACI related conferences and events are advertised for free; if not a SACI related event there could be a small charge. For advertising costs contact Laila at the SACI office.
Message from our outgoing SACI President: Prof Bice Martincigh
My term of office has passed remarkably quickly but some notable achievements (which you will have read about in our recently circulated Annual Report) have been reached for which I would particularly like to thank all those members who gave of their time and effort and for which we can be duly proud. As I leave the office, I would like to thank the EXEC and all the members most sincerely for their continued support and advice to ensure the well-being and prosperity of the Institute. Without your dedication the sustainability of SACI would not be possible. We are also well aware that this work is voluntary and above your normal line of duty and that at times it takes you away from your other interests and obligations. Also, I wish to thank the SACI administrator, Laila Smith, for her exceptional ability in keeping the SACI Office running smoothly and efficiently. My term as President ended on 3 August and I now pass the baton to Professor Vincent Nyamori. I am confident that the Institute is in good hands and will go from strength to strength!

In closing, I would like to introduce my successor, Professor Vincent Nyamori.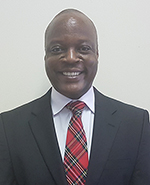 Prof Vincent O. Nyamori is an Associate Professor in the School of Chemistry and Physics at the University of KwaZulu-Natal (UKZN), Westville campus, Durban. He is also an Academic Leader in the School and the Coordinator of the UKZN Nanotechnology Platform. He is a native of Kenya and received his BSc degree from Egerton University, Kenya, and his BSc (Hons), MSc and PhD degrees from the Nelson Mandela Metropolitan University, South Africa. In June 2006, he joined the University of the Witwatersrand as a Postdoctoral Fellow with Professor Neil Coville as his host. He subsequently joined the University of KwaZulu-Natal in April 2008 as a lecturer. He became a member of the South Africa Chemical Institute (SACI) in 1998. He is also a member of the South African Nanotechnology Initiative (SANi) where he collaborated on nanotechnology projects as part of the India-Brazil-South Africa (IBSA) forum. He was also involved, as one of principal investigators, with the Nanotechnology Flagship Programme 'Nano-Architecture in the Beneficiation of Platinum Group Metals' through the National Research Foundation (NRF) programme. His research interests include: Green and Sustainable Chemistry, Organometallic Synthesis, and Nanotechnology and Materials Science. He is member of the American Chemical Society and Royal Society of Chemistry.
SACI AGM
The SACI Council meeting was held on August 2nd at Wits University. At this event the new committee was elected, SACI awards accepted and the business of SACI discussed.

The new SACI committee for 2018 is as follows:
Prof Vincent Nyamori - President
Prof Bice Martincigh – Past President
Prof Peter Mallon – Vice–President
Dr Ian Bratt – Treasurer
Prof Zeni Tshentu – Secretary
Co-opted members: Prof Helder Marques, Prof Neil Coville, Dr Mike Booth
The Council meeting was followed by the SACI AGM at which the new President gave his inaugural speech. This was followed by a cocktail party.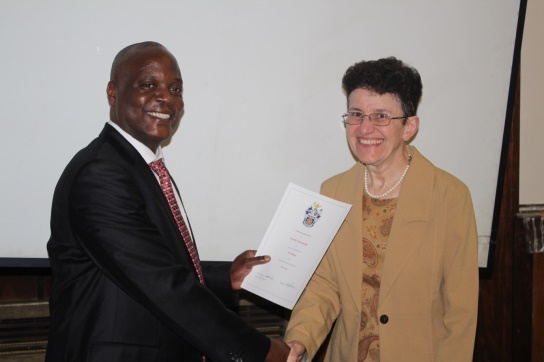 Our new President, Prof Nyamori taking over the reins from Prof Martincigh.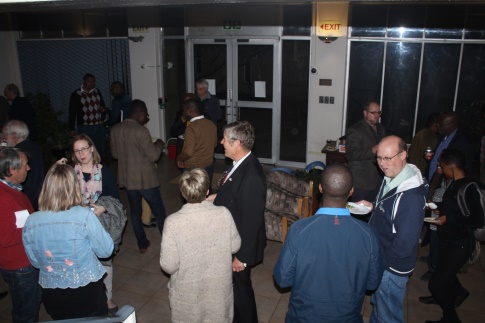 Attendees at the post AGM cocktail party
SACI Awards - 2017
GOLD MEDAL
The award, a gold-plated medal bearing the Institute's name and crest on the obverse and name of the medal and the recipient and date on the reverse, is made to a person whose scientific contribution in the field of chemistry or chemical technology is adjudged to be of outstanding merit.
Prof Harald Pasch - University of Stellenbosch
THE MERCK MEDAL
The medal is awarded to the senior author of the paper, or papers, published in the South African Journal of Chemistry in a specific field of chemistry, adjudged to have made the most significant contributions to the discipline. The award for 2017, covering papers published in the period 2011 to 2016, was the most cited (without self-citation) SA authored paper in the field of Chemistry.
T. Bunhu, A. Kindness and B.S. Martincigh*
S. Afr. J. Chem., 2011, 64, 139-143
Determination of Titanium Dioxide in Commercial Sunscreens by Inductively Coupled Plasma-Optical Emission Spectrometry
THE SACI POST-GRADUATE AWARDS
The awards shall be made to student members of the Institute engaged in research towards a MSc or PhD degree and registered in a School/Department of Chemistry at a South African University, or a MTech or DTech degree registered in a School/Department of Chemistry at a South African University of Technology. The number of medals awarded shall not exceed five per annum, and the awards are limited to one per institution. Past SACI/Sasol Postgraduate Awardees are not eligible for nomination for a second award of the medal. The recipients of the award shall be known as The SACI Postgraduate Awardees.
Mr George Kleinhans - University of Pretoria
Mr Eric M Njogu - University of Kwazulu-Natal
Mr Christian I Nkanga - Rhodes University
Mr Tumelo N Phaahlamohlaka - University of the Witwatersrand
Mr John Okombo - University of Cape Town
THE CHEMICAL EDUCATION MEDAL
The award is made to a person who has made an outstanding contribution to chemical education as judged by the person's published work in the previous 5 years. Published work may be in any form and may be related to any level or educational context.
Prof Lynne A Pilcher - University of Pretoria
THE JAMES MOIR MEDALS
Medals shall be awarded to the best 2016 to the best fourth year student in chemistry at each University and University of Technology. To be eligible for the award the student must have achieved a minimum average final pass mark of 75%.
| | |
| --- | --- |
| Awardees | University |
| Ms V Tokoyi | University of Fort Hare |
| Ms NR Molupe | Rhodes University |
| Ms B Dzingwe | University of Western Cape |
| Ms D Rademeyer | Nelson Mandela Metropolitan University – North Campus |
| Ms VD Ramasamy | Nelson Mandela Metropolitan University –South Campus |
| Mr S Lovisa | University of Pretoria |
| Ms W Duminy | University of the Witwatersrand |
| Ms J Botha | Stellenbosch University |
| Ms SE Orango Adewinogo | Cape Peninsula University of Technology |
| Ms B Shaku | University of Limpopo |
| Ms OMC Matlhaku | Vaal University of Technology |
| Mr V Vermaak | North-West University – Potchefstroom |
| Ms GS Motloung | University of Johannesburg - Doornfontein |
| Ms BL Davids | University of Johannesburg - Auckland Park |
| Ms Z Nqakala | University of Western Cape |
| Ms NI Richardson | University of Cape Town |
| Ms T Cooper | Durban University of Technology |
THE RAIKES MEDAL
The award shall be made to a person, under the age of 40 on 31 March in the year of the award, whose original chemical research shows outstanding promise, as judged by the person's publications in reputable journals. It is further stipulated that the research shall have been performed in South Africa.
Prof Daniela I Bezuidenhout
University of the Witwatersrand
LIFE MEMBERS
Life members are member that have reached the age of 70 or older and have been members of the Institute for more than 35 years.
Dr PD Scott (Member since 1974, 43 years),
Mr P Hassiotis (Member since 1977, 40 years),
Prof PRL Loyson, (Member since 1982, 35 year),
Prof T van Ree (Member since 1980, 37 years),
Dr CJ Rademeyer (Member since 1980, 37 years)

NEW SACI FELLOWS
SACI recognizes the contribution of its members to the field of chemistry by way of the prestigious appointment of selected members to the Fellows membership category.

Prof Simon Lotz
Prof Piet Steyn
Prof Egmont Rohwer
Nelson Torto - New Executive Director of the AAS
Dr Nelson Torto is a chemist and was on the SACI Council, prior to his move to Botswana a few years ago. He has now taken over from another chemist, Dr Berhanu Abegaz, as the CEO of the African Academy of Sciences (AAS).

SACI congratulates him and wishes him well in his new position.

AAS announces appointment of new Executive Director
Nairobi, Kenya, 15 August 2017-The African Academy of Sciences Governing Council is today announcing the appointment of Prof Nelson Torto, a prolific analytical chemist, as its Executive Director with effect from 14 August 2017.

Torto, who was appointed after a continental search process, replaces Prof Berhanu Abegaz whose two-term contract ended in March. Dr Tom Kariuki, Director of the Alliance for Accelerating Excellence in Science in Africa (AESA) has been Interim Executive Director since the departure of Prof Abegaz.

"This is a befitting appointment," says AAS President Prof Felix Dapare Dakora. "As an AAS Fellow, Prof Torto has been actively involved in the activities of the Academy, demonstrating his commitment to the organisation and has served in fundraising and various programmes at executive and leadership levels that will be useful to propel the Academy to greater heights."

Until his appointment at the AAS, Prof Torto was the founding Chief Executive Officer of the Botswana Institute for Technology Research and Innovation. He holds a PhD in analytical chemistry from Lund University in Sweden. He started his career as a method development chemist at the BCL Mine in Selebi Phikwe and joined the University of Botswana's Chemistry Department as a staff development fellow in 1993 where he rose to the rank of Associate Professor. In 2008, Prof Torto joined Rhodes University as a Professor in analytical chemistry and subsequently led the Chemistry Department for 3 years.

Prof Torto is a renowned researcher who has received various awards, given invited plenary lectures at international conferences as well as published more than 130 papers, graduated 19 PhDs and has several registered patents.

"The Academy is playing a significant role in promoting the development of science, technology and innovation on the continent. I am dedicated to pushing this agenda forward to ensure science adequately plays its role to improve the lives of African people," Prof Torto said.

Deborah-Fay Ndlovu
d.ndlovu@aasciences.ac.ke +254 727 660 760 | +254 20 806 0674
Obituary: Professor Andre Goosen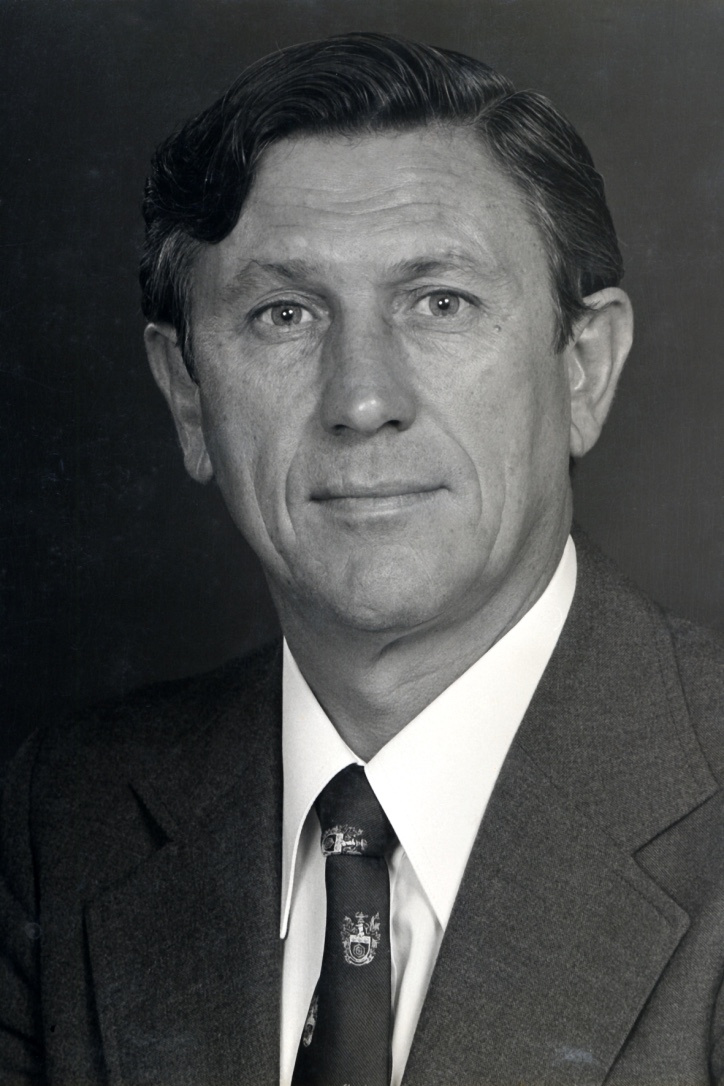 Professor André Goosen was born in Queenstown and matriculated at Queen's College in 1949. His ambition was to become a sailor, but his mother disabused him of this notion by arranging a passage on his uncle's fishing trawler for an extended run out of East London. By the time they returned to port, the young man had determined that lengthy spells at sea in exclusively male company was not as attractive a prospect as he had imagined.

And so it was to university, enrolling at the University of Natal (Pietermaritzburg), to complete a BSc degree in 1954, majoring in Chemistry and Physics, followed by a BSc(Hons) in Chemistry in 1955. He was awarded an MSc in 1956 followed by a PhD in 1960, with his research on the alkaloids of the Amaryllidaceae being carried out under the supervision of the doyen of natural product chemistry in South Africa, Professor Frank L. Warren.

In 1956 Goosen was appointed at the University of Natal as a Junior Lecturer, followed by Temporary Lecturer, and was promoted in 1960 to Lecturer in Organic Chemistry. While at Natal he met and later married Joan Sansbury, also a student of chemistry.

The couple spent 1963 in London with Goosen as Visiting Lecturer at the Imperial College of Science and Technology, under the tutelage of Professor Derek H. R. Barton, who was to be awarded the Nobel Prize for Chemistry in 1969 and knighted in 1972. For his research in which he showed that the photolysis of N-iodoamides provided a general route to y-lactones, Goosen was awarded the Diploma of Imperial College. In his case a special concession was required to qualify, as the regulations then stipulated a two-year minimum residential period. He resumed his post at the University of Natal at the end of the same year and was promoted to Senior Lecturer in Organic Chemistry.

With Warren's encouragement, Goosen applied for a post at the fledgling University of Port Elizabeth in 1964 and assumed the new Chair of Organic Chemistry at UPE in January 1965, at the age of only 32. He was destined to spend the rest of his life in Port Elizabeth, twenty-eight of these at the university.

He and the late Professor Ferdi de Wet who was appointed at the same time, along with Professor Jan du Preez two years later, set about building up a Chemistry Department from scratch on the old Bird Street campus. The task of developing curricula, starting the academic programme, building laboratories, and establishing research was a daunting one that they tackled with enthusiasm and energy. In 1979 the Chemistry Department moved into spacious well appointed facilities that they were instrumental in designing, on the new Summerstand campus. Under their guidance, the department flourished.

Goosen proved to be a highly capable administrator and was Head of Chemistry at various intervals for seventeen years in total. He furthermore served three five-year terms as Dean of the Faculty of Science in the period 1969-1990, at times concurrently with the Headship, while also carrying a full teaching load and as a FRD B-category scientist, leading a research group. He sat on numerous UPE committees and was Senate representative on the UPE Council (1990-1993).

Moreover, he was involved in the South African Chemical Institute in various capacities, locally and nationally, serving as National President in 1979-1980, and as a member of the editorial board of the South African Journal of Chemistry. He was a member of the Joint Matriculation Board for twenty-three years including stints as Chairman, and sixteen years as Chemistry Moderator for Matriculation Physical Science. He was appointed by the Committee of University Principals to the Matriculation Board in 1992-1993. He also served on advisory committees of the CSIR and South African Council for Natural Scientists, and was a member of the international advisory board of the Royal Society of Chemistry journal, Perkin Transactions 1.

Notable awards received by Goosen were the AECI Gold Medal of the South African Chemical Institute in 1975, followed by the Gold Medal in 1992 in recognition of his contribution to chemical education and research on free radical reactions.

He was a member of the Royal Society of Chemistry (London), a Fellow of the Royal Society of South Africa, and a Honorary Life Member of the South African Chemical Institute. He was registered with the South African Council for Natural Scientists.

Aside from his stint at Imperial College, he was also a Visiting Professor at the University of Utah (USA) in 1972 at the invitation of Professor Cheves Walling, a notable figure in free radical chemistry. Later came spells as Visiting Lecturer at the University of Aberdeen (UK) in 1978, and Visiting Scientist at the Weizmann Institute (Israel) in 1985.

Goosen was an inspiring lecturer and supervisor whose energy and positivity seemed boundless. He revelled in his work and would claim, "I have never worked a day in my life!" Such was his enthusiasm for chemistry that this was quite believable. He was a productive researcher, blessed with excellent practical skills, who authored 80 research papers and supervised 34 MSc and 15 PhD students.

In his time, Goosen injected new perspectives into the South African chemistry scene. From Imperial College he brought the modern mechanistic approach to teaching organic chemistry. When he assumed the post at UPE, organic chemistry research in South Africa was largely based on natural products, the field in which he himself was schooled. However, he broke new ground, shifting his focus to physical organic chemistry, working on the chemistry of free radicals and other reactive intermediates. This move proved to be a percipient one as his career would coincide with what was arguably a golden era for physical organic chemistry. His group would make significant contributions to the chemistry of organic hypoiodites, peroxides, N-iodoamides and related species. Aside from the fundamental research, he also engaged with industry on applied problems, most notably with AECI, UCOR, Sasol and Illovo Sugar.

After he retired from university life in 1993, Goosen entered local politics, representing the Democratic Alliance as a Councillor and in various other capacities in the Port Elizabeth Transitional Local Council and subsequently in the Nelson Mandela Bay Metropole Council (2000-2011).

Throughout his life he was active in various community, church and sailing circles; in his later years he became a keen bowler. He had the enviable knack of balancing work and play, performance with pleasure. Although it was never to be his occupation, he indulged his passion for sailing in his leisure time, at first with a dinghy on the Swartkops River, where he became Commodore of the Redhouse Yacht Club. Later there was Eve, a thirty-one foot keelboat that he sailed from Cape Town to Port Elizabeth and moored in the harbour at the Algoa Bay Yacht Club. Weekend sailing in the bay gave him endless pleasure, sometimes with postgraduate students roped in as crew. At home he and Joan were excellent hosts and he would be at his most affable with the company of friends and a glass of cabernet sauvignon close at hand.

Professor André Goosen was a widely respected and loved man who touched many lives in various arenas. He will be remembered for his high ethical and professional standards, his deep concern for the people he worked with, and above all his love of learning, which inspired those around him. Predeceased by his wife Joan and daughter Dalene, he is survived by their sons Raoul and Pierre.

Emeritus Professor Cedric W. McCleland, Department of Chemistry, Nelson Mandela University

Sections and Divisions news
Chemistry contribution at the National Science Week at Nelson Mandela University - August 2017
National Science Week (NSW) is an annual countrywide celebration of science, technology, engineering, mathematics and innovation (STEMI) led by the Department of Science and Technology (DST) where various stakeholders, role players and interest groups collectively conduct activities that promote general awareness of the value of STEMI to people's daily lives. NSW was initiated in the year 2000 where it was a single event in one province and has since expanded to multiple parallel events in nine provinces. The theme for 2017 was "advancing science tourism".
Objectives of the NSW include:
Showcasing innovations
Popularise Science to the broader SA society
Informing citizens of SA's science expertise and geographic advantages (WRT science)
Make STEMI appealing to learners, such that they may consider science, engineering or technology as a career.
Since 2014, the Chemistry Department of the former NMMU has been active in National Science Week activities. Activities normally included a workshop for teachers, science demonstrations for learners and occasionally an interactive chemistry stall for the public. Typical direct reach would be to approximately 300 learners and 20 educators. This year saw the Chemistry Department of Nelson Mandela University expand that direct reach beyond tenfold to 4000 plus.

The National Science Week of 2017 was hosted by the Science Faculty of the Nelson Mandela University at the Missionvale Campus situated in the northern areas of Port Elizabeth and the event was funded by the university and the DST. Extensive preparation was required by the Chemistry Department to plan activities that took place prior to the launch (June and July), at the launch (5 August) and during the focus week (7-12 August).

Three large tents pitched in the parking lots at Nelson Mandela University's Missionvale Campus housed the approximately eighty stalls in which various companies and organizations set up their exhibits. Scholars arrived by busloads from various Eastern Cape schools, and from 2-6 pm on Friday afternoon marshals guided groups of about 20 learners at a time from stall to stall. Chemists possess a certain advantage over other disciplines in that they can perform numerous interesting reactions that readily lure curious or idle learners closer for few memorable reactions. Exploiting this advantage, the chemistry personnel performed a variety of interactive demonstrations at the 6x3 m Chemistry stall. These included shaking the blue bottle which changes from colourless to blue only upon shaking, generating and igniting hydrogen, water clarification with polyaluminium chloride, converting liquid latex to a bouncing ball by neutralization of ammonia with citric acid, polyeurethane foam formation in a cup, observing atomic emission in a methanol-air flame tornado, and the ever-popular ignition of a pinch of nitrocellulose. The focus was on making the activities as interactive as possible by having scholars perform reactions after donning PPE. Also on display were cut-open batteries, a SPECUP LED-basedvisible spectrometer and a flame emission photometer.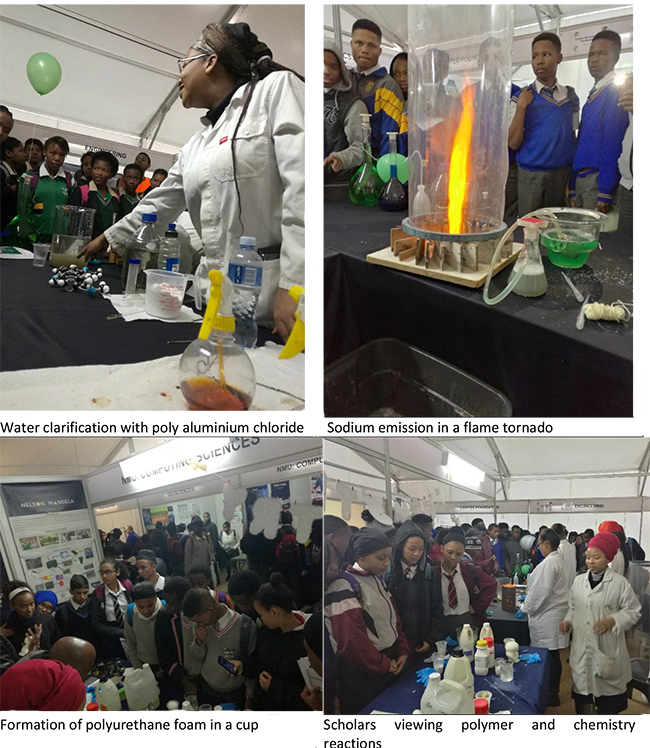 The activities and popularity of the Chemistry stall did not escape the notice of the Morning Live TV crew who requested a chemistry presentation at 7 am on the next morning. At short notice, the Chemistry team responded and moved half the stall to the selected venue. On Friday night the weather took a turn for the worse with 55 mm of rain falling, complicating matters considerably. Despite the challenges the chemistry team were present before sunrise and two short series of experiments were televised with a few extra demonstrations being performed for a few pyrotechnically inclined young lads. Also on the same Saturday morning, Prof Zeni Tshentu gave a radio interview with Mr. Lloyd Sitsheke of Mhlobo Wenene talking about the National Science Week in isiXhosa.

Video Links - Morning Live 5 August
| | |
| --- | --- |
| Vice Chancellors talk (chemistry activity in the background) | |
| Interview on chemical reactions with Dr Rubidge | |
On the Saturday morning nine Analytical Chemistry and Polymer Technology diploma students manned the stall and assisted with demonstrations. The next activity was a 10 minute chemistry show performed by Dr Gletwyn Rubidge in the indoor sports center. During the on-stage show, a videographer focused his camera closely on the reactions which were projected by video onto two large transmission screens for the audience of ~4000 scholars students, educators and VIPs of the event. In the interest of appealing to learners senses, a memorable sequence of reactions was performed by Dr Rubidge and four assistants. The demonstration began with methanol combustion in a closed coffee tin (loud report), followed by the generation of CO2 in a 10 liter transparent plastic vessel (citric acid-bicarbonate) with subsequent volume reduction of the CO2 by hydroxide (the vessel collapsed when shaken). Thereafter the "elephant's toothpaste" reaction was performed on a large plastic sheet (iodide-catalysed decomposition of hydrogen peroxide). The show was concluded with "harvesting and ignition of the beard of a dragon" (an impressive fireball produced by nitrated cotton wool).

By Saturday afternoon the weather had cleared up stalls were visited for a good two to three hours by enthusiastic scholars, the chemistry stall was once again very active.

During the next week from 5- 11 August, the "focus week", the Chemistry department planned various activities, talks and laboratory visits including:
1. Dr B Barton: Crystal growing and instrumentation – a tour of the organic chemistry laboratory.
2. Mr F Gerber: Polymer chemistry reactions and a polymer lab tour
3. Prof Paul Watts: Microfluidic bio/chemical processing
4. Prof Zeni Tshentu and team: Laboratory tour and a talk focusing on alternative/ complimentary processes for the elimination of contaminants in fuel.
5. Dr G Rubidge: Chemistry workshop / demonstration for two groups of 60 scholars each; grade 5-7, grade 10-12 scholars at Nelson Mandela Bay Science Center in Uitenhague.
The Chemistry Department of the Nelson Mandela University made a significant impact in popularising various aspects and influences of chemistry, and highlighted the modern world's dependence on chemistry as applied in the sciences, engineering and technology.
Dr Gletwyn Rubidge (Nelson Mandela University, Chemistry Department)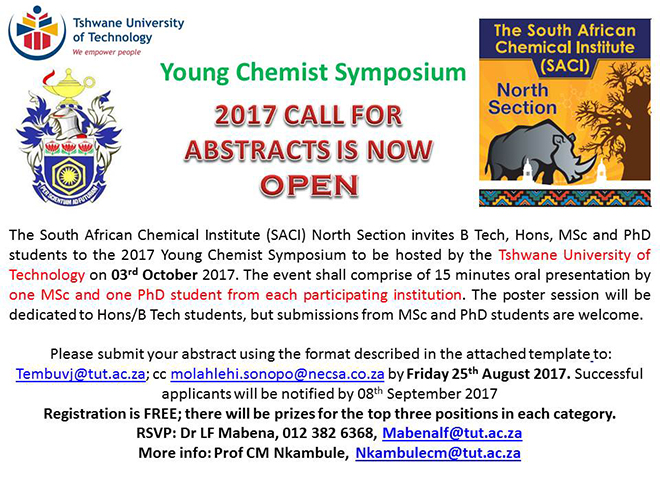 Download abstract template
4th Jan Boeyens Prize for INDABA9 (2018)
Guidelines for the 4th Jan Boeyens Prize for INDABA9 (2018)
The INDABA series of conferences/ workshops, established in the early 90's under the auspices of the International Union of Crystallography's Commission on Structural Chemistry, introduced a prize in recognition of Professor Jan Boeyens, a founder of these multi-disciplinary meetings.
The INDABA meetings take place triennially, and the Jan Boeyens Prize will thus also be awarded once every three years at an INDABA meeting.
The Jan Boeyens Prize will be awarded to an early career young South African researcher [normally a person under the age of 40 as of 31 December 2018] who has made a distinguished contribution to the utilization of crystallography and other structural methods in a holistic manner to investigate fundamental problems in nature in the period following completion of his/her PhD. It can include someone who has spent some time abroad after their PhD (e.g. international post doctoral fellowship).
Candidates are nominated by senior scientists associated with South African science. The chairperson of the Jan Boeyens Prize Committee [for 2018, Prof Helder Marques, Wits] has been appointed by the Programme Committee of the INDABA series, currently chaired by Prof Peter Comba from the University of Heidelberg, Germany. Nominations should consist of (i) a short letter of motivation why the candidate is nominated, (ii) an up-to-date CV and (iii) the signed acceptance of nomination by the candidate, and emailed to Helder.Marques@wits.ac.za before 31 March 2018.
The Jan Boeyens Prize Committee will evaluate nominations and determine the winner based on similar principles as the regional affiliate of the IUCr, the European Crystallographic Association's Bertaut Prize for young scientists.
[see http://www.ecanews.org/ecaprize.php ].
The prize consists of (i) a medal, and for 2018 (INDABA9) also includes (ii) a cash prize of ZAR15,000.
Laureates shall, upon receipt of the Jan Boeyens Prize, present a lecture on their research at the current INDABA meeting. Moreover, at the follow-up INDABA, the laureate is obliged to present another lecture indicating to the community, the experience gained and vision expanded during the 3-year period since receiving the prize
(By South African is meant a citizen of South Africa, or a foreign national, who has spent the major part of his/her career conducting research at a South African institution)
RSC News: Newton Mobility Grants
The Newton Mobility Grants (Brazil, Mexico and South Africa) programme is intended to stimulate collaborations between scientists in the UK and overseas partner countries. This must result in the training and transferring knowledge as well as skills to help strengthen research capabilities of the overseas partner. The applicant can apply up to £3,000 for 3 months, up to £6,000 for 1 year or up to £12,000 for 2 years duration project. The application deadline is 10 October 2017 15:00 UK time. Further details can be found on our webpage https://royalsociety.org/grants-schemes-awards/grants/newton-mobility-grants/
IUPAC
For the latest news see: http://www.saci.co.za/iupac.html
South African Journal of Chemistry – 2017 report
Details of the journal and the editors can be seen at http://www.journals.co.za/sajchem/.
Stats about the Journal are presented below.
2017 Search results: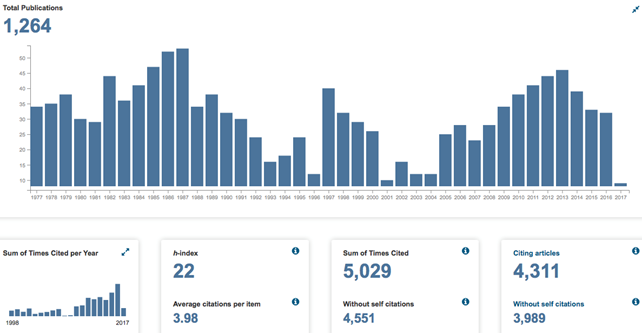 The numbers of papers per year (that are published by the journal) have steadily increasing since 2004 and peaked at 2013.




The number of citations is also increasing since 2008. Credit should go to the Science editors:
Organic Chemistry
- Prof Willem van Otter
- Dr Leigh-Anne Fraser
- Dr Tricia Nicker
Physical Chemistry
- Professor Bice Martincigh
- Professor Jeanette Comrade
Analytical Chemistry
- Dr Patricia Forbes
- Dr Marc Humphries
- Prof Priscilla Baker
- Prof Hlanganani Tutu
Inorganic Chemistry
- Dr Daniela Bezuidenhout
- Dr Sam Mahomed
Educational Chemistry
- Professor Bette Davidowitz
Computational Chemistry
- Dr Gerhard Venter
Materials Science and Nanotechnology
- Prof Neerish Revaprasadu
- Prof Patrick Ndungu
- Dr Roy Forbes
Assistant Editors
- Dr Byron Peters
- Dr Sooraj Biajnath
Editors-in-Chief
- Gert Kruger
- Luke Chimuka
Since the beginning of the 2016 the journal have two Editors-in-Chief on a rotational basis: Profs Gert Kruger and Luke Chimuka. The idea is that each person will serve 2 years. Year one as "End process" editor and year 2 as "Screening" editor for all new submissions. Gert will step down towards the end of the year. Dr Tricia Naicker was the only existing editor to express willingness to take over from him.
The majority of the papers published are still from South Africa. The top 100 countries of authors that have published in the journal are presented below.
Iran is in second place, followed by India and China. USA is in 5th place, followed by Germany, Nigeria and Australia. Nigeria was in the 8th place in 2014. At least 21 other African countries are publishing in the journal (was 14 in 2014 and 19 in 2015).
Paper rejections
in 2016, we have rejected a total of 91 papers, while 32 papers were published.
In 2015, we have rejected a total of 152 papers, while 34 papers were published.
In 2014, we have rejected a total of 207 papers, while 65 papers were published.
In 2013, we have rejected a total of 106 papers, while 78 papers were published.
In 2010 the journal published 39 articles comprising 232 journal pages; the corresponding data for 2011 was 41 papers (262 pages), 2012 was 44 papers (285 pages) and 2013 was 46 papers (289 pages), 2014 was 39 papers (240 pages), 2015 was 34 paper (262 pages), 2016 was 32 papers (253 pages). The impact factor of the Journal is 0.65.
The current electronic system can now easily produce stats for the submission process. Below are some of the stats:
The average days for acceptance and rejection came down varies from year to year. That is in my view the most important point that needs improvement, provided we can keep up the quality of the journal.
All new papers will link the ORCID of the authors to their SAJChem papers.
Taken from SACI report compiled by Prof Gert Kruger, Chairperson SAJC
The extent of South African authored articles in predatory journals
There is an interesting article that has appeared in the South African Journal of Science
Volume 113 | Number 7/8 July/August 2017 pages 1-9 (http://www.sajs.co.za) by Johann Mouton and Astrid Valentine on "The extent of South African authored articles in predatory journals"

Abstract
We present a first estimate of the extent of predatory publishing amongst South African academics. This estimate is based on an analysis of all South African authored papers that qualified for subsidy over the period 2005 to 2014. The analysis shows that 4246 South African papers were published in 48 journals which we re-classified (refining Beall's classification) as either being probably or possibly predatory. A breakdown of these papers by year shows that the greatest increase in predatory publishing has occurred since 2011. Results are also presented of the distribution of these papers by individual university and scientific field. We conclude with some suggestions about predatory publishing and its pervasive consequence for our trust in science and how this should be addressed by the major stakeholders in the South African higher education system.

Significance: This study is the first to analyse the extent of predatory publishing in South Africa.
This is a very worrying article and should be read by all young academics. Publishing in predatory journals works against a career; the NRF has recognised this.

African Journals of Chemistry
South African Journal of Chemistry

The Journal will be 100 years old next year!
A special issue will be issued in 2018. All are encouraged to publish an article in the Journal next year. More details to follow

This Journal is published electronically. The webpage is: http://www.saci.co.za/ The South African Journal of Chemistry, published by the South African Chemical Institute, has been publishing high quality papers, in all fields of Chemistry for over 50 years. The Journal went fully electronic in 2000 and is freely available through open access online (http://reference.sabinet.co.za/sa_epublication/chem). It is a CAS-abstracted publication and is listed in Current Web Contents. It has retained its status as an accredited publication with the South African Department of Higher Education and Training.
African Journal of Chemical Education
Enquiries and manuscripts should be addressed to the Editor-in-Chief: email eic@faschem.org, PO Box 2305, Addis Ababa, Ethiopia. AJCE, 2016, 6(1) ISSN 2227-5835 The online version appears in the FASC website (www.faschem.org) and in the AJOL website (www.ajol.info)
CAIA Newsletter
The latest issue of CAIA news is available. Go to: http://www.caia.co.za/news/chemnews/
or e-mail: caia@iafrica.com for pdf files of news and information.
SACI and SACI related Conference events
2017 CHROMATOGRAPHY POSTGRADUATE STUDENT SEMINAR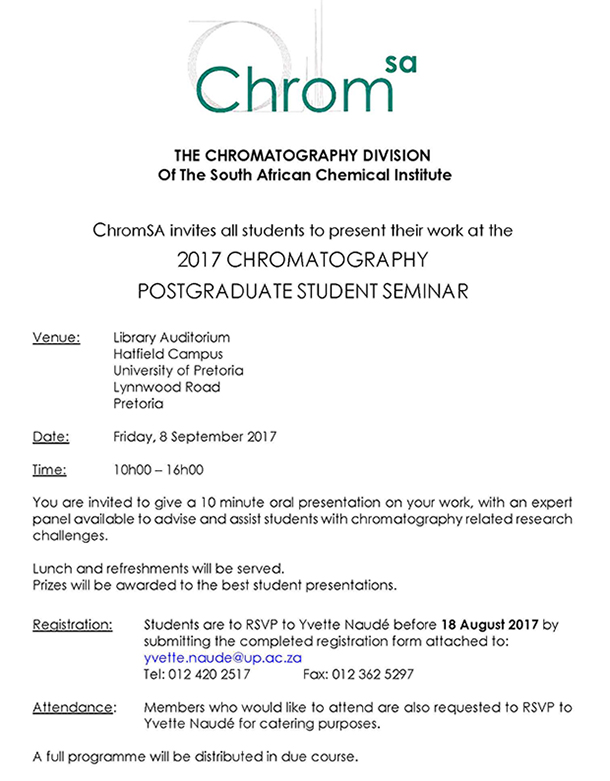 4th International Symposium on Electrochemistry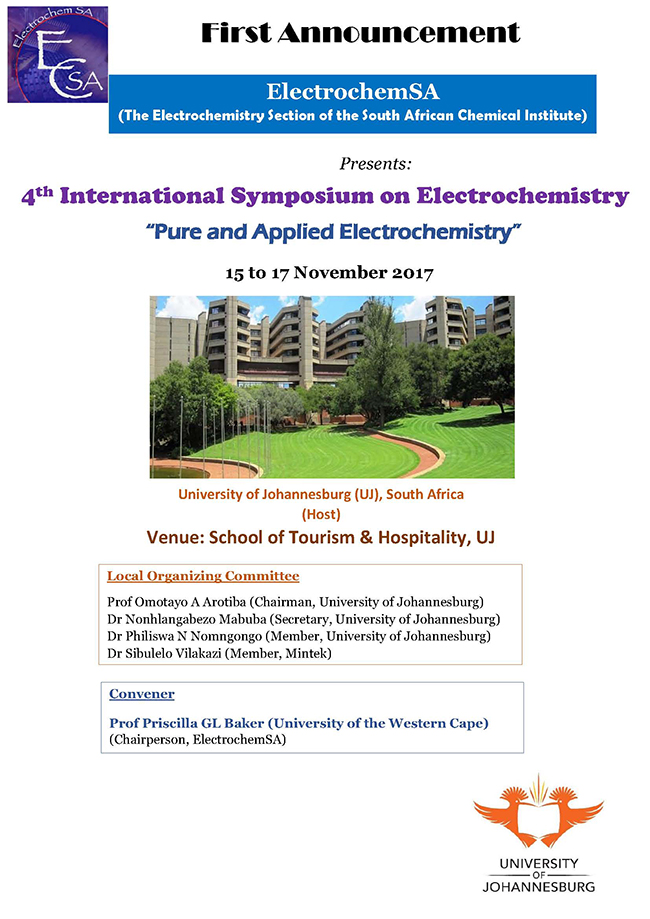 On behalf of ElectrochemSA, I cordially invite you to the 4th International Symposium on Electrochemistry.
Our theme for this conference is "Pure and Applied Electrochemistry".

Electrochemistry, though traditionally a subset of physical chemistry and analytical chemistry, in recent times has emerged to be a notable branch of chemistry. Electrochemistry is applied in biochemistry, material science, biotechnology, nanotechnology, engineering, mining, environmental science, water treatment technologies, biomedicine, energy and so on. It is a key science behind many technologies such as sensors, biosensors, solar cells, batteries, capacitors, supercapacitors, fuel cells, hydrogen storage, water splitting, electroplating, corrosion, and many 'green' water treatment processes such as photoelectrochemical oxidation and electrocoagulation, among others.

The 4th Symposium on Electrochemistry is aimed at meeting the global challenges (especially in Africa) in water, biomedical, environmental, energy etc by bringing together electrochemists and other scientists/engineers whose integral part of their research involves electrochemistry. It will be a platform to share and update knowledge, stimulate new ideas, networking and collaborate. In addition, special attention will be given to students' participations and interactions.

Prof. Omotayo A. Arotiba MRSC

Scope
Sensors and Biosensors
Photoelectrochemistry
Environmental Electrochemistry
Electrochemical Water Treatment Technologies
Electrochemistry of materials and nanomaterials
Electrochemistry for Energy
Electrocatalysis
Industrial Electrochemistry
Important deadlines

20 August 2017: Submission of the abstracts open
23 October 2017 Abstract Submission closes
23 October 2017: Registration Close
Abstracts acceptance notification from 1 September - 25 October 2017
15 November 2017: Conference begins
Venue and Accommodation
The School of Tourism and Hospitality, University of Johannesburg is an excellent environment for conferences and international cuisine.
Affordable accommodation will be provided for student.
More information on accommodations close to the venue will be provided in subsequent calls
Web page

http://www.saci.co.za/ElecrochemSA/symposium_home.html
To submit and abstract - http://www.saci.co.za/Scripts/Submissions/
To register - http://www.saci.co.za/ElecrochemSA/symposium_registration.html
The 3rd TCS International Conference and the 6th FASC Congress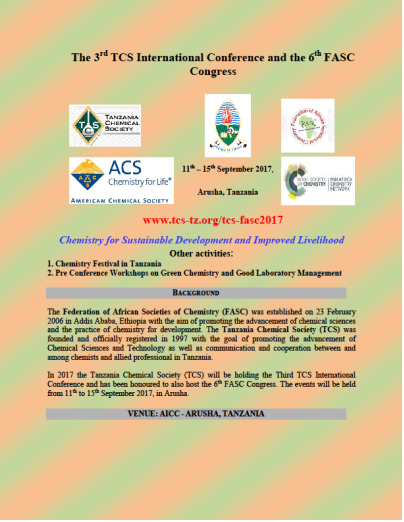 The conference will be held at the Arusha International Conference Center (AICC) in Arusha. Arusha city is exactly half-way between Cape Town and Cairo, only a stone's throw away from Africa's highest Mountain, Mt. Kilimanjaro and the safari-gateway to the astounding wildlife of Ngorongoro Crater, the Serengeti, Tarangire and Lake Manyara National Parks.
SYMPOSIUM THEMES

The conference will cover all areas of chemistry including but not limited to:
 Analytical Chemistry
 Physical Chemistry
 Inorganic Chemistry
 Organic Chemistry
 Natural Products Chemistry
 Environmental Chemistry
 Industrial Chemistry
 Forensic Chemistry
 Nanochemistry

Please register and make your submission at the following link:
http://www.tcs-tz.org/tcs-fasc2017

Or contact:



Prof. Othman C. Othman
+255 22 2410038
+255 713 433982
o_chande@yahoo.co.uk
ocothman@gmail.com
Chemistry Department
College of Natural and Applied Sciences
University of Dar es Salaam
P.O. Box 35061
Dar es Salaam, Tanzania

Dr. Clarence A. Mgina
+255 22 2410038
+255 767 547970
cmgina@yahoo.com
cmgina@udsm.ac.tz
Chemistry Department
College of Natural and Applied Sciences
University of Dar es Salaam
P.O. Box 35061
Dar es Salaam, Tanzania

Dr. Clarence A. Mgina
+255 22 2410038
+255 767 547970
cmgina@yahoo.com
cmgina@udsm.ac.tz
Chemistry Department
College of Natural and Applied Sciences
University of Dar es Salaam
P.O. Box 35061
Dar es Salaam, Tanzania

 Theoretical Chemistry
 Biochemistry
 Computational Chemistry
 Combinatorial Chemistry
 Chemical Education
 Green Chemistry
 Organometallic Chemistry
 Fuel Chemistry
 Medicinal Chemistry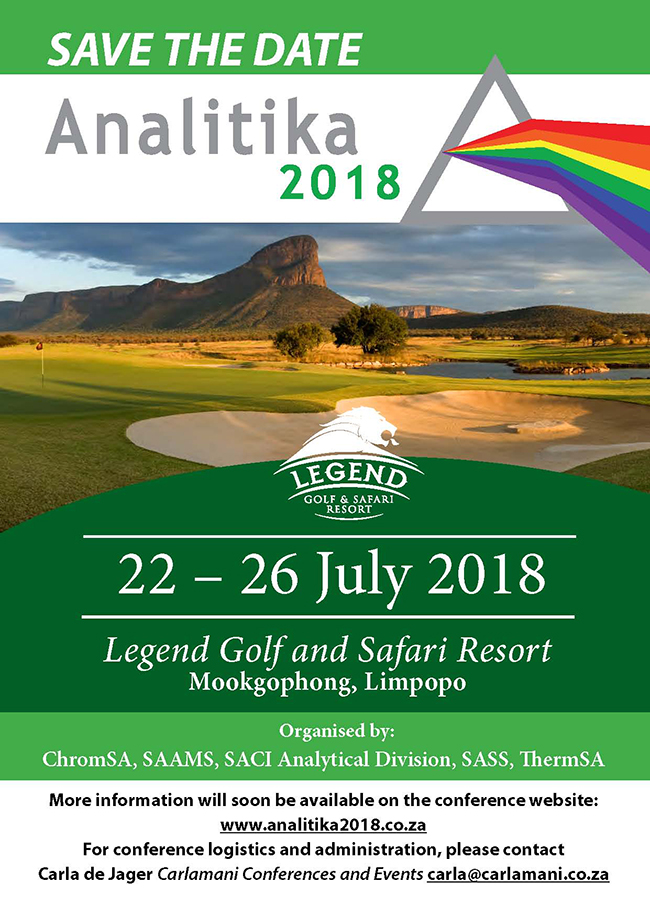 Others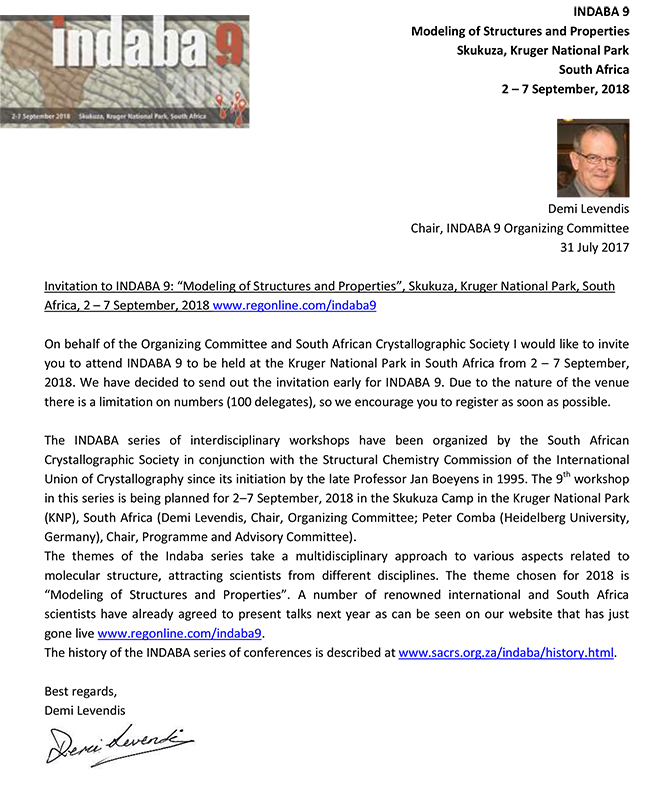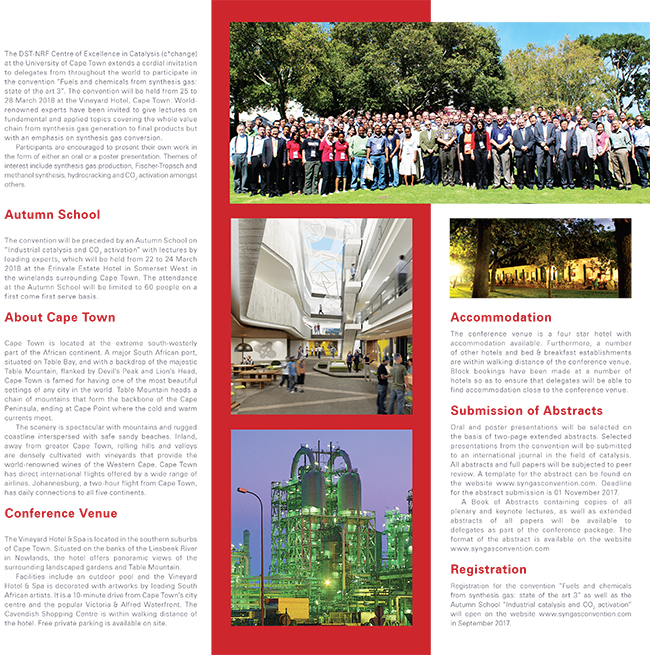 Dear Colleague,

On behalf of the Organizing Committee of FEMMS 2017, we would like to invite you to join us during this meeting. Poster submissions are open now http://femms2017.org/submission.html

Deadline for poster abstract submissions as well as for the early-bird registration is 31. JULY, 2017.
Participants are invited to present outcomes of their research at FEMMS 2017 as poster presentations. Those interested need to submit an abstract by downloading and completing the template, then filling out the form to submit it. All poster abstracts that are accepted for presentation will be published in the conference booklet.
FEMMS is a biennial meeting focused on the application of electron microscopy, primarily TEM, in materials science. The conference series primarily arose to satisfy the requirements of the electron microscopy community working on materials science problems, which grew explosively in the late 1980's and has expanded to include researchers working with analytical periphery, novel instrumentation, tomography, operando and correlative microscopy, and advancing into the domain of ultrafast time-resolved microscopy.

Traditionally, FEMMS brings together approx. 40 invited speakers plus one distinguished lecturer - all confirmed and listed below - that are world-renowned experts, principal investigators and project leaders, to present their latest advances in the field of electron microscopy in the materials sciences.

FEMMS 2017 will be held in at the Indaba Hotel & Conference Center in Fourways, Johannesburg,
Submissions for student posters will open in mid June 2017.

We are confident that FEMMS 2017 will be a great and successful meeting.
We look forward to your active support and participation.

Sincerely yours,

Alexander Ziegler
femms2017@gmail.com; http://femms2017.org/
AMRS2017 (Africa Materials Research Society)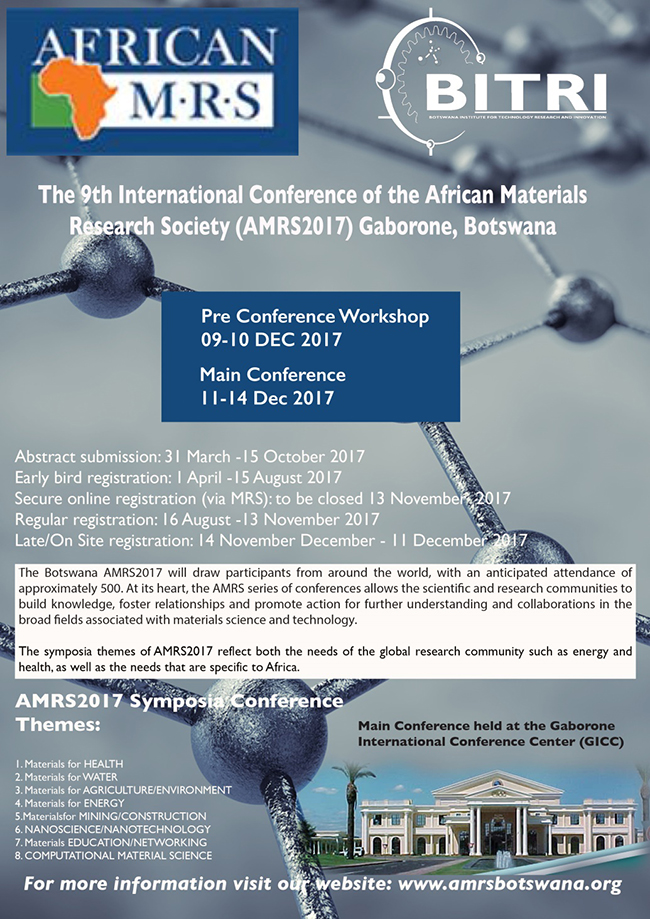 Atlantic Basin Conference on Chemistry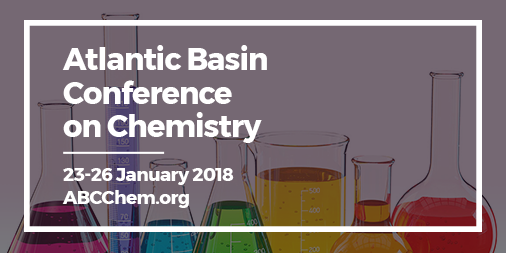 ABCChem – Plenary Speakers Announced!
ACS is partnering with societies in North and South America, Europe, and Africa for the first Atlantic Basin Conference on Chemistry (ABCChem) to be held in January 23–26, 2018, in sunny Cancún, Mexico. A dynamic lineup of plenary speakers from across the region have been confirmed and will cover a range of topics including Chemistry in Biology, Green Chemistry, Materials & Nano Chemistry, and Physical & Analytical Chemistry.
Call For Papers – Submit Yours Today
The ABCChem Technical Programming Committee invites chemistry professionals across the regions to give oral and poster presentations on the topics listed above. The deadline to submit abstracts is Monday, September 18, 2017.
Submit your papers and register now! To ensure international collaboration, registration is limited by region. Make sure to register early to secure your spot!
First Atlantic Basin Conference on Chemistry (ABCChem) – 24-26 January, 2018; Cancún, Mexico http://abcchem.org/about/societies/
The 3rd TCS International Conference and the 6th FASC Congress, Chemistry for Sustainable Development and Improved Livelihood Arusha, Tanzania http://tcs-tz.org/tcs-fasc2017/
International Conference on Chemical Education 18, July 10-14 2018, Sydney
ACRICE-3 Algeria October. The website is www.univ-setif.dz/OCS/FT/ACRICE. The conference is under the aegis of IUPAC and FASC
Science Forum South Africa 7-8 Dec 2017, CSIR International Convention Centre, Pretoria
African Materials Research Society (AMRS) Conference 2017, 11-14 Dec 2017, Gaborone, Botswana. www.amrsbotswana.org
7th SANi-NYRS symposium
The South African Nanotechnology Initiative (SANi) together with Tshwane University of Technology (TUT) are excited to announce the coming 7th SANi-NYRS symposium hosted at Tshwane University of Technology (TUT) in Pretoria west, TUT main campus, on the 20th of October 2017 under the theme "Nanotechnology For The 21st Century Challenges". Thus, we will appreciate it extensively if the attached announcement can be circulated to various Departments within your Institution and also be posted on the notice boards where students and interested candidates will clearly see it.
Katlego Makgopa (PhD)
Building 3, Office 614D
Department of Chemistry
Acardia Campus, 175 Mandela Drive
Tshwane University of Technology
Tel: 0123826406; 0769932734
Email: MakgopaK@tut.ac.za