SACI News July 2016

During August the SACI AGM was held in Johannesburg. The Executive and Council did not change membership as they all serve a two year term of office. A highlight of the AGM was the release of the names of those who had won SACI awards for 2016. See the newsletter for details. Names of SACI fellows for 2016 have also been released. This is a good time to start thinking about proposing chemists for the SACI 2017 awards. The James Moir student awards are given to the top students (> 75 % mark required) at ALL SA Universities – but the students do need to be nominated by staff (HODs) from the Universities. See the web site for details.

Neil Coville
Content
SACI office address
Advertising in the SACI newsletter
SACI Awards
New SACI Fellows
SAQA
IUPAC
Section and Division news
African Journals of Chemistry
CAIA Newsletter
RSC
RSC Funding Opportunity
RSC/PACN RSC/PACN Chemistry Network Congress 2016
Catalysis for Fuels: Faraday Discussion
SACI and SACI related conference events
SACI INORGANIC 2017 - Incorporating the Carman Symposium
Frank Warren 2016
6th Mintek Analytical Sciences Symposium
Gauteng Central Section Young Chemists Symposium
1st SACI Gauteng North Young Chemists event
ChromSAAMS 2016
2nd Annual Symposium and Workshop on Environmental Research and Pollution Monitoring of Environmental Persistent Pollutants (EPP)
RSC/PACN RSC/PACN Chemistry Network Congress 2016
Others
Workshops
Design and analysis of experiments
Wirsam Scientific and Precision (Equipment Pty) LtdXRF Course
ChromSAMMS Post-Conference GC and GC/MS Workshop

Vacancies
Junior Technical R&D/ Factory Liaison
Post-doctoral Fellowship, U Limpopo, Organic/medicinal chemistry
MSc and PhD scholarships, U Stellenbosch
Position at UNISA (Florida); Organic chemistry
SACI office address
The SACI office, run by Laila Smith is located on the 1st Floor of Gate House, room 124. The telephone number is 011 717 6705 and e-mail address is: saci.chem@wits.ac.za.
Advertising in the SACI newsletter
The newsletter provides a means of getting messages to our membership. Currently the SACI membership stands at over 1000. This newsletter thus provides a means of advertising employment opportunities, conferences and workshops, and even for companies/Universities to promote themselves. We encourage members to use the Newsletter for advertising purposes. All SACI related conferences and events are advertised for free; if not a SACI related event there could be a small charge. For advertising costs contact Laila at the SACI office.
SACI Awards
The SACI AGM was held recently. A full report will appear on the event in a later newsletter. As Council members are elected for two years, no elections were held in 2016. One of the most important features of the AGM was the announcement of the 2016 SACI awards. The winners in the different categories are given below. Congratulations to all the awardees.
THE GOLD MEDAL
The award, a gold-plated medal bearing the Institute's name and crest on the obverse and name of the medal and the recipient and date on the reverse, is made to a person whose scientific contribution in the field of chemistry or chemical technology is adjudged to be of outstanding merit.
Professor Prof Timothy J Egan
University of Cape Town
THE MERCK MEDAL
The medal is awarded to the senior author of the paper, or papers, published in the South African Journal of Chemistry in a specific field of chemistry, adjudged to have made the most significant contributions to the discipline. The award for 2016, covering papers published in the period 2010 to 2015, was the most cited (without self-citation) SA authored paper in the field of Chemistry.
T. Bunhu, A. Kindness and B.S. Martincigh*
S. Afr. J. Chem., 2011, 64, 139-143
Determination of Titanium Dioxide in Commercial Sunscreens by Inductively Coupled Plasma-Optical Emission Spectrometry
THE SACI POST-GRADUATE AWARDS
The medals shall be awarded to students engaged in research towards an MSc or PhD degree at a University, or an MTech or DTech degree at a University or University of Technology. The number of medals awarded shall not exceed five per annum, and the awards are limited to one per institution.
Mr Mbongiseni William Dlamini University of the Witwatersrand
Mr Ian Rogers University of Cape Town
Ms Kaalin Gopaul University of KwaZulu-Natal
THE CHEMICAL EDUCATION MEDAL
The award is made to a person who has made an outstanding contribution to chemical education as judged by the person's published work in the previous 5 years. Published work may be in any form and may be related to any level or educational context.
Prof Helen Drummond
North-West University
THE JAMES MOIR MEDALS
Medals shall be awarded to the best 2015 BSc Honours student in chemistry at each University, and the best BTech student in chemistry at each University of Technology. To be eligible for the award the student must have achieved a minimum final pass mark of 75%. One medal shall be available for award annually for each University or University of Technology in the Republic of South Africa.
| | |
| --- | --- |
| Delbert Botes | University of Witwatersrand |
| Zolani Myalo | University of the Western Cape |
| Bianca Steytler | University of Pretoria |
| Kimberley Bianca Govender | University of KwaZulu-Natal |
| Jeanette Leygonie | University of the Free State |
| Alexios Vicatos | University of Cape Town |
| Jean Lombard | University of Stellenbosch |
| Lizette Swartzberg | North-West University |
| Aidan Leigh | Nelson Mandela Metropolitan University |
| Kudzanai Nyamayaro | Cape Peninsula University of Technology |
| Munashe Chizema | University of Johannesburg |
THE RAIKES MEDAL
The award shall be made to a person, under the age of 40 on 31 March in the year of the award, whose original chemical research shows outstanding promise, as judged by the person's publications in reputable journals. It is further stipulated that the research shall have been performed in South Africa.
Professor Prof Zenixole R. Tshentu
Nelson Mandela Metropolitan University
THE SASOL CHEMISTRY INNOVATOR OF THE YEAR MEDAL
The award shall be made to a person whose scientific contributions in the field of chemistry or chemical technology during the year preceding the award are adjudged to be outstandingly innovative.
No nomination
New SACI Fellows
Congratulations to the new SACI fellows who were elected both at the AGM and in more recent weeks: They are: Prof ELJ Breet, Prof T Nyokong, Prof H Raubenheimer, Prof LR Nassimbeni and Prof MT Davies-Coleman.
SAQA
There have been a growing number of applications for the PrChemSA but SACI would like to see more members from industry applying. Further: SACI still needs someone from academia to come forward to serve on the committee.
Mike Booth
IUPAC
For the latest news see: http://www.saci.co.za/iupac.html
Section and Division news
The SACI Central Section Facebook group page for members is up and running. The group is administered by the Chairperson and Secretary of the Division. Its purpose is to keep our members up to date with events, Chemistry news, job/business opportunities, etc. Please join and invite other.
Chair: Sabelo Mhlanga, UNISA
African Journals of Chemistry
South African Journal of Chemistry

This Journal is published electronically. The webpage is: http://www.saci.co.za/ The South African Journal of Chemistry, published by the South African Chemical Institute, has been publishing high quality papers, in all fields of Chemistry for over 50 years. The Journal went fully electronic in 2000 and is freely available through open access online (http://reference.sabinet.co.za/sa_epublication/chem). It is a CAS-abstracted publication and is listed in Current Web Contents. It has retained its status as an accredited publication with the South African Department of Higher Education and Training.

African Corrosion Journal (online). Commenced in 2015 – a peer reviewed corrosion journal. This journal may be of interest to the "practical" chemists amongst the SACI membership. https://view.publitas.com/icp-1/african-corrosion-journal


African Journal of Pure and Applied Chemistry
Submit manuscripts: http://ms.academicjournals.me; Editorial office: ajpac@academicjournals.org
African Journal of Chemical Education
Enquiries and manuscripts should be addressed to the Editor-in-Chief: email eic@faschem.org, PO Box 2305, Addis Ababa, Ethiopia. AJCE, 2016, 6(1) ISSN 2227-5835 The online version appears in the FASC website (www.faschem.org) and in the AJOL website (www.ajol.info)
CAIA Newsletter
The latest issue of CAIA news is available. Go to: http://www.caia.co.za/news/chemnews/
or e-mail: caia@iafrica.com for pdf files of news and information.
RSC
RSC news (funding opportunity)
Are you eligible for a research grant of up to £4,000?
Do you need funding for chemicals or equipment?
Do you carry out research at a university, college or research institute?
Are you a Royal Society of Chemistry member? (Associate member, Member or Fellow only)
If you answered 'Yes' then find out how you can apply to our Research Fund today.
If you're not a member yet, it's simple to join – and the benefits of being part of the world's leading chemistry community go far beyond funding.

Our website has all you need to get started.
If you know a researcher who would benefit from funding, but isn't a member of the Royal Society of Chemistry, why not let them know about our Research Fund by forwarding this email on to them?
We look forward to getting your application.

Royal Society of Chemistry
This information about Royal Society of Chemistry activities, products and services is being sent to you as part of your membership of the Pan Africa Chemistry Network. If you wish to unsubscribe, please contact: pacn@uonbi.ac.ke.
Contact us
The Royal Society of Chemistry is a charity registered in England and Wales. Registered Office: Thomas Graham House, Science Park, Cambridge CB4 0WF, United Kingdom. Registered Charity Number: 207890
RSC/PACN Chemistry Network Congress 2016
See advert on the Pan African Chemistry Network Congress 2016 - Sustainable Water Resources for Africa under events
Catalysis for Fuels: Faraday Discussion
The upcoming Catalysis for Fuels: Faraday Discussion will be held in Cape Town in January 2017. SACI members can receive a reduced rate to attend this event.

Please enter the code FDCATFUELS when prompted with the question 'Are you a member of an organisation which is supporting this event?'
Details: 24 - 26 January 2017, Cape Town. http://www.rsc.org/events/?searchtext=faraday&eventtype=3&rsc=1&membernetworkoptions=116&pagetitle=178
Contact me if there any queries relating to the registration (Neil Coville)
SACI and SACI related Conference events
SACI INORGANIC 2017 - Incorporating the Carman Symposium
Frank Warren 2016 conference


http://www.rhodesfrankwarren2016.com/


The 14th Edition of the Frank Warren Conference takes place from the 4th to the 8th of December in the Eastern Cape.
A line-up of local and international speakers includes Prof Kelly Chibale from H3D and UCT, Prof Charles de Koning from Wits University (our Frank Warren Speaker), and Prof Gert Kruger from UKZN.


Confirmed International speakers include Prof Peter O'Brien from the University of York, Prof Hans Joachim Knölker at Technical University of Dresden, and Eufranio Junior from the Federal University of Minas Gerais.


EXTENDED ABSTRACT submission is at the end of August 2016 and more details can be found on the Website: www.rhodesfrankwarren2016.com


We look forward to welcoming you to the beautiful Eastern Cape.
6th Mintek Analytical Science Symposium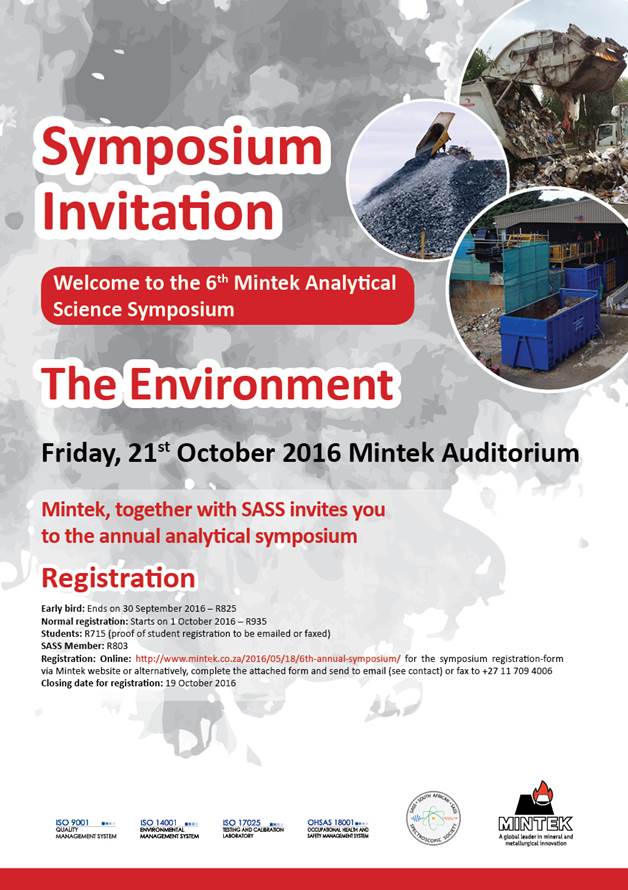 SACI Gauteng Central Section Young Chemists Symposium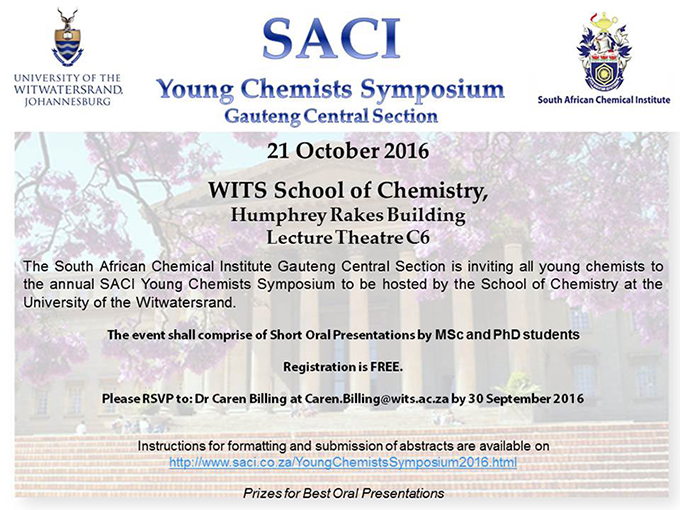 The Symposium is free and is open to all chemists, chemistry students and academics.
Abstract submission and well as RSVP to the event should be sent to Dr Caren Billing at Caren.Billing@wits.ac.za
There will be 12 oral presentations of 10 minutes each plus 5 minutes for questions. Presentation only by MSc and PhD student and there will be prizes for best oral in these categories .
Student presenting will be selected by an internal selection process from the various institutions, so there will be no call for abstracts. This will be communicated to the various institutions
11-14 Sept 2016, Riverside Sun, Vanderbijl Park. www.chromsaams2016.co.za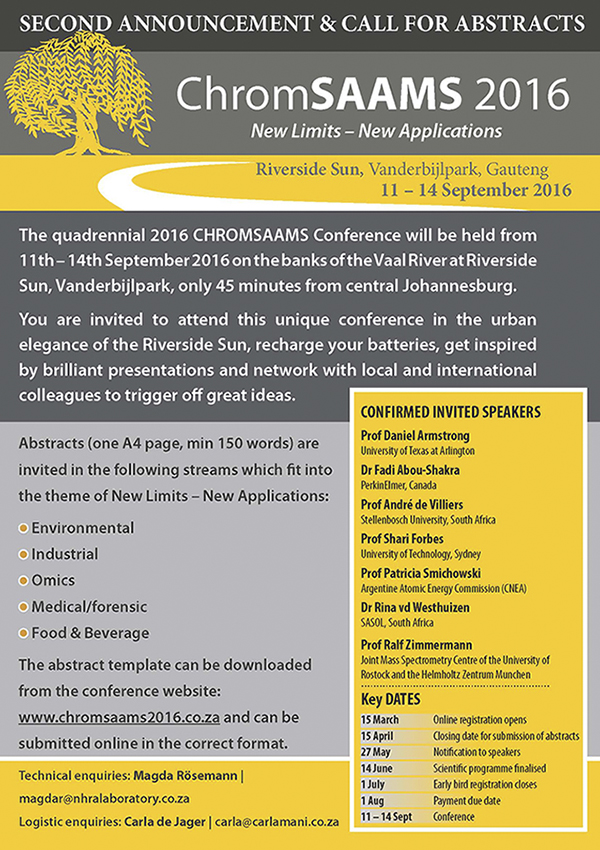 2nd Annual Symposium and Workshop on Environmental Research and Pollution Monitoring of Environmental Persistent Pollutants (EPP)
DATES: 3– 7 October 2016
VENUE: Faculty of Science Auditorium, Tshwane University of Technology, 175 Nelson Mandela Drive, Arcadia Pretoria
Purpose:
A 1-day symposium for researchers and postgraduate students working on environmental persistent pollutants in Africa to share and discuss their work in the form of presentations and posters.
A 4-day hands-on-training workshop on sample preparation and analysis.
FOCAL THEME
EPP in environmental media and biological samples
Indoor exposure to EPP
Analytical methods and techniques for EPP analysis
Emerging EPP
Mercury and other trace metals
Biosensors for EPP detection
REGISTRATION FEE: No registration fee is required
Participation in both the symposium and workshop is offered at no cost, however, seats are limited. Training workshop attendance is limited to 10 delegates with preference to students from South African universities where high powered analytical facilities are not available and from other African countries. The training workshop covers sample handling, extraction and analysis using SPE, sonicator, Soxhlet for extraction and LCMSMS, GCMS, and AAS for analysis. Certificate of attendance will be issued at the end of the training. Training will be conducted by applications chemists from Shimadzu South Africa and postdoctoral and post-graduate students from TUT.
Submission of abstracts: Abstracts should be submitted to:
Please indicate on the abstract choice of presentation (ORAL or POSTER). Abstract can be submitted on or before 31st August 2016. Notifications for abstract acceptance will be sent out as from 7th September 2016. Time allocation for oral presentation is 15 min. The template for the abstract and registration forms are attached.
RSC/PACN RSC/PACN Chemistry Network Congress 2016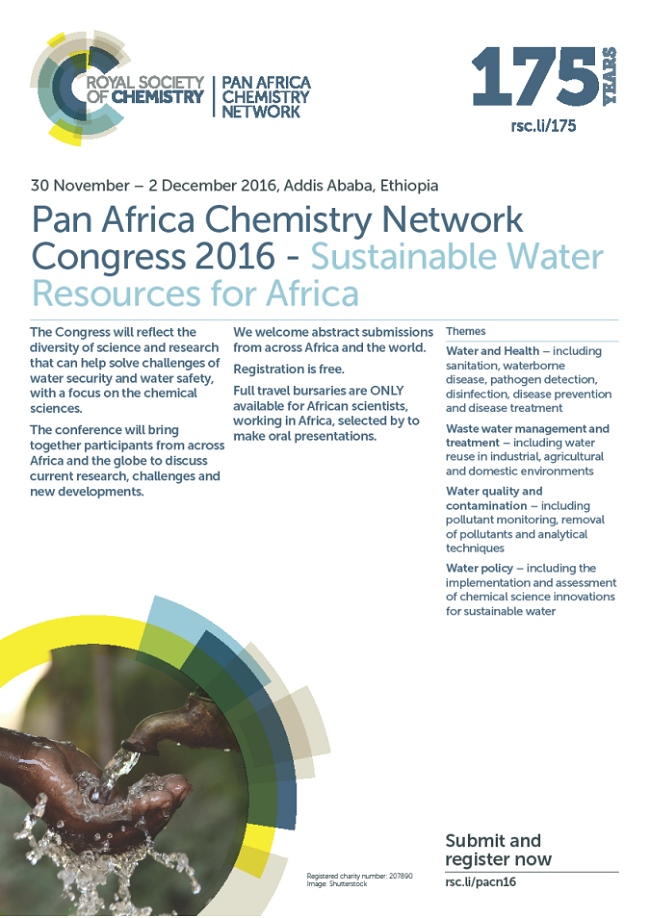 Others
Anton Paar Southern Africa Interactive Pharma & Cosmetic Workshops. 3 sessions for you to choose from: Port Elizabeth: Wednesday, 7 September 2016 ; Cape Town: Thursday, 8 September 2016; Pretoria: Friday, 9 September 2016 T: +27 (0) 11 021 5165/6/7 | info.za@anton-paar.com
Ninth International Symposium on New Trends in Chemistry ''Analytical Chemistry for Better Life'', Cairo University, Egypt from 2-5 January, 2017. http://egsac.sci.cu.edu.eg
IUPAC 2017 - July 6-14, 2017, São Paulo, Brazil
6th IUPAC Green Chemistry conference. 4th - 8th September, 2016 - Venice (Italy) Registration opens: December 1st, 2015 Early-bird registration deadline: May 30th, 2016 Online registration deadline: August 19th, 2016 www.greeniupac2016.eu
Society of Cosmetic Chemists South Africa Annual Scientific Conference & Gala Dinner Frugal Innovations
14-15 September 2016 Fax: 086 686-9674 or e-mail:coschem@iafrica.com; 27 11 792-4531
Test and Measurement International conference 2016 26th - 28th September 2016; Saint George Hotel and Convention Centre Rietvleidam, Centurion, Gauteng Tel: +27(0)12 349 1500 ; www.nla.org.za; Fax: +27(0)12 349 1501 • E-mail: steves@nla.org.za
The First International Conference on "SUSTAINABLE MATERIALS PROCESSING. Skukuza, Kruger National Park, South Africa | January 23-25, 2017. Email: tjen@uj.ac.za; Tel: +27 11 559-4208
Conference website: http://www.uj.ac.za/faculties/febe/Pages/SMPM-
Asia Pacific Congress on Catalysis – 7 (APCAT – 7) January 17 – 21st, 2017 Mumbai, India at Hotel Lalit,
with the core theme "Catalysis for Sustainable, Development, Peace and Prosperity".www.apcat7.in

Workshops
Wirsam Scientific and Precision (Equipment Pty) Ltd will be hosting another XRF Vendor Neutral Course in Johannesburg from 5 – 9 of September 2016. If you would like to attend the course, please send an e-mail message to Jenny Smith or Mariana Wirsam at Wirsam Scientific at email addresses: jenny@wirsam.com or mariana@wirsam.com


Download announcement and registration



Chromsa Post-Conference GC and GC/MS Workshop Registration for the Post-Conference Workshop will open shortly. The Workshop will be held from 15 to 16 September in Pretoria and will be presented by the ever popular Dr Jack Cochran from the Restek Corporation. The workshop is aimed at all levels of users and will focus on practical tips for trouble shooting GC, GCxGC and GC/MS results. More details will be on the website soon.

Follow the link on the website to register http://www.chromSAAMS2016.co.za/
Positions available

Junior Technical R&D/ Factory Liaison
This position will involve both laboratory as well as factory work. The successful candidate will form the bridge between R & D and the compounding teams in the plant.

Responsibilities will include:
Assisting R & D with the production of final lab samples for standard sign offs; Being responsible for all scale ups and pilot plant trials; Training compounders; Monitor & assist in all compounding; Enforce & oversee good GMP; Analyse problem batches in lab & troubleshoot solutions to resolve any issues

Skills: Good knowledge of manufacturing processes; Problem solving; Own transport; Able to work under pressure;
Self –motivated; Good people skills; Excellent communication skills

Requirements:
Bachelor or Diploma of Science in any applicable chemical field
This is a junior position with potential to grow into a senior supervisory role should performance so justify.
Interested parties to send their cv to marilize.hendricks@britec.co.za
Post-doctoral Fellowship, U Limpopo, Organic/medicinal chemistry.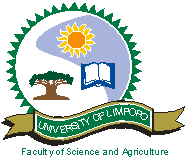 University of Limpopo
Department of Chemistry
Faculty of Science and Agriculture
School of Physical and Mineral Sciences
Private Bag X1106, Sovenga, 0727, South Africa
Tel: (015) 268 2331, Fax: (015) 268 3491, Email:Winston.nxumalo@ul.ac.za
Post Doctoral Fellow: Organic Chemistry/Medicinal Chemistry

Duration: 7 Months (September 2016 to March 2017)

Location: University of Limpopo

Department: Chemistry

Minimum Requirements: PhD in Chemistry (Already in possession of certificate)
Preferably in Organic synthesis or Medicinal Chemistry. Candidate must be a South African.

General Information: Contact Dr Winston Nxumalo
Tel: +27 15 268 2331 or +27 82 540 4519
Email: Winston.nxumalo@ul.ac.za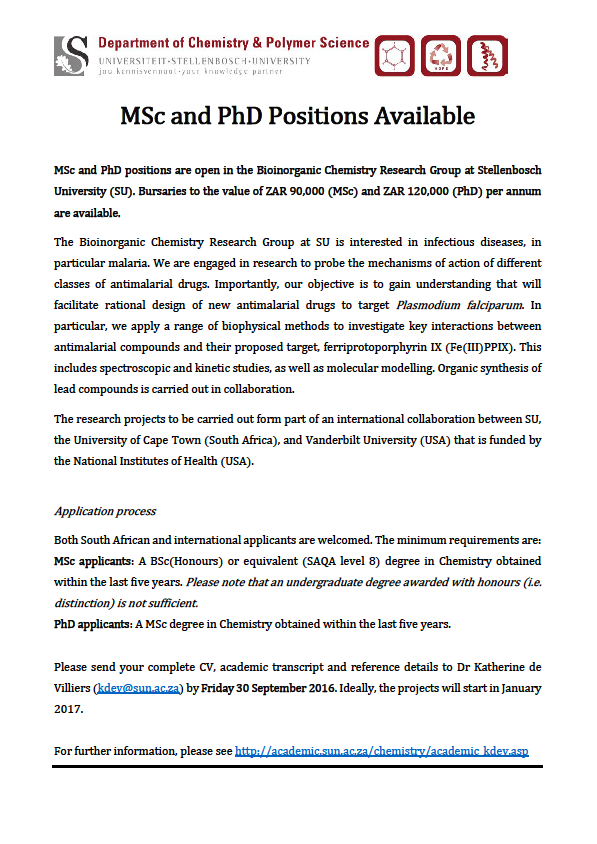 Position at UNISA (Florida); Organic chemistry