SACI News April 2017



Congratulations to the five chemists who have been nominated for NSTF awards in 2017. The finalists will be chosen in May (see list below). For those who are not aware of the changes – the NRF now requires that all SA scientists have an Orcid number. Indeed Gert Kruger, the SACI editor, has ensured that the SA Journal of Chemistry keeps abreast of these developments. All authors will now be required to list their Orcid numbers when submitting articles to the Journal (see below).

Neil Coville
Content
SACI office address and times
Advertising in the SACI newsletter
NSTF awards - First round nominations
Section and Divisions News
Education Section
ChromSA (KZN)
IUPAC
African Journals of Chemistry
CAIA Newsletter
SACI and SACI related conference events
SACI Inorganic 2017 (incorporating the Carmen Symposium)
The 3rd TCS International Conference and the 6th FASC Congress
SACI Chemical Education Medal Award Talk - Helen Drummond
Others
Obituaries
Prof. Ben Zeelie
Mr. Gerhard von Gruenewaldt
SACI office address and times
The SACI office, run by Laila Smith is located on the 1st Floor of Gate House, room 124. The telephone number is 011 717 6705 and e-mail address is: saci.chem@wits.ac.za. The cel number is 061 282 3477.

This year we are to experiment with having Laila work in the afternoons from home. This will mean that office hours will be from 8.30 am till 1.00 pm. She can still be contacted at any time during her office hours. We have noted that there are very few members (or others) who physically visit the office at Wits.
Advertising in the SACI newsletter
The newsletter provides a means of getting messages to our membership. Currently the SACI membership stands at over 1000. This newsletter thus provides a means of advertising employment opportunities, conferences and workshops, and even for companies/Universities to promote themselves. We encourage members to use the Newsletter for advertising purposes. All SACI related conferences and events are advertised for free; if not a SACI related event there could be a small charge. For advertising costs contact Laila at the SACI office.
NSTF awards – first round nominations
Awards finalists and winners: The announcement of the NSTF-South32 Awards finalists will be circulated through the NSTF e-newsletter during May 2017. The announcement of the winners will take place at the prestigious Awards gala dinner taking place on 29 June 2017 in Gauteng. The Patron of the Awards, the Minister of Science and Technology, presides over the programme. The event is an open (public) and glamorous affair attended by the cream of the crop of the SET community and the largest event of its kind. Over 500 guests attend the event annually. The community is invited to book tables for their organisations to celebrate the achievements of the community. Contact Ms Wilna Eksteen at the contact details below.

History of the NSTF and NSTF Awards: The annual NSTF-South32 Awards, is the flagship project of the NSTF. The NSTF is the most representative multi-stakeholder non-profit forum in South Africa promoting SET and innovation through collaborative effort. Founded by the SET community in 1995, the NSTF has a proud history and list of milestones promoting socio-economic growth. The NSTF Awards were introduced in 1998, when there were no comparable awards for research, and research and development (R&D). They were initiated to mobilise the joint resources and efforts of the broader SET and innovation community. Over the years, an NSTF Award became a very prestigious honour bestowed on researchers and related fields and organisations.
The NSTF awards recognise the work done by scientists and engineers in SA. The nominations for this year's awards again include a number of chemists and these are listed below. Congratulations to the following for being nominated and passing through the screening process:
TW Kambule-NSTF Awards: Research and its outputs (by an individual over a period of up to 15 years after award of a PhD or equivalent, predominantly in South Africa)
Msagati, Prof. Titus - Professor: Research Unit of Nanotechnology and Water Sustainability, College of Science, Design and Technology, University of South Africa
TW Kambule-NSTF Awards: Emerging researchers (by an individual - post-doctoral in a period of up to 6 years after award of a PhD or equivalent in research)
Bilibana, Dr Mawethu – National Research Foundation Scarce Skills Post-Doctoral Fellowship, Department of Chemistry, University of the Western Cape
Research or Engineering Capacity Development (by an individual over the last 5-10 years - Eskom sponsors two awards for a male and a female for contributions in Engineering and the NSTF will make an award for a contribution in other disciplines)
Du Toit, Mrs Marie - Lecturer, Department of Chemistry, and Co-Leader of the Mylab® Project, University of the North-West
NSTF-WRC Award: Sustainable water management, knowledge generation and solutions (by an individual or an organisation to be awarded in recognition of demonstrated leadership and impact - sponsored by the Water Research Commission)
Mamba, Prof. Bhekie - Executive Dean and Director Nanotechnology and Water Sustainability Unit, College of Science, Engineering and Technology, University of South Africa
Research for innovation - Corporate organisation (by a team or individual)
Revaprasadu, Prof Neeresh - Professor of Chemistry; Department of Science and Technology / National Research Foundation South African Research Chairs Initiative (SARChI) in Nanotechnology, University of Zululand
Sections and Divisions news
It is with pleasure that we welcome the new Chair of the Education Division, Prof Helen Drummond from the North West University. Any members who wish to be involved with this SACI Division please contact her at: Department of Chemistry; Mafikeng Campus, Private Bag X2046 , Mmabatho 2735. She is currently the Acting Dean, Faculty of Agriculture, Science and Technology at NWU.

We would also like to express our thanks to the outgoing Chair of the Division, Prof Marissa Rollnick. Marissa served on this committee, for many, many years. Over that time she was involved in numerous workshops and teacher training initiatives. We wish her well in her 'retirement'
Report of KwaZulu-Natal ChromSA seminar held on 5th April 2017

A KZN ChromSA seminar was hosted by the Durban University of Technology. The seminar was attended by over 40 guests from various KZN industries, University of KwaZulu-Natal, Durban University of Technology and Mangosuthu University of Technology. Welcome and opening address was delivered by the Dean of the Faculty of Applied Sciences (Prof. S. Singh) and the Head of the Chemistry Department (Prof. K. Bisetty) both from Durban University of Technology. Our guest speaker, Mr Alexander Whaley from LECO Africa gave an introductory talk on GCxGC, while Dr Peter Gorst-Allman from LECO Africa presented various GCxGC applications involving environmental, food samples, and health. Five postgraduate students from University of KwaZulu-Natal and Durban University of Technology presented the findings of their research work. There was a short tea break in between the presentations. The audience was allowed to ask questions and to have conversations with the presenters. Dr L M Madikizela (ChromSA KZN rep and Durban University of Technology lecturer) thanked all the presenters for the excellent presentations, and thanked organizers, sponsors and the KZN community for attending the event. He further encouraged all the attendees to become ChromSA members and to participate in local activities. Based on Dr D H Pienaar's talk (the judge of student work), all the student presentations were of high quality. Lunch was served afterwards.

Best student presenters were:
1st price: Mr. BP Gumbi (University of KwaZulu-Natal, Westville campus)
2nd price: Ms. SC Ntombela (University of KwaZulu-Natal, Pietermaritzburg campus)
Financial support from the following organizations was greatly appreciated:
1. LECO Africa
2. ChromSA
3. Durban University of Technology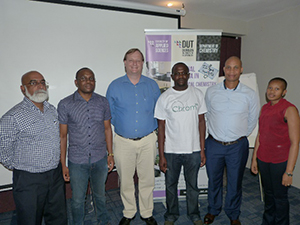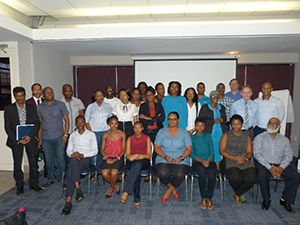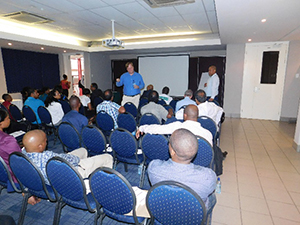 IUPAC
For the latest news see: http://www.saci.co.za/iupac.html
African Journals of Chemistry
South African Journal of Chemistry



The SA Journal of Chemistry is a free open access journal. Details about the journal can be found at https://www.sabinet.co.za/sajchem/. Current issues of the journal can be seen at http://journals.co.za/content/journal/chem/browse.

The journal has recently implemented the use of author ORCIDs (https://orcid.org/). Authors will get the opportunity to link their ORCIDs to the submission. When the paper is published, the author's ORCIDs will be linked to the online PDF paper. This will enable automatic updates of the author's ORIC accounts.

The journal is also planning to reward referees in the near future via the ORCID system. See https://orcid.org/blog/2016/09/22/recognizereview-orcid for more details. We trust that giving recognition to reviewers will further improve the quality of the review process.

Report from Prof Kruger

This Journal is published electronically. The webpage is: http://www.saci.co.za/ The South African Journal of Chemistry, published by the South African Chemical Institute, has been publishing high quality papers, in all fields of Chemistry for over 50 years. The Journal went fully electronic in 2000 and is freely available through open access online (http://reference.sabinet.co.za/sa_epublication/chem). It is a CAS-abstracted publication and is listed in Current Web Contents. It has retained its status as an accredited publication with the South African Department of Higher Education and Training.
African Journal of Chemical Education
Enquiries and manuscripts should be addressed to the Editor-in-Chief: email eic@faschem.org, PO Box 2305, Addis Ababa, Ethiopia. AJCE, 2016, 6(1) ISSN 2227-5835 The online version appears in the FASC website (www.faschem.org) and in the AJOL website (www.ajol.info)
CAIA Newsletter
The latest issue of CAIA news is available. Go to: http://www.caia.co.za/news/chemnews/
or e-mail: caia@iafrica.com for pdf files of news and information.
SACI and SACI related Conference events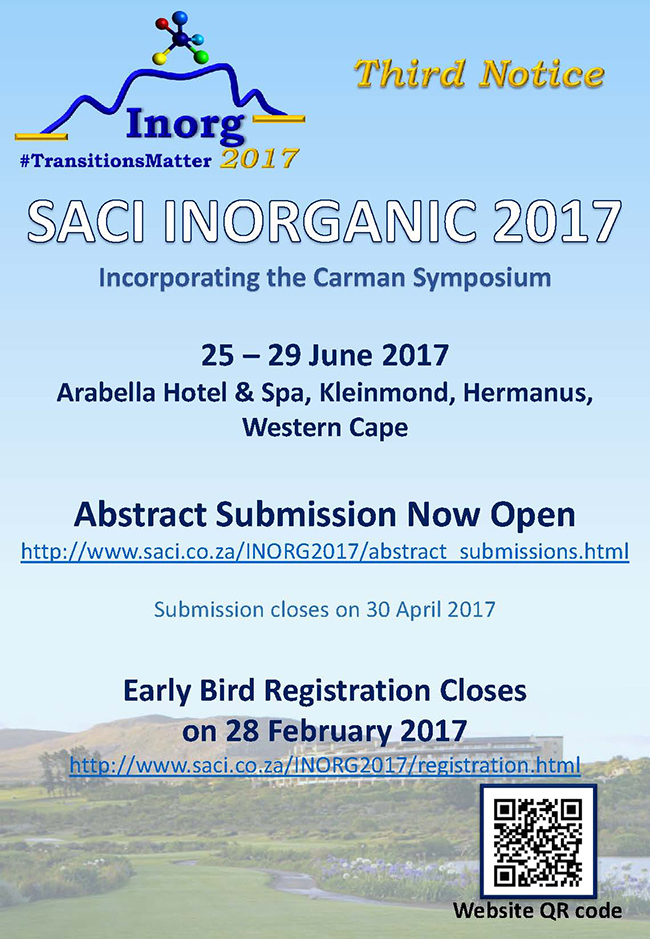 The 3rd TCS International Conference and the 6th FASC Congress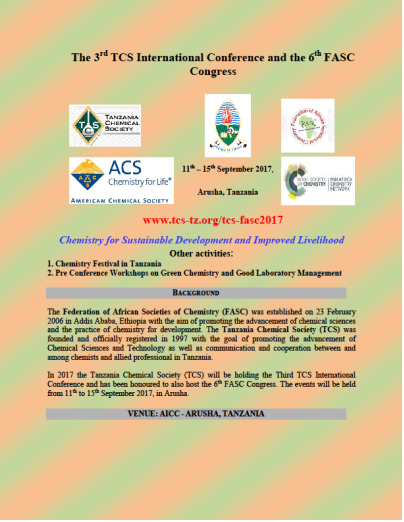 The conference will be held at the Arusha International Conference Center (AICC) in Arusha. Arusha city is exactly half-way between Cape Town and Cairo, only a stone's throw away from Africa's highest Mountain, Mt. Kilimanjaro and the safari-gateway to the astounding wildlife of Ngorongoro Crater, the Serengeti, Tarangire and Lake Manyara National Parks.
SYMPOSIUM THEMES

The conference will cover all areas of chemistry including but not limited to:
 Analytical Chemistry
 Physical Chemistry
 Inorganic Chemistry
 Organic Chemistry
 Natural Products Chemistry
 Environmental Chemistry
 Industrial Chemistry
 Forensic Chemistry
 Nanochemistry

Please register and make your submission at the following link:
http://www.tcs-tz.org/tcs-fasc2017

Or contact:



Prof. Othman C. Othman
+255 22 2410038
+255 713 433982
o_chande@yahoo.co.uk
ocothman@gmail.com
Chemistry Department
College of Natural and Applied Sciences
University of Dar es Salaam
P.O. Box 35061
Dar es Salaam, Tanzania

Dr. Clarence A. Mgina
+255 22 2410038
+255 767 547970
cmgina@yahoo.com
cmgina@udsm.ac.tz
Chemistry Department
College of Natural and Applied Sciences
University of Dar es Salaam
P.O. Box 35061
Dar es Salaam, Tanzania

Dr. Clarence A. Mgina
+255 22 2410038
+255 767 547970
cmgina@yahoo.com
cmgina@udsm.ac.tz
Chemistry Department
College of Natural and Applied Sciences
University of Dar es Salaam
P.O. Box 35061
Dar es Salaam, Tanzania

 Theoretical Chemistry
 Biochemistry
 Computational Chemistry
 Combinatorial Chemistry
 Chemical Education
 Green Chemistry
 Organometallic Chemistry
 Fuel Chemistry
 Medicinal Chemistry
Competence in Chemistry: Component Steps to Skills and Strategies
SACI Chemical Education Medal Award Talk - Helen Drummond - 11 May 2017

This paper hypothesises that all skills are teachable. Skills (e.g. representation of knowledge, mathematical skills, visualization skills) can be broken down into their component steps, and strategies (e.g. problem solving) into their component skills, each of which can be taught. Each step must be thoroughly understood; otherwise the overall skill or strategy will not be mastered.

Much has been written on the need to improve chemistry teaching and learning, and to make Chemistry more attractive to students. Thus there have been many innovations in Chemistry teaching, many of which focus on using different media or rearranging the way in which content is taught.

However, if students do not learn the skills needed, they will never master chemistry. Thus a skills based approach to teaching chemistry is proposed. Various skills needed in the learning and application of Chemistry are discussed. Several studies have been undertaken by the author to test and improve students' ability in these skills and strategies, and the results of these studies will be discussed.

The use of strategies which are likely to lead to a correct answer will improve students' confidence, their competence and their success rate. The performance of students has been shown to improve when they receive guidance in the use of skills and strategies, and this should translate to higher grades in Chemistry.
Others
First Atlantic Basin Conference on Chemistry (ABCChem) – 24-26 January, 2018; Cancún, Mexico
The 3rd TCS International Conference and the 6th FASC Congress, Chemistry for Sustainable Development and Improved Livelihood Arusha, Tanzania http://tcs-tz.org/tcs-fasc2017/
IUPAC 2017 - July 6-14, 2017, São Paulo, Brazil
Science Forum South Africa 7-8 Dec 2017, CSIR International Convention Centre, Pretoria
Obituaries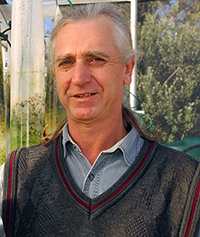 Prof Ben Zeelie dedicated his life to developing his team of staff and students. Encouraging them to take responsibility for each other. He believed in making Science practical and relevant to the public.
On a more formal note, he obtained his PhD in Chemistry at the University of Port Elizabeth and paid it forward by acting as promoter/co-promoter for 63 masters and doctorate students, this excludes those he examined and consulted for. Refereed Publications he wrote totalled 27 that we know of and 19 Patents excluding those on Coal fine Purification, Microalgae Cultivation, Process equipment and Coalgae which were either granted, filed or registered between 2010 and 2015. He contributed to over 50 conference proceedings during his career.
Some of the coursed he developed included:
Research Methodology for Chemists" - for B Tech/Honours and new master's degree students.
"Laboratory Process Development" – course for Master's degree students.
"Good Research Practice" – an informal course for Master's and Doctoral students in good research practices.
"M Tech: Chemistry (Product and Process Development) - a structured Master's degree as a "Technical" alternative to the traditional MBA.
"BSc Honours in formulation Science" – a multi-disciplinary program aimed at new product development.
"Diploma in Chemical Process Technology" – a program for the training of process technicians and process operators.
Government services played a pivotal role in his career, he was a leader in establishing new initiatives in South Africa, a:
Member of task team for the preparation of the proposal for the establishment of the Automotive Components Technology Station (Tshumisano Technology Stations Programme).
Member of the NACI Task Team – Chemical Industry.
Leader of the task team for the proposal to establish the South African Chemical Technology Incubator in Port Elizabeth (Former GODISA Incubator Programmes).
Chairperson of the Board of Directors – South Africa Chemical Technology Incubator.
Author of the proposal to establish the Downstream Chemicals Technology Station (Tshumisano Technology Stations Programme).
Member of the South African Research Infrastructure Roadmap Team (2013).
Technology Transfer and Entrepreneurial contributions Prof Zeelie was instrumental in or a founder of, can be listed as follows:
Established "ChemQuest", the commercial analytical service arm of the department of chemistry, 1992. (EX-PET Unit – Now operating as InnoVenton Analytical).
"EnviroQuest", Spin-off company formed from ChemQuest activities, 1998 (CC).
"Techno-Lab Services", Spin-off company formed from ChemQuest activities, 2001. (CC).
Project leader for the establishment of "CHEMIN", The South African Chemical Technology Incubator, 2002. (S21 Company).
Established the Chemical Technology Centre (CTC) at PET for the scale-up and commercialisation of chemical production processes, 2004 (now incorporated into the Institute of Chemical Technology).
Team member in the establishment of "PET Innovations", the commercial arm for the exploitation of PE Technikon held IP, 2003. (Pty Company).
Led task team for the establishment of the "Office of Innovation Support and Technology Transfer" at the NMMU (2006)
Insect repellent formulation: Product development, manufacturing and commercialisation.
Rose preservation process, AfricaEverose, now Floralush Pty LTD (2007)
Established InnoVenton: NMMU Institute for Chemical Technology (2005)
University Services:
Member of the NMMU Central Research Committee.
Member of the Faculty of Science Research Committee.
Member of the NMMU Intellectual Property Committee.
Leader of Task Team to Develop Innovation Support and Technology Transfer Structures for the NMMU.
Member of Senate.
Member of the NMMU Innovations Committee.
Member of the NMMU Engagement Committee.
Member of the NMMU Task Team to revise the NMMU's Performance Management System.
Proposer for the establishment of a SARChI Chair in Microfluidic Bio/Chemical Processing (2012).
Examiner/moderator for other higher education institutions:

University of the Free State (MSc).
University of Potchefstroom (MSc).
University of Port Elizabeth (BSc Hons (Statistics)).
Rhodes University (Reviewer for industrial chemistry projects).
University of Pretoria (MSc).
University of Cape Town (M Eng).
Rand Afrikaans University (MSc).

Member of task team for the establishment of the Centre of Excellence in Catalysis at UCT.
External reviewer for UCT – Entities Program.
External Advisor for the Merger of Chemistry Departments – Walter Sisulu University.
His services to the South African Chemical and Allied industries are too numerous to mention, and range from proposals, technical solutions for problems, characterizations, various specialist studies to tailor made courses for particular applications and skills development.
Also this quote from Nelson Mandela is very apt in respect of Ben:
"What counts in life is not the mere fact that we have lived. It is what difference we have made to the lives of others that will determine the significance of the life we lead." Ben certainly made a big difference to a number of lives.
Dr Melissa Gouws
Technology Station Manager
InnoVenton
Mr. Gerhard von Gruenewaldt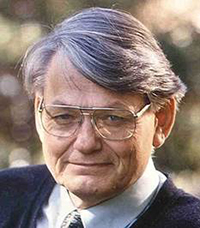 The National Research Foundation regrets to announce the passing of Gerhard von Gruenewaldt, a former vice-president of the organisation and one of its driving forces in its progress since its establishment.

He joined the NRF's forerunner, the Foundation for Research Development (FRD) in 1992 as vice-president for programmes and planning where he was instrumental in realigning research support for higher education with the changing realities and needs of the new South Africa. On the establishment of the NRF, he was appointed its vice-president and managing director for its Research Support Division where he helped integrate the activities of the former FRD and the Centre for Science Development (CSD) and the establishment of the new research support framework for the natural sciences, engineering, social sciences and humanities. He also oversaw the Technology and Human Resource for Industry Programme (THRIP) on behalf of the Department of Trade and Industry and the Innovation Fund on behalf of the Department of Science and Technology.

Gerhard also worked as a consultant and part time research advisor to the University of the Witwatersrand. In recent years he was involved extensively with various projects relating to the evaluation of research programmes and research infrastructure. Apart from his involvement with TechnoScene in the study of "The Required Physical Infrastructure to Attain the Vision of the National System of Innovation"; an "Interim Review of the South African Research Chairs Initiative (SARChI)"; and a review of the National Equipment and the National Nanotechnology Equipment programmes, he conducted investigations entitled "A Proposed Recapitalisation Strategy of the National Research Facilities" and "An Optimal Model for the Establishment of a South African Polar Research Entity", both for the NRF. He served as chairperson of the five yearly review of the Council for Geoscience in 2009 and, since retiring from the NRF, remained involved with the evaluation and rating of South African scientists.

Gerhard was born in Germany in 1942 and studied Geology at the University of Pretoria where he obtained his BSc, Honours, Master's and Doctorate and where he worked as Lecturer and Head of the university's Geology Department for 13 years. He was awarded a Research Fellowship from the Alexander von Humboldt Foundation at the University of Munich in 1974. He was appointed an Honorary Professorship in the Department of Earth Sciences at the University of Pretoria in 2002.

As a scientist, Gerhard made significant contributions to research on the genesis of rocks in the unique Bushveld Complex and associated ore deposits. His work, particularly in the field of platinum mineralisation, led to valuable new insights regarding the nature of occurrence and genesis of these important ores which, besides earning him international recognition as a scientist, including an A-rating from the FRD in 1989, have had considerable importance for the South African mining industry.

Among his many achievements, Gerhard was awarded the Corstorphine Medal and student's prize from the Geological Society of South Africa in 1966 and its Draper Memorial Medal in 1990 as well as the Award for Excellent Achievements from the University of Pretoria. He authored and co-authored more than 60 research papers and supervised 23 masters and seven doctoral students.

The NRF gratefully acknowledges Gerhard's contribution to the advancement of science in South Africa.

He leaves behind a wife and two children.