Register as a Professional Chemist with SACI
SACI is inviting its members to register as Professional Chemists. The short abbreviation for the designation will be PrChemSA.
A member registered with SACI as a Professional Chemist can use the letters PrChemSA after their name e.g. George Brown PrChemSA
Chemistry a basic physical science which is a basis for many scientific and technological disciplines. This results in its graduates working in every sector imaginable. We must therefore cater for a wide range of industries and economic sectors. Any chemist who graduated with a four-year Honours Degree in Chemistry working in industry, commerce, government, academia, research, theoretical chemistry, experimental chemistry, and uses chemistry skills and thought processes in their job/career, is eligible to apply.
However, a person first has to qualify to be an Ordinary member of SACI before they can be registered as a Professional Chemist. Check the SACI constitution regarding the criteria.
The PrChemSA designation will represent the highest standard of professionalism, competence and commitment to keep pace with advancing knowledge in the field of chemistry. It is hoped that this designation will give a professional standing and recognition of chemistry by South African society.
Justification
Academic qualifications are only the beginning of a career in chemistry and its applications. The need for continuing professional development is widely recognised to be the mechanism by which professionals maintain their knowledge after the formal education process has been completed. PrChemSA demonstrates a commitment to maintaining competence, continuing your professional development and abiding by an acceptable code of conduct.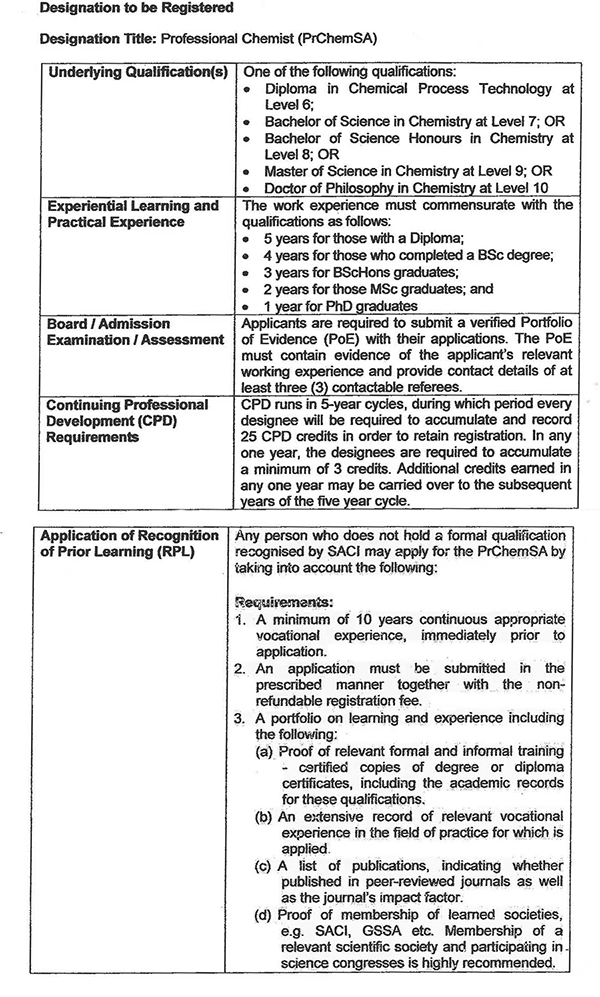 Benefits to chemists
The certification as a Professional Chemist will be an important addition to a chemist's personal credentials. When competing for a job, the designation will distinguish one from other applicants with similar qualifications but no professional designation.
Benefits for employers
Supporting the recruitment process, many recruiters these days want to know if one has a professional designation. The designation can be used as a criterion for promotion, skills and salary benchmarking. It demonstrates that someone who possesses this designation believes in professionalism, continuous skills development, belongs to a professional body and accepts ethical standards.
Continuing Professional Development
Once a member has registered as a Professional Chemist, they will be required to follow and record a programme of Continual Professional Development (CPD) in order to maintain their Professional Chemist Status. Over a five-year period they must accumulate enough CPD points in at least two out of three categories. In addition, members must obtain a minimum of three credits per year.
The three categories are:
Developmental activities – examples are conferences, large group workshops, lectures, seminars, refresher courses, colloquiums and industry in-house skills training programmes (e.g. specialized equipment training, technical courses). Generally, one point is awarded for every day spent on the above activities. A maximum of four points per year can be gained in this category.
Work-based activities - by performing their day-to-day natural scientific responsibilities, a weighting of one credit for every 400 hours per year for natural scientific related work (including management) is awarded for this category. A maximum of 2 credits for 800 hours per year may be earned in respect of this activity.
In addition, the mentoring of candidate persons in the workplace will be recognised as CPD with a maximum of 1 credit for 50 hours of mentoring per year.
Other activities include and will be credited as follows:
Part-time lecturing to undergraduate and postgraduate students: one credit for every 10 hours of lecturing. Supervision of students undertaking postgraduate studies: 2 credits per year.
Oral examinations of final year and postgraduate students: 1 credit for every 10 hours of active involvement.
Evaluation of M dissertations and PhD theses by external examiners: 2 credits per year.
Evaluation of final year students by external examiners: 1 credit per year
Publication of research in peer reviewed journals: a single author: 2 credits per publication. Where paper has a number of authors: 1 credit per publication per author.
Papers presented at conferences or congresses / poster presentations: 1 credit each.
Participation in statutory, professional, institutional, technical or non-technical committees or task groups: one credit for every 10 hours of active participation.
Evaluation of educational programmes at Universities and Universities of Technology for accreditation purposes: 1 credit for every 10 hours of active involvement.
Evaluation of educational qualifications for SACI's Standards Committee: 1 credit for every 10 hours of active involvement.
Evaluation of competence and applications for registration for SACI's Registration Committees and Professional Advisory Committees: 1 credit for every 10 hours of active involvement.
Supporting non-technical skills to enable the Chemist to function more effectively in terms of complementary skills (e.g. Safety, Ethics and Competition Law training): 1 credit for every 10 hours of active involvement
Activities where a Chemist is contributing to the community (e.g. Science and Chemistry-related community outreach programmes): 1 credit for every 10 hours of active involvement
Publication of technical articles: 1 credit per article published.
Relevant additional qualifications (these are exceptional allocations): A completed postgraduate qualification: 5 credits.
Self-study which includes, but is not restricted to studying of journals or electronic or computerised material: 1 credit for every 10 hours of study. All activities under this item must be verified.
A maximum of 3 credits (30 hours) may be accumulated under this portion of this category, with the exception stated above for postgraduate studies.
Members will be required to register their points at least annually with SACI. No details need be provided. However, SACI will carry out an audit on 10% of registrants per year, during which members would have to provide proof of their CPD activities.
Full details of the CPD guidelines are available the SACI website and upon request.